15+ Graphic Design Resources Every Designer Should Know
You might already be a very talented graphic designer, but the right tools can increase your talent exponentially. 
This article aims at familiarising designers with a list of essential free graphic design resources to enhance the speed and quality of your work. 
I will discuss the main features and pricing of all these tools.
Proofing tools
Designers go through a lot of mess because of multiple feedback sessions. 
ProofHub can make the feedback and review work a breeze for designers. 
The inbuilt proofing tool of ProofHub helps share designs directly with colleagues and clients, and the markup and annotation tools help in giving clear feedback. 
You can even go back to the previous versions of a design using version history.
Apart from this, design teams can streamline all their work in one central place. 
All task requirements, new tasks can be kept at one central place, and designers can collaborate, communicate, discuss, share files, maintain reports all at one place without juggling various apps.
Main features
Quick feedback sharing and real-time collaboration
Threaded comments for feedback
One-click approval process
Pricing
ProofHub offers a free trial. The paid plan is for $99/month (limited time offer), but it does not incur any per-user charges for personal use or commercial use.
Filestage is another tool that gives designers control over the feedback and review process. 
Designers can easily collaborate with stakeholders (internal as well as external) on various file types such as images, websites, PDFs, etc.
Stakeholders can provide timely and quick feedback to move the project forward. Teams can check the status of the project in a glance with Filestage. 
Main features
Ease of use – commercial use and personal use.
Clear versioning
Collaborate in real-time
Pricing
Filestage paid plan begins at $99/month, whereas the pro version starts at $249/month.
Best Free Vectors and Stock Images Resources
Finding the right stock images plays a vital role in making the creative process of a designer successful. 
StockSnap offers an extensive collection of free stock images and high-resolution photos.
The site always tells how many views and downloads a picture has, this way, you can spot the most popular design resources.
Main features
Handy search feature
No attribution required – perfect for both personal use and commercial use.
Uploads hundreds of pictures daily
Creatives can download good quality stock images around various topics from Pixabay for their design projects. 
It has a vast library of stock images submitted by photographers and creators. 
The stock pictures found on Pixabay are highly artistic as compared to the dull look on the images found on various paid websites.
Main features
User-friendly interface
Download and share stock images in all sizes
Free Design Resources for icons and UI Kits
Flaticon can be called every designer's dream as it provides around 344,000 vector icons for UI kits. 
It claims to be the most extensive database collection of free icons and provides icons in PNG, SVG, PSD, EPS, and Base 64 formats.
Designers can find whatever they are looking for quickly on Flaticon so that more time can be given to actual designing rather than researching. 
You can sort your search and find icons category wise, for example – by the UI kits pack, author, most popular, keyword, etc.
Main features
Highly intuitive website
Advanced search functionality
Pricing
Flaticon pricing starts from $11.99/month
Iconfinder is another top-notch resource on the internet that provides access to around 1.5 million icons and 36000 icon sets. 
You can find high quality icons in various platforms including SVG, PNG, ICO, ICNS and AI. 
It gives some icons for free, but you will have to buy if you want a large number.
Main features
High quality icons
Wide variety of icons
Can be quickly sorted by category
Pricing
Pro account is for $9/month (allows up to 25 icons)
The unlimited pack is for $25 per month.
Design Inspiration resources
Behance is a social media platform to display and discover creative work. 
By July 2018, Behance had around 10 million users. Users can sign up and build profiles consisting of projects.
The members of Behance can follow other people's profiles for design inspiration. 
Whereas registered, as well as unregistered users, can appreciate the posts of others.
Designers can get the required dose of inspiration from Behance by following the most popular creatives and having a look at their incredible designs.
Main features
Frontpage displays popular design inspiration
Extremely easy to use
Great platform to showcase your work

Dribbble is yet another platform that is a source for designers to get design inspiration and feedback. 
It acts as a self-promotional and networking platform. 
It is the largest competitor of Behance and has a user base of around 460,000 users.
It is a good place for designers to get inspiration from as well as a platform for employers to hire good designers.
Main features
Editing tools and free graphic design resources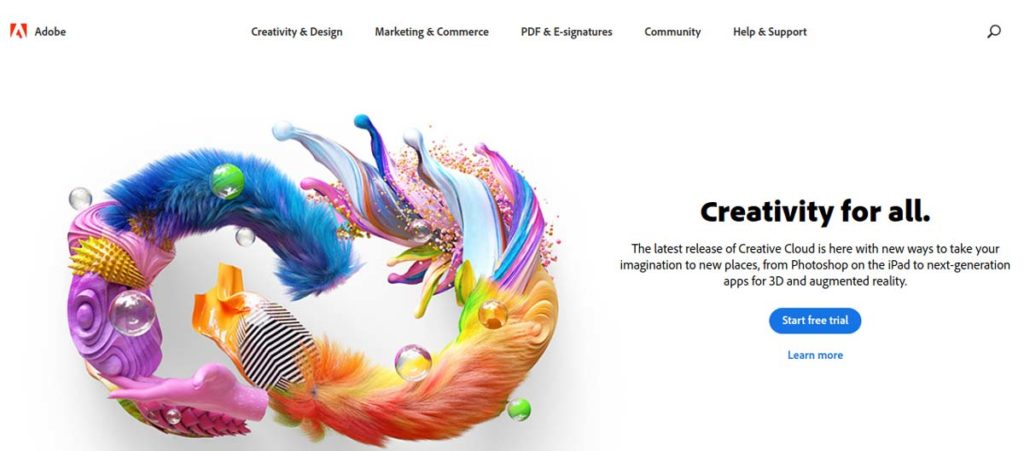 Adobe Photoshop is one of the most famous photo editing tools. 
This can be used for both mobile and web design. It offers millions of high quality images, graphics, and templates. 
Professional photographers and graphic designers use this tool from around the world as it is one of the best.
Some of the latest upgraded features of this tool include updated gradients, shapes, patterns and styles. 
Main features
Slick interface with lots of help
3D design capability
Synced libraries and cloud documents

GIMP is another tool for photo editing, which has a competent user interface and a robust set of features. 
It is an on-premise graphics manipulation platform that allows designers, photographers, and others in creating design elements, scripted images, icons and a lot more using programming languages.
Main features
Photos can be exported to multiple platforms
Great filters make work easier
Easy to overlay editing on an original photo
Mockup tools
11 – Pixeden
Pixeden is one of the best free graphic design resources for designers to get free mockup templates. 
It offers a collection of free background graphics, web design graphics, text effect graphics and a lot more.
Pixeden can provide enough content to build a whole website. 
Main features
Offers a collection of free as well as high quality premium content
You can find education content on their blog
Profession oriented – specifically for designers and their commercial projects.
Mockuuups studio is a quick mockup generator that offers more than 500 mockup scenes to create mockups with. 
It provides designers with a free handy desktop app to create mockups. 
Apart from that, it is a source of free mockups for both personal as well as commercial use.
You can easily create beautiful product mockups, visual content for social media or blog posts, marketing material, etc. with the help of Pixden.
Main features
Handy desktop app for macOS and windows
Drag and drop facility for screenshots
Screenshot tools
Just as the name suggests, Collabshot takes the game of taking screenshots one step ahead as it allows you to not only take screenshots but also collaborate on them.
This tool works well with most desktop and mobile OS. 
Main features
Easy to capture only a part of the screen
Capture and upload screens in a single click
Picpick is a user-friendly and free screenshot and editing tool. 
It fulfils most of the image-management needs of designers. 
Screenshots can be taken and saved in your pictures folder in just one click.
Apart from that, it has many editing features like colour picker, colour contrasts, protractor, brightness, pixel ruler, etc. 
Tutorials and classes
Udemy is an online learning platform that was brought into being to assist people in learning new skills. 
If you are looking for courses to learn graphic design, Udemy can be one of the best choices for you.
Here are the examples of some of their courses relevant for graphic designers:
Main features
Pocket-friendly prices for courses
Courses from beginner to pro-level
Professional and knowledgeable educators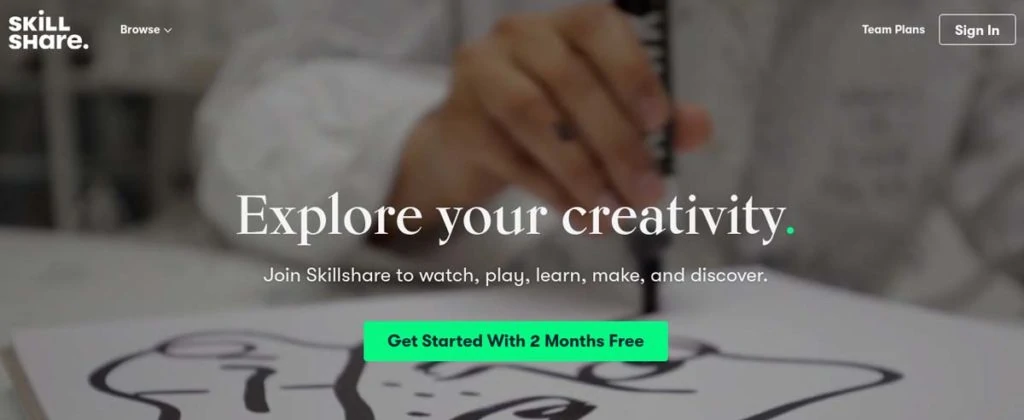 Skillshare offers a lot of short and long term courses for graphic designers. 
Some of them are available for free, but you can access them all with a paid subscription. 
Some of their courses are:
Graphic Design Basics: Core Principles for Visual Design
Creating Brand Systems: an Overview of Combining Logos and Type
Typography That Works: Typographic Composition and Fonts
Main features
Have course from beginner to pro-level
Classes can be viewed offline using the mobile app
Concluding our free Graphic Design Resources
Even if a graphic designer is starting from scratch or is already a pro, free fonts, tools and technological resources will always remain a graphic designer's best friends for commercial projects. 
Here, we have listed the best tools that can potentially make the life of a designer comfortable.
Now, when you know about all these graphic design resources, learning new skills and exploring new possibilities and experiments in designing will be easier for you. 
Also, disorganisation should no longer be one of your problems as there are a plethora of tools which help in keeping your inboxes in control by opening better channels of communication, collaboration and management for teams.
We would love to know which are the graphic design resources you are already using to streamline your work as a designer.
Top Sites for Graphic Design Resources
1. Web Design Resource & Templates: Canva
2. Vectors: Vexels
3. Best stock photos: Shutterstock
4. Inspiration: Niice
5. Browser extensions: Piktab
6. Icons: Noun Project
7. Web Design news: DesignTAXI
8. Mockups: Pixeden
9. Free Fonts: FontSquirrel
10. Web Design Tutorials: Skillshare or Udemy
Author Bio: Vartika Kashyap is the Chief Marketing Officer at ProofHub — a project management software for teams of all sizes. She is one of the LinkedIn Top Voices in 2018. Office situations and work-related events inspire her articles. She likes to write about productivity, team building, work culture, leadership, entrepreneurship, among others and contributing to a better workplace is what makes her click.