The internet is overflowing with SEO tips.
If you are a business owner, you have probably scoured the web yourself, looking for easy-to-implement strategies to increase your rankings.
However, what you might not know is that your website's graphic design elements are impacting your search engine rankings!
If this is your first time hearing this, it is no fault of your own.
Many marketing agencies and industry experts focus on keyword density and link building as their primary search engine optimisation strategies.
Both of which are important!
However, web page design should never be disregarded, as Google considers all aspects of your website when deciding how much authority to give you.
Thus, your web design is equally as important as the copy on your site.
We should know – sometimes we have had to redesign clients' entire sites so they can get an ROI on our SEO services!
So, how can you strengthen your website optimisation and reap some ranking benefits?
In this article, we will share our inside web design tips and tricks that are sure to improve your search engine rankings.
Here are our top graphic design elements to consider for search engine optimisation:
1 – Keep Content on Top
Did you know that the content "above the fold" of a website is viewed 102 percent more than material that is below the fold?
This is a significant piece of data that significantly impacts how potential customers gather information about your brand.
However, this does not mean that you should cram all of your content in at the top of your site.
What it means is that business owners should be conscious of what information is of highest priority.
For example, if you are a non-profit agency, one of your most crucial objectives would likely be to receive donations.
Therefore, as part of your website optimisation, you would want to place your graphic design elements, such as a donate button, in a visible location on your homepage.
This would be a call to action item that should never be buried beneath the fold since you do not want potential donors getting lost when looking for the button.
Remember, Google considers page layout when ranking your site.
Things like ads above the fold strained user experience, and a high bounce rate all contribute to how high or low you appear in search engine results.
2 – Skip the Sliders
While sliders are undoubtedly one of the most popular graphic design elements for many business owners looking to modernise their websites, they are not all that functional.
We know, it is difficult to hear. However, it is true!
In fact, it has been proven that sliders have incredibly low click-through rates compared to other graphic design elements.
Moreover, SEO industry leader Yoast went as far as to say that sliders should be banned from websites altogether.
It seems ridiculous that a design element that has become so mainstream would be detrimental to businesses and their ability to convert website visitors into paying customers, but the statistics do not lie.
Among the top complaints of internet users were that sliders often switch to the next slide before they have gotten a chance to read the text on the first slide, sliders push down the content that the user initially came to the website to find, and that sliders often feel like advertisements.
So, if you are currently using a slider on your website, consider changing it to be one static image that links to a highly-visited page on your site.
Otherwise, no matter how many other SEO tips you implement, the performance of your site will be hindered.
3 – Strengthen your Calls to Action
If you have invested in internet marketing at all, you have likely heard about calls to action or CTAs.
These are sentences or statements that inspire or prompt your website visitors to do something, and they are integral to your business' ability to convert viewers into buyers.
Unfortunately, too many businesses add their CTAs in at the bottom of a web page, leaving them to be overlooked by scanning eyes.
Who says your call to action has to be at the end?
Why not add CTAs in throughout your content and implement design strategies to make them stand out?
Put a coloured bar in halfway through your content with text in a contrasting tone, making the words of your call to action design stand out.
Hubspot achieved this on their Hubspot Academy page, which we have shown below (circled in red).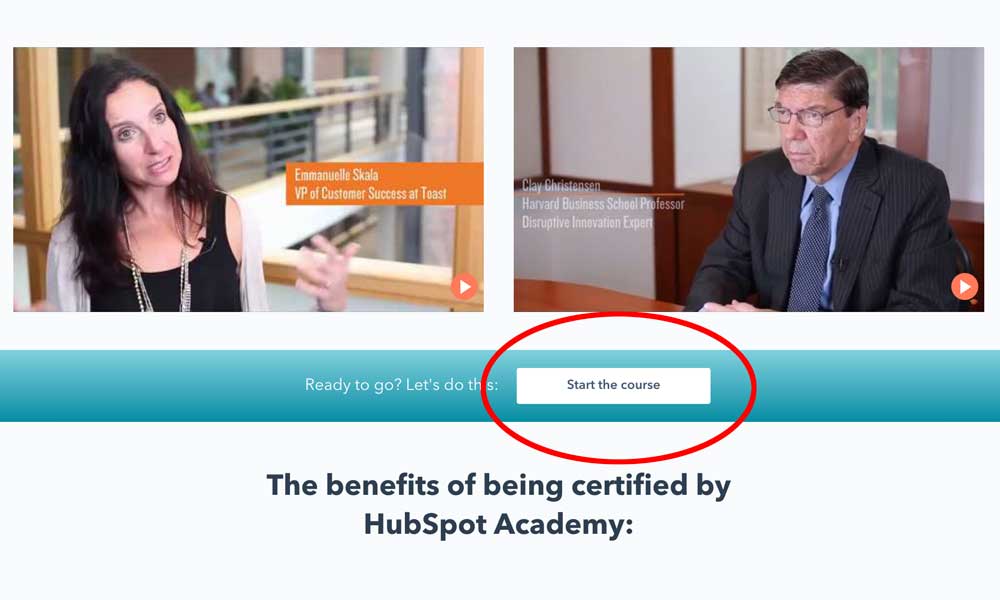 The more you can do to make your CTAs visible and eye-catching, the more your click-through rates and conversion rates will rise.
Talk about web page optimisation magic!
4 – Know your Colour Code
It is scientifically proven that specific colours influence how internet users behave online.
For example: Did you know that women do not react as positively to the colours grey, orange or brown?
Alternatively, that Hubspot increased conversions on one of their landing pages by 21 percent, just by changing the colour of their CTA button?
Colour psychology is a valuable theory that allows marketers to direct the focus of internet users to the content that is most important on their website.
After all, isn't that what website optimisation is all about?
One rule of thumb to go by is that contrast works.
You want your CTAs to be discernable, and the most efficient way to do this is to select colours that emphasise contrast.
Below is a fantastic example of a contrasting button from Resume Baking.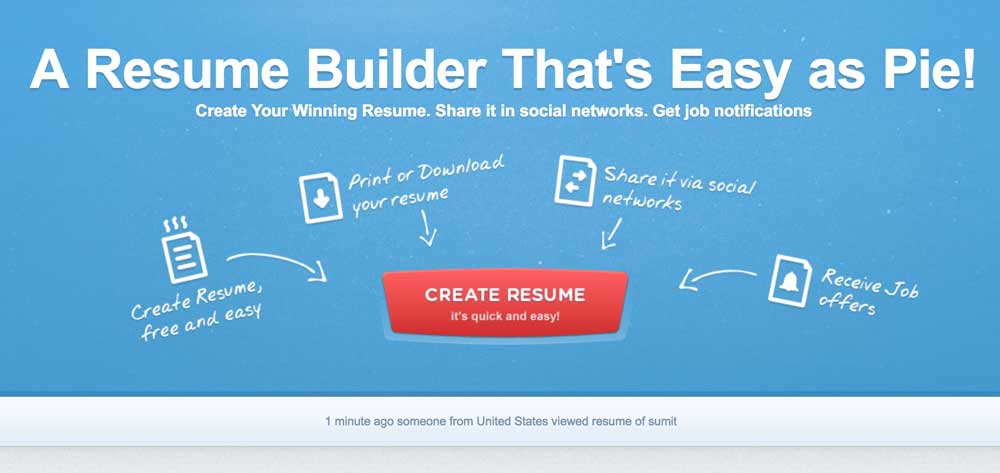 Notice how the CTA button is an opposing colour, making it the focal point of the page?
This is ideal for conversion optimisation through the graphic design elements.
Do not forget that Google considers how quickly visitors can navigate through your website when ranking you.
Consider this one of your sharpest search engine optimisation tools!
5 – Stay away from Stock Photography (Where Possible)
It is not always possible to shoot your own photographs to be used on your website.
It is both time-consuming and expensive to plan photoshoots.
We get it!
However, did you know that unique and real pictures increase conversions by as much as 161 percent?
All of a sudden organising a photo shoot seems like a worthwhile investment, right?
The bottom line is that stock images found on large websites like Shutterstock or Bigstock are used all over the web, and Google knows that!
The more your site is filled with generic stock images, the less leading-edge you will appear to users and the less Google with give your website authority.
In fact, in Google's very own Guide to Material Design, the search engine titan states explicitly that stock images should be avoided.
So, when implementing graphic design elements on your website, be sure to consider which photos can be replaced with real, in-house images.
It is a website optimisation strategy all businesses can benefit from!
6 – Remember your Breadcrumbs
When search engines like Google crawl your website, breadcrumb trails help them organise your content and better understand the flow of your site.
Additionally, breadcrumbs allow visitors to your site to know exactly where they are as they click through to various pages.
At any point in time, they can refer to the breadcrumb trail and click back to any previous page they visited.
This does wonders for your bounce rate since visitors are less likely to get lost and exit your site in frustration!
Thus, breadcrumbs, like graphic design elements, genuinely are powerful search engine optimisation tools.
If you built your site using WordPress and have Yoast installed, Yoast will review the breadcrumb structure of your website and improve the likelihood of Google examining your site's structure.
Check out this article for more information on how to best implement breadcrumbs to benefit your SEO rankings and web page optimisation.
Remember, there are numerous on-page tweaks any business can make to improve search engine rankings.
Website optimisation is never complete.
It is an ongoing process that every business has to dedicate time and focus to.
With Google's algorithm continually evolving, websites too have to adapt accordingly.
Since 2011, Google has released eight algorithm updates, all of which have impacted how websites are viewed, categorised, and ranked by the search engine.
From duplicate content to spam links and poor mobile usability, red flags continue to arise.
Even the most seasoned of internet marketing experts struggle to predict what algorithm changes Google will roll out next, but one thing is sure: working with Google is the surest way for businesses to attract customers online and increase conversion rates.
Since Google accounts for 79 percent of all global desktop search traffic, there isn't another comparable option.
Google is where your customers are.
The closest competitor is Bing at 7.27 percent, equating to significantly less traffic.
Bottom line?
Google is where businesses need to be to succeed in today's online environment.
Ultimately, these updates and improvements to graphic design elements result in better user experience and a stronger online presence for your brand.
Always worth it!
Be sure to follow us on Facebook and Twitter for more SEO tips.
---
If you wish to discuss how we can develop your brand or provide graphic design for your product or business, email us: hello@inkbotdesign.com
Inkbot Design is a Creative Branding Agency that is passionate about effective Graphic Design, Brand Identity, Logos and Web Design.
T: @inkbotdesign F: /inkbotdesign
---