Top 11 Digital Strategies To Improve Your Customer Journey
Three-quarters of business professionals agree that customer experience significantly impacts loyalty.
If customers feel frustrated when interacting with your brand, they're not likely to return for more.
To encourage customers to buy from you repeatedly, you must smooth out the customer journey so every encounter with your brand is plain sailing.
Read on for the top digital strategies to enhance your customer journey so that consumers get the best possible customer experience every time they interact with your brand.
Why is it so essential to improve the customer journey?
The customer journey is the whole end-to-end experience that a customer has when dealing with your brand. From their first marketing encounter to sales and aftercare, the customer journey encompasses every interaction, big or small.
As part of the customer experience (CX), the customer journey should be an easy and enjoyable experience where customers feel your brand's personality. This means straightforward processes and top-notch customer service.
The customer journey is critical to loyalty.
94% of people are more likely to buy from brands whose customer experience they rate as 'very good.' But 59% of business professionals claim that customers will switch to another brand after just one bad experience.
Not only does a better customer journey lead to more loyal customers, but it also results in higher profit margins. Since 40% of business professionals agree that customers are willing to pay a bit extra for a better experience, brands with a sleeker customer journey can warrant charging more.
What's most important to remember is the power customers have these days: 60% of business leaders agree that customers have more influence than they did three years ago, as they can impact your success with reviews. 
Customers are much more likely to share their experiences now than in the past, so if you're offering a poor customer experience along the customer journey, you're likely to amass a poor reputation online.
11 killer digital strategies to streamline the customer journey
If you want loyal customers that return repeatedly, you need a sleek operation that makes it easy for your customers to reach their end goals.
Here are the top digital strategies to offer your customers a flawless journey.
1 – Personalise the experience
Personalised service isn't an option anymore — it's a must.
Over half of all customers expect brands to anticipate their needs, and 63% expect personalised service as standard.
Yet brands don't cut the mustard. In fact, two out of every five customers complain that brands don't meet their personalisation expectations.
Worse still, 37% of customers claim they won't buy from brands that don't personalise the experience.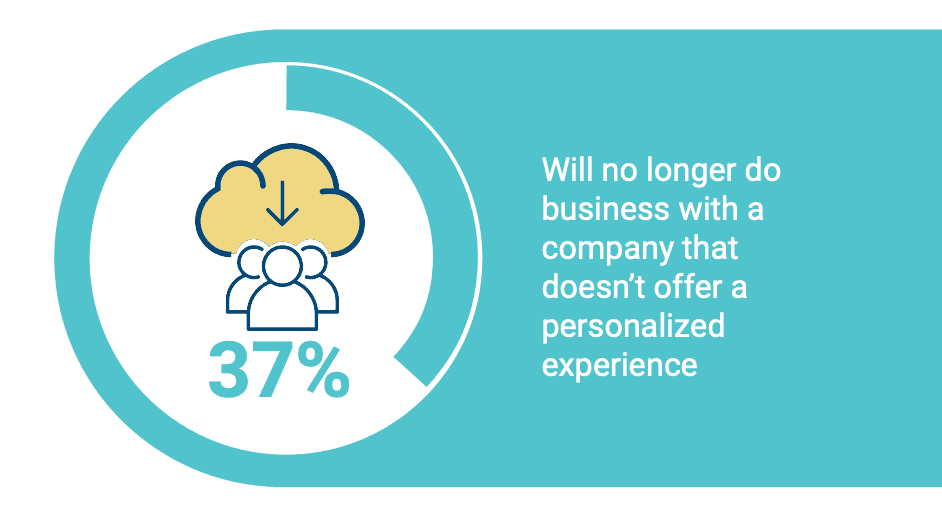 When designing the customer journey, it's certainly in your interest to personalise the experience. Not only does it keep your customers happy, but it also lines your pockets. 78% of brands with a personalisation strategy experience revenue growth.
But which parts of the journey should you personalise?
A simple way to do this is to offer personalised offers based on user buying behaviour. 52% of consumers say they want individualised offers from brands.
So, if a customer buys shoes from your clothing brand each month, offer them a monthly discount.
Personalised recommendations are also a winner.
A third of buyers say they feel frustrated when brands send irrelevant offers or deals for something they just bought. However, 38% of buyers say brands make them feel like individuals when sending personalised recommendations based on previous purchases. 
Use artificial intelligence (AI) to generate brand recommendations based on your customer's buying behaviour, or use a quiz to gauge their needs.
Look at this quiz by Il Makiage, for example.
Customers are asked detailed questions about their skin type and make-up requirements to help generate recommendations for the perfect concealer.
Customers will struggle to reach their end goal if it's hard to navigate your user interface (UI) or website. 
This is a widespread problem, according to web designers. Over 30% say that hidden navigation is the most frequent web design mistake they see.
Bad navigation leads to customers getting frustrated and leaving your website or app. According to 61% of web designers, poor navigation is why visitors abandon a website. 
Your website or UI should signpost the journey visitors need to take to achieve their end goals. 
Use clear call-to-action buttons and add signposts along the way that act as instructions to show users where to go.
Ensure your navigational menus are easy to find and ordered logically, so it's clear where to find everything.
Look at this article about credit repair companies, for instance.
The social media share buttons are easily locatable, increasing readers' chances of sharing this information.
Links are identified in blue to learn more about different topics and purchase from recommended companies.
3 – Optimise for mobile
In today's world, 64% of web traffic comes from mobile devices.
This means your mobile customer journey needs to be on point, or you're neglecting most of your audience.
According to 73% of web design agencies, the main reason that visitors abandon websites is that they're not responsive to mobile devices. After all, there's nothing more annoying than visiting a site that doesn't load properly or is too hard to operate on your phone.
To optimise your site's design for mobile, you need to decrease its size so that it loads quickly. Make sure that the template is responsive to fit a variety of different mobile device screens.
It's also wise to reduce the amount of information on the screen and increase the size of certain elements, especially those that need to be clicked.
Take this email verifier, for example.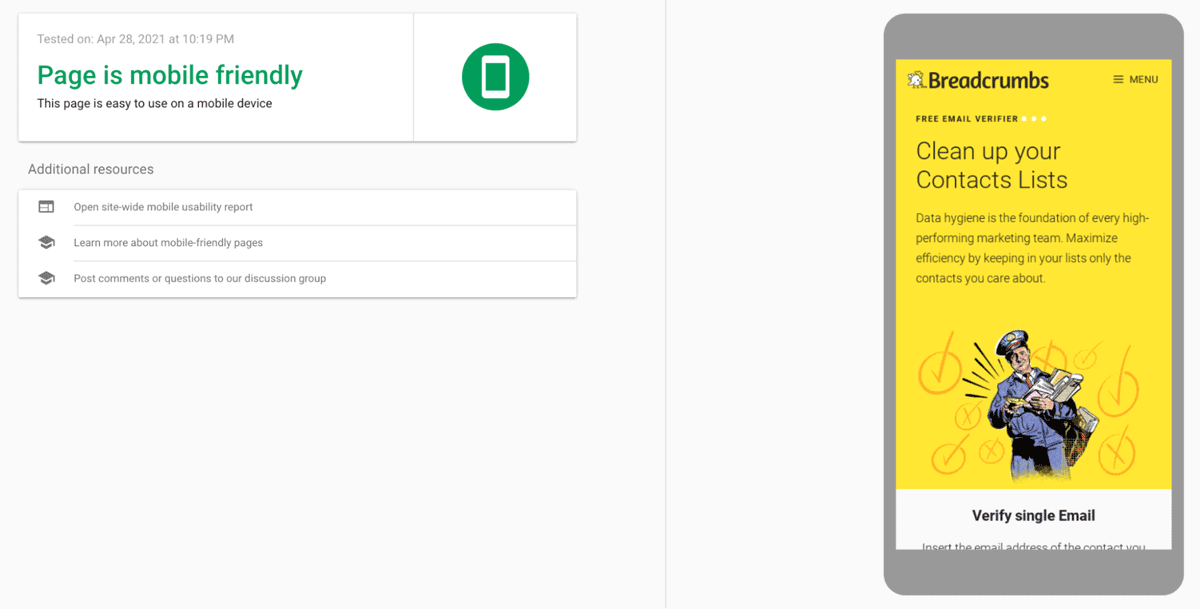 The mobile homepage has far less information than the desktop site, so it doesn't overwhelm mobile users.
The fonts are more significant to make them easier to read on smaller screens, while clickable elements are more prominent, so they're not difficult to press with your finger.
4 – Use a chatbot
Last year, almost 20% of companies implemented a chatbot to improve customer service.
As 93% of customer service agents agree, customers have higher service expectations than ever. Chatbots can help relieve some burdens by dealing with customer queries using AI.
Chatbots are outstanding customer service agents, as they can learn up to 92% of visitor questions in just five months.
This means you can provide immediate, high-quality service without the customer waiting five to 10 working days for a customer service agent to reply.
But that's not all a chatbot can do.
67% of business leaders say that chatbots increase profits.
Not only can you train your chatbot to provide recommendations to your customers, but you can also program it to offer personalised promotions based on their queries. This helps increase the chances that customers will buy.
For example, look at the document signing software Pandadoc.
The chatbot asks the customer questions to find the root of their issue. Using these answers can recommend solutions to help solve their exact problem.
This means a customer gets a tailored solution faster than researching all the possibilities.
5 – Perform A/B tests
Collecting real-time data is one of the best ways to determine what makes the customer journey better.
57% of businesses say that monitoring user data significantly impacts design decisions.
A/B tests are a way to determine which version of your website or UI design leads your customers to perform your desired behaviours. It shows you which customer journey is more successful.
For example, if you want more people to sign up for your newsletter, you need to design a customer journey that encourages them to do this by cutting out friction in the sign-up process.
You may identify a particular element that you think is causing potential subscribers to abandon your site. To confirm this theory, you'd perform an A/B test that released one version of the site to half your customers, including this element, and one version that didn't.
If more people subscribe with the offending element removed, you will remove it from your final design.
6 – Offer self-service options
Customers don't always want to contact a customer service agent to learn about your brand. Often they want to do the research themselves. 
It's crucial, therefore, to have a searchable knowledge base or help centre so customers can find answers to their queries and learn about your products.
While this seems obvious, 65% of brands don't have any searchable knowledge base.
This makes it extremely difficult for customers to research these companies without asking a customer service agent and waiting for the answers.
You can offer your customers many self-service options to help them find out more about your products and services.
Look at cloud-based workflow software frevvo, for instance.
Frevvo offers a highly informative blog, demos, templates, webinars, e-books, videos, and training. There's even a handy ROI tool.
7 – Streamline your omnichannel experience
High-performing brands offer omnichannel support that gives the customer journey an all-encompassing feeling. Customers feel as though brands know them and remember them across all platforms.
43% of consumers admit that it makes them feel more like individuals when a brand recognises that they are the same person across multiple touchpoints. 
Despite this, 40% of consumers say brands don't make the grade provide an omnichannel experience. Customers feel frustrated that brands can't offer a coherent experience when they move from platform to platform.
Take a cue from Starbucks.
The Starbucks app helps to hone the omnichannel customer journey.
Customers get a virtual loyalty card, which they can also upload with funds to pay for their purchases and receive rewards simultaneously.
Users can upload money to this card in-store, via the phone, on the website, or in the app.
Not only that, but customers can also use the app to order and pay for their beverages ahead of time and collect them in-store, so they don't have to queue.
This gives customers a seamless online/offline experience that makes the customer journey effortless.
8 – Make transactions easy
Foolishly, many brands make it harder for customers to pay than they should. This causes customers to leave the customer journey right at crunch time.
65% of consumers say they're more likely to buy from brands where quick transactions are effortless.
Not only should the process be uncomplicated, but you should also offer various payment methods so customers can choose the easiest option.
This might mean branching out beyond credit cards and PayPal.
As a recent report by the European Payments Council explains,
"Digital payments, such as virtual wallets and third-party payment arbiters like Zelle and Venmo, are on the rise across demographics, but they are prevalent amongst millennials."
You might also want to consider other forms of payment, such as Bitcoin.
9 – Follow up on abandonment
Cart abandonment is widespread. While many shoppers pile their online carts high, only 40% complete the purchase.
Although there are several reasons for this, one reason could be that customers get distracted. While they intend to complete the purchase, they get pulled away to do something else.
Following up on abandonment with an email can bring the customer back into the buying cycle.
Cart abandonment emails are surprisingly successful at convincing consumers to purchase. They have a conversion rate of over 18%.
31% of abandonment emails include an offer to help sweeten the deal.
Check out this abandonment email from Silver Cross, for instance.
Notice how Silver Cross offers an extra 10% off if customers buy the items they left in their cart.
10 – Keep security watertight
As a recent McKinsey report puts it,
In other words, to offer consumers a competitive customer journey, you must ensure your security is watertight.
While you don't need to go as far as edge computing, it's vital that your site has a website security certificate and that any database with customer data is tightly secured.
A hack massively damages your reputation and may lead you into trouble if your security isn't substantial enough to meet data protection regulations.
11 – Monitor your customer analytics
To know what drives your customers to complete their journey, you need to monitor analytics.
This helps you understand which elements lead customers to success and which cause abandonment.
If you're not collecting customer data, you won't know what's bottlenecking your customer journey.
For example, 67% of product professionals admit they don't know why customers stop using their services. This is because they're not monitoring behaviour and collecting customer data.
Determining which key performance indicators (KPIs) you'll measure and when is essential. Not only does this help inform future design decisions and marketing campaigns, but it also helps to guide your change management strategy.
Conclusion
To encourage customer loyalty and convert more sales, you need a sleek customer journey that makes it easy for customers to reach their end goal while enjoying a pleasurable brand experience.
Gathering data is one of the best ways to determine which parts of your customer journey are clunky and lead your customers to convert. Remember, you can perform A/B tests to strictly see which elements should stick around and which need the boot.
If you need more help with digital strategies to uplift the design of your customer journey, talk to the experts at Inkbot Design.