We know that a custom logo design is critical to succeeding in business.
That's why we provide professional logo design services at affordable prices to large and small businesses alike.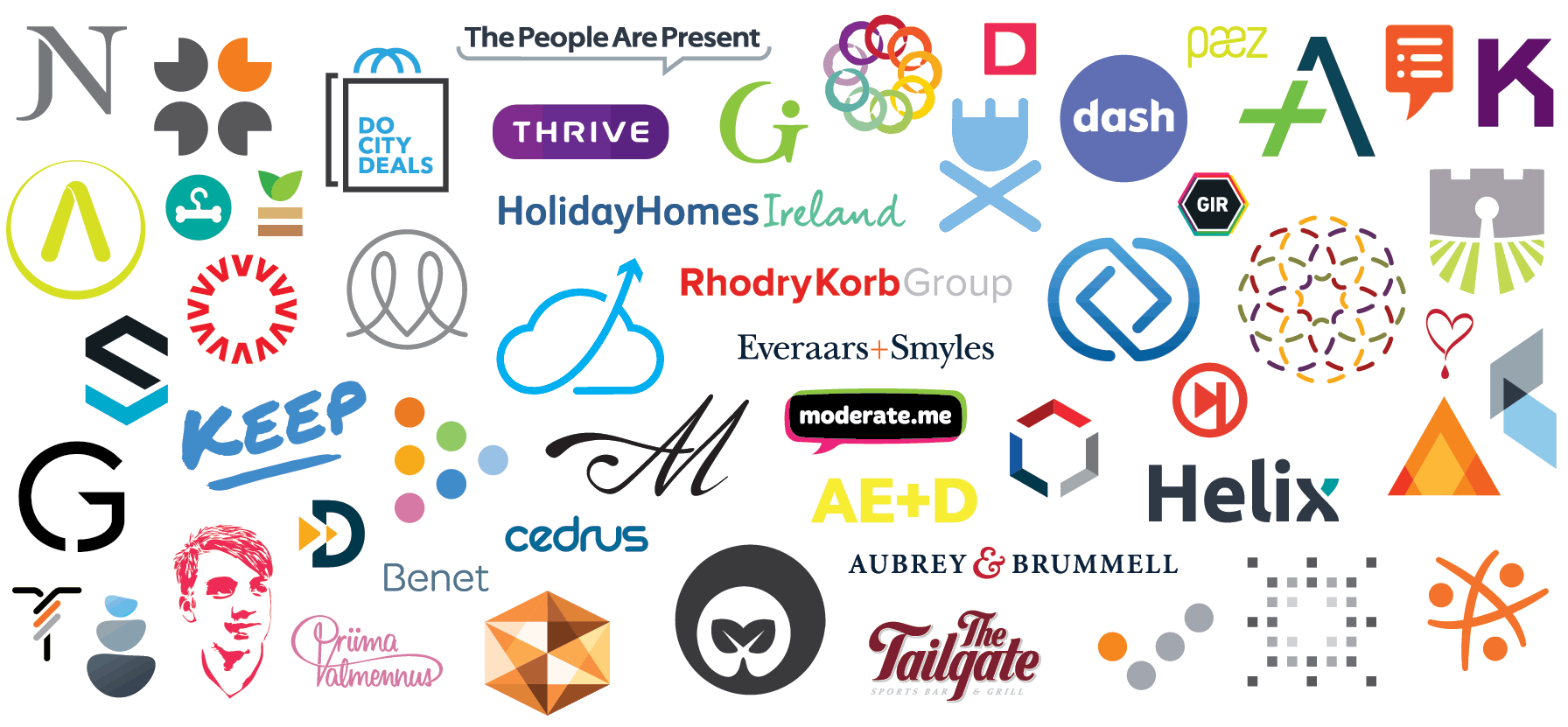 Looking for Custom Logo Design Services
for Your Company?
Inkbot Design is an Award-winning Belfast Logo Design Agency in Northern Ireland.
When you think of some of the world's most famous brands, like BP, Nike, Rolls Royce or Pepsi, what happens? Do you think about those companies or do you have an emotional response? Feelings are what sells your product or service.
A company logo design sparks strong feelings in your new and existing customers. At least, it should.
If you do not have a custom logo design yet, or people see right through the one you have, it is time for a real change. It's time to create something special that connects with your customer's, now and forever.
It's time to hire a Creative Logo Design Agency to give your brand the magic you need to thrive.
A logoless company is a faceless man

David Airey, Belfast Logo Designer
We know; custom logo design services are not cheap – they shouldn't be! 
Even a budget custom logo design package will run you close to £1,000.
But for something that will represent your company and what you stand for – it doesn't seem that expensive, does it?
We want to make you this special offer – We'll create a custom logo design that stands the test of time. Display it on your website, business cards, and stationery to tell the world who you are and why they need you.
We'll agree on a fixed price, and promise that we'll work hard on your custom logo design until it is to your satisfaction.
No set revisions, no hourly rates, no squabbling.
Just a finished product that you'll love and your customers will associate with you forever.
The sweetest deal you'll ever get
You are about to invest in something that people will identify with your business for a long time to come.
You want only the best. Sure, you spend a little money now, but it is an important investment in your success.
You're just a single click away from turning a real profitable corner in your business! Fill out the short form above, tell us a bit about yourself and what you want, and your rough budget.
We'll analyse your current brand, along with your competitors. Then recommend an effective strategy that will give you an advantage over them!
Act now to make sure we can set aside time for you! Invest in us, and you're investing in your business!
Engage our Belfast logo design services, and you get…
Experienced professionals with more than a decade of industry expertise.
Agency-quality works without agency-level overheads. See our Logo Design Process.
We take a personal interest to create your new logo design – it represents us, after all.
A dedicated, professional logo design agency, who works until the job is complete.
You know the price upfront – we work to your budget.
No hidden fees, no "Oh, by the way…" No nonsense.
Your Business is your Brand. Your Brand is our Business.™
They see your custom business logo, they know who you are, they feel what you mean to them!
Stay ahead of your competition
The biggest players in your industry have spent vast sums on their brand – now you have a chance to stand on equal ground and even beat them without having to break the bank!
Are you the next Coca-Cola?
Sometimes all it takes is the right image – are you ready to use your custom company logo design to become number one in your field?
You should give a confident "YES" to these three questions:
Would your customers agree that your company logo represents your business?
When a prospective buyer sees your logo on a business card, letterhead or a website, do they get even a reasonable sense of what is unique about you?
Do your corporate logo and identity design stick out in the minds of those who want to buy what you are selling?
I approached Stuart to design a logo based on the strength of his portfolio and the glowing recommendations he has received. I'm so glad Stuart was able to help, as he has done a fantastic job which reflected the intricacies of the brief. He was always available to answer questions and provided a very professional, Belfast logo design service. I was delighted with the initial concepts Stuart put forward and the new logo design we settled upon required very little adaptation, which is a testament to his skill. I would recommend Stuart to anyone serious about their corporate identity needs.
The Inkbot Design team were great to work with, the best Belfast Logo Design Agency! They designed a new logo for Visit Donegal that has helped me create a strong brand identity across the various social media channels. Dependable, insightful, creative – all apply to their work. Highly recommended. Do not give it a second thought – hire Inkbot Design in Belfast.
How much does a Custom Logo Design cost?
You can find people to create a free logo design online with templates in a design contest or a free logo maker tool.
Of course, you get what you pay for.
When you settle for a cheap designer, it is unlikely that they are a professional.
They won't have the skill to translate what makes your brand tick into a voice that speaks to your audience.
Many others will not even tell you what they will charge for their design concepts.
They'll first try to rope you in as a client, then hit you with extra charges for amendments.
Inkbot Design is different.
We believe in transparency. We are upfront in discussing how much you'll be spending and what you'll be getting for your investment.
Our professional logo services start at around £800.
That price is set low, to accommodate start-ups, sole traders and small companies.
We've worked with a wide range of startup companies, and understand how to help them succeed.
Have a look at our Graphic Design Portfolio to see just some of the companies Inkbot Design has helped.
Intricate projects that involve extensive research and design will cost more, but we don't charge by the hour.
We'll give you a fixed price quote and stick with it.
Inkbot Design provides a range of custom design packages to suit all price ranges.
Learn more about our logo design prices and the actual process of designing a logo.
If you are a company that's just developing a brand identity, our brand design services take the process a step further.
We will help you identify your most important message and work with you to find the best ways to convey that message to your customers.
You can click here to learn more about Brand Design Services.
Ready to improve your Business with a Professional Logo Design?