Inkbot Design is a Creative Studio of Graphic Designers in Belfast, Northern Ireland.
We help Business Owners from all over the world grow their Brands exponentially – with over a decade of experience in the industry.
We are experts in custom Logo Design, Branding, Web Design & Development for businesses of all shapes and sizes.
If you are a small startup, who needs a professional logo design, or an established company that's dated branding needs refreshed…
we are the Graphic Design Company in Northern Ireland you want to speak to.
In other words…
We are one of the best graphic designers in Northern Ireland that specialises in logo design and company Branding. We help small businesses get big, and big organisations get huge.
In fewer words…
If your business needs help to stand out through creative branding and graphic design, we are the people you need to talk to.
narrowing down…
If you are looking for a Belfast Design Agency in Northern Ireland – Contact Inkbot Design today.
to sum up…
Your Business is your Brand. Your Brand is our Business.™
Without a doubt, hiring a graphic design company near me in Belfast, Northern Ireland, for our logo and stationery is one of the best things to happen to our startup company. They took their time to understand our vision, made some suggestions and came up with a logomark that we are so proud of. The entire process was seamless and the logo looks very elegant, capturing the essence and vision of our company.
What Inkbot Design Can Do For Your Business
If you are searching for Graphic Designers in Belfast, you will not have any problems finding one. 
There is a massive requirement of designers in different sectors of industries. Some sectors are more graphic oriented than others. 
Our Belfast Graphic design services include logo design, Branding, web development and other print marketing campaigns. You can also look into advertising graphic designing or web design in Belfast. 
Whatever may be your interest, you will indeed find great graphic designers in Belfast.
Why you need a Graphic Designer in Belfast? 
Well, there are so many reasons. Graphic design projects should be planned well to achieve the desired results. A local graphic designer in Belfast can help you in this regard. 
We are well equipped with the latest tools and knowledge of different software packages available.
You can search for 'graphic designers near me' in Google to see who is close by. Most of the large companies seek the assistance of such specialists to promote their business. 
With our assistance, you can present a well-designed Brand identity for your customers. We can take care of all your needs from designing to creating the actual Brand Strategy. 
Our experience will work wonders for your company.
So, if you require such services, you can contact the best in the business in Belfast – Inkbot Design.
We have well-trained staff who can help you out in every way possible. We also have several freelance graphic designers who can provide you with the best of their talents. 
Our designers can design logos, banners, advertisements, corporate identity and web design projects. 
If you search for an excellent graphic design agency in Belfast, Inkbot Design is among the best in Northern Ireland. 
You can find some of the best studios and designers who can deliver a professional approach to your requirements in this part of the world. 
For example, you can get web designers in Belfast, Brand consulting in Derry, and even graphic designers in Belfast to find NI's top creative agencies.
Knowing how to present your products or services properly is very important. So, you need to know how to design a good advertisement, poster, brochure, or any other medium. 
In addition to that, you can also get information on what other companies in the area are offering.
Our Belfast Graphic Design Agency can create a variety of graphic materials for different businesses. We can work with you to create a unique identity for your business. 
You can get an identity for your company, custom logo design, digital brochures, marketing, and even print media. A graphic design studio in Belfast can help you create all of your marketing materials, regardless of the project's size.
In addition to the above, you can also get help with web design and development to grow your brand online.
With the best design team in Belfast, you can promote your business quickly. 
The best thing about working with graphic designers like us is that you will work with a group of people willing to give their all to meet all your needs. 
With so many different things happening in the world today, it is hard to keep up. However, you need to be able to stay ahead of everyone in every industry.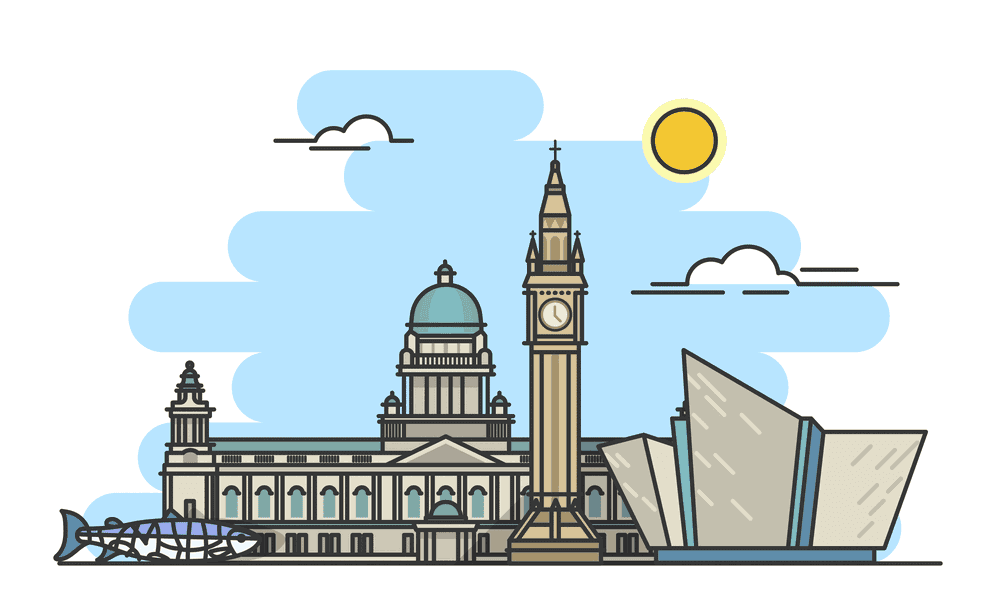 Looking for a Graphic Designer in Northern Ireland?