How To Create A Brand Guidelines Manual
Brand guidelines are rules that help companies keep their products unique and market them well. Designers will create brand guidelines to describe the brand's appearance, marketing strategy, use, and consumer feedback.
You know you should do this… but you can't seem to come up with the time. We get it. You're busy. We're busy. And that means you're not likely to have any time to sit down and put together a brand guidelines manual for your company. Instead, you have to rely on the advice of others and hope you can get it right. But it doesn't have to be that way. You can create a brand guidelines manual worth putting time into and one that will save you tons of headaches in the long run.
Branding is not a new concept. It has been around for thousands of years and is not going away anytime soon. Many major players in the modern business world still use branding and its principles to create successful products and services.
Branding is the cornerstone of any successful product. A brand is the total of all the qualities of a product or service, including its packaging, price, presentation, advertising, and customer service.
The best way to ensure that your branding is consistent and effective is to create a brand guidelines manual. The guidelines will help you to identify your brand and to develop an effective communication strategy. The guidelines will also help you to decide how to present your brand and how to market your brand.
This brand guidelines manual will help you create a framework you can use for your brand's future development and maintenance.
What Are Brand Guidelines?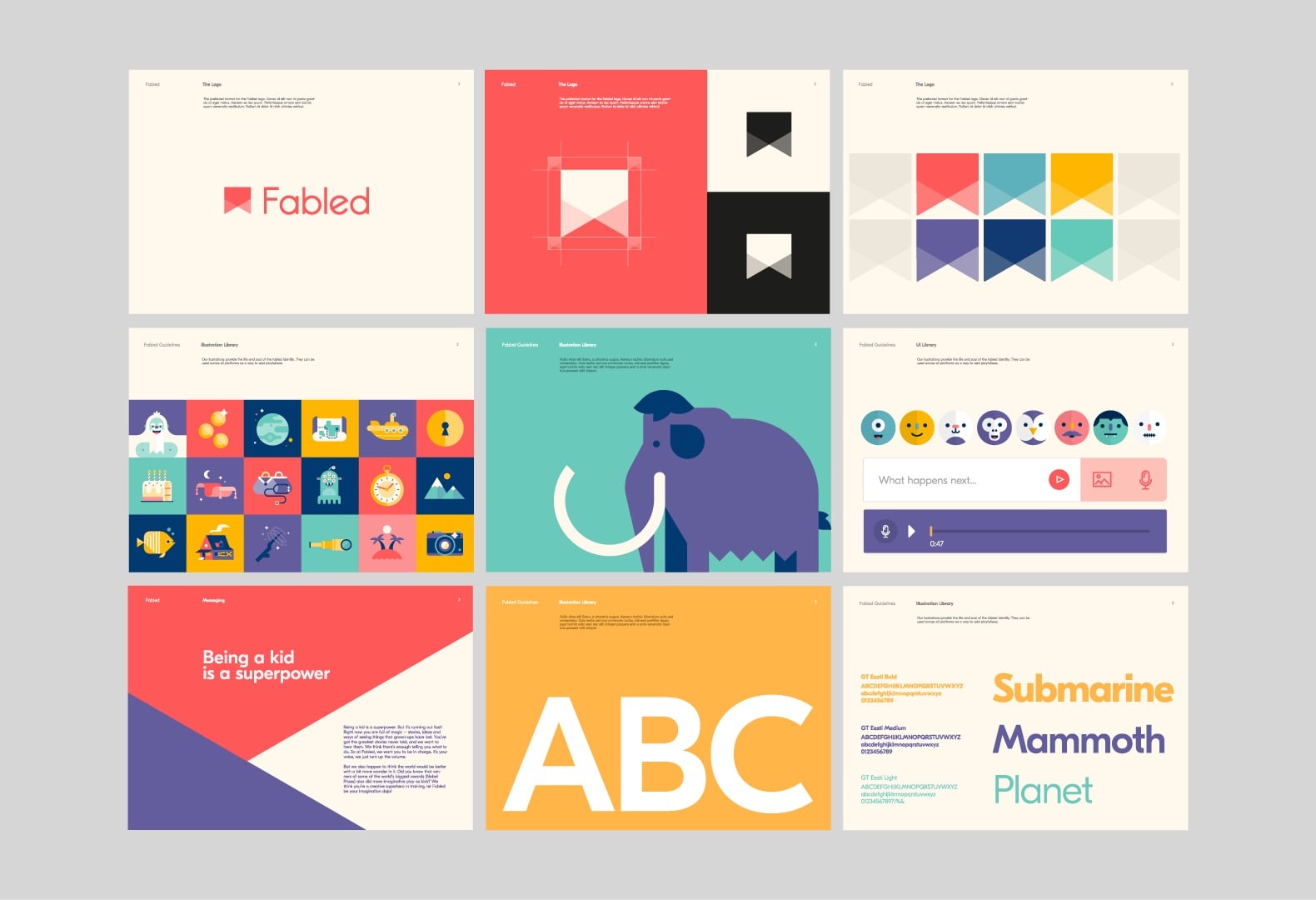 Brand guidelines are the rules designers follow to create a product's visual identity. This includes the font, colours, images, and layout of the company's name. The rules are specific to the type of brand, which can help you determine whether an existing design or logo is right for your business or product.
To successfully launch a new brand, you'll need to create a unique look and feel that separates you from the competition. Whether it's a new clothing line, business cards, or website, you want to ensure that your brand is instantly recognisable to your audience. You'll also want to ensure that your brand design guidelines include colour, typography, and imagery that will help you stand out from your competitors.
The first step in creating your brand guidelines is to decide what type of brand you want to create. Do you have a service, product, or brand you want to sell? Are you building a new product from scratch or designing an existing one?
Brand guidelines often communicate a brand's personality and highlight the unique features that make a product different from its competitors. Brand guidelines will also determine the overall mood and tone of your brand's communications.
Before you choose a font or start sketching out your brand guidelines, it's crucial to think about the following:
What kind of image do you want to convey? Are you looking to create a fun and playful look or a serious and professional one?
Does your brand need to incorporate a specific look? Does your product need to be sleek and modern or old-fashioned and rustic?
How should your brand guidelines reflect your brand values? These guidelines will help you set a tone and mood for your brand that you'll want to maintain throughout your communications.
Why Are Brand Guidelines Important?
Brand guidelines are based on research, market research, and a thorough understanding of the brand. They also account for the brand's purpose and vision, its audience, and how it wants to be perceived by the market.
While brands and marketers may vary slightly in their interpretations of brand guidelines, they generally fall into three categories:
Company-wide Brand Guidelines: These are the guidelines a company uses to govern its whole business. These include policies and procedures that govern the way the brand is run and the way it operates. They help ensure consistency across all departments and provide a framework to follow for everyone who works with the brand.
Business Unit Brand Guidelines: These are guidelines that a brand uses to govern the way it does business within a specific division.
Product Brand Guidelines: These are guidelines that a brand uses to govern how it delivers its product or service to its customers.
Why Should Brands Use Brand Guidelines?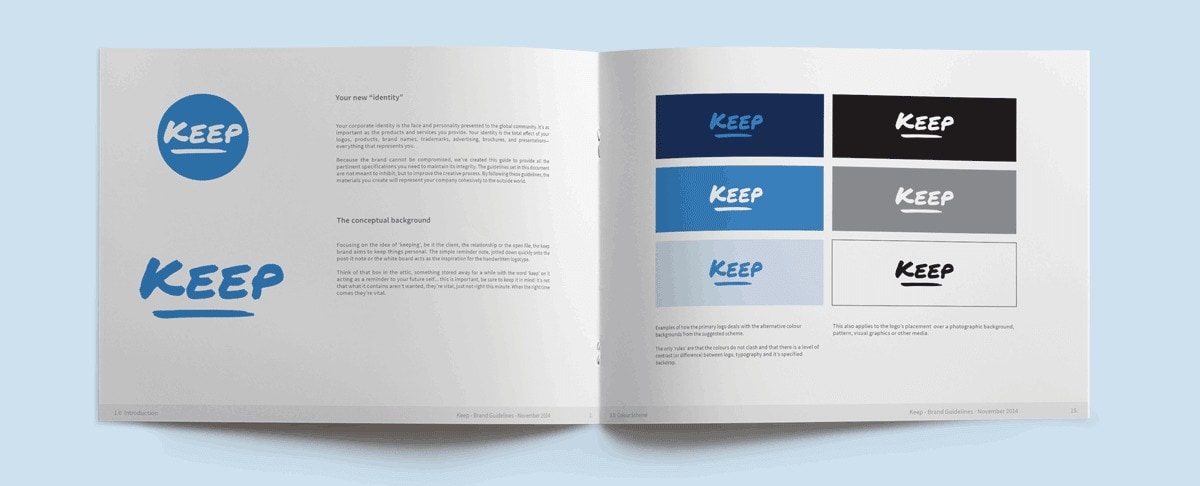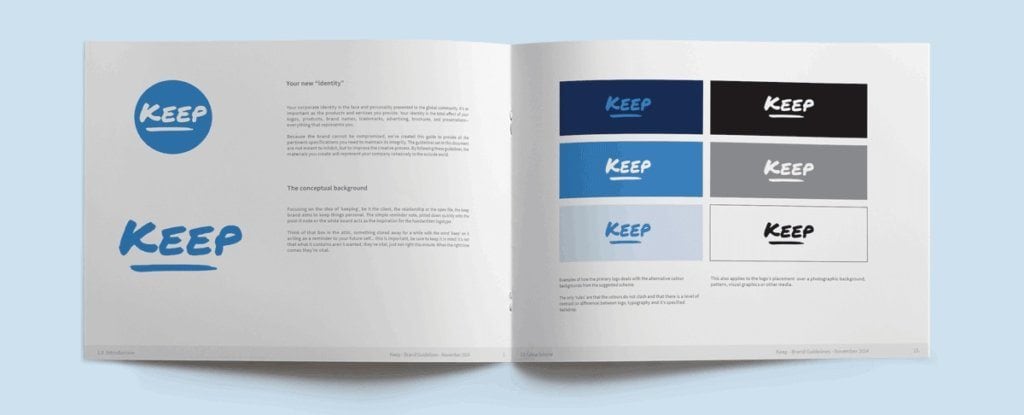 Brand guidelines are designed to help a business grow and thrive. They help businesses focus on their own goals and objectives instead of on the brand and better manage and control brand perception.
They also help brands to communicate clearly and effectively to the market and make smarter, more informed decisions. For example, when a brand creates a new product or service, it can use a guideline to ensure that the brand follows the process for designing a new product or service.
This helps a brand maintain its credibility, establish its identity, and create a sense of trust. It also helps to ensure that the brand doesn't step outside of what it stands for.
How Are Brand Guidelines Different From Company Policies?
A brand guideline differs from a company policy because the former focuses on the brand and the latter on the company. A company policy typically deals with the company's policies, procedures, and practices. It addresses the standards employees are expected to follow and sets expectations for how the company and its employees will behave.
The HR team usually issues an employee policy to guide employees on how the company expects them to conduct themselves. They can be written or non-written, formal or informal, and often include information such as disciplinary actions and leave policies.
Companies with a well-established HR department or human resources team are likelier to have a formal and written employee policy. Companies that don't have an HR team or department or an employee policy are likelier to have an informal, unwritten policy.
A brand guideline is a written document that outlines a brand's purpose, philosophy, values, vision, and strategy. It provides a framework to help the brand identify and understand its purpose, identity, and values. A brand guideline is also meant to guide brand development and planning activities.
When a brand guideline is used for brand planning, it's a set of rules that the brand uses to identify what it stands for and to distinguish itself from competitors. It helps the brand communicate with others and make intelligent decisions. A brand guideline is created to define and clarify the brand's mission, vision, and value proposition.
How Do Brands Use Brand Guidelines?
Brands use brand guidelines to ensure they provide the best experience possible for their customers. They also use them to ensure that their brands are consistent in their behaviours, messaging, and appearance.
They use brand guidelines for:
Developing new products or services
Communicating with the public and media
Creating products and packaging
Maintaining brand reputation
Ensuring that the brand is trustworthy and reliable
Making smart decisions
What Type Of Content to Include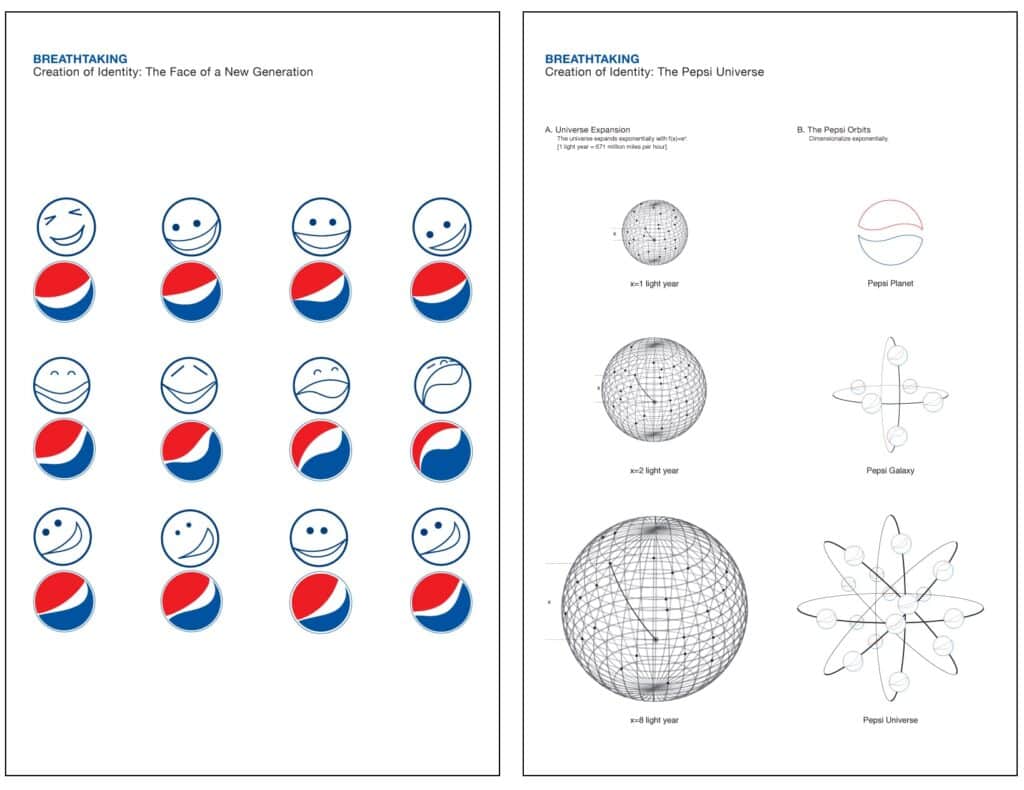 There is no one-size-fits-all content strategy for brand guidelines. Your content needs will vary depending on your industry, audience, and goals. However, certain types of content are foundational to your brand guidelines. These include:
Guideline Creation
A brand guideline is a document that sets out the company's philosophy, vision, and values. It's an essential step towards establishing a unified brand across an organisation. A brand guideline should include these key points:
Company Philosophy:
The most crucial part of any brand guideline is the company's philosophy. It's the basis of the company's overall mission and strategy. How do you want to make money? Whom are you serving? Why do you exist? The answers to these questions should guide every action you take.
Company Vision and Mission:
Vision is your company's end goal or purpose, while the mission is the why behind it. For example, Nike's mission is to "make sports accessible to everyone."
Values:
Every company has values that reflect its values. It would help if you described these values in your brand guideline. If you're struggling to come up with your values, here are some examples of values you might use:
Innovation: We value the next big thing.
Quality: We want our customers to love us.
Respect: We hold ourselves to the highest standards.
Excellence: We're always striving to get better.
Creativity: We love to be different.
After your company's mission, values, and philosophy have been set, it's time to start planning your brand strategy. A brand strategy is a road map for how your brand will grow. It includes the following pieces:
Audience: Who is your target market?
Goals: What is the result you're aiming for?
Tactics: How will you achieve your goals?
The brand strategy also identifies your company's strengths and weaknesses and how you plan to overcome them.
Product Strategy
Once your brand strategy is complete, it's time to focus on product strategy. Product strategy is about how you will create your product and how it will reach consumers.
Content Strategy
Once the product strategy is complete, it's time to develop the content strategy. This includes everything from building your website to publishing social media posts.
What Do You Need to Know About Brand Guidelines?
There are many ways to create a brand guideline. Some are highly structured, while others are more open and creative. It's essential to have a basic idea of what you're trying to accomplish with your brand guideline before creating it.
What are the benefits of a well-designed brand guideline? Here are three:
It's easier to explain your brand to others.
You can establish a set of consistent messaging for your brand across all communications.
It helps you to execute your brand strategy consistently.
Are There Any Disadvantages to Creating a Brand Guideline?
While brand guidelines are essential to establishing a unified brand, they're not the only way to build a strong brand. Here are some things you should consider when creating a brand guideline:
Guideline vs Style Guide
A brand guideline is designed to convey your company's values and goals, while a style guide is intended to show the design of your products.
How to Create Brand Guidelines
Creating brand guidelines is one of the most critical steps in the graphic design process. While a logo represents the company name, the brand guidelines communicate the company's values, personality, and overall brand positioning.
When creating brand guidelines, it's essential to consider how you will use the guidelines. For example, if the guidelines are only used internally, the document is likely a simple two-page Word doc. If the guidelines are meant to be shown in a promotional video, it's essential to have a strong video script that aligns with the guidelines.
There are several ways to create brand guidelines, including using a template, a free online service, or a branding agency like Inkbot Design. A free online tool like Canva allows anyone to quickly create a set of brand guidelines in a matter of minutes. This tool helps develop guidelines that you will use internally and externally.
How do I create my brand guidelines?
1. Define your audience. Do you need to create brand guidelines for your clients, employees, or yourself? Are the guidelines meant to be internal, or do they need to be visible to the public?
2. Decide on your guidelines' purpose. Is the goal to help clients understand your company's value system? To convey the brand to the public? To help your employees get to know your company better? Or to help you and your team achieve specific goals?
3. Decide on your guidelines' content. What should be included? A basic outline of the company's values, mission, products, and services? An explanation of the company's core principles and vision? An explanation of how the company is different from competitors?
4. Identify your company's image. Who are your target customers, and why are they buying your product or service? Is the client a younger or older audience, or are there any demographics that may influence your company's brand guidelines?
5. Determine your guidelines' format. What style of writing will best convey your company's message? Is a particular tone or voice that needs to be included in your guidelines? Will the guidelines be illustrated?
6. Add to your guidelines. Now that you've identified the main points of your company's brand guidelines, it's time to add more information. The following are some examples of additions you might want to include in your guidelines:
Mission statement – What is the company's overall purpose?
Core principles – What makes your company unique? What does it stand for?
Product/service overview – What does the company offer and its benefits?
Values and vision – What are the company's core values, and why?
Customer experience – What are the key characteristics of your company's customer service, and what are the main expectations of your clients?
Employee experience – What are the main characteristics of your company's employee culture, and what are the expectations of your employees?
Website or social media – What content should be shared on the company's website or social media channels?
7. Test and refine. Finally, go through the guidelines and test their effectiveness. Ask your coworkers what they think of the guidelines. If your guidelines are meant for external use, ask people in the community for feedback. You can also post your guidelines on your website or social media channel for people to comment on.
Brand Guidelines Examples
Brand guidelines come in many shapes and sizes, but they all share one common theme – good design. Whether you work for a small business or a multi-billion dollar corporation, having a good brand strategy is critical to your success.
When people think of a brand, they often picture logos, packaging, and other forms of advertising. However, brand guidelines are much more than that. These documents provide direction on the overall look, feel, and content of your product, company, and website.
For example, brand guidelines ensure that your products are consistent from one category to the next. They also help ensure that your website stays organised and that the user experience is consistent from visit to visit. They even guide your marketing campaigns' colours, fonts, and photography.
Brand guidelines aren't just a necessity for large companies. Many small businesses rely on them to get started and grow. They keep your team focused on what matters most.
So what are some of the best examples of brand guidelines? Here are six of our favourite brands and how they guide their teams:
1 – Uber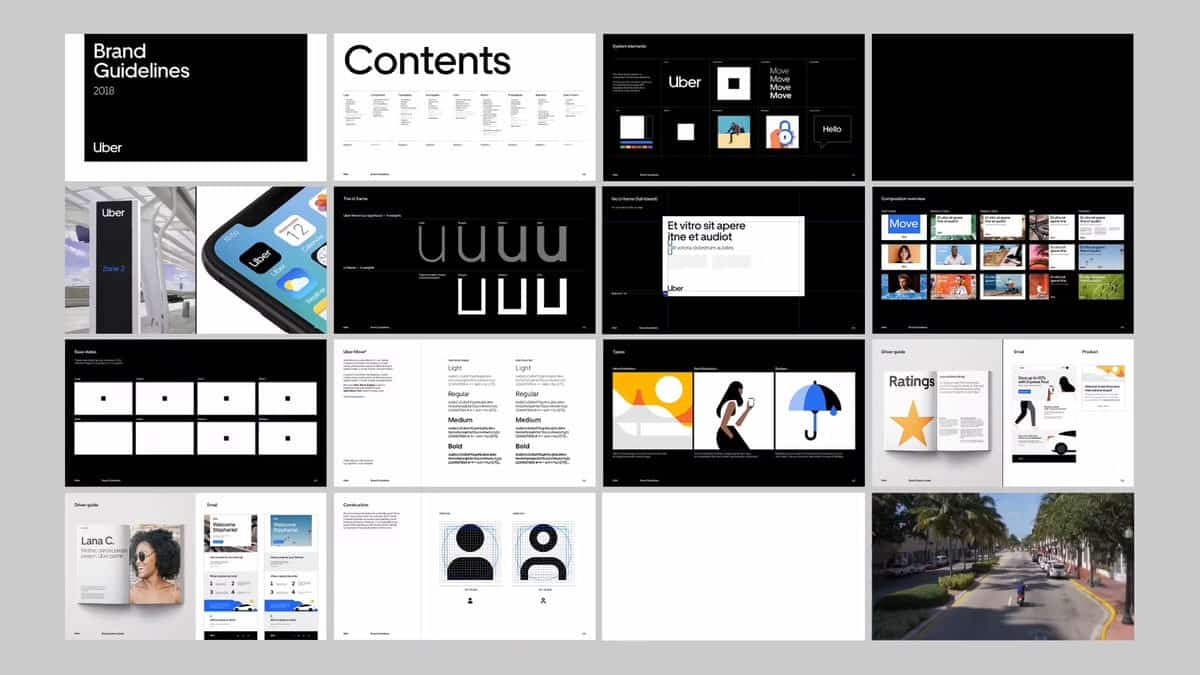 Uber is a transportation service that allows customers to request a ride on their phones. With brand guidelines in place, they ensure that the same essential design elements are applied consistently across all platforms.
This consistency keeps the overall experience consistent for their customers. It makes it easy for people to book rides on their phones and the Uber app. It also helps customers recognise and identify with the brand and what it stands for.
2 – Walmart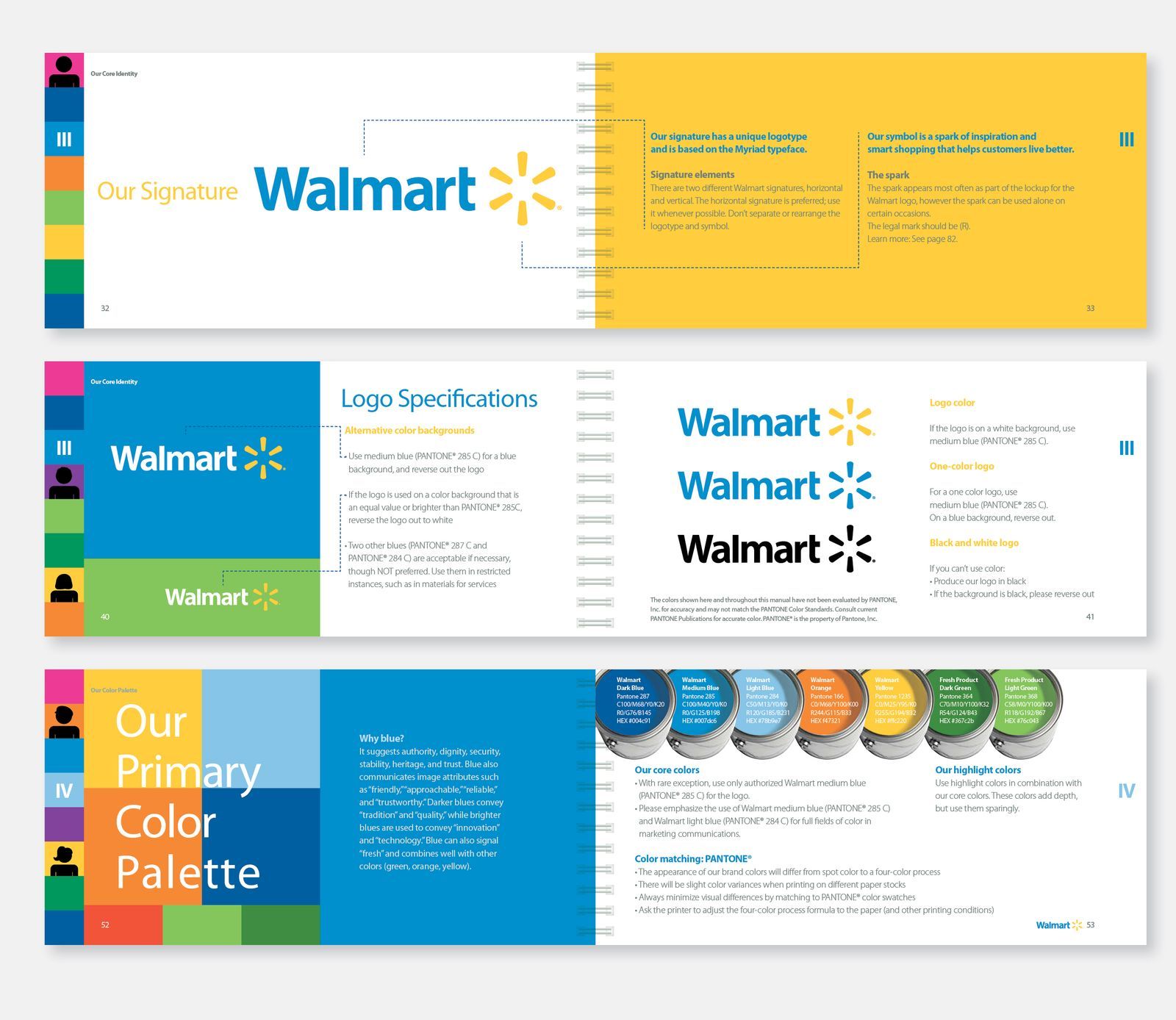 Walmart is one of the world's largest retailers, operating over 10,500 stores in 24 countries. The brand guidelines they have in place ensure that every store maintains a similar look, feel, and customer experience.
For example, when you go to a Walmart store, it's essential to see the same layout from aisle to aisle and from checkout line to checkout line. The guidelines also keep a consistent tone of voice for the entire chain. This consistency provides a feeling of stability and reliability to the brand, which makes it more appealing to customers.
3 – Apple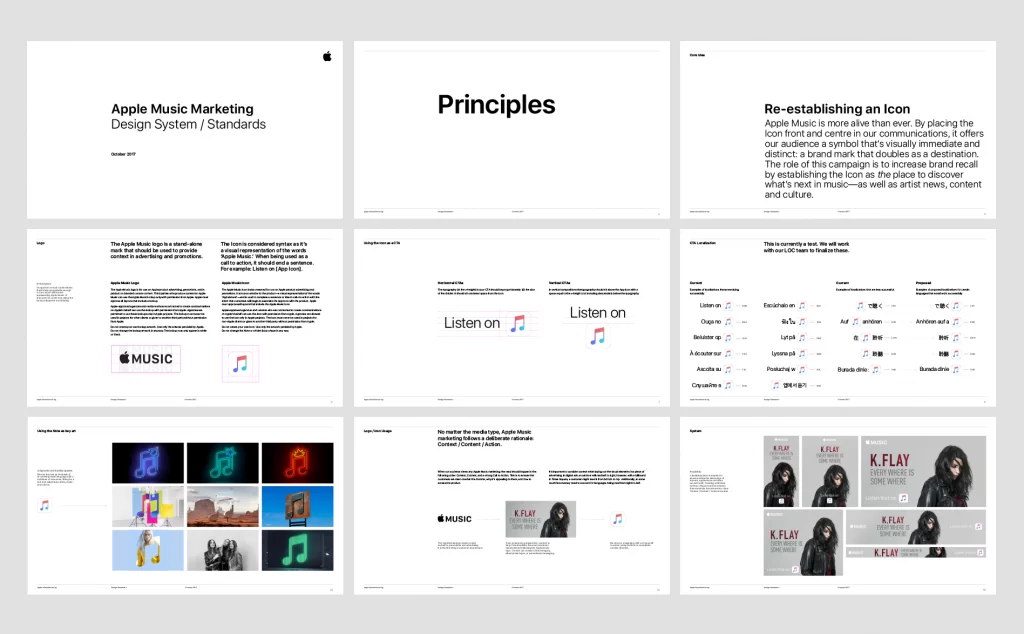 Apple is an American technology company headquartered in Cupertino, California. Brand guidelines at Apple are designed to keep the company's design style consistent, regardless of the device or channel it is being marketed through.
The guidelines ensure that all Apple products are cohesive and match in terms of colours, fonts, and overall aesthetics. Consistency is essential to the company's ability to develop and maintain strong customer relationships.
4 – Google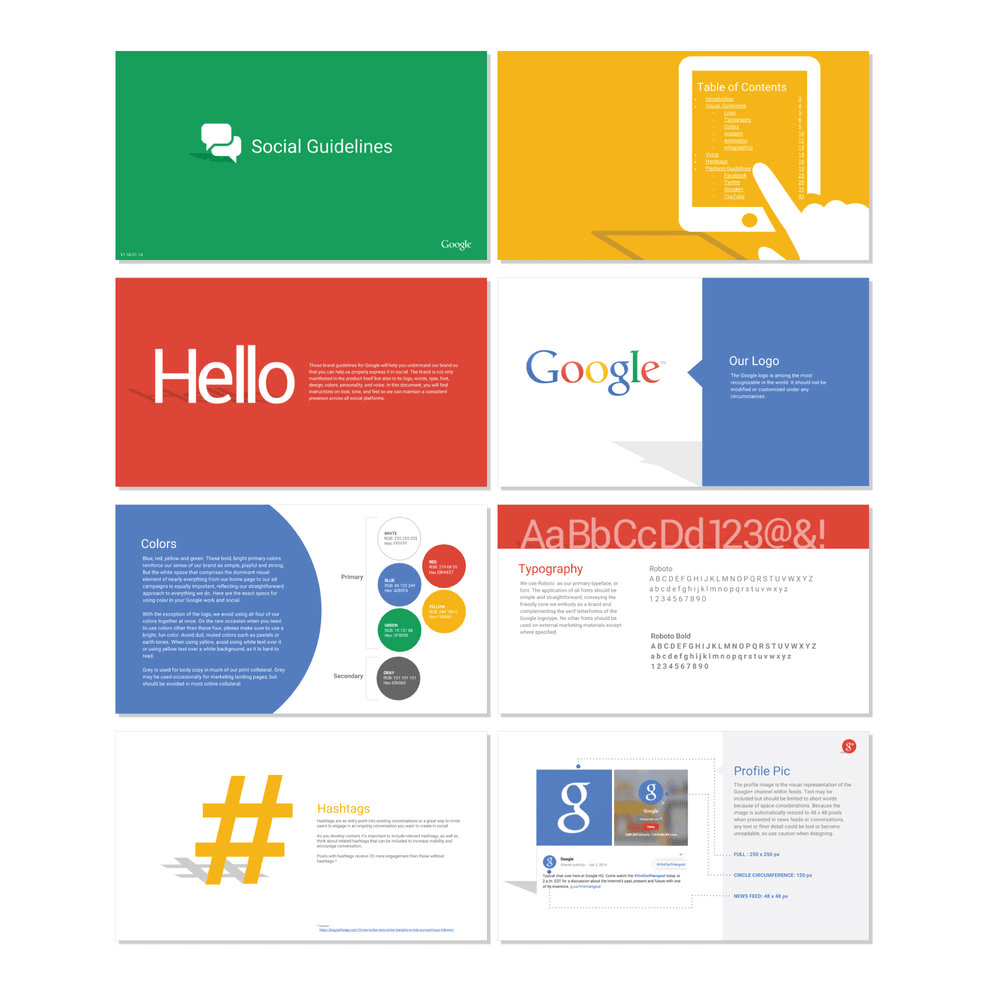 Google is a multinational technology company headquartered in Mountain View, California. Their brand guidelines consistently look and feel across all their products and services.
The guidelines reflect their commitment to building a consistent user experience. They also help ensure that their employees work in a single design language. This makes it easier for them to create and implement new features, improve product performance, and make the entire experience consistent.
5 – Netflix
Netflix is a leading provider of online streaming video content. They have a global audience, so they need a consistent brand strategy they can apply worldwide. Their brand guidelines keep their visual and UX design consistent across their platforms.
Consistent design and the ability to deliver on the promise of quality online entertainment make Netflix an excellent choice for consumers.
6 – Starbucks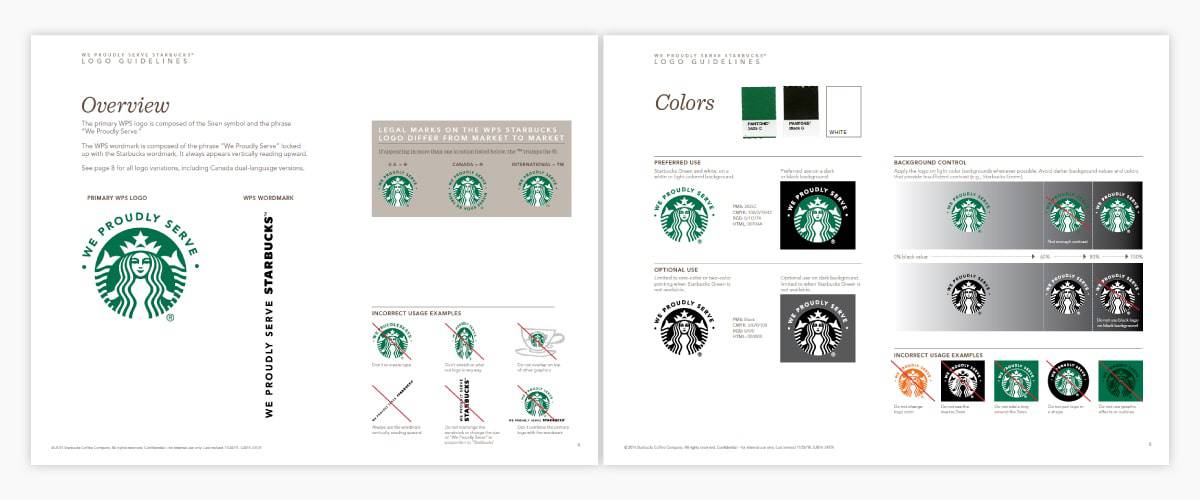 Starbucks is a leading coffee retailer with more than 33,000 locations worldwide. To build a global brand, Starbucks relies on brand guidelines designed to keep the customer experience consistent, no matter where they are.
These guidelines are vital for international operations since they set the tone for the entire chain. It's essential to be mindful of what your brand stands for, which is why Starbucks has such high standards for their brand.
How often should you update the brand guidelines?
Brand guidelines should be updated periodically to keep your brand fresh, relevant, and competitive. While every brand update might not include significant changes, there's no harm in updating them periodically.
Updating brand guidelines allows you to refresh your brand message and content while incorporating new elements and perspectives into your marketing. Your brand guidelines should also include information about your business model, target customer groups, market trends, and technology.
Some of the updates you may consider include the following:
Changing your tone of voice
Reassessing your audience and how they use your products
Introducing new features or updates to existing features
Improving your brand's usability or navigation
Adding new functionality
Conclusion
It's not always easy to know precisely how to create a brand guidelines manual. The truth is, it's something that many companies overlook.
However, by taking the time to establish your guidelines, you'll be able to protect the integrity of your brand. You'll also be able to set a clear standard for your clients and ensure they're happy with your services.
As I said earlier, doing your research before you start is essential. Please spend some time researching what others have done, and then take it a step further.
Want to learn more about branding your business? Subscribe to the weekly newsletter below!