The Importance Of Using Video Content in Marketing
Content can come in many forms. 
Social media posts, long-form articles, infographics, blogs, polls – it's this level of variety that highlights precisely why so many people within the marketing hemisphere believe that content is king. 
And, while they're not wrong, there is one particular type of content that currently reigns supreme above all others. I am, of course, talking about video. 
The Rise of Video Content
Back in the old days, content channels largely came in words and pictures in media like print adverts, newspapers and magazines. 
However, as time has moved on and technology has continued to advance throughout the decades, the rise of the internet has since given way to a whole host of new and exciting forms of content. 
Video is one such example, and we're here to teach you all about it, highlighting some of the critical statistics and research-backed reasons why we think it is a must-have within your content strategy. 
1 – Consumers Love It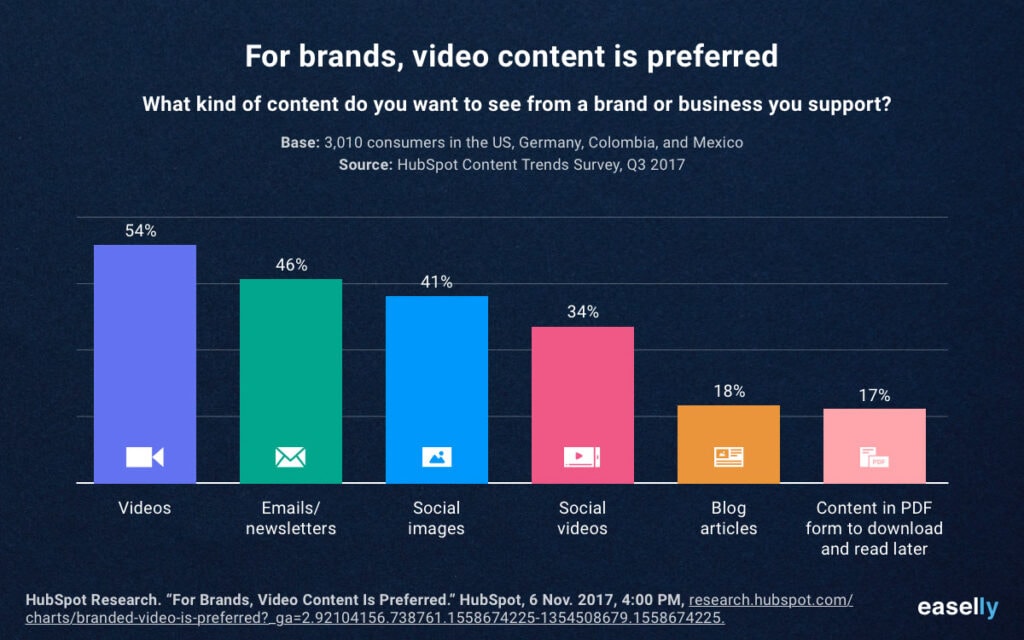 If this reason alone isn't enough to persuade you, then you could be seriously missing a trick. 
Consumers live and breathe video. You only have to look to platforms like YouTube or TikTok to see how obsessed we have all become with staring into our phones, especially during the pandemic. So, why not use this to your advantage? 
According to research by HubSpot, for example, approximately 45% of people worldwide spend at least one-hour watching video content per day. 
This should, therefore, set your consumer behaviour alarm bells ringing since this represents a huge market to tap into. 
What's more, it also proves that it's not all about short snappy videos like the ones you see on TikTok or Instagram. 
Instead, it's crucial to find the right balance between quality and quantity, providing your target audience with plenty of juicy marketable content to dig their teeth into. 
That's precisely what the boys at STORROR did, after all, and you only have to look at their 6.5 million-strong base of YouTube subscribers for proof of that. 
As a result of the engaging videos they've consistently uploaded, they have now gone on to work with some of the biggest names and sell their very own parkour shoes and merchandise off the back of it; with the right level of time and attention, you can do the same. 
2 – It Offers A Great ROI 
Good marketing is all about drawing a target audience in, encouraging them to convert, increase your number of sales, web traffic and domain authority. 
In other words, you need to guarantee your money is well spent so that you can ensure you or your client gets as good a return on investment as possible. 
This is where video content can help. 
In the following research by Wyzowl back in 2017, 83% of people who used video as part of their content strategy believed it gave them a good ROI. 
However, 81% of the respondents also stated that using it had led to an increase in sales. 
Therefore, whether used as a supportive form of media or as a sole marketing package, video content should be a bit of a no-brainer for generating more engagement and sales. 
3 – It's Key To Future Successes
Another key reason why video content is such a powerful tool comes through how future proof it is. 
After all, video content is here to stay, and more and more content marketers around the globe are starting to realise that. So, it's crucial that you're not left behind. 
As the Content Marketing Institute highlighted in their 2019 report, for instance, B2B and B2C marketers are currently waking up to video content's prowess, with 30% and 34%, respectively, stating it'll be critical to future success of marketing. 
As a result of this, 60% of B2B and B2C marketers currently use video for marketing, demonstrating just how important it can be irrespective of the specific industry you work for or in. 
Final Thoughts
While the common marketing belief maybe that 'content is king', perhaps it's time for that to be updated. 
Thanks to video content, marketers worldwide are now able to reach a much wider field of consumers, build their domain authority and improve their sales through a steady stream of informative content. 
So, why wouldn't you want to do the same? 
As the evidence and statistics above should now prove that you could seriously be missing a trick without using video content as part of your content strategy.