15 Tools to Visually Elevate Your Social Media Posts
If you have been using social media to promote your business or personal brand, you know how competitive it is. 
Millions of social media posts are published daily across significant platforms like Instagram, Facebook, Youtube, and Linkedin. 
Begging the question, how do you stand out? 
The obvious answer, content is king. 
If you publish quality content, you have a much higher chance to gain traction. 
The quality and type of content is only half the battle, however. 
One element that is often overlooked is the visual presentation of your content. 
Many social media platforms, like Instagram and Pinterest, are visual by design. 
If your post isn't appealing visually, it most likely won't get the views it deserves. 
This article will highlight fifteen free tools to help you take your social media posts to the next level. 
Canva 
Canva is a popular graphic design solution that makes creating beautiful social media posts easy even for non-designers. 
An extensive database of templates powers the application, but you also have the option to start from scratch. 
To get started, you simply choose which type of social media art you want to design and then customise to your liking.
It's free to download unless you include premium design elements. 
GraphicSprings
https://www.graphicsprings.com/start-your-logo
If you are reading this article, you are most likely interested in promoting your business or personal brand. 
Including your logo and brand colours across your social media accounts and posts is an essential aspect of your overall branding strategy. 
If you don't have a logo yet or want to give your existing logo a facelift, you can design one with GraphicSprings. 
You simply enter your business name/slogan, choose a suitable logo graphic and then edit to suit your needs. 
FlatIcon 
Using professionally designed icons versus cheap clipart makes a big difference in graphic design. 
Clever use of graphics and icons allows you to emphasise important information in your posts. 
Flaticon offers professionally designed sets of icons that you can download free of charge. 
Pexels 
One of the most significant factors that make or breaks your post from a visual aspect is the stock photography used in your design. 
Pexels offers beautiful images that you can download in high-resolution format for free. 
When you download the image, you can choose from four different sizes ranging from small to large. 
A custom size download is an excellent option because it ensures the image will fit perfectly with your post.
Coolors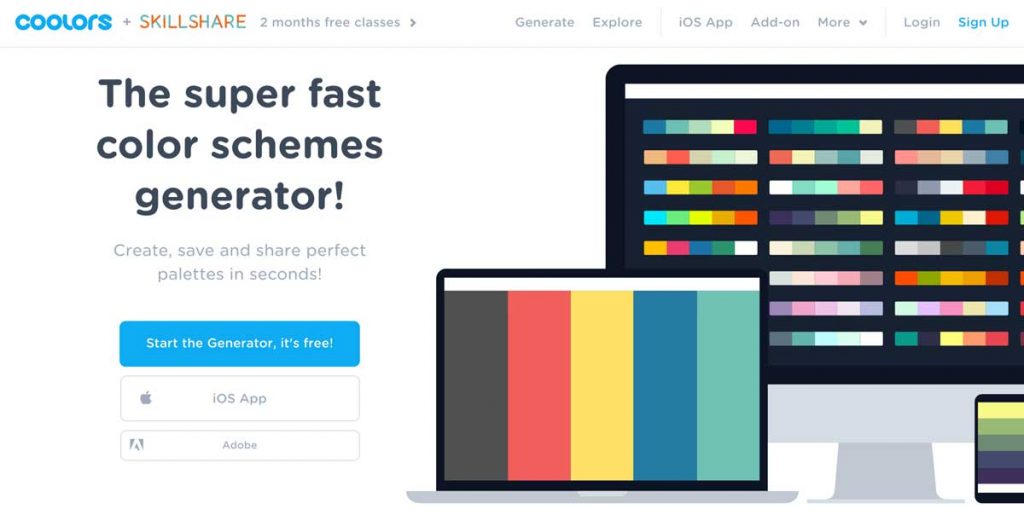 If you don't have a design background and or just want some fresh ideas for beautiful colour combinations, try Coolors. 
The app lets you browse preset colour combinations but also gives you the option to start from scratch. 
To match the colour scheme to your brand colours, use the hex code function. 
Simply put the colour code of the most dominant colour in your logo, and you get a scheme that matches perfectly.
PiktoChart
https://piktochart.com/formats/infographics/
Infographics have been a popular way to share complex data in a visually pleasing and digestible way. 
If you have a lot of data or information to share use PiktoChart to create an infographic and then promote it through your social media accounts. 
The application is easy to use and to get started choose an infographic template. 
From there, add your data points, customise and download. 
Promo 
https://promo.com/tools/image-resizer/
One of the inconveniences of managing multiple accounts is the need to resize each post for the different platform's size requirements. 
Don't make a mistake and simply crop your images as this will throw off the balance of the design. 
Promo offers a free image resizer tool that lets you optimise this process while ensuring a good design standard across your accounts. 
Photovisi 
If you have many images that you want to incorporate into a single post, consider creating a collage. 
Photovisi lets you create free photo collages from your web browser. 
To get started, you simply choose a collage style and then add your images before finalising with styling effects. 
FontsSquirrel 
Using fonts to make your piece stand out is one of the oldest tricks in graphic design. 
If you are using a generic font, odds are that one of your competitors is using the same one. 
FontsSquirrel offers lots of different fonts that you can download for free. 
Once you got the font downloaded and installed use it in your favourite editing application to create an excellent text-based social media post. 
Brainy Quotes
https://www.brainyquote.com/topics/social-media-quotes
One of the most popular types of social media posts is motivational or insightful quotes. 
If you are stuck creatively or don't have any new content ideas for the day, browse BrainyQuotes for inspiration. 
If you find a quote that's appealing to you and your sector combine it with a nice visual, your logo and publish. 
Pixlr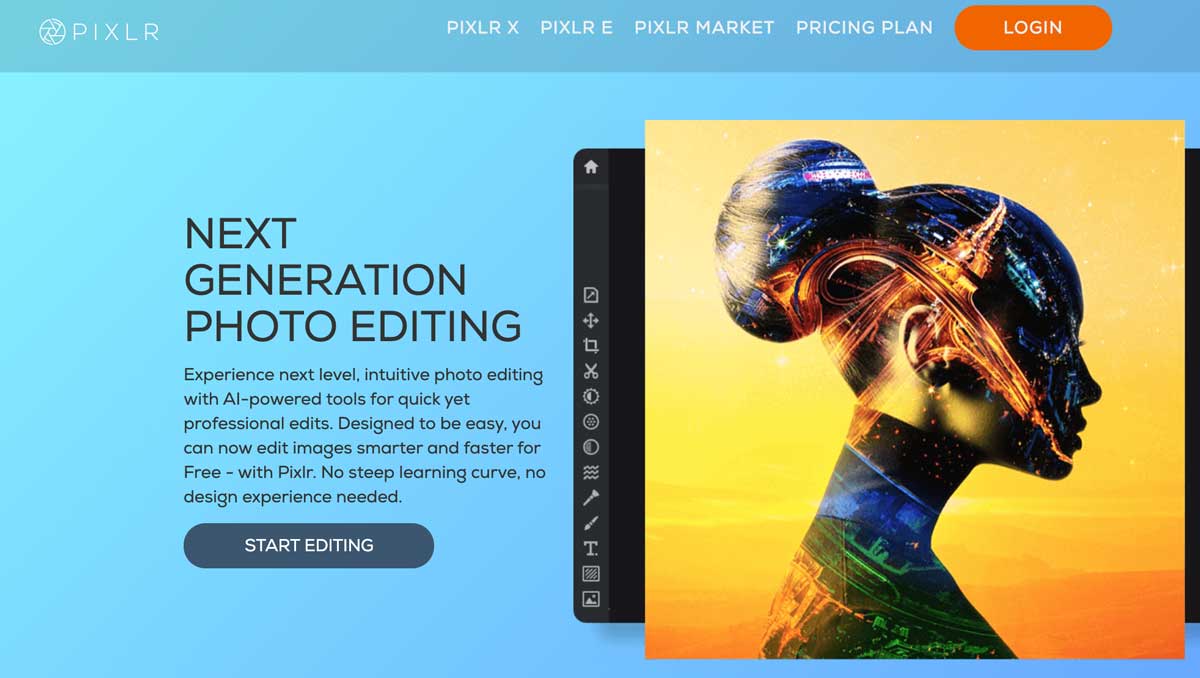 If you are using many self-shot pictures for your Instagram and other social media channels, you want to make sure they are correctly edited before publishing. 
Most phones these days come with excellent editing functionality and filters installed, but that's not enough for your professional branding needs. 
Pixlr is a sophisticated photo editing solution that uses AI-powered tools. 
The application is free to use and to get started you simply upload an image from your machine or drop the image URL. 
Map Maker 
https://www.visme.co/map-generator/
Incorporating maps into your social media posts is a clever use of visual aid to communicate your message. 
Whether you are showing off all of your store locations, tour dates or recent travels, a map is a great way to change it up from an annoying list form. 
Visme offers a cool map maker that's easy to use. 
Simply choose a map template to launch your project. 
You can then select your map area and add data points before downloading. 
Biteable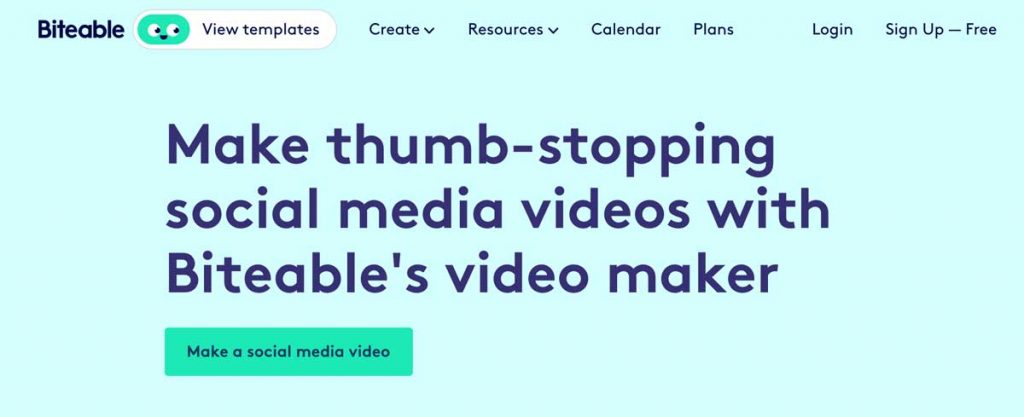 https://biteable.com/social-media/
Managing an active social media campaign without the use of video is an ambitious undertaking. 
Long gone are the days of simple text-based posts. 
As you are competing for eyeballs, you need to use all the weapons in your arsenal, and short-form video is a great way to do so. 
Biteable lets you create fresh videos specifically for social media. 
You can browse video templates by category such as explainer video, slide show, animated, real estate ad, etc. 
All of the videos can be easily edited to represent your branding and message. 
Prezi 
Your social media channels are just a piece of your overall branding strategy. 
Effectively you are trying to sell something, whether that's a product, service or non-profit message. 
Using a presentation maker like Prezi is a great way to share your sales pitches in a visually pleasing and engaging way. 
This presentation tool is different from others and allows for zoom reveal and free movement. 
Once you are done creating your presentation, you can post it to your social media accounts. 
This is a much more appealing option for attaching an understandable presentation file for users to download. 
WordSwag 
If you are just looking for a quick and efficient way to add attractive visual effects to plain text, a tool like WordSwag might be the way to go.
Once you download the app on your phone, you can add your text to preset layouts or create beautiful custom text layouts.
Instead of spending minutes or hours, your words are turned into something pretty with just a few clicks. 
Conclusion
With the fifteen resources identified above, you are now equipped to create beautifully designed social media posts. 
Give it a try with your very next post and track how engagement changes from generically designed pieces to something brand consistent and visually appealing. 
Before you jump in, here are a few tips, rooted in basic graphic design principles, that will ensure your posts don't start to look too busy from a visual perspective. 
Keep in mind; these are just guidelines and not set rules. 
Be Consistent With Your Brand Colours
It's exciting to add colours to make your posts pretty, and there are so many options. 
You want to avoid indiscriminately, including different hues in all of your posts, however. 
The colour scheme should be based on your brand identity. 
Of course, you can include other colours but try to tie it back to your core branding colours as much as possible. 
Be Consistent With the Use of Fonts
When it comes to fonts, you have more freedom than colours. 
Having said that you also don't want to overdo it. 
If you are using completely different fonts for each post ranging from traditional serif to script and comic typefaces you brand will lose consistency. 
A good rule of thumb is to use no more than five different fonts across all of your social media, with a maximum of three per individual post.
Limit the Use of Heavy Effects and Gradient 
The use of effects and gradient is widespread in social media. 
If done right, it's a great way to make your posts and message pop off the screen. 
Like anything else, this is best when done in moderation. 
Overdoing effects and gradient can sometimes make it difficult on the eyes, which is counterproductive in a world where followers decide in a split second if they want to engage or not.