How to Integrate Social Proof in Your Website Design
When new visitors come to your website, can they instantly see that your company is reputable and trustworthy?
You might hope that your thoughtful UX design – or tasteful colour palette is enough to give the perfect first impression. But if you're not getting as high a conversion rate as you want, you might be missing something: clear social proof.
What Is Social Proof?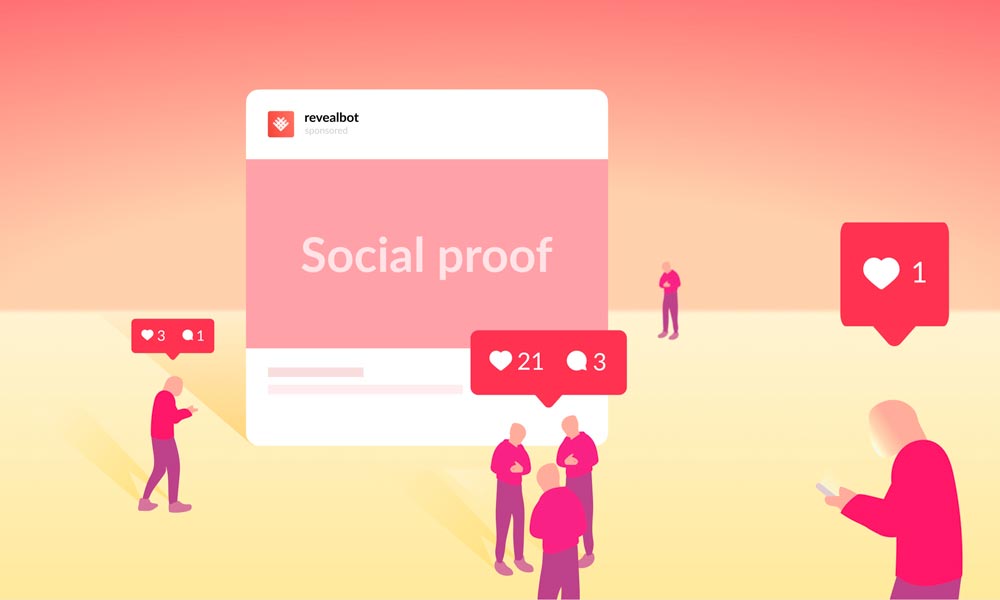 Social proof is the idea that people will change their behaviour based on what they perceive others to be doing. It applies both to expert opinions and the opinions of peers. So, if someone visits your website and sees a quote praising your work from a prominent individual in your industry, that's powerful social proof. But it's also great to have reviews from other people who are similar to your potential customer.
Good social proof can help your business look bigger online, allowing you to compete with much larger competitors in your industry.
6 Key Types of Social Proof To Include on Your Website
Some of the types of social proof you could incorporate into your website design include:
Star Ratings
If you have good ratings for your business on Google, Yelp, Facebook, or similar, make sure you prominently display your average star rating. This is an easy, instant way for prospects to see that you're well-liked by your customers.
Testimonials or Reviews
Testimonials from happy customers, or positive reviews, are also a fantastic form of social proof. Even if you only have 2 or 3 reviews, they can be hugely helpful in letting customers know that you're a reputable business. What other people say about you can count for more than what you say about yourself. 
Social Media Posts 
Some customers might not write a formal review or testimonial, but they may well praise your company on social media. If you spot a positive tweet or Facebook post about your product or service, you could incorporate that into your site by embedding it on a page.
Number of Users, Shares, and More
Raw numbers can be reassuring; after all, wouldn't you sign up for a newsletter with 100,000 existing subscribers instead of one with 100 subscribers? Your site can include figures about almost anything: number of customers, number of monthly visitors, even the number of times a piece of content has been shared on social media.
Logos from Established Brands
If you've worked with or supplied products to big-name brands, it's a great idea to include their logos on your website. This lets you "name drop" your connection and borrows a little of their trustworthiness in your visitors' eyes. 
Trust Seals
Your customers will be reassured by the presence of a trust seal when it's time to enter payment information. This lets customers know that it's safe to put their credit card details and personal information. Many studies have found that trust seals can have a significant impact on consumers' behaviour. 
Where To Place Social Proof within Your Website Design
There are many ways to integrate social proof into your website design, and it's important not to simply put your social proof on a separate page like your "About" page or a "Testimonials" page. You want clear social proof on every page of your website. Here are three significant locations to consider:
On Your Front Page
The front page of your website is a great place to showcase your social proof. You could include logos like Ryan Robinson does on the front page of his website:
At the Start of Your Content
You could include social proof at the start of every page on your site if you want to. Make the most of your best statistics here. If you have a share button for Facebook and your content gets a lot of shares, show that figure prominently! Or, if you get lots of comments, you could include that number at the start of your post, as Darren Rowse does on ProBlogger: 
On Landing Pages and Sales Pages
The most critical places for social proof on your site are on landing pages and sales pages. You should have social proof whenever you want someone to sign up for something. This is especially critical if they're going to be paying for anything.
If you take a look at any of Inkbot Design's Services pages and scroll down, you'll see how prominently we feature testimonials from happy customers:
Adding just a few testimonials, figures, and a trust seal to your website could significantly affect your conversion rate. This week, make a plan to incorporate the social proof you already have – and you'll soon see a boost in sales.