Top 20 Best Serif Fonts to Download
This roundup of serif fonts features a selection of best-selling typefaces in the industry.
What makes a serif font different from a sans-serif? If you were to compare the two, you'd notice that the former has serifs (that is, points extending from the edge of the letters) at the ends of each letter. 
Sans-serif fonts, on the other hand, do not have such extensions. And while serifs are a common design choice, there are plenty of reasons to choose sans-serif fonts, too.
Here's our list of the top 20 best serif fonts to download.
1 – Glamour Absolute
Bold Serifs are very popular these days. They're modern and stylish, and easy to read. With a new, bolder face and a slightly heavier weight, it's easier to set out on your own without getting lost in the crowd.
The Vintage Retro font is a real mix of both modern and vintage styles. It offers both the ease of readability of a modern font and the visual appeal of a vintage font. This means you can choose the amount of vintage you want and switch between a light and heavy version of the font.
Includes a free Photoshop template with the subtle noise texture used in these previews.
Loading Preview…
Powered by Creative Market
2 – Quincy CF: vintage serif font family
This new typeface, Quincy, has a simple yet modern feel. Designed by Utah-based type designer Connary Fagen, this font features a variety of weights, including bold, light, and medium. And because it's so easy to read, this typeface is ideal for any business or commercial use.
Quincy gives any text a smooth, flowing motion. Minor variations and human touches add charm, with Quincy's boldest weights powerful as large and medium display types.
Recently updated to version 4.3, Quincy now has eight weights – up from five. Every letter has been thoughtfully refined and rebalanced, kerning and language support improved, and overall appearance enhanced with a smoother, flowing, unified new look.
Loading Preview…
Powered by Creative Market
3 – Kinfolk – Modern Serif Font
Kinfolk is a very versatile font designed for many typographic projects. You can use it for wordmark logos, mastheads, pull quotes and monograms. It shows both feminine and masculine qualities.
The font is available in several weights, including light, regular and bold.
Loading Preview…
Powered by Creative Market
4 – Eighties Comeback Serif (70 fonts)
Say hello to "Eighties Comeback" – a fresh and versatile 80s retro-inspired typeface with two handy variable fonts. If you use Adobe Photoshop/Illustrator CC 2020 or later, you can easily edit any fonts included in the pack.
Inspired by magazine adverts from the 1970s and 1980s, this family is super-versatile and can bring retro into the 21st century. Eighties Comeback has much potential, with options like a wide range of styles and impressive versatility.
You will get 70 different fonts for your work in Adobe Photoshop and Illustrator. The fonts included in this bundle will work in all applications that support TTF files (Adobe Photoshop, Illustrator, Canva, Google Docs, etc.).
The file comes with two variable TTF files (one light and one bold) that allow you to create font variations, like for headlines.
The 28 bonus magazine styles are also included in this bundle, so you can quickly create retro-style layouts for your projects.
Loading Preview…
Powered by Creative Market
5 – NOIR et BLANC Stylish Serif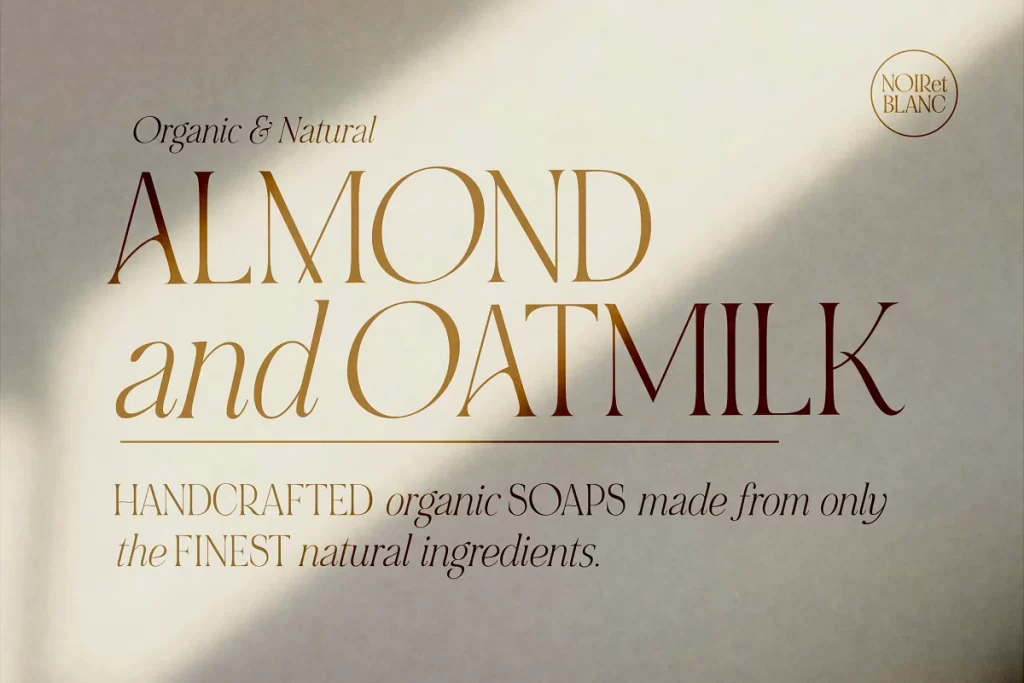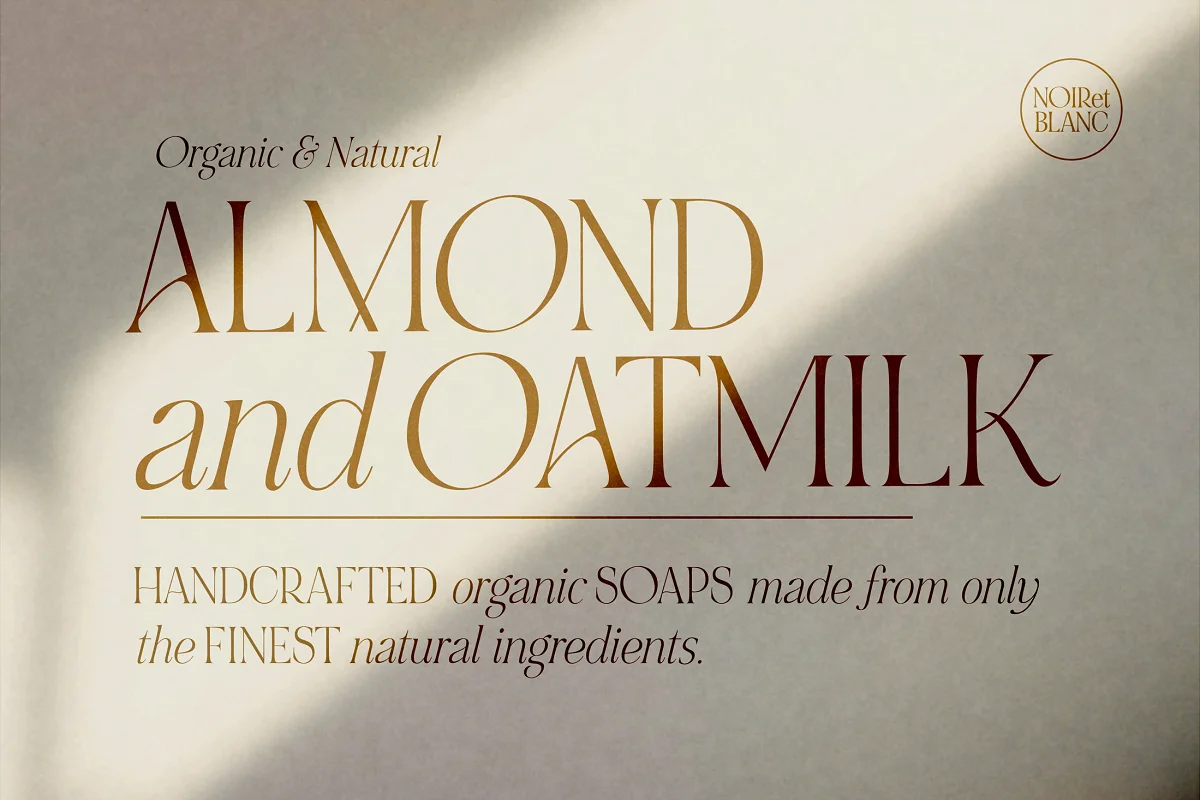 If there's one thing that typography loves to do is make things look good. Like black and white, a pair of complementary fonts can look good or not so good together. And, if it's a pair of matching font families, they can be even better. We chose a pair of fonts that make a dramatic visual statement.
Noir et Blanc is a font containing two styles: a regular style with three weights and an italic version with two weights. It's a highly legible, professional font perfect for print, on-screen, and web design. To use this font, you need to download free software that supports OpenType features in fonts.
OpenType is a set of features that allows you to change how letters connect. Opentype features include ligatures, fractions, and alternate characters. Using these features, your software can convert the characters into the correct glyphs.
Loading Preview…
Powered by Creative Market
6 – Perfectly Nineties – Nostalgic Serif
We are introducing Perfectly Nineties, a new serif with all the nostalgic vibes!
We've started seeing classic, tightly spaced serifs of the 80s & 90s making a comeback, and this is the perfect example! 
The font is two fonts in one. It includes a regular font version and a set of lowercase letters that look almost identical to the original.
The fonts also included extra lowercase characters and alternate numbers. These additional characters were never released to the public and are only available as part of the typeface.
I've loved combining the regular and italic, whether all in one word or body text!
Perfectly Nineties is an excellent font with many great features, including the ability to create beautiful headers and footers easily.
However, it's important to remember that it doesn't perform well in the body copy of a web page, so if you intend to use it for body copy, we recommend setting the spacing to a tighter value.
The first thing we notice about Perfectly Nineties is its bold yet friendly typeface. Its curves, slants, and angles give it a vintage feel, while its square letters lend a modern touch.
Loading Preview…
Powered by Creative Market
7 – Wild Mango
Wild Mango is a bold and modern typeface. It's perfect for branding, logos, social media, prints, stickers, shirts, SVG files, and more!
It comes in many different styles to give you lots of design versatility. It fits in nicely for free-spirited designs, as well as for more formal editorial looks!
There are a ton of creative alternates available to use with this font. These letters are included in the font file and easy to access in programs like Photoshop and Illustrator.
Loading Preview…
Powered by Creative Market
8 – Sage – Serif Fonts
Sage is a modern serif typeface that combines the look of a classic style with a touch of nostalgia. One hundred and twenty-five characters (including numbers, punctuation, and multilingual accents) with multilingual letters make this a versatile font. 
The contrast between upper and lowercase and the inclusion of bold, italic, small caps, and other elements, make this an effective logo and typographic display. It pairs beautifully with a minimal sans serif or light script font.
Loading Preview…
Powered by Creative Market
9 – Harlow Serif Script Modern Font Duo
A modern serif font paired with a casual, handwritten style. With its modern and minimalist look, Harlow Font Duo brings a luxurious and clean look to websites, logos, branding identity, social media quotes, wedding stationery, and whatever your heart dreams up!
Loading Preview…
Powered by Creative Market
10 – The Seasons Serif Font Family
The Seasons is a clean, classic serif font family, consisting of a high contrast serif font with a vintage chic look, with corresponding calligraphic cursive italic styles based on several humanistic italic scripts and written with a Pilot Parallel Pen. 
Both upright and italic fonts (6 in total) share the same style of soft terminals with a sharp cut and are enhanced by OpenType features such as ligatures and stylistic alternates.
You can use the Seasons in high-end branding, logo designs, magazines, product packaging & invitations.
Loading Preview…
Powered by Creative Market
11 – Sophillia – Ligature Serif Font
Sophillia is a typeface with loads of style. It's a modern take on the classic Caslon style typeface and is ideal for big, bold headings or wedding invitations. It's got hundreds of characters and ligatures plus all those European letters.
Sophillia pairs beautifully with a light script, minimalist serif or sans serif. It's a perfect choice for wedding invites or other types of invitations.
Loading Preview…
Powered by Creative Market
12 – Addington CF: graceful & bold serif
Addington is a beautiful serif. The font's letters are versatile enough to work well in text-heavy designs. They're also strong enough to stand out in heavy display usage. 
There are seven different weights, which you can combine with both the regular and italic forms. These styles are complemented by two complete sets of Latin and Greek numerals and two sets of punctuation marks.
You also get access to over 700 characters and countless OpenType features, which includes small caps, old-style numbers, and tabular figures.
Loading Preview…
Powered by Creative Market
13 – Idealist Serif
A versatile and elegant font is a unique and harmonious typeface design. Serif is a beautiful font with a typeface that appears to move gracefully to form unique and elegant typography.
The large selection of alternate and interwoven OpenType ligatures means abundant selection and variety in your final product.
To access these OpenType features, you will need OpenType compatible software. These include Microsoft Word, Apple Pages, Adobe Photoshop, Pages, Keynote, Numbers, iBooks Author, QuarkXPress and Indesign.
A variety of valuable glyphs are included.
Loading Preview…
Powered by Creative Market
14 – Roxborough CF calligraphy serif font
Roxborough is a distinctive serif typeface that features calligraphy and hand-lettering influences. 
It pairs well with the distinctive single-storey "a." Traditional and modern, Roxborough adapts to many application types, from branding and identity design to display and packaging design, subtitles, and copy.
Loading Preview…
Powered by Creative Market
15 – Larken – A Beautiful Serif
The Larken Essentials typeface is a reflection of the natural world. The design was inspired by the beauty and harmony found in nature. 
The typeface is available in four versions, each in two weights. Each weight ranges from the most casual to the most formal. The family is meant to work well in large and small applications, with or without additional support.
The family of Larken fonts has been carefully designed to offer a broad range of design options. Larken is versatile enough to suit any project, from subtle variations in the character shapes to a wide variety of stylistic alternates.
Larken comes in a variety of weights, from Extra Light to Black.
Loading Preview…
Powered by Creative Market
16 – Coldiac – Luxury Serif Font
Coldiac is a modern serif font that looks like the transitional serifs inspired it. It has low contrast strokes, slightly squarish round characters, and solid businesslike nature.
Coldiac – Luxury Serif Font is a versatile web and print design font. With the help of some extra options, it is also great for corporate identity, logotypes, headlines, slogans, and more.
Loading Preview…
Powered by Creative Market
17 – Wensley Modern Serif Font Family
Wensley is a high-end, modern, script, script and hand-drawn-style font. With over 400 glyphs and hundreds of symbols, this font is an easy choice for all your typographic needs. 
You'll love this free-form font, which allows you to create your look. From letters and numbers to punctuation marks and symbols, you'll find everything you need to create a professional document in this one font.
Wensley is perfect for headlines, titles, magazine headings, logos, presentations, posters, name cards, web layouts, invitations, books, branding, and nearly any creative design.
Loading Preview…
Powered by Creative Market
18 – London – A Luxe Serif
London is a premium typeface with bold to thin contrast and sleek lines. It is the perfect typeface for logos, quotes, wedding invitations, business cards, and more.
What would you create with London? Add it to your collection now!
Loading Preview…
Powered by Creative Market
19 – Celesse – Classic Font + Logos
Get classy with Celesse. This font is perfect for designing stylish logos, quotes, magazine covers, wedding cards, invitations, and brandings. 
Its stark contrast lines are best used in headlines and projects with significant types. Celesse adds timeless beauty, heavenly curves and a classic appearance to any project.
Loading Preview…
Powered by Creative Market
20 – Bastia – A modern serif
One of the most intriguing font families is the Bastia font. Bastia has a unique combination of serif and sans-serif styles, creating an excellent balance between two seemingly opposing design elements. 
I wanted to bring this font into your work today and thought you'd like to see it paired with a unique and stylish sans-serif face.
I included it in the article for the sake of variety. In my opinion, you can't go wrong with pairing this font with a classy sans-serif face.
The logo in the sample image below is the perfect example of a logo that uses much negative space. The logo in the sample image above has a serif and a regular font version. The download includes the regular and the outline version of the serif so you can use it for your designs.
Loading Preview…
Powered by Creative Market
Wrapping Up
You can start with these top 20 best serif fonts for those looking for good typeface inspiration. Go ahead and download the one you like the most, as you can use these serif fonts for various purposes. 
For example, you can use them for logo or web page design. These top serif fonts are popular, and you can find these best serif fonts online.
With this roundup of the best serif fonts, we've made it easier to download and install top-rated serif fonts online.