7 Brands With A Strong Brand Voice And Things We Can Learn From Them
In a competitive business world that doesn't know the limitations, one of the essential aspects of winning the market shares and hearts of customers is communication. 
The way you, as a brand, engage and share your values with your customers will set or break you apart. 
Building an innovative product or service that effectively solves the problems isn't enough anymore. 
Building an authentic brand that actively communicates the value, mission, and vision of a company is extremely important nowadays. 
Since the rapid growth of social media channels, a brand voice started to gain more mentions and importance. 
People love the uniqueness and are naturally attracted to that virtue. 
Establishing a unique, engaging, and creative way to communicate with the environment will set you apart from the competition. 
The brand voice is a consistent way of communicating brands' values, attitudes, mission statement, and more with their targeted audience and potential customers. 
Keep reading as we're going to talk about the importance and benefits of establishing a natural yet authentic brand voice in today's competitive world. 
If you're still not sure how to successfully make your brand voice stand out, we're going to analyse seven brands that are nailing with their brand voice on social media. 
What is a Brand Voice and How to Effectively Establish It on a Social Media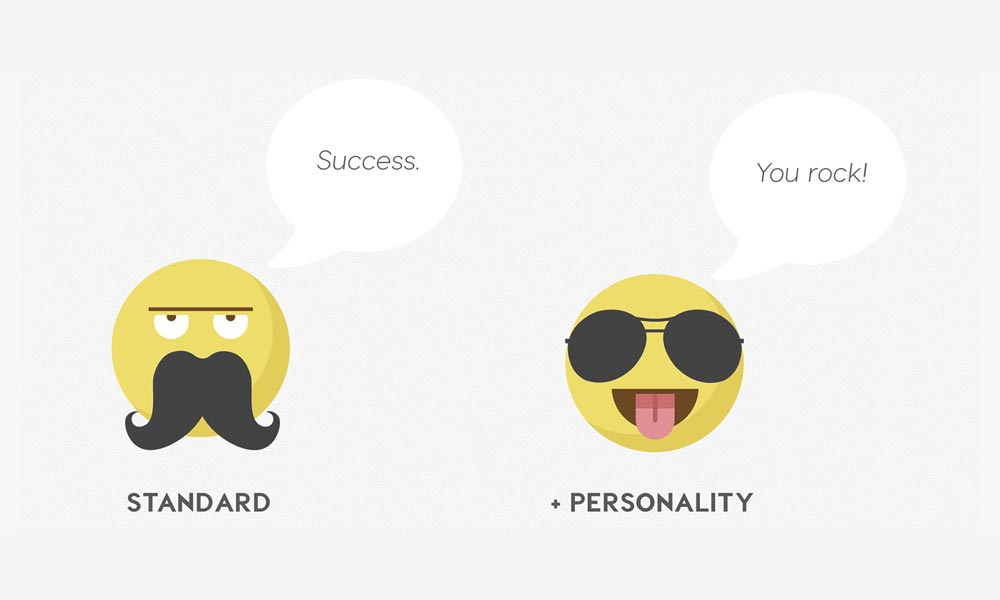 Brands, in their ecosystem, communicate and engage with their environment, including customers, potential leads, other brands, and partners. 
Gaining a competitive edge in today's fast-paced economy is critical, and one way to separate your brand from a crowd is by being unique and remarkable. 
Establishing a unique and consistent brand voice can help. 
People are naturally attracted to unique personalities as they are rare to find and provide real value. The same goes for the brands. 
A brand voice is a way you, as a brand, communicate with your audience, customers, and the environment. 
It shows the outer world your brand personality and makes you different from the crowd. 
Nowadays, it's not rare to see very similar or identical brand voices without any creativity or authenticity in the way of interacting. 
If you're just about to build a new product or service and make potential customers trust you, it's crucial to define an authentic brand voice. 
Here is general advice that'll help you while establishing an authentic and compelling brand voice: 
Review your mission and vision statement
Survey your current audience and existing customers
Audit your existing content
Know your values 
Create a detailed brand voice chart
Educate your employees on internal and external communication and engagement
Establish a consistent way of communication
Benefits of Having an Authentic and Consistent Brand Voice on Social Media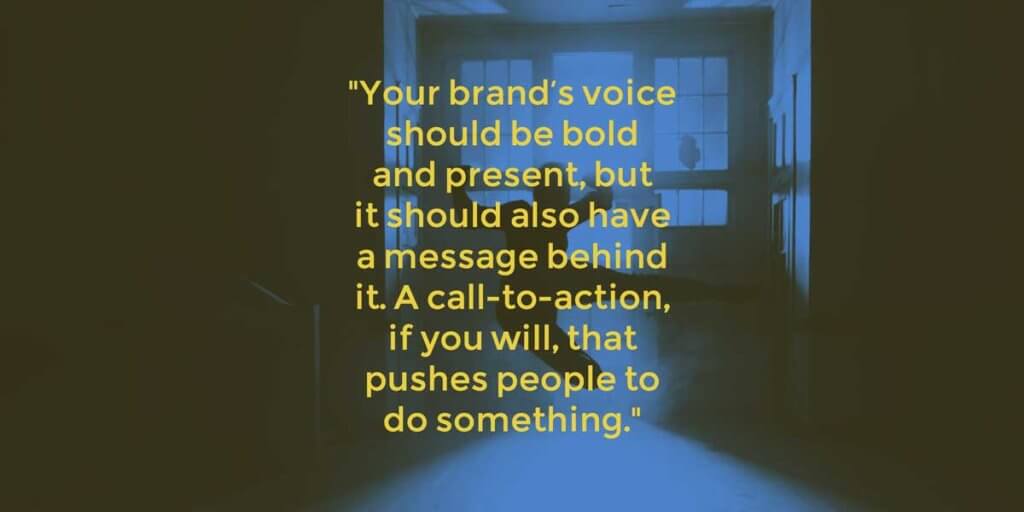 A powerful and authentic brand voice is heard from a distance. 
You don't want to create a brand that has a tedious way of communication since it doesn't create value, interest, or engagement. 
Establishing an authentic brand voice that will directly communicate your brand personality with the audience is essential. What's more important is to create consistency.
Here are a few key benefits of having an authentic and consistent brand voice on social media: 
The targeted audience can relate to your story and connect to your personality easier. Sharing the same views and values creates a long-lasting connection and trust, which could positively impact your brands' business results.
Build trust and loyalty with your customers is one of the most critical aspects of the business today. There are too many options and choices, so why would a customer pick a brand he or she doesn't trust? 
Help in building a brand that is easily identified and recognised among the targeted audience.
Set up expectations when it comes to communication and engagement with a targeted audience and customers. 
Build a community and relationships that last. Having a long-term picture is extremely important, and a potent tool is word-of-mouth. A unique brand voice can travel around the world without borders.
7 Examples of Brands With a Strong Social Media Voice & Things to Learn From Them
Now, when you know the basics about the brand voice, its importance and benefits, it's time to showcase the brands that are entirely nailing their social media voice. 
This part will help you to understand what's important and show you different perspectives of what works. 
#1 – Calm
Calm is a brand that built a successful meditation and inspirational app that is downloaded and used daily by millions of users. 
Their brand voice is all about inspiring and motivating people to grow, practice mindfulness, live without the stress that will lead to improved quality of life. 
Even on their homepage, you can notice a simplicity and calmness in their design. 
Calm didn't want to pack people with information since the abundance of information can cause stress. 
On the homepage, they effectively communicate their values and mission while providing visitors with a simple CTA button.  
On their Instagram profile, they effectively communicate what the brand is about using 'Take a deep breath' which is connected to meditation, mindfulness and content state. 
Also, what's exciting for a brand of 1.4 million followers is that they actively ask people to reach them out for any help. 
Their Instagram feed communicates its mission in a very consistent and straightforward way. 
Since Calm is about motivating and inspiring people, they've implemented motivational quotes and provoking questions to increase engagement. 
Also, they've started a few successful hashtags, which is an effective way to build an active community. 
You can see their logo design in a bottom right corner that automatically identifies a message with a brand. 
They use quotes and inspirational pictures on Twitter too, but with the addition of short guided meditations for its followers. 
Key Takeaways:
Be consistent
Integrate your mission and values into your website design
Users tend to engage more with interactive content
Use your own hashtags to build loyal communities
Don't forget to use your logo on pictures
#2 – Sharpie
Sharpie is a company that manufactures markers and pens for artists and out-of-the-box thinkers. 
Their brand voice communicates creativity, inspiration out-of-the-box thinking and passion. 
At the very beginning of their homepage, you'll be greeted with a showcase of their customer work. 
The photo is combined with a bold and powerful statement that communicates passion, inspiration and creativity. 
Also, they are using user-generated content while promoting their customers which shows how much they value their customers. 
Their Twitter is filled with inspirational stories that show how out-of-the-box thinking and creativity have the power to change the world. 
What's interesting is that they usually share user-generated content to inspire people to change and make the world a better place. 
Their Instagram feed showcases the creativity and power of the open mind of their users in the form of art. 
It's just an inspirational, colourful and powerful way to engage with their audience. 
They also provide with a fundamental lesson – never underestimate the power of user-generated content. 
Key Takeaways:
Consistency is a key
User-generated content is compelling, primarily if your brand focuses on art and creation
Promote social impact projects that share the same values with your brand
#3 – CupShe
CupShe is a relatively young brand that started in 2015 as an idea to promote the beauty of the beach lifestyle. 
Nowadays, the company exclusively produces the swimsuit lines for women creating their fashion trends. Their brand voice communicates the natural beauty, fun, confidence and a strong sense of community. 
Once you land on their homepage, you'll be greeted with bright colours, sandy beaches, turquoise waters and beautiful women freely wearing their colourful swimsuit. 
Their website design is extremely simplistic and incorporates its brand voice by presenting graphical content that communicates freedom, fun, confidence and natural beauty. 
Their Instagram feed features user-generated content that's curated by women (targeted audience) who travel around the world. 
As you can notice, the majority of their content showcases the beautiful women wearing their swimsuit on the beaches around the world. 
They effectively communicate the beauty, freedom, the importance of having fun and community.
Further, their Twitter feed is filled with motivational and inspirational photos taken by their customers. 
As you can see, they combine a powerful message with a beautiful picture that directly communicates their values. 
Key Takeaways:
Create an active community of like-minded individuals who'll inspire and motivate you to create innovative solutions and products
Strong graphical content that communicates your brand values and philosophy
Implement an user-generated content in your social media strategy
#4 – MoonPie
MoonPie is a well-established company that produces delicious cookies that come in various flavours for more than 100 years. 
Their brand voice is all about humour and support of the more significant causes such as multiple social projects including flying to the Moon. 
Once you land on the MoonPie homepage, you'll be greeted with interactive animation and celebration of Apollo 11 Moon landing mission. 
The brand continually connects with influencers and social impact projects to spread the word and make a change in the world. 
For instance, the collaboration with NASA brings rare footage from the Moon landing and educates people about that historical event. 
MoonPie, as the graphical identification, uses the Moon, so the brand decides it would be a great thing to send their delicious MoonPie out of Earth orbit – to the Moon. 
Their Instagram feed is filled with a colourful and humorous graphic featuring delicious and diverse chocolate pies made in the MoonPie factories. 
The majority of Instagram posts feature a funny picture with a MoonPie in various contexts. 
For instance, their current campaign is to bring their popular chocolate product on the Moon, and they communicate it in a very humorous way. 
People seem to positively accept their approach and engage with the brand for many years. 
MoonPie, from the humble beginnings, stay consistent in their brand voice, and that's how they slowly build trust and collaborations with leading social impact projects.
Key Takeaways:
People love to engage with a humorous content
Create a colourful graphic and conveniently use your products/service to increase the engagement
Be consistent in your brand voice, but always try and experiment with new things to understand what brings the best results
#5 – Square Sayings
Square Sayings is a relatively young brand that creates innovative, unorthodox and creative graphical content for famous companies around the world. 
In recent years, they've started to produce various products including mugs, phone covers, hats, t-shirts featuring their graphic design. 
Their brand voice focuses on artistic freedom, humour, creativity and compelling visuals. 
From day one, Square Sayings believe that the picture is worth more than 1,000 words, and they seem to utilise these beliefs and values pretty useful in their brand voice. 
Their homepage features a colourful slideshow that showcases their trendy products. 
Even on the homepage, they stick to their brand voice and minimise the amount of text while emphasising on strong visuals. 
As you can see, their products feature a simplistic and graphical approach combining textual messages that bring humour and life to the product. 
Their Instagram feed is straightforward, colourful and consistent. 
It helps the audience to recognise their brand since their feed is exceptionally cohesive, authentic and memorable. 
As you can see, they're focusing their brand voice on colours and subtle messages that features humour and sarcasm. 
Key Takeaways:
Spice up your brand voice with humour and sarcasm
Visual content with bright colours tend to perform very well on social media
Simplicity and consistent brand voice separates you from the competition
#6 – Arcido
Arcido is a relatively new brand that follows the trend of location independent working. 
The company designs and manufactures minimalistic and straightforward backpacks ideal for digital nomads. 
The brand voice actively communicates simplicity, minimalism, portability and efficiency. 
Once you land on their homepage, it's pretty straightforward to understand what's the brand about. 
Their backpacks feature a very minimalistic grey and black design accompanied by a simple brand logo that differentiates them from the competition. 
Grey and black colours are their primary brand colours, and you can notice these two colours dominate their whole website design. 
Once you scroll through a homepage, you won't be overwhelmed by textual information, but instead, Arcido focuses on showing, in a very visual way their product features and benefits. 
Also, the majority of their content is user-generated, which helps in establishing trust and authority in the industry.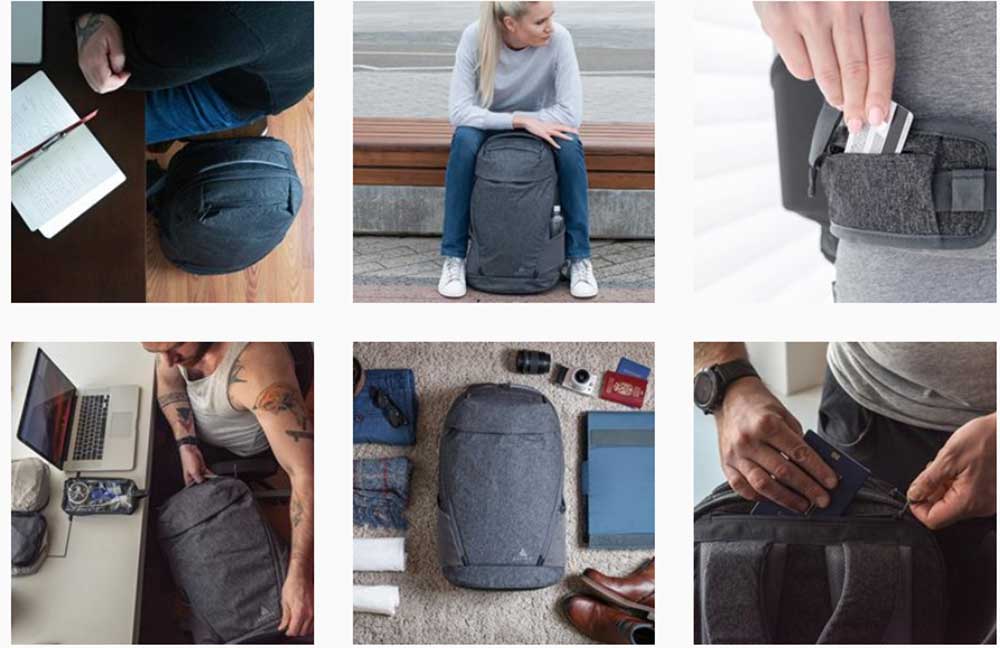 Their complete Instagram feed powerfully communicates their values in a very simplistic and consistent way. 
They are mainly curating a user-generated content showing the benefits of their products and how their targeted audience, digital nomads, can achieve more with less. 
The same goes with consistency when it comes to colour picking. You can see their feed is dominated by grey and black colours which represent their brand. 
Key Takeaways:
Stay consistent and curate user-generated content to increase trust and authority
You can achieve more with less 
Be consistent when it comes to picking the colours that represent your brand
#7 – Slack
Slack is a well-recognised brand in project management that becomes the standard when it comes to teamwork, effective communication and productivity. 
Slack focuses on making work simpler and employees more productive through effective communication and straightforward project management. 
Their brand voice is all about communicating their mission through user-generated content, detailed case studies, new features and inspirational business stories. 
Their website design uses interactive and visual objects such as animations and short videos explaining certain features of their platform. 
They are all about the simplicity, effective communication and productivity, which you can notice once you land on their homepage. 
They explain the key features of their platform in a friendly and easy-to-understand way which thoroughly communicates their mission and values as well as setting themselves as an authority in the industry. 
Their Twitter feed shares valuable and educational information in the form of statistics and case studies to prove the effectiveness of their platform. 
That informative approach communicates their mission through a useful, yet simple-to-understand content.
On the other hand, their Facebook feed is more oriented on user-generated content in the form of interviews and videos. 
Slack consistently publishes valuable interviews or user-generated content showcasing the real results their platform have on specific industries.
That's a convenient approach when it comes to proving your results and establishing your brand as an authority in the industry. 
Their mission is to increase productivity and simplify the workflow, which will result in better performance and results. 
The social media voice effectively communicates the purpose of the company while keeping user engagement on a high level. 
Key Takeaways:
Establish a Unique Personality Through Powerful and Consistent Brand Voice
Customers are ever-demanding, and it requires a creative and innovative approach to beat the competition. 
Setting up a powerful and consistent brand voice can help your company in building the authority, trust and unique personality. 
To effectively build a unique brand voice, it's essential to define your company's mission and values clearly. 
Be consistent, be innovative, be authentic, and customers will recognise your unique personality and value.
Author Bio: Petra is an internet marketing specialist at Point Visible, a digital marketing agency providing custom blogger outreach services. In her free time, you can find her on a tatami trying to improve her aikido techniques or in the local pub with her friends. Also, she's a coffee & chocolate addict.