Verbal Identity: What It Is and Why It's Important
Verbal identity refers to the language used to describe a product, service, organisation or brand. It provides a unique set of communication cues, allowing consumers to distinguish one brand from another easily.
Branding is becoming more critical in today's constant social media scrutiny. As consumers begin to notice brands for who they are rather than for what they're advertising, companies must pay attention to their identity to ensure that their brand stays consistent and recognisable for years to come.
How we present ourselves matters. Your brand is your personality in a nutshell. So how do you communicate your personality to your customers?
And how do you communicate your personality to the people around you?
This guide will examine how verbal identity works and how it can help us connect with people correctly.
What is Verbal Identity?
The term "Verbal Identity" was used by the world-famous marketing expert and branding strategist Dr Robert W. Bly. He explained the concept in his book "The Copywriter's Handbook".
According to Bly, "Verbal identity is a process through which a business, product or company gains recognition and acceptance. It is the process by which a brand name acquires positive connotations and the emotional and physical associations it evokes. This is the 'name' part of branding. A Verbal identity comprises two key components – an identity statement (the idea) and the brand name or logo (the visual symbol).
"The purpose of the identity statement is to provide an explicit definition of the brand; the purpose of the name is to communicate this identity to the world. The purpose of the name is also to create a brand identity. When the name communicates the brand's identity, and when the name is attractive and memorable, it becomes an integral part of the verbal identity."
Sale
Bestseller No. 1
Copywriter's Handbook
Bly, Robert W. (Author)
English (Publication Language)
496 Pages – 04/07/2020 (Publication Date) – Griffin (Publisher)
Now let's look into how to make a Verbal Identity.
Step 1: Select the best identity statement for your business.
The first step of the verbal identity process is to select a compelling brand identity statement. While many business owners would say, "our products are of high quality", "we offer the most advanced technology", or "our company has a strong ethical foundation", there is no single sentence that can sum up your business's mission.
Instead, select a specific statement that best represents your company's core values. For example, "Our products are designed for maximum efficiency and ease of use," or "Our company stands for innovation, honesty, and a strong social responsibility."
Next, write down the 10-20 best examples of your identity statement. These examples should come from different areas of your business, including your products, services, employees, and community.
Your selected identity statement can be a short phrase or a longer sentence, but it should be concrete, clear, and focused.
Step 2: Find the best name for your business.
To find the best name for your business, consider the following factors.
How will your name help people remember your business and products?
How well will it reflect your identity statement?
How easily can you pronounce it?
How easily will people be able to spell it?
In other words, a good name communicates your business's identity and helps people easily recognise and remember it.
Step 3: Write the story behind the name.
Once you've settled on your business's best identity statement and name, it's time to write a story about it.
Every brand has a unique origin story, and every company has a unique mission. Your story should be true to your company and help people understand why you exist.
Write about the founding of your business, the mission of your company, and your vision for the future. You can also include interesting stories and quotes from successful business leaders.
A few great examples of identity statements and names for different businesses include:
Apple – "To bring the best user experience to customers through innovative hardware, software, and services."
Chobani – "Better Food For More People."
Honda – "To provide products and services that expand people's dreams and potential."
Kellogg's – "Nourishing families so they can flourish and thrive."
Microsoft – "to empower every person and every organisation on the planet to achieve more."
Starbucks – "To inspire and nurture the human spirit – one person, one cup and one neighbourhood at a time."
Target – "To help all families discover the joy of everyday life."
The most important thing to remember is to write the story behind your brand, not just the facts about your business.
Why You Need a Verbal Identity.
Your brand speaks volumes about your business. You must invest in your brand strategy if you're a business with a unique product or service. A brand identity is the foundation of your message, and it determines what kind of business you are in.
A good brand strategy is simple. It's an understanding of your market, a clear vision for your brand, a strong personality, a strong connection with your audience, and a voice that makes you stand out from the crowd.
This kind of brand identity separates brands from companies because it goes beyond simply telling your story or communicating your product's or service's value. It's about more than just branding—it's about creating an authentic and memorable experience for your audience.
To create a brand strategy, start by asking the following questions.
Who Are You?
If you're an organisation, you need to define your audience. Who are you? Who is your target audience? How are they different from other customers? What motivates them?
What's Your Story?
It would be best if you had a compelling story that inspires people to choose you over your competition. What's the value proposition of your brand? What makes your product or service unique and memorable?
What Are You Known For?
Your brand is what you're known for. What do your customers talk about you for? What do they say about you on social media? Do you have a reputation as an expert or pioneer in your field?
How Does Your Voice Make You Stand Out?
Your voice is everything. It's how you communicate with your audience and what sets you apart from your competitors. You need to know the conversations your audience has on social media. Where do your customers go when they're having a conversation?
How Can You Tell a Good Story?
A good brand strategy helps you tell your story in a way that customers will hear. What different stories have you been told about your industry and competitors? What story do you want to tell?
What Is the Value Proposition?
A good brand strategy is more than just telling your story or communicating your value proposition. It's about more than just branding; it's about creating an authentic and memorable experience for your audience. What are the benefits of choosing your brand? How does your brand differ from your competitors?
How Do You Connect With Your Audience?
A good brand strategy creates a bridge between your business and your audience. It helps you understand your audience, who they are, where they are, and what makes them tick. This gives you insight into how to connect with your audience.
How is Verbal Identity Used?

While marketers have long understood the value of identity and how to harness it for business purposes, they are just beginning to understand the power of this concept for consumers.
The term "verbal identity" refers to how we communicate information to others—our words. These verbal identities are part of our style and reflect our values and personality traits. Verbal identity is a powerful driver of purchase decisions, especially for Millennials. For instance, a study of over 1,000 individuals found that 55% of consumers identify themselves primarily through social media, such as Facebook, Instagram, and Twitter.
Verbal identities influence the messages we send to others and create a powerful connection with them, which helps us understand and connect with them.
When used correctly, verbal identity can be a powerful way to connect with your audience. For instance, a recent study revealed that 44% of the messages sent by salespeople in the U.S. are ignored, while only 10% of the messages sent by people in other industries are. A successful verbal identity can help you build trust and rapport with your audience.
How Does Verbal Identity Work for Marketing?
You already know that verbal identity is a powerful driver of purchase decisions. Using it effectively, you can build strong relationships with your customers, improving your brand perception and increasing loyalty. Here are some ways you can leverage verbal identity to your advantage:
Be Unique and Stand Out
You can stand out from the crowd by presenting yourself uniquely, which connects with your audience and makes you memorable.
For example, if you work in the retail industry, you might choose to wear branded clothing, carry branded bags, or promote your business using branded tools.
Create a Powerful Visual Story
People remember images more vividly than text, so if you want your message to stick, it needs to be visually engaging.
Visual communication, such as infographics, videos, and social media posts, can be practical tools to tell your story and create a powerful visual identity.
Incorporate Stories Into Your Verbal Identity
Tell stories to emphasise the benefits of your products and services. Stories about how your product or service fits into your audience's lives can help humanise the brand and increase customer trust.
Stories can also provide a compelling reason to buy your product, generating more sales.
If you're looking for ways to improve your verbal identity and storytelling skills, consider attending an event like our next workshop, where you'll learn to develop a personalised story that will resonate with your audience.
What are the components of a Verbal Identity?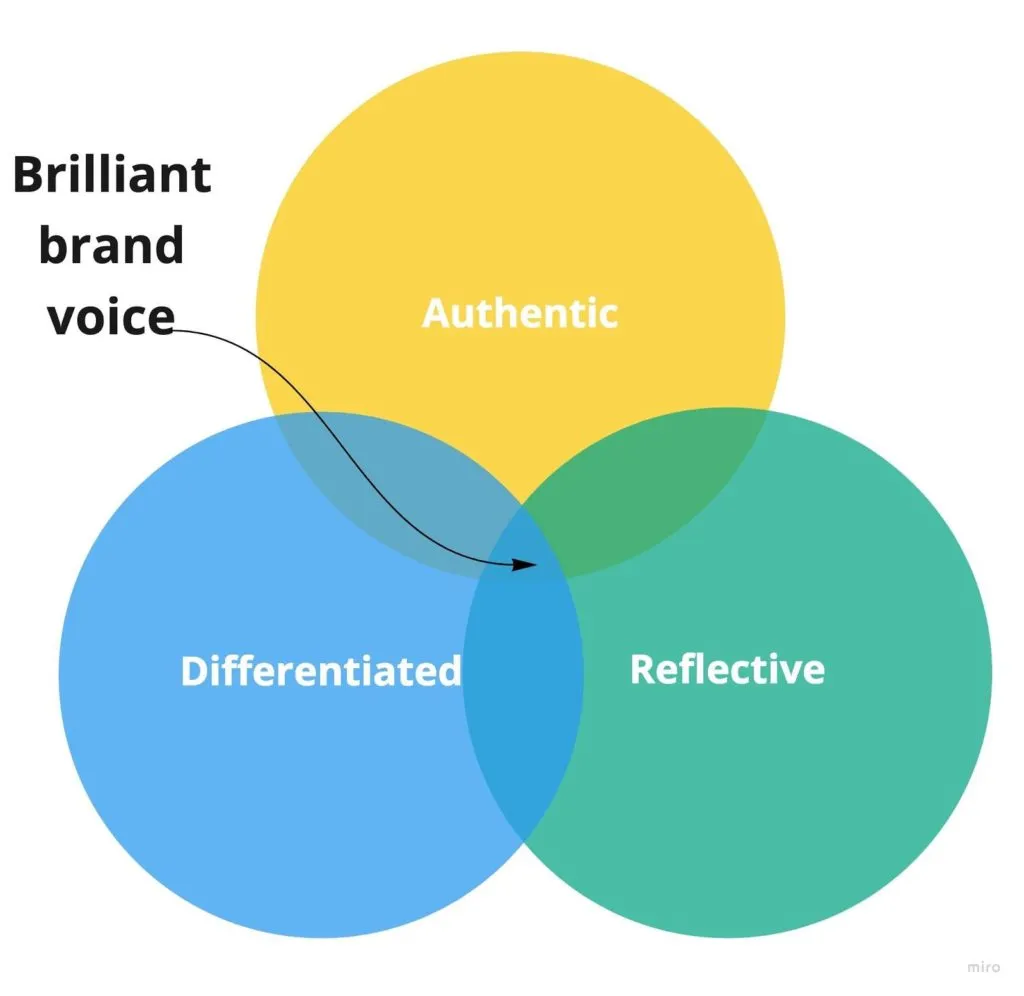 1 – Brand Voice
People respond to verbal and visual branding by forming associations between what they hear, see, and read and how the product is designed, packaged, and marketed. This is called brand communication.
The most effective brand communication is a combination of all three elements. Your voice is the most crucial element in brand communication. It's the first thing people hear when encountering your brand and the last thing they recall before making a purchase decision. If your message is compelling, people will remember it. If your message isn't, people won't remember it.
How Does Brand Voice Work in a Verbal Identity?
Your voice can communicate brand values, personality, and personality traits. Using appropriate language with your audience can create an emotional connection that influences people's perceptions, memories, and actions.
Using the correct language to describe your products and services builds trust. People develop positive feelings when they understand and connect with your brand message. They associate your brand with favourable characteristics and experiences. That, in turn, creates loyalty, which builds your reputation.
How Does Brand Voice Influence Visual Communication?
Your brand identity and voice work together to create the overall impression of your brand. Together, they influence how people perceive your products and services.
When you have a strong brand, your visual identity (logo, tagline, font, and colours) also reflects that. Visual elements are used to create consistency in your brand. When you create visual elements consistent with your brand, you create a stronger visual impression that reinforces the overall brand.
Visual elements are also a meaningful way to communicate with your audience. Visual elements express your brand identity, personality, and personality traits. For example, suppose your logo is a happy, smiling face. In that case, you can use that same face to express your brand's personality in other ways, such as on your packaging, website, or other promotional materials.
How Do You Communicate with the Language of Your Voice?
There are a variety of tools that can help you improve your brand communication. Brand positioning is a method for defining and communicating your brand's personality and values. It uses words to create connections with your target audience.
You can use brand positioning to communicate who you are, why people should buy from you, and what your products and services are for. You can also use it to position your products or services in the marketplace, helping customers make decisions.
Brand positioning focuses on the attributes, benefits, and features of your product or service. It explains how your products or services differ from competitors and why they are superior. Your brand positioning strategy should include the following:
Your brand personality.
The attributes of your products or services.
The benefits that distinguish you from the competition.
You can also use brand positioning to communicate your company's culture or values. Brand positioning can help you communicate who you are and why people should buy from you.
A brand positioning statement is a short, powerful statement that describes your brand. Brand positioning statements are a great way to define your brand and create a memorable brand identity.
When you're thinking of how to describe your brand, consider the following questions:
What are the distinguishing features of your brand?
What are the benefits of your brand?
What are the values of your brand?
How do your products and services fit into your customers' lives?
What does your brand stand for?
How do you make a difference in the world?
What are the personality traits of your brand?
What are your company's core values?
2 – Brand Story
Brand Storytelling begins with a thorough understanding of your brand. Through a content audit and user research, you learn what your audience values, what makes your brand unique, and why people connect with your brand. These insights help you understand what type of communication style and messaging best fits your brand.
Next, you create brand stories, or messages, that tell a compelling story of the brand and its value proposition to your target audience. This allows you to identify your ideal customers, who are the people who care about your brand and create content and campaigns that speak to them.
Once you understand your brand and ideal customers, you are ready to communicate the brand most appropriately. Whether through print, radio, web, television, digital, or mobile, your goal is to use every communication channel to share your brand's story.
Bestseller No. 1
What Are the Benefits of Brand Storytelling in a Verbal Identity?
You can connect with your audience more deeply when your brand's story is told well. You can build trust in your brand and products by telling a compelling story. The audience can see themselves in the brand, and this personal connection to your brand increases brand loyalty.
Brand Storytelling builds credibility and brand equity by allowing your audience to connect with your brand in a way that feels real. You're giving them a reason to trust your brand, and it gives your brand a more human-like quality.
3 – Brand Tone
Brands are often seen as being synonymous with their product. They tend to be associated with a particular type of product. This association helps to create the image a consumer has of a brand.
When it comes to the verbal identity of a brand, the tone of voice it uses to deliver that message is an important consideration. The tone of voice can be considered the brand's personality – how it expresses its core values through its language.
As you may expect, there are two types of tone of voice, positive and negative. A positive tone of voice would be confident, friendly, and approachable. A negative one could be perceived as aggressive, brash, or rude.
The tone of Voice Considerations:
Is it warm or cold?
Is it natural or synthetic?
Are the words chosen for the message clearly and concisely?
Is it short or long?
Is it formal or casual?
Does it include personal pronouns such as I, you, and we?
Is it positive or negative?
How Does the Tone of Voice Work in a Verbal Identity?
The tone of voice can give an idea of the brand's personality. If a company is known for its friendly and relaxed approach, we expect the language used in its communications to reflect this. On the other hand, if a company's communication is perceived as cold and stiff, it may not be surprising if the same attitude is reflected in the language used.
Positive Tones of Voice
When a brand uses a positive tone of voice, it communicates that it is happy, friendly, and approachable. You can do this by creating a friendly tone of voice, using pleasant, informal language, or using humour. When a brand uses a friendly tone of voice, it communicates that it is approachable and open to sharing its expertise and offering assistance.
Negative Tone of Voice
On the other hand, a brand can use a negative tone of voice to communicate that it is not approachable and that its expertise is not to be trusted. Negative tones of voice are often used to promote products that are not in line with the brand's image or values.
Bestseller No. 1
Conclusion
In conclusion, I think that verbal identity is a crucial aspect of branding, especially for people who aren't well-known.
As you may know, branding aims to position yourself as an expert in your field. So, it's vital to ensure you convey a consistent message about your business that is easily recognised.
This will enable you to develop a rapport with your audience and help them feel comfortable trusting you. If they feel like you're someone they can relate to; they'll be much more likely to buy your products or services.
Sign up for my free resource below and receive a weekly newsletter.
Last update on 2023-12-09 / Affiliate links / Images from Amazon Product Advertising API