8 Tips for Creating a Stunning Letterhead Design
Although many companies are going paperless in today's digital world, that doesn't mean the need for an amazing letterhead design has been eliminated. 
You may use email and phone to conduct most of your correspondence, but a beautifully-created letterhead design can sometimes be the best medium of communication.
Since a letterhead is one of any business's most critical marketing tools, it should reflect your business message adequately. 
If your letterhead design is not made right, potential customers might assume your company is inapt and may take their business elsewhere. 
Working with high-quality graphic design software and professional letterhead designers can ensure your company successfully creates a contemporary letterhead design that will prompt the customer to read the message.
Back to Basics
Before you jump up to choose the template, colours, and fonts for your letterhead design, there are some basic details that you need to keep in mind. This includes your brand name, your logo, and contact detail.
Even though these details may not seem as much fun as choosing the print of your letterhead, their placement is a top priority if you want your letterhead to successfully do what it was made to do: deliver the company's message effectively to your target audience.
Your brand name, company logo, and contact details should be placed at the top of your letterhead design. You can also add the social media details of your business at the top, but it is OK to put them at the footer of the letter as well.
The next thing you need to consider is the size of the paper. The standard letterhead size in the United States is 8.5 x 11.1 inches. You should then break up this paper into rectangular sections where you can place different pieces of vital information.
For example, the top third part of your letterhead should contain your business name and logo. In contrast, the bottom third part should contain the signature and additional contact information in the footer.
Before selecting one basic design over another, we recommend you research several different types of letterhead templates to find out what you can use in sizes and elements to create a cool letterhead design.
Leveraging Visual Hierarchy
Visual hierarchy is a fundamental design principle—this arrangement of all the elements on the letterhead in order of importance or priority. 
Hence, the visual hierarchy indicates the most critical information that needs to be reviewed first.
Usually, although not always, the most critical piece of information you need to communicate is who the letter is from — the individual or the company responsible for writing it.
After that, you should typically add the return address, the email address, and the telephone number. The person who writes the letter must decide on the critical information the design should convey based on the hierarchy. 
Crucial information needs to be communicated prominently, while you can write less critical information in standard size and place the least important information in less noticeable areas.
Align Your Letterhead Design With Your Brand
Your letterhead is a crucial representation of your brand, and it is vital to ensure it reflects your business's objectives and creates a coherent message for the client.
Your letterhead should have a theme that matches the theme of your brand.
It should also reflect your brand value and tone of voice and create a complete brand picture with consistent visuals rather than generic graphics that have no connection to your brand.
To ensure a suitable theme for your letterhead, look at other branding materials for your business, like the website, logo design, email templates, social media pages, business cards, product packaging, and more. 
By placing them on one page, you can form a picture of what your letterhead should look like and what elements it needs to contain.
Know Your Typeface
Also known as font, the typeface you use on your letterhead may already be selected by previous branding exercises, or you may have to form a new one from scratch.
Before you leap into the jumble of thousands of different fonts and overwhelm yourself, you need to understand what type of font you require.
Fonts are divided into serif and sans serif types.
A serif is a minor stroke that ends a letter stem, giving your letters a more serious and traditional feel. Examples of serif fonts include Times New Roman and Baskerville. 
On the other hand, sans-serif fonts do not have this stroke, creating a more minimalist and modern impression. Examples of sans serif include Helvetica and Calibri.
Font size is also an important consideration. Large and bold fonts draw the reader's eye, so the company's name and letterhead's subject must be in a bigger font than the body of the letter. In addition, your font should reflect your brand personality as well.
For example, if you run a law firm, serious and traditional-looking fonts, like Times New Roman and Helvetica, are good choices. 
On the other hand, if you are running a jewellery business, you can use an elaborately cursive font like Vivaldi and Script MT Bold.
Also, remember that your font will be placed next to another type of content on your letterhead, which you may style differently, so make sure the elements complement each other.
Show Your Brand's True colours
Your letterhead design should contain the same colours as your brand. However, if your brand colour palette is varied, that doesn't mean you have to showcase every single one of your brand colours on the letterhead.
But remember that using multiple colours in letterheads in certain situations is also acceptable.
To select a few colours for your letterhead inspiration, look at your logo or branding elements that feature your brand colours and pick a few contrasting hues to add to your letterhead. 
It would help if you also kept in mind that seeing specific colours affects the psychology of a reader.
For example, sunny yellow and green grass colours can help lift your mood. Dark reds can help show passion, power, and leadership. You can pick the intended effect colours depending on how you influence your readers.
However, do not use too many bright shades or a rainbow of hues if your business's ambience is formal.
Frame it With an Illustration
An excellent tactic to make your letterhead stand out from the crowd is to use illustrations and graphics to frame your letter. 
This will not just increase the aesthetic value of your letterhead; it is also a smart way to let your brand personality shine through.
In general, you may want to use illustrations with transparent backgrounds that can help your graphic blend in seamlessly with the rest of your design.
Keep in mind, though, the design and illustration of your letterhead should match your brand image.
The Location of the Logo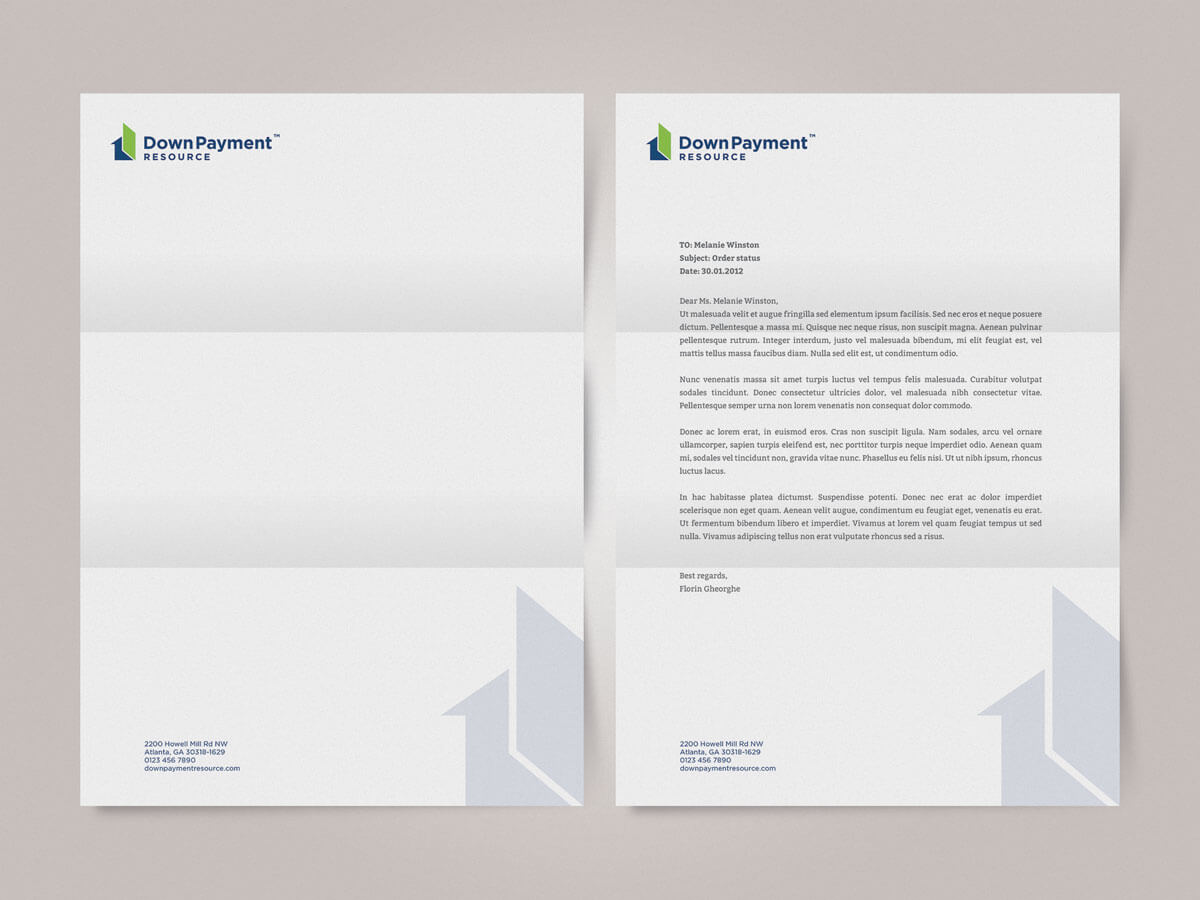 The alignment of your logo is essential when you create a letterhead design since it directs the entire flow of the document. 
For that, you need to reserve a dedicated space on your page. You want your logo to align with the rest of the letterhead's design and become the starting focal point for the reader's eye.
That's why most companies will put their logo at the top of the letterhead before the textual content.
When your logo is placed in the proper position, it will dictate that all information that follows it is associated with the brand.
A prominently placed logo design will also ensure the reader recognises your brand across all business communications. Hence, its proper alignment is crucial.
An excellent way to focus on the critical sections of your letterhead is to use creative headers and footers. You can use the colours and accents from your letterhead in the header and footer to balance your overall design.
Your header and footer design can also play a role in the visual hierarchy of the letterhead. An excellent way to do this is to create heavier-designed headers and lighter footers highlighting your company's name, name, or other information at the top.
Some companies add only the letterhead and forego the footer based on the information they want to convey.
Alternatively, you can also forego the header and add a creative footer to help focus on your additional contact information, like social media accounts. 
There are many ways you can design and play with headers and footers. The choice is yours, and no matter what style you go for, you will find hundreds of choices that can help you incorporate stunning headers and footers into your own business letterhead designs.
Experimenting with Borders and Watermarked Shapes
If you want to add more flair to your letterhead design or give it an innovative and unique look, adding a border and watermarked geometrical designs is a good option.
Depending on your business type, you can place different border styles on your letterhead. For example, a bank may add a 4-side border in a single solid colour around their letterhead to give it a more professional and "put together" look. 
On the other hand, a candy or toy store may place a colourful border containing tiny images and graphics. This border can be on one, two, or all four sides.
A well-thought-out border design can enhance the look of your letterhead and draw the reader's eye to the main content.
In addition, you can also add some geometrical shapes to your letterhead that reflect your brand's style and tastes.
Creating shapes with 3D effects can also add the "wow factor" to your letterhead and help your letter stand out from the competition.
Adding these shapes to your envelope and business cards may also be a good idea to form a more consistent connection.
Paper Stock for Printing
The weight and feel of the paper stock determine its quality. Hence, a thicker and heavier paper generally provides a more high-end result.
However, there are several other options that you can use to customise the paper stock for your business.
You can choose whether your paper should have a smooth or textured surface. A fun thing to decide is the shade or tone of the paper stock itself.
Bright white paper stock is the most common type of paper used, but you can also have paper in pale cream, pale yellow, or pale blue, depending on your brand.
Using high-quality paper stock is the figurative nail in the coffin that can help hold your graphics and brand elements together on the letterhead. In addition, it produces the tactile sensation that you want.
Consistency is the Key
A business card and an envelope also accompany a company's business letter. To show more uniformity between your brand and letterhead, you should feature the same design elements on your business card and envelope. 
This consistency provides a complete and pleasing visual representation to the clients. It also enforces brand recognition and increases customer trust.
When your branding is consistent, it becomes easier to influence the perfection of your target customers.
In addition, when you tie your brand consistency with positive connotations, your customers will start associating these positive elements with your overall brand. 
This creates trust and confidence among your customers and reinforces the belief that they will have the same experience with your brand that they have become accustomed to.
Due to its consistency, your brand can differentiate itself from its competitors.
Software Matters
No matter how well you visualise your letterhead, your efforts will go to waste if you do not have high-quality software to bring it to life. 
Therefore, ensuring you have the best graphic design software to do the job right is essential.
If your letterhead design is super simple with no elaborate graphics and customised fonts, MS Word or Pages software may be fine for it.
However, if you want your letterhead to stand out from the generic ones, you need to put some effort into it and make it in a program designed to create flexible layouts.
Adobe InDesign and Illustrator are the best software tools for designing a highly customised letterhead.
You may also use Photoshop for a less elaborate letterhead but pay attention to adjusting the setting of your canvas so that you do not experience any pixelation when you print out your business letterhead templates.
The Wrap Up
Remember, your letterhead design creates an impression on your clients and to ensure that that impression is good, you need to present a visually stunning letterhead.
That is why only a well-versed graphic designer designing branding material must create your letterhead.
If you do not have the expertise to create your own letter, investing in a professional letterhead designer is wise. The right kind of letterhead doesn't just look pretty, but it also enforces the brand image in the minds of your customers.
Author Bio: Dave Brown is a professional stationary and letterhead designer at Content Development Pros. He has an extensive print and digital design experience, working as a freelancer and a full-time employee with various companies. He was given awards and accolades for his work. When he is not working, he loves to go to the beach with his family, watch black and white movies, or play with his five cats.