How to Create a Graphic Design Resume for Maximum Impact
If you want a job in graphic design, you need to demonstrate your skill in this particular art form. So, if you want to stand out, don't use a generic resume template; instead, create a custom one to highlight your specific experience and expertise.
In today's digital world, employers expect resumes to stand out—they want to know who you are and why you're great for the job. And when it comes to creating a resume, graphics play an essential role.
Whether you want to show off your design chops or you're looking to highlight your professional experience, having a good graphic design resume is essential for landing that dream job.
Here's a quick and easy way to create a graphic design resume that will leave hiring managers wanting more.
1 – Determine your Unique Selling Proposition.
If you're not sure what to put on your graphic design resume, the easiest way is to take a few minutes to write down your unique selling proposition (USP). 
Your USP should reflect how your graphic design skills will help your potential employer's business. Remember, the USP doesn't need to be longer than two sentences.
Here's an example: I'm the best graphic designer at my firm because of my ability to create compelling infographics and eye-catching designs. My clients include national retailers, Fortune 500 companies, and professional sports organisations.
2 – Showcase what you're good at.
Graphic designers, designers of all sorts, and illustrators are highly demanded. With the increase in unemployment, graphic design jobs seem to be popping up more and more.
Because of this, having a graphic design resume is one of the best ways to attract potential employers, and it's a transferable skill to any design position. If you want to stand out in a crowd of people with a similar skill set, having your graphic design resume is one of the best ways to achieve that.
In other words: Show off. Whether you're applying for jobs, creating a portfolio for yourself, or trying to win over potential customers for your business, showing off your skill sets is a surefire way to stand out.
Show off your design prowess by creating beautiful websites, building landing pages for your sales funnel, or designing unique business cards. Be proud of your talent; your portfolio will do all the rest.
3 – Make sure your portfolio is organised and easy to read.
Think visually. It's incredible how many people have a great idea but can't figure out how to communicate it to someone else. One way to solve this problem is to turn your idea into a visual representation—a diagram, graphic, or picture.
Doing so makes it easier for others to understand what you're talking about. Plus, when trying to pitch a new idea, it's crucial to make your point quickly and succinctly. Visual representation helps to do that.
You may need to rethink your presentation if your portfolio is disorganised. An unorganised portfolio can make it difficult for clients to grasp your key messages. 
You can create a simple organisational system to fix this problem by using tabs or dividers to separate content into sections. Or, you could consider creating a website for your business that features a precise, user-friendly navigation bar to help customers find your work efficiently.
4 – Keep in mind that your resume can be improved by design.
You often hear someone say, "I applied to so many jobs online, and I got zero responses" If you keep hearing that, there may be something wrong with your resume.
Here's why: recruiters won't take the time to read it if your resume is riddled with mistakes and inconsistencies. Instead, they'll toss it aside and move on to the next.
Your resume is your calling card, your chance to make a positive impression on recruiters. Following these tips, you can confidently respond to any job application.
Many employers only have a short time to review your resume and interview you. Resume writing gives them a glimpse into who you are and what you can offer their company.
So, when creating your resume, remember that you can improve your chances of being hired by taking a few basic steps.
First, consider the resume format. Most people use chronological resumes, but they should only be used if there is an apparent timeline (for example, a job search).
Instead, consider a functional resume. They allow you to share your accomplishments and expertise deeper without giving away too much information that can make you appear overqualified or unfocused. 
Also, don't forget about the power of branding. Think of a brand as a unique set of traits that you can use to highlight your accomplishments and value. So, when you're describing your achievements, make sure they fit your portfolio.
5 – Build a visual narrative.
A compelling visual narrative can make a portfolio stand out. It is a way to communicate what you can do, which is essential to land a job. 
It would be best to ensure that your elements are appealing and attractive. Make sure that everything looks neat and clean. This is the main reason why a designer is hired.
Visuals are vital because they help sell the idea behind your background. They're also important because it's harder to digest information in written format than in visual format. They're also helpful to your audience because the eye is drawn to them. A compelling image can say more than a hundred words.
6 – Don't forget to include a cover letter.
A cover letter for graphic designers is an excellent place to show off your skills. Include your portfolio with your graphic design resume to show your design abilities.
The cover letter can also show employers your personality. Show them why you're the right person for the job. Explain why you love what you do and the value you bring to the business.
A cover letter is your chance to introduce yourself to the hiring manager and set yourself apart. Remember that it should be shorter than three paragraphs, no more than 500 words, and address the key points you want to convey. 
Include a statement that shows your passion for the job and a bit of who you are. Show how your skills fit the job description and highlight why you want to work for the company. Also, put in some humour to show off your personality.
7 – Proofread and edit yourself.
If you're in the process of designing your graphic design resume, you must proofread and edit every word. After all, a resume is your calling card. You don't want to misspell words or use an outdated font. And while this might seem like an obvious thing to do, many designers overlook it.
There's nothing more off-putting than a resume with misspellings, grammatical errors, and typos. Many people are hesitant to apply for jobs or even submit their resumes if they know they have spelling or grammar mistakes in their application.
So, what can you do to eliminate these mistakes? The key to any resume is consistency, but you cannot avoid some mistakes. Proofreading is the key. In addition, try to focus on what you do well rather than your weaknesses.
8 – Choose the correct font.
Choosing the typeface you use for your resume is a big deal. Fonts too big or too small are difficult to read, and you don't want to waste valuable space showing off the wrong typeface. If your font size isn't legible on a resume, it's time to change it.
Don't use small font sizes. This means using at least 12-point fonts for everything in your design portfolio. People won't notice the graphic if the text isn't large enough. There are a couple of exceptions to this rule, such as when using images and when the text is set apart from it.
9 – Use colour wisely.
Whether creating a cover letter or resume, choosing the colours can help or hurt your overall appearance.
Research shows that people can identify colours more quickly than text, so if you're using colour as the main element of your design, keep in mind the psychological effect it may have on your reader. In addition to helping people remember your brand, colours can also influence feelings and attitudes.
Colour isn't just for the palette. When creating graphic design resumes, your colour can set off and break apart the text, make key points stand out, and convey different moods. 
Consider using colours that have a particular feeling or emotion associated with them, such as: red, blue, black, green, or white.
10 – Use white space and negative space.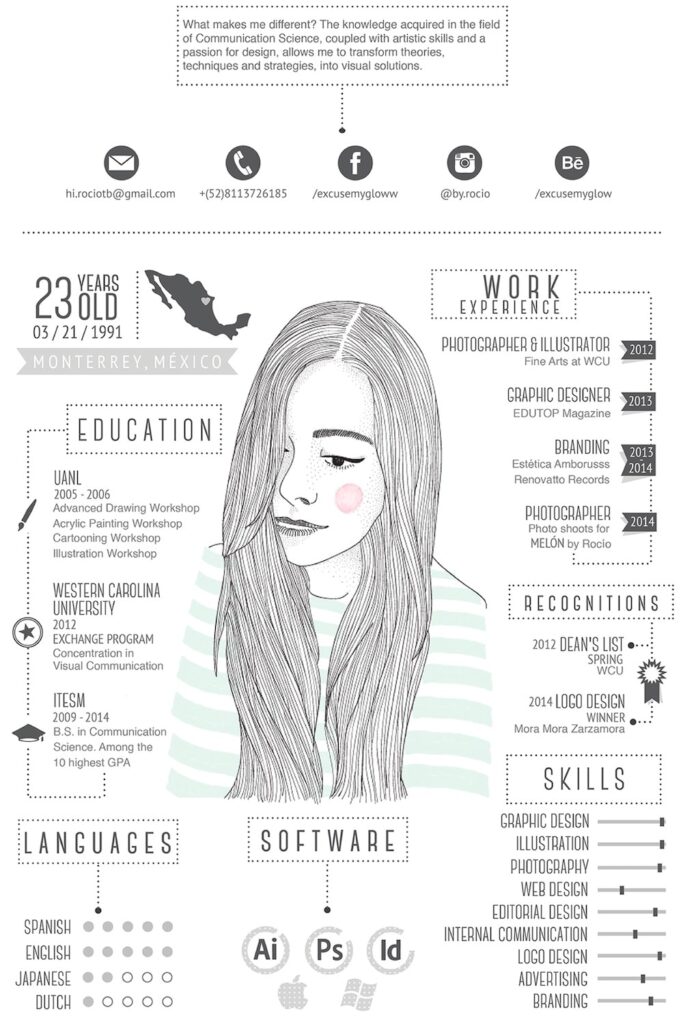 White space (also known as negative space) is between elements. Think of white space as the void left by all the elements in a picture.
You don't need every element in your graphic design resume to be perfectly spaced and aligned, but starting with some space is good. This creates a calming effect on the eyes and a pleasant feeling. It makes the entire layout easier to read.
White space is essential in any visual presentation, whether on paper, on the web, or product packaging. Whether you're creating a resume or graphic design portfolio, you should pay attention to using the "white" spaces on the page or the "blank" canvas that is your resume or portfolio.
11 – Get a second pair of eyes on your work.
This is an important step. No matter how good your portfolio is, someone will have a better eye than you.
You can look at your graphic designer colleagues or coworkers to find a fresh pair of eyes. They might have some free time they want to spend, or they may be willing to review your portfolio for free if you give them a heads-up. 
You can also ask friends who work in design. Or consider getting a professional graphic designer to review your portfolio for you.
12 – Consider creating multiple versions of your resume for different purposes.
One of the most important things you need to think about when creating your marketing resume graphic is the following: 
What is the purpose of this design?
Are you looking for a career change?
Or do you want to find a new job?
If your resume is geared towards finding a new job, you may need to consider creating two separate designs: a cover letter resume and a resume designed for a career change.
Conclusion
It would help if you designed a graphic design resume with a clear focus on creating compelling visuals, whether a series of eye-catching images or a combination of words and graphics. 
This is essential in getting hired since a recruiter will look at your portfolio to determine if you have the skills to produce stunning visual results.
A professional graphic designer's resume should have many eye-catching, unique visual elements, such as photos, illustrations, typography, and colour schemes. These images will make your resume stand out from other candidates' portfolios and show you can create eye-catching, exciting visuals.
Get your graphic design resume and landing page ready to rock right now.