15 Tips for Writing a Graphic Design Resume That Will Get You Noticed
There are many types of jobs available to someone who is looking for a graphic design position.
While you may be ready to hit the graphic design world by storm, you need to have a resume that will be noticed by the hiring manager at the company where you are applying.
Here are 15 tips for writing a graphic design resume that will get you noticed.
1 – Look around
Before you begin writing your graphic design resume, figure out where you will be applying for a job.
You can put your resume online for companies to see or you can tailor it to suit the needs of the individual positions.
Your design will remain the same, but your content will alter depending on the job you are applying for.
Once you know where you are applying, research the company where you are asking.
Every company is different so every resume you write should be a unique individual version for that company.
2 – Colour
You are a designer, so you know the importance of colour.
You do not want to have too much or too little.
Make sure you use colour to your advantage.
If your colour is not crisp and clean, you do not want it on your design.
Be sure the colour matches your style and highlights.
3 – Font choice
Be sure to choose a font that is considered professional.
You do not want to have a font that is too frilly or childish.
You can demonstrate your knowledge of font-use by not choosing an unusual font on your graphic design resume.
When your prospective employer looks at your work samples, they will see your creativity beyond the document.
For now, use a font that is easy to read and business-like.
4 – Organisation
You will need to organise your resume into different sections.
If you are coming straight out of design school and have little experience, you will be stressing your education.
If you are looking for another job in the business, you will be stressing what you have learned at your current position and what skills you now possess.
Once you have determined what type of resume you will be writing, you can use different formats online to assist you with organising your design.
5 – Length
While you might want to include everything about yourself on your resume, you will not be able to.
You need to be short and concise while telling your potential employer just how perfect you are for the position they are hiring.
Your graphic design resume should only be one page long.
If you have to go over one page, do not make it any longer than two pages.
Also, do not just put one line on the second page.
If you only have one line, make it fit on the first page.
6 – Personal webpage
You should provide links in your resume to your personal web page.
Also, provide links to any blogs you may be keeping and your personal accounts if they highlight your career.
Do not link to your personal accounts if they will not show you in a good light or do not highlight what you have done throughout your career.
You should only link to accounts that will stress what you have accomplished.
7 – Be truthful
This is an essential aspect of any resume.
Some people think it's okay to pad, exaggerate or lie.
A person whose job it is to look through resumes all day will know if you are lying.
Anything you include should be backed up with sources.
If a company calls your former employer and asks about a job you did, that you did not do, your resume will be thrown out, and other employers will hear about how you lied.
Be truthful.
An honest employee is what the company is looking for.
Do not say you can do something that you cannot do.
Be honest and back up your work.
8 – Back up your work
Show the person who is looking at your resume that you have the numbers to back up what you have done.
Include any details that will highlight your work.
If your design was used to promote something, show how your design helped the numbers go up with the promotion.
Any marketing numbers you have can be used to highlight what you have accomplished.
Show your future employer that your past projects have led to accomplishments and sales.
An employer wants an employee that will bring in new ideas and numbers.
Make sure you let them know that you are that future employee.
9 – Fun
Have fun with your graphic design resume and be sure to show yourself in your creation.
Use a unique design to attract potential employers.
Do not go overboard, but show them what you can do.
It should not just be a list of accomplishments.
A resume should be a picture of your life up until this point.
It should show who you are and where you want to be.
The more of yourself you put into the content, the more likely you will draw the attention of the person who is reading it.
A fun, unique style will catch the eye of potential employers and could get you an interview, and that is the job of a good resume.
10 – Contact information
While this may seem like a no brainer, you need to have your contact information visible and easy to find.
If you are submitting a digital resume make sure your links to your information work.
If you have a paper resume be sure, your contact information stands out.
If an employer has to search for your name, address, or email they will discard your application and go on to the next one.
11 – Skills
List your computer skills and your design skills here.
Any programming or other skills that pertain to graphic design should be listed here.
Even if you learned your skills at school or during an internship, you should let your future employer know what you can do.
If you took computer classes or design classes you should use bullet points to show what skills you acquired during those classes.
12 – Education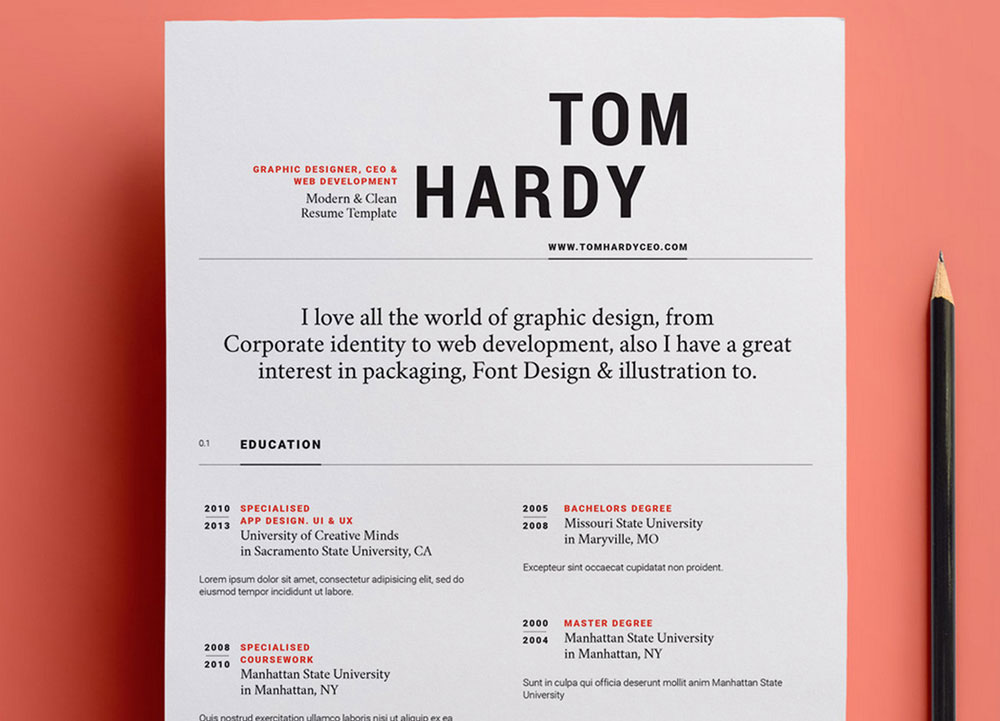 Keep your education list simple.
Put down the name of your school, address, and classes you took that would be helpful in a graphic design career.
Any advanced computer classes or design classes should be listed.
Also, if you interned during a semester, you should highlight that in this section.
You can list the skills you learned during your internship in your skills section, but the official listing should be under education.
13 – Proofread
Do not send your resume without proofreading it.
Make sure everything from your name to your grammar is checked.
You do not want to find out that you misspelt an easy word after you sent it in.
Paying attention to detail is one of the essential aspects of graphic design, and if you do not proofread, you may slip up and the person reading your resume will put it aside.
Details matter so make sure you always double check your work.
14 – Cover letter
A cover letter with your graphic design resume will help the person looking at it understand you.
You can include a reason why you would fit into the company where you are applying and let them know what about their company drew you to apply.
This is where your research will come in handy.
If it is a small company, you can say something like you enjoy working in small group settings.
Use what you have learned in your research to shape your cover letter.
15 – Soft skills
Do not underestimate the importance of soft skills.
If you are just getting out of college, you can use this to promote yourself.
Skills like organisation, budgeting, time management and others are useful for the position you are applying for.
If you volunteered and organised a benefit, you can list those skills here.
If you took a leap year and travelled around the world or went on a mission trip, you can list your blogging, bartering, and other skills that you learned in this section.
Employers are looking for employees with excellent soft skills.
Make sure you show them yours.
Applying for a job can be both daunting and exciting.
Writing a resume can seem like a chore, but when you take your time and put some creativity into your work, you will show your future employer that you care about their time.
Do not waste your future employer's time by sending them an incomplete, rushed, or cookie cutter resume.
Send them something that is unique, and that shows them who you are.
They will appreciate the effort and notice what you have done.
That will put your resume on the top of the list.