Top 12 Best Time Tracking Apps for Freelancers
It's hardly surprising why so many professionals track their time while working. 
While many have accounting in mind, others do it to know if they've been managing their time efficiently enough. 
Time tracking apps have surged in popularity, one of the significant driving factors being the rise of freelancing services online. 
As more and more people adapt to the digital marketplace, time tracking becomes a valuable practice that can spell the difference between a day well spent and poorly used.
Statistics fully support time tracking paradigms: it is estimated that you can minimise productivity leaks by as much as 80% when using a time tracking app. 
This software is not just for those who bill their services hourly. 16% of all individuals who track their time are salaried professionals. 
Thus, time tracking software can prove invaluable in managing your time and productivity at work. 
We've done the hard work for you, presenting a list of the top 12 best time tracking apps you should try.
1 – Time Doctor
Time Doctor is a well-known name in the time tracking apps space. The app is trusted and used by thousands of users worldwide, including professionals in big tech enterprises. 
The best thing about Time Doctor is that it is highly customisable and easily adapts to suit your specific time tracking requirements. 
Features
Powerful Time Tracking
Time Doctor features a versatile time tracker that companies can use to track every team member's time on a task. 
It is possible to see time tracked in several views: by projects, clients, and tasks. 
Time Doctor makes it wonderfully easy to identify activities reducing productivity.
Reports & Analytics 
The app offers highly detailed reports and data. It is possible to see the websites and apps on which the user spent the most time and break time down by tasks. 
Time Doctor yields valuable insights not just for managers but for employees too. The latter can see daily performance reports and strive to improve productivity by working on their weaknesses.
Integrates Everything
Does your team use Slack? Asana? Trello? GitHub? These and many other apps are all supported and will happily integrate with Time Doctor. 
This makes it convenient to use the app as a part of a well-established enterprise workflow.
Pricing 
Time Doctor is currently priced at around $9.99 per user per month, which makes it one of the most affordable apps boasting a rich feature set. 
2 – Harvest 
Harvest offers time tracking apps perfect for freelance professionals who need a simple way of billing their hours and tracking their expenditures.
Features
Invoicing Support
Harvest has built-in invoicing support, which means creating invoices from your timesheets is possible using an automated process. You could also create an invoice manually from scratch.
Track Invoices
Harvest lets you track all your invoices and get a bird's eye perspective of all the work you've completed. The app also shows your annual revenue and lets you easily share your invoices with your clients.
Forecast and Planning
The Forecast feature in the app allows users to map their work schedules. Managers can use the app to see when the team is available to take on tasks and create rich visual maps. 
Pricing
Harvest offers a free version for one user that supports up to two projects. The Pro version costs $12 per month.
3 – Toggl
Toggl is another popular time tracking apps that will work silently without interfering much in your work endeavours. The app has an intuitive user interface and is quite minimalistic in its design.
Features
Multiple Export Options
Toggl lets you export your report files in numerous formats. This makes it easy to share insights with the team or save them for future reference.
Tracking Alerts
It's too easy to get caught up in work and forget to start the timer. With Toggl, you can choose to get reminders to turn the time tracker on when working. 
Multi-platform Support
Toggl supports multiple platforms for tracking time. Users could use the Toggl mobile app or their favourite browser to track daily time. All data is automatically synced between every single platform. 
Pricing
Toggl has a variety of pricing plans for starters and enterprise users. The plans cost upwards of $10 per user per month.
4 – Timely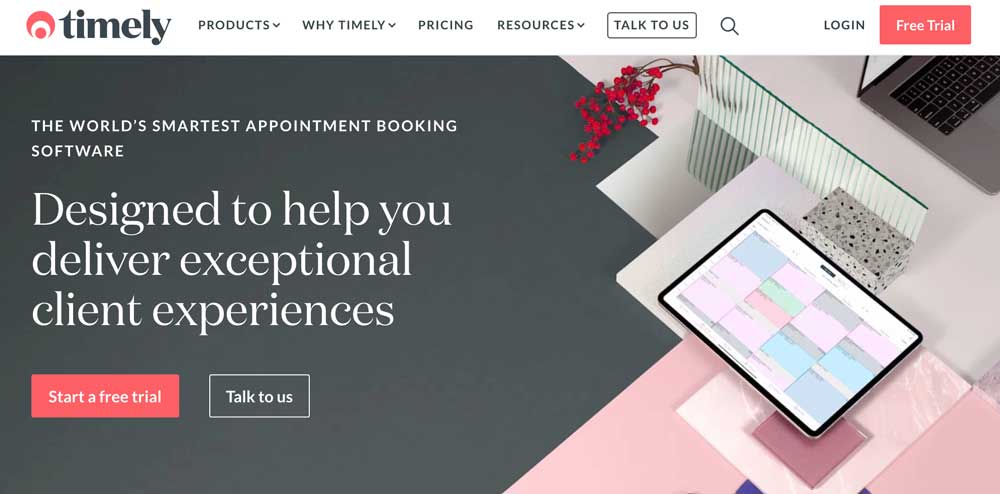 Timely is one of the automatic time tracking apps that uses AI to track and organise your time. The app continually improves tracking and learns from the user's edits to the timesheets.
Features
Automatic Tracking
Perhaps the most helpful feature of Timely is automatically tracking time. The app logs the time the user spends on several different activities and uses what it calls its 'Memory Tracker'.
Categorisation of Tasks
Timely will observe your time usage on different tasks and categorise them by grouping work together. The app will automatically add tags and relevant information to the time logs without the user having to do anything.
Team Management
The app has powerful team management tools built in. It will show you the time usage of the entire team in one place so you can examine everyone's productivity and suggest improvements. 
Pricing
Timely has monthly and yearly packs priced upwards of $7 per month. There are also dedicated plans for individuals and teams. 
5 – Tick
Tick is a valuable time tracking apps that are popular with large teams who do not wish to be billed per user. The app charges its users by the projects and supports unlimited users. 
Features
Runs in The Background
Timer apps can quickly become obtrusive when popping up on multiple screens and options, diverting the user from the actual task. 
Tick addresses this issue and runs silently in the background while you focus on what matters.
Integrates with Project Management Tools
The app integrates well with popular project management tools and apps such as Basecamp, Asana, and Trello. 
Budget Feedback
Tick also gives the user real-time budget feedback on the timecards themselves. 
When time is logged using the app, the budget is indicated to let the user know how much time can still be recorded within project budgets.
Pricing
Tick offers a free-to-use plan that supports only one project but with an unlimited number of users. The paid plans start at $19 monthly and support up to 10 projects.
6 – Hubstaff
Hubstaff is one of the most used time tracking apps that lets you monitor time and productivity. 
Features
Payroll Management
Hubstaff lets you generate accurate timecards for invoicing and processing payroll. The app enables you to establish rates for each team member and will automatically streamline payments.
GPS Tracking
The app lets users set up geofences. Attendances can then be marked and time tracked for the team. 
The time tracker is automatically started when the target enters the defined geospace and will stop when he/she exits. 
Plan Schedules
The app can be used to plan schedules and shifts for employees. All information about employee work hours is shown at a glance so you can schedule shifts and create important to-dos for teams.
Pricing
Hubstaff offers a free plan that supports only one user. The paid plans start at $7 per month per user and include more features.
7 – Everhour
Everhour offers time tracking apps that simplify the process of time monitoring. 
The app also integrates with the Chrome browser via an extension and lets you run the timer from your browser toolbar.
Features
Edit Timecards
Everhour allows users to move time slots from one task to another. The process is easy enough and involves just a few clicks. 
Detailed Comments 
You could leave detailed comments using the app to provide more information for time logged in specific tasks. 
This brings greater transparency and trust to the team and the overall workflow. 
Search Function
The Everhour app also features a unique search feature that can help you find things quickly and start with time tracking seamlessly.
Pricing 
Everhour offers a free app for small teams (up to 5 users). The paid versions start at $8 per month per user and $7 per user per month for teams.
8 – Clockify
Clockify is a time tracker app that maintains timesheets across multiple projects. It can be used to monitor employee attendance and productivity, as well. 
Features
Rich Reports
Clockify provides rich insights via its reports that can be used to see a visual map of your team's working hours. The reports are also customisable.
Cross-platform App
The Clockify app provides several different apps for multiple platforms, including Linux, Mac, Windows, iOS and Android apps. You can also access the web app via your browser.
Time Audits
The app has several extra features too, which are available in the paid versions. The time audit feature lets you detect suspicious time logs that are unusually long or short.
Pricing
Clockify is free to use if you do not need the advanced features offered in the paid software versions. The paid app plans start at $9.99 per month.
9 – RescueTime
RescueTime is another time management and productivity app that puts you in control. It has several customisable features that work together to help you make the most of your time.
Features
Alerts
RescueTime provides timely alerts to help you stay focused on your goals, whether time-bound inbox monitoring or concentrating on a specific task.
Working vs Non-working Hours
RescueTime is not just about tracking your working hours. You can use the app to monitor your non-working leisure hours as well. This is a great way to see if your work is not consuming too much of your leisure time. 
Block Distractions
The app has a distraction blocker built-in which will automatically prevent you from getting side-tracked when working on a substantial project. All distractions are blocked, which keeps you focused and productive. 
Pricing
RescueTime offers a 'Lite' version which is free to use albeit with limited features. The paid plans start at $6 per month for individuals. 
10 – TimeCamp
TimeCamp is a tracker that lets you track your time and productivity. 
You can use the app to identify where you wasted time in the day. Users can analyse productivity and track their offline activity, as well.
Features
Invoicing
TimeCamp helps you with seamless time invoicing. It can help identify and track billable hours and reduce wastage on non-billable activities, increasing profitability.
Tracking Teams
The app can be used to track teams and see what every individual member is working on. TimeCamp shows rich insights about time use at a glance in the app dashboard.
Add-Ons 
TimeCamp offers cross-platform support and integrates well with several famous team communication and project management apps, including Slack, Asana, Dropbox Paper, Github, and Evernote.
Pricing
TimeCamp offers a solo plan suitable for one user and free of charge. The paid plans start at $5.25 per month per user. 
11 – ezClocker
ezClocker is an affordable, easy-to-use time tracking app for freelancers and small businesses. ezClocker makes your life easier by allowing you to modify and review timesheets, export data for payroll, create shift schedules for employees and much more!
Features
GPS location
When employees clock in or out, the app captures their GPS so the employer can easily verify their employees are at the correct location.
Simple design
One of the reasons ezClocker is highly rated on the AppStore is its simple design, where even a non-tech person can figure out how to use it.
Kiosk app
Turn your tablet into a portable time clock where employees can use one device to clock in/out. Ideal for offices or restaurant owners.
Pricing
ezClocker is very affordable. Their paid subscriptions start at $5/month for freelancers with multiple customers/jobs or $10/month for employers with up to 15 employees.
12 – Indy Time Tracker
Indy's Time Tracker is a part of a set of tools in the Indy app that makes freelancing simple. Track your time, set your rates, and add billable hours to invoices with just a few clicks.
Features
Simple Interface
Indy's time tracker has a simple, clean interface that saves you time. There aren't complicated reports or a steep learning curve. There's just a play button to get you started.
Integrated Invoices
Indy is a platform of tools designed to make freelancing simple. You can launch an invoice with a template from the app and then add your unbilled hours to it easily.
Variable Rates
Each of your projects and individual sessions can use a custom rate. This gives you complete flexibility to manage different customers easily.
Pricing
Indy's Free plan gives you free unlimited access to all the basic tools you need to manage your business. The complete account is only $12/month and gives you unlimited access to all of Indy's tools.
Bonus: TMetric
TMetric is an advanced time tracker designed for freelancers, agencies, and businesses to capture time, take care of accurate billing, and complete projects on time.
The app is used and trusted by 3000+ businesses worldwide and proves to be a reliable and helpful solution for effective workflows and successful teams.
Features
Team Management
With TMetric, it's easy to create teams, set their work schedule, holidays, and time tracking permissions, monitor work and activity, and ensure accurate payroll based on the time records.
Time Off Management
The app efficiently manages PTO policies and tracks employees' sick leaves, vacations, and other time off. It saves time on paperwork and makes time off calculations a piece of cake.
Powerful Integrations
You can integrate TMetic with 50+ popular services and track time for better time management, reporting, and team performance.
Pricing
TMetric offers a free 30-day trial when anyone can test its full functionality. When it's over, it's possible to switch to the Free plan available for teams with up to 5 users. Or, if advanced features are required, the Professional or Business plan can be bought starting at 5$ per user per month.
Bonus: Quidlo Timesheets
Quidlo Timesheets is a free timesheet software. It has all the essential features you expect from a time tracking tool. 
Features
Time Tracker & Time Reports
Their lightweight web time tracker makes time logging super easy. You can use the time report module to generate reports for clients. Reports can be shared via link or email or exported to PDF, CSV or Google Sheets. 
Mobile & Desktop Time Tracking Apps
Their cross-platform time tracker apps are available for Android and iOS on mobile, macOS, and Windows desktop operating systems. Slack and Google Chat Time Tracking Chatbots
They have native integrations with Slack and Google Chat. You can use time-tracking chatbots to log time or generate time reports directly from the chat window. 
Pricing
Quidlo Timesheets offers a free 30-day trial and a free Starter plan for teams of up to 10 users. For larger teams or teams that want to use advanced features, they offer a fixed fee Pro plan for $29/month (annual payment, unlimited users).
ProoHub is a popular time tracking and project management application. It has many advanced features to help you complete every project without missing deadlines.
Features
Time Tracking
The Time Tracking feature in ProofHub lets you add timesheets, set time estimates, and track time manually and automatically. It helps you keep track of any recurring tasks and project team's progress and create timely work reports.
Workflows
Creating a workflow using ProofHub helps keep everyone on the same page. These also ensure that every project task gets delivered before the deadline.
ProofHub comes with a Recurring task feature. It helps you save time by setting a task you handle on a weekly, monthly, or annual basis on repeat.
Start & End Date
Setting a start and end date for a project is easy with ProofHub. This helps the project team know when to start work on a project and how long it should take to complete. ProofHub ensures you can keep up with the project deadlines.
Pricing
ProofHub offers a 14-day free trial plan for unlimited users. Its paid plans include Ultimate Control ($89 per month) and Essentials ($45 per month).
Besides these, ProofHub also lets you create custom work reports, fields, and forms to remain connected with clients, stakeholders, and internal project teams.
Summary
Time tracking apps are a valuable part of a professional workflow and can help manage time, minimising wastage on things that do not matter. 
They can boost productivity significantly and pack in other valuable features such as invoice generation and scheduling. 
When choosing the best time tracking apps for the job, consider its feature set, customer support, and pricing to ensure it meets all your workplace requirements.