How to Get Graphic Design Clients Right Now (5 Amazing Tactics That Work)
Freelancing comes with a long list of benefits such as more flexibility, the ability to be your own boss, and the chance to create a brand for yourself. 
Within the graphic design industry in specific, freelancers account for over 90% of the total industry participation. 
It goes unsaid that freelancing makes more sense for graphic designers, but the one downside is that it can be difficult creating a reliable process to bring in a consistent flow of new clients.
For a lot of graphic designers, it feels like the moment you are done working with one client, you have to go searching for another, or you wind up taking on too much work at once.
So, if you are trying to find the answer to the question 'how to get graphic design clients', here are five reliable methods that I would suggest considering.
1 – Sign up on Various Job Boards
The best way to start searching for clients if you are a beginner is to apply for relevant graphic design jobs on a couple of good job boards.
There are a lot of them out there so narrowing down on a few that work is vital. 
Here is a massive list of job board for freelancers but let us cover a few of our favourites that work particularly well for graphic designers:
FlexJobs
FlexJobs is definitely a more premium job board since each job posting is monitored by the staff at FlexJobs to make sure it is a legitimate and well-paid opportunity. 
Unlike free job boards, there is a pricing structure to this option which is probably the only downside. 
Job seekers can get a week-long trial for $6.95, and if they like what they see, they can start with paying for a monthly subscription. 
FlexJobs includes jobs for all sorts of freelancers so you would have to go to the graphic designer category to see specific jobs. 
Depending on what you are looking for, you could select a full-time remote job or a freelance position.
Behance
Behance is a great place to host your graphic design portfolio, and that is mostly what it is known for. 
It also includes some informative live streams by leading creators across the design and photography industry.
Apart from this though it also includes a great job board full of high-quality job options that you could consider applying for.
It is straightforward to apply for jobs on the platform since your portfolio will already be accessible to potential employers.
TalentZoo
TalentZoo covers jobs across the advertising and marketing industry so you will have to narrow down to the graphic designing category to find suitable options. 
You simply send in a cover letter and your resume for each job application.
Dribbble
Lastly, Dribbble is another good option to focus on or consider if you are looking for graphic designing jobs online. 
Similar to Behance, it is also a portfolio showcasing website with a job board to help you find your dream job.
Other than using job boards, you can even contact recruiters directly on LinkedIn. 
This is an excellent article full of templates and examples if you are wondering how to message a recruiter on LinkedIn. 
2 – Let your work speak for itself
Apart from having your portfolio live on websites like Dribbble and Behance, it is also a good idea to start a freelance site of your own. 
This will allow you to appear more professional and also have a website to send potential clients to.
You could then create a few case-studies and let them bring in even more interest since 65% of B2B companies say case studies are even more effective than blog posts, videos, infographics and other forms of content.
My favourite example of this is PixelCryons – a web development company who created a whole page presenting their previous work through various case studies.
(Source)
It is important to remember that you are trying to start a freelance business which means creating a brand for yourself. A website will allow you to do this. 
You can create a logo design for yourself, choose brand colours, and display your services to potential clients.
You could also choose to integrate other software into your website, such as scheduling software. Acuity Scheduling and Setmore are both excellent options to consider.
This will allow interested clients to book a consultation with you or directly order and pay for one of your set graphic designing packages.
3 – Add a blog to your website
Adding a blog to your website is an excellent way actually to bring in some traffic. 
Your website is unlikely to shoot to the top of Google if it has absolutely no content.
A blog can help bring in potential clients and can even be a good way to help you monetise your website down the road.
So, what should you write about?
Frequently freelancers who start blogs make the mistake of writing content about the work they do. 
So, for example, a graphic designer would write an article called '10 Job Boards for Freelance Graphic Designers'.
Unfortunately, this is not going to bring in any potential clients. 
It will only bring in other graphic designers. 
You need to remember whom you are targeting and create content for that person.
If you are trying to find new clients, instead of writing about the best drawing software, a good article to write would be '10 Reasons Why You Shouldn't Design a Logo Yourself'.
You could then go on to create a short PDF, guide, video, quiz, poll etc. which can be used as a lead magnet. 
That opt-in form freebie can be added to each of your articles to help you collect email addresses and schedule some sales calls on 'autopilot' via a follow-up sequence.
A great example of this is what Modest Money does on their website. 
They have a simple opt-in freebie on each post that helps grow their list of subscribers steadily.
(Source)
In this way, you can get clients to come directly to you, which will also free up your schedule since you can spend less time reaching out to clients and more time focusing on work.
4 – Sell your graphic designs online
If you choose to sell your graphic designs online, you could ask people to accredit you at the bottom of each picture they use. 
This could help you build backlinks for your own website and also allow potential clients to notice you on other websites.
Even if you choose to sell physical products online like shirts or calendars with your designs, you could create a QR code for your business that will lead directly to your website once scanned. 
You can add this QR code on the packaging for each product you ship. 
This is a good way for potential clients to be able to reach you.
Selling your work online will also allow you to earn some extra passive income on the side and doing it through established websites such as CreativeMarket is more accessible than having to start an online business of your own.
Here are a couple of sites that allow you to sell your work
Another option is to create a great infographic and add it to one of your blog posts on your website. 
Music Oomph! has done something similar with a post they created on podcasting statistics. 
They created an impressive and thorough infographic full of podcasting statistics and then added an embed code that interested parties could use to add the image to their own website.
Creating shareable content is the key to success with this technique.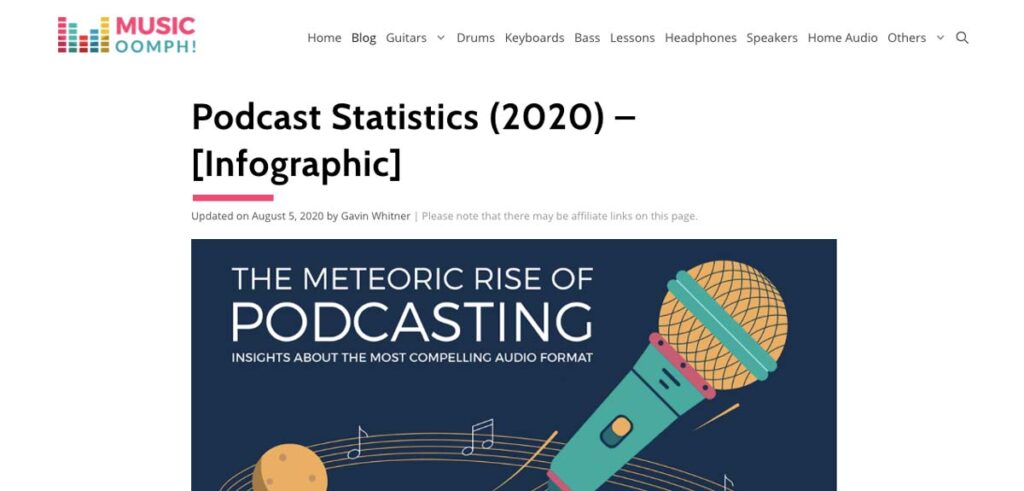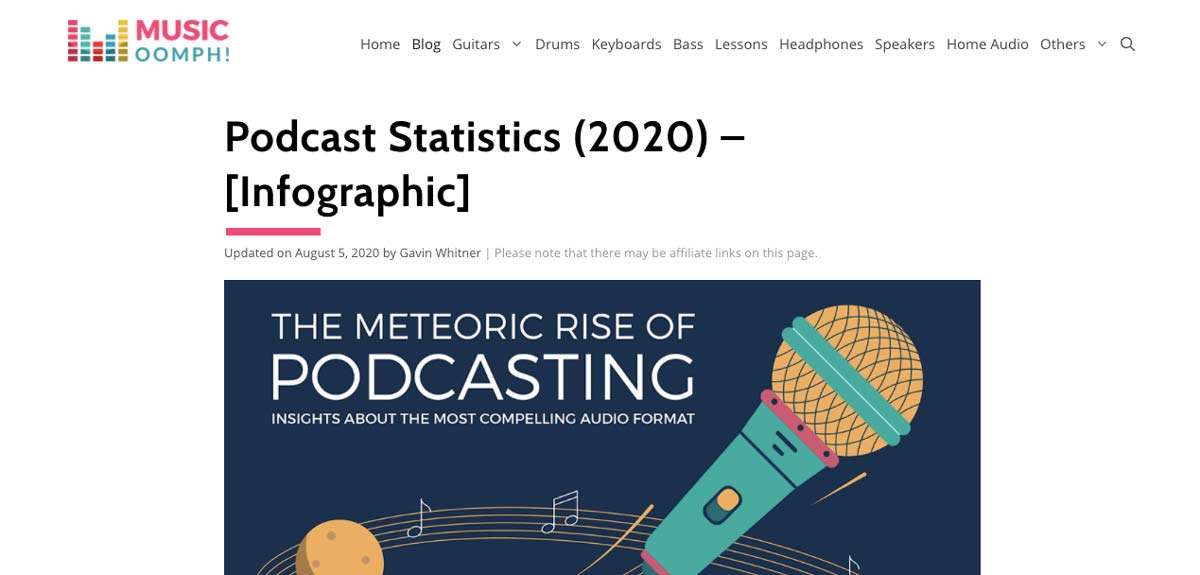 This has worked wonders for them. 
It ranks on the first page of Google for the keyword 'podcasting statistics', and the above post has received over 2000 backlinks according to Ahrefs.
So, for example, as a graphic designer, you could create an infographic that has graphic design industry statistics which could include things like the average salary of a graphic designer, the best graphic design software available, how a good logo can benefit a business, how much small businesses spend on graphic designing, etc.
If you were a graphic designer and your infographic was receiving that kind of traffic every single day, can you imagine how many interested clients would be approaching you directly? 
5 – Cold Emails are NOT dead
Cold emailing is an excellent outreach technique to depend on if you are a freelance graphic designer. 
A lot of the time website owners mean to hire new graphic designers but never seem to get the chance to reach out to one themselves.
Sending cold emails does not take much time or effort, and there is a good chance that you might email someone interested in hiring you long-term.
If you are interested in experimenting with cold outreach, try this three-step method to get yourself started.
Step 1 – Find Potential Clients
When you are narrowing down on the list of clients you want to email, keep in mind that you should only reach out to clients that you can see yourself working with. 
So, for example, if you are used to creating modern and edgy graphics, and that is what you enjoy doing, reaching out to an old-fashioned company or agency is not a good idea. 
You should try and find clients that share your way of working and thinking.
Try to find companies that you resonate with for some reason and whose work ethics mirror your own. 
Once you have a list of a few companies you are excited to work with, you can move on to the next step.
Step 2 – Use hunter.io to find their email addresses
Now that you have a company you would like to work with potentially; you need to find the right person within that company to reach out to. 
Merely sending your email to their support email address is not going to do the trick. 
In most cases, your message will just be ignored.
Instead, try and find the head of the graphic design team or the person in charge of content. 
You can use the free service hunter.io to do this.
Alternatively, there are plenty of great Hunter.io alternatives.
This service brings up any publicly known emails for the staff of this company. 
You can then go through what comes up and select the most relevant person to send your email to.
Step 3 – Use a great email template and personalise it every time
People often complain that their cold emails have bad conversion rates or do not get opened at all. 
The problem here is your email is too generic, not personalised, and not well written. 
Before you start sending emails out, create an excellent template for yourself. Here is a good example.
—————————-
Subject Line – Need a fantastic logo for (Company Name)?
Hi (name),
I am so sorry if this is the 100th email you have had to read today. I am well aware that most cold emails are followed by a groan, but I promise this one is worth it.
My name is (your name), and I create exceptional graphics for companies that want to make their brand memorable.
According to Kissmetrics, people make a subconscious judgment about a product within 90 seconds of viewing it. An excellent graphic is one of the best ways to affect that judgment positively.
Speaking of graphics, original ones perform the best. This is something I could help you with.
I have been creating graphics and designs for companies for X years now. Here is some of my recent work –
If this is something you might be interested in, I would be happy to set up a quick Skype call with you.
Best,
(your name)
—————————-
It is as simple as that!
Conclusion on How to Get Graphic Design Clients 
Once you have a consistent flow of clients to keep your freelance graphic design business going, it is like maintaining a well-oiled machine. 
These five tactics are an excellent way to get your business off the ground and a few clients interested in your work.
Being a freelancer is all about building relationships. 
You simply need to know whom to approach and how to demonstrate that you are the right person for the job.
Author Bio: Burkhard Berger is the founder of awesomex™. You can follow him on his path from 0 to 100,000 monthly visitors on www.awesomex.com. His articles include some of the best growth hacking strategies and digital scaling tactics that he has learned from his successes and failures.
Feel free to follow him on Instagram, Facebook, and Twitter.