Drop Into The Future of Digital Marketing
Digital marketing is evolving rapidly over the last few years.
From being introduced to new tools and programs to implementing technologies such as automation, artificial intelligence, and machine learning, we can expect that the future of digital marketing will be anything but boring.
All these current trends we are witnessing in 2019 will continue to evolve and impact every part of digital marketing.
However, technology has the potential to completely alternate the way companies market their products and service online.
This year, we have barely scratched the surface of it, and those who are a part of this world should start taking notes to prepare themselves for what the future of digital marketing holds.
Four Vital Aspects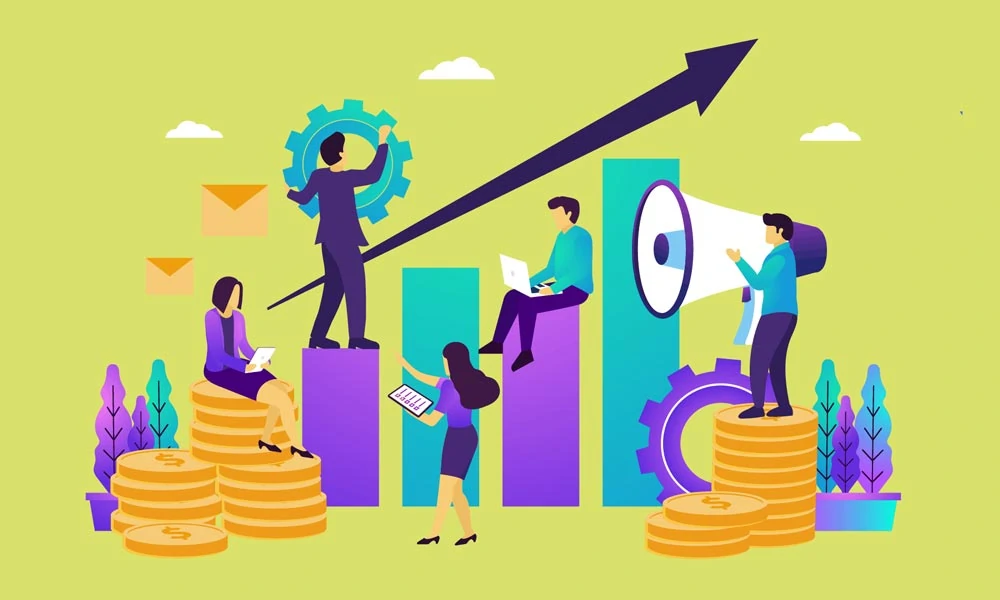 Among the significant aspects that will shape all of next year's digital marketing strategies, regardless of the industries are:
SEO
Video
Multiple channels
Technology
This four aspects will undoubtedly change the way we market our businesses online and the way we interact with our customers and prospects.
Not to mention that those who will be unable to adapt to these shifts will notice negative consequences which will be destructive for their entire business.
After all, digital marketing is changing to provide customers of today with a more enjoyable experience, from the moment they start researching online to the final phase of their buyer's journey.
So, how will these aspects impact the entire field and what can marketers, designers, and other creative professionals do today to be ready for what is coming tomorrow?
Let us dive into each of these areas to catch a glimpse of what the future of digital marketing will look like.
1.  Drastic SEO Shift
The moment that optimisation entered the world of digital marketing, it changed everything for good.
From that point, we stopped creating content, publishing images or promoting our content the way we used to before.
It is one of the rare trends that made such a sudden, significant impact on businesses.
Image source: NeilPatel.com
With optimisation, all these businesses were finally given a chance to engage an enormous number of users.
As Google, the most popular search engine, receives over 63,000 searches per second, SEO offered guidelines on how to bring that traffic to your website and convert your prospects into customers.
However, those who have been working closely with optimisation tools know how often search engines change their algorithms.
How many times were you working on your guest posting strategy and then had to do it all over again?
Also, that is not the only nightmare you will experience every once in a while.
Unfortunately for all who have been working hard on optimising their websites, SEO is moving to voice search.
Voice Search Will Change SEO Forever
For those who are still uncertain how this will impact SEO, here are a few highlights to keep in mind:
You can forget about chasing that first page on Google's search results. It will not matter anymore.
 People will not visit your website as much as they used to because Google will provide them with the answer they need.
 You will need to learn about how your customers and prospects search online while using their voices instead of typing keywords.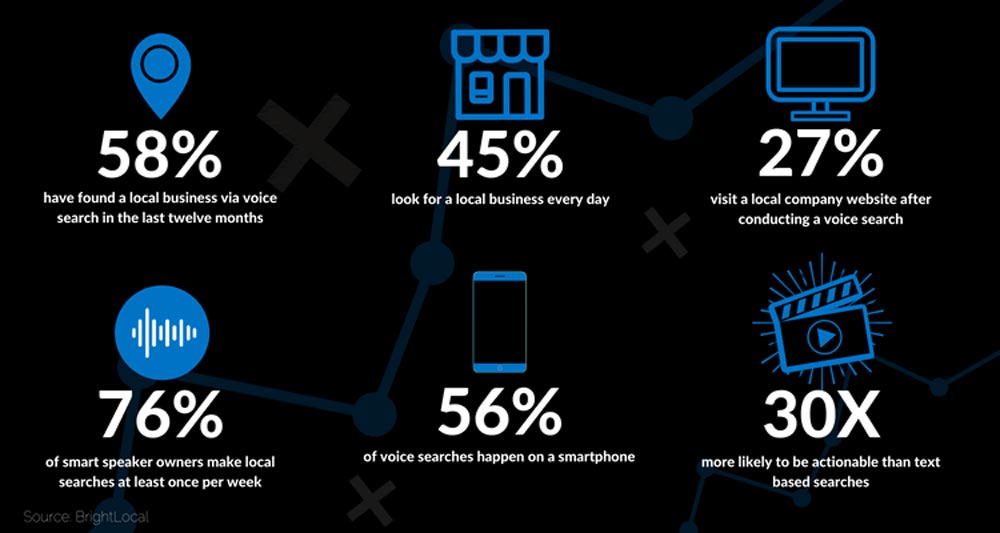 Image source: LeightonInteractive.com
All of this means that you will first need to invest a lot of your time into learning about voice search and understanding how your target audience uses it.
It might be a new trend, but it will sweep you off your feet if you are not prepared for it.
This will result in your potential customers choosing your competitors who have cracked the code on time.
It is expected that 50% of all searches will be done through voice search in 2020.
So, if you do not adapt soon, by the end of the next year, you could lose half of your customers.
To avoid this worst-case scenario, you need to prepare for voice search before your target audience starts utilising it daily.
Optimising for Voice
When talking about voice search, another thing you have to think about is what devices people use to search online.
With standard SEO, you optimise based on these devices: a mobile phone or laptop.
However, voice searches will be mostly done through devices like Alexa or Google Home.
So, the level of your understanding of voice search will need to be expanded to smart technologies and devices your audience utilises.
Also, there are several voice search characteristics that are different from text searches:
Voice searches contain conversational words and are much longer than text searches.
Every fifth voice search will be for local content.
With voice search, people want immediate results without having to search for new websites.
So, what can you do with this information above?
First, you will need to find the optimisation tool, which suggests questions based on your keyword.
One of the most popular used tools is Answer the Public, which is also free.
This will provide you with a useful insight on which voice queries your target audience might have about that specific keyword.
Second, start emphasising the address, neighbourhood, and city of your business more.
Start using 'Near me' in your title tags and meta descriptions.
Third, start creating 'Featured Snippets' and 'People Also Ask' to provide the best answer promoted by Google and a link to your website.
Image Source: SearchableDesign.com
All of this will prepare you for the giant wave of voice searchers who will choose those businesses which are simplifying their queries and providing them with what they want in any given moment.
2.  Growing Popularity of Video Content
Everyone is talking about how video content will be huge, but if you're not among the ones using it, you probably cannot understand all these enormous benefits people are talking about.
In 2019, 81% of businesses were using video as a marketing tool.
Not all of these videos have a promotional purpose as there is one form of video that beats any other types with ease: explainer videos.
Companies enjoying more significant traffic numbers, higher engagement and conversion rates, and better interaction with their audiences, are the ones that already recognised the power of video content.
Explainer videos allow businesses to provide useful information about their products or services in an engaging way, which will be more appealing to their customers than reading a single text-based article.
The visual sense is often underestimated in customer engagement, but with video entering the game, there is no more reason for that!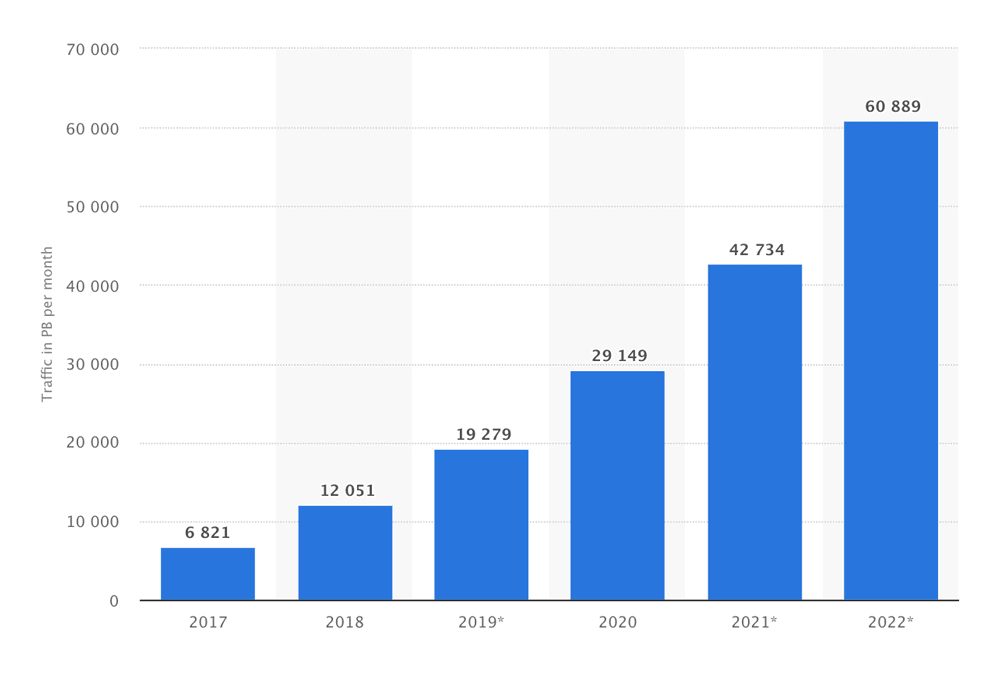 Image Source: Statista.com
Utilising Video Content in Business
There are plenty of ways businesses can make the most of video.
Mostly, these ways can be divided into three categories:
a.  Situation
When you're thinking about situations where video could be your best choice, you will need to think about your audience's perspective.
At what moment of interacting with your business would your customers appreciate a quality video?
Below, you can see some of the best examples when a video will be more efficient than text:
Recruiting new candidates for a specific position in your company
Explaining how to utilise a certain product or service (tool, software, program)
Customer testimonials
Showing your company culture through team buildings, happy hours, casual Fridays and other exciting moments in your company
Announcing a new product and building hype around it
b.  Platform
Luckily, video is a type of content which can be used on almost any platform you want.
It can be used as stand-alone content, or you can incorporate it with your text, images or other relevant information you want to provide.
The only thing you need to keep in mind that it has to correspond well with the rest of your content.
Your videos can be used:
On your official website
In your blog
On your social media channels
In your newsletters and email campaigns
On your lead management and customer support platforms
c.   Type
As we already said, there are plenty of video types, and you have probably seen one of them at least once.
After all, the average person will be spending 84 minutes watching online video content daily by 2020.
So, what type of videos you need to create if you want your audience to have benefits of watching it?
Explainer videos
Product reviews
Customer testimonials
Company culture videos
There is no doubt that video content will continue to grow not only in 2020 but also in years to come.
It has already been around long enough to be called an imperative instead of a trend.
Those who are still not recognising its immense power will struggle with getting organic traffic and even closing the deals.
Image Source: Meerkerk.com
3.  Operating on Multiple Channels
Just a few years ago, most popular platforms like Facebook and Dropbox were encouraging users to invite their friends to join the platform.
They used various tactics to motivate users, such as giving them more space to use or simply not being able to join the platform before sending invitations to your contacts.
Today, you cannot do any of that.
If you received an email that invites you to a new platform just because your friend joined it, you would probably ignore it, right?
That is where multiple marketing channels come in.
However, how can you make the most of these channels when they are all saturated, and your competitors are already there?
The answer lies in leveraging.
You will need to start leveraging all channels you have at your disposal, from social media and SEO to email marketing.
Combining them strategically is the only thing that will help you grow your business in these highly competitive times.
Of course, not investing everything in one channel is an excellent tactic if an algorithm changes.
This way, you will be diversified when not depending on one channel in the sea of many.
In other words, you will need to adapt to the omnichannel approach.
Image Source: Learn.g2.com
Omnichannel Approach in Marketing
To clarify, there is a rather small but vital difference between multichannel and omnichannel approach.
The multichannel approach is focused on allowing customers to choose their preferred way to interact with a business, while omnichannel ensures seamless experience regardless of the channel a customer chooses.
Once you start utilising the omnichannel approach, you will notice many benefits such as:
increase in customer retention rate
familiarity and stronger customer relationship with your brand
effortless buying experience for your customers
Customers Want Omnichannel Approach
Yes, having dispersed content on various channels is very beneficial for your business, but it is also something your customers want.
In today's world, where everything is digitally connected, not being able to jump from one platform to another without losing the previous interaction a customer had with your business will harm your sales results.
People want simple experiences that provide them with what they want right away.
If you're not sure about it, keep in mind that 47% of customers who engage with businesses on more than ten channels will purchase these from businesses at least once a week, compared to 21% of those who engaged only on up to four platforms.
Image Source: Komarketing.com
4.  Emerging Technologies
Digital transformation is completely dominating businesses strategies, but it will dominate the digital marketing strategies in 2020 as well.
As companies across various industries continue investing in numerous technological solutions to improve their business performance, digital marketing will become crucial in this game.
Automation, artificial intelligence, and machine learning are all topics we usually hear outside the marketing world in general, not to mention digital marketing.
However, these emerging technologies have enormous potential to enhance and simplify the majority of digital marketing processes.
Just think about chatbots and how their implementation of upgraded online interactions business have with their customers and prospects.
These simulated human interactions allow digital marketers to focus on more valuable activities and leave repetitive tasks to chatbots.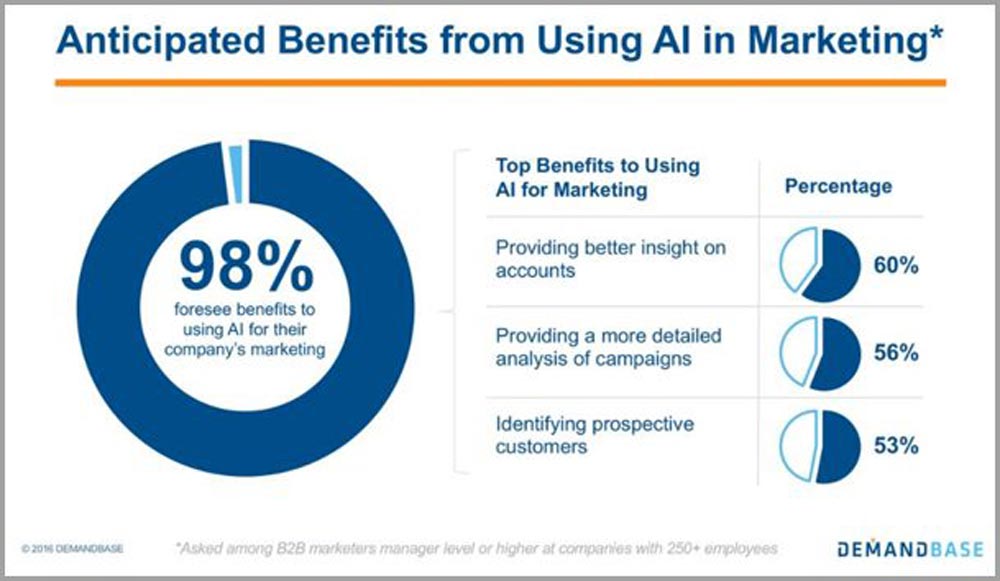 Image Source: JeffBullas.com
Programmatic Advertising
Besides chatbots, there are a lot of other opportunities for implementing artificial intelligence into digital marketing.
One of them is search engine marketing.
Now, marketers are paying each time someone clicks on their advert or when it is displayed.
Companies are spending hundreds of thousands of dollars every month to pay the entire team working on paid searches.
With artificial intelligence, we might see one of the brilliant examples of programmatic advertising.
If implemented correctly, AI could automatically buy that advertising space instead of your entire team spending days on calculations and research.
Not only will this make it easier for companies, but it will also use data to make more precise decisions about the ads. 
Image Source: BusinessWire.com
Detailed Customer Profiles
All of this will lead to a better understanding of your customers as you will have a more significant amount of useful data on them.
Marketers will be able to deliver the right messages to the right people at the right time.
AI can capture data during every interaction you have with your customers, regardless of the platform.
Moreover, these detailed customer profiles can help businesses refine their digital marketing strategies and create highly personalised content.
Whichever technology becomes a priority for these companies, personalisation will always be a part of it.
Customers want personalised content, and technologies like these allow businesses to deliver it to them.
Final Thoughts
There will be many changes in digital marketing soon.
As long as customer behaviour is changing, marketers need to change their strategies to satisfy their needs.
However, with all these technological solutions, it will be easier for businesses to come closer to their audience and get to know them.
If your business stays adaptive and embraces all of these changes, there is no doubt that you will have plenty of satisfied customers.
The trick is to know all about these trends way before your customers do!