How SEO Contributes To A Positive Customer Experience
If you think Search Engine Optimisation (SEO) and customer experience (CX) are at opposite ends of the marketing spectrum, think again.
We all know SEO is related to bringing traffic to your site.
But, it is so much more than simply driving prospects to your website. When used correctly, SEO can enhance and empower your customer experience.
The logic is simple.
Google prioritises websites that offer an intuitive and friendly user experience. In other words, brands need to align their CX and UX strategies to emerge on top of the SERPs.
In this blog, you will learn about:
How SEO and CX are inter-linked, and what metrics can you use to track these two
What strategies can you use to maximise your SEO and CX efforts
Real-life examples of brands that are excelling in combining the benefits of a streamlined CX powered by SEO best practices
Let's jump right in.
SEO & Positive Customer Experience: Popular Metrics that Link the Two
With the help of website traffic analytics and customer experience analytics, you can track these metrics and turbocharge your customer experience (CX):
Click-Through Rate and Bounce Rate: You can use Google's Search Console and Google Analytics to understand if your readers like your content. Let's say that you're getting many visits on your landing page, but the bounce rate is very high. That means the visitors are not seeing what they are looking for on the landing page.
Just make sure to keep your: content updated, relevant, easy-to-read, and aligned with the buyer stages of the customer experience as shown below:
Keep the navigation direct and straightforward as it will help Google bots to drive prospects deeper into your site, crawl your site, and index it in an enhanced capacity.
Visits to Contact Us Page: Are your leads browsing the Contact Us page but not completing the form or placing a call to enquire further? Maybe it's time to revisit your buyer phase and also look at the length of your contact form, which may be contributing to a cumbersome user experience.
Views on Secondary and Tertiary Pages: If you have poor views on your secondary and tertiary web pages, re-look at how similar content is featured on Google. You may also want to revisit your site navigation to understand where users might be having a problem.
Chabot Data: Using Business Analytics software, you can check out the number of people who reached out and had initial conversations with the chatbot. You can compare traffic data and customer engagement data for a specific period and understand what percentage of visitors are making inquires.
Moving on, let's look at the top-7 SEO strategies to embrace and pave the way for an extraordinary customer experience.
7 SEO Tactics To Deliver Positive Customer Experience
Here are seven essential SEO tactics you can use to elevate CX for your future customers.
1 – Post the Most Relevant Content
When creating SEO-friendly content, follow these best practice tips to stand a cut above the rest:
Account for voice search related-queries and create content that answers questions that your customers are asking. For example, the moment I type – "When Are The Annual Reports Published", the first result that pops up is:
Zerodha: An Indian Stock Trading Platform wrote a detailed article on how you can study the annual report and when it is published.
Zerodha focused on the search intent and created dedicated content that fit the prospect's need.
The learning:
Focus on content that can solve your customer problems.
Place the answers at the right location to ensure better visibility.
Elaborate on "why" in the rest of the content across the page.
Additional factors that you should keep in mind include:
Categorising the content into headings (H1) and sub-headings (H2) for improved scannability and readability.
Using formatting styles such as bold and italics to guide the reader and allow them to focus on the content without any effort
Engaging in customer journey mapping to weed out potential issues and concerns in each stage. This will allow your brand to curate relevant content that's user-focused and stage-centric. Here's a quick snapshot of the kind of content you can create across varied stages such as:
Discovery stage: Here, you can talk about the product features, benefits, case studies, and so on.
Consideration stage: In this stage, focus mainly on product comparisons, well-researched whitepapers, and in-depth how-to guides. You can also demonstrate the latest customer testimonials to build user confidence.
Decision stage: Here, you'll want to showcase critical "decision-centric" touchpoints such as pricing, reviews, deals, and promotions, etc.
Service stage: In this stage, you should focus on FAQs, support pages, user guides, among other things.
Steli Efti from Close CRM would like to call this a content marketing machine when you create a ton of content distribute it very well. 
2 – Use Interlinking Mindfully for Content Discoverability
Interlinking your content is an art, don't let anyone convince you otherwise.
It is not just about placing random, low-authority links to drive traffic. To engage in 'mindful' interlinking, take a look at the following time-tested tips:
Make sure that your content does not have any broken links
When implementing a 301 redirect across your internal redirects, ensure that you find every instance of that URL across your site to prevent slow-down
Build links to pages on your site as Google prefers pages with plenty of internal links. This also helps search engines prioritise and crawl your pages
Use interlinking to redirect customers and help them focus on less-popular content
Interlinking is the cornerstone of excellent on-page SEO as it can lower bounce rates and drive more page views. Want to learn more about on-page SEO?
However, the trick lies in inter-linking content contextually and intelligently to provide a unified user experience in every sense of the word.
The idea is to help the user find content that they otherwise would have missed.
3 – Improve Website Speed & Responsiveness
Site speed is a significant ranking factor for Google. The search engine giant recommends the ideal page loading time to be less than three seconds: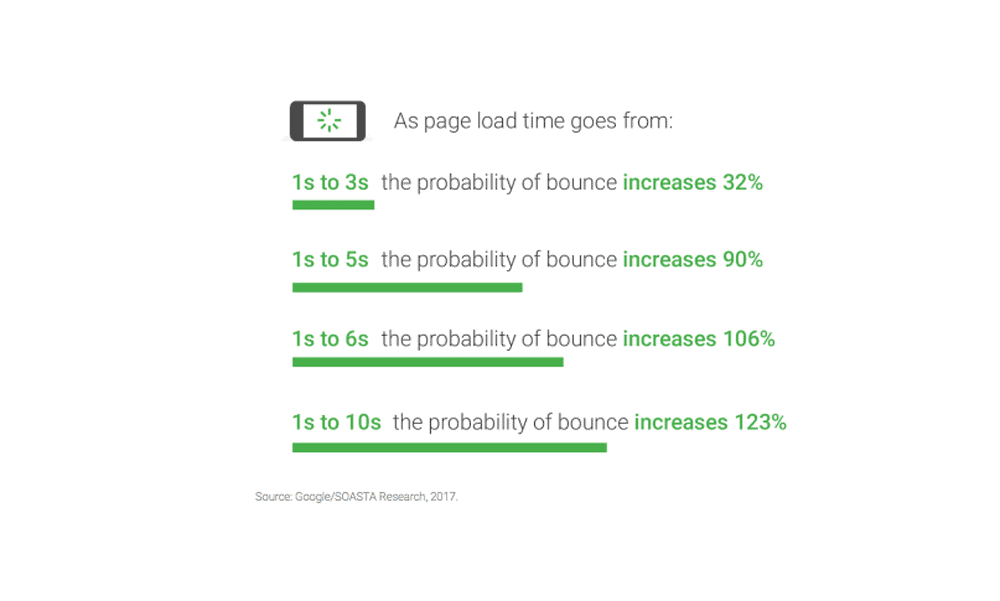 Now, Google also factors in the mobile site speed to determine mobile search rankings.
So how can you boost your site's speed and page loading time? Here are the top-5 best practices for your reference:
Pro tip: Use Google PageSpeed Insights to understand your site's current speed.
A slow site speed and high page loading time can negatively affect the customer experience and the SEO by extension.
4 – Consider The Social Signals
Customers today are actively engaging on social media to connect with brands, leave their feedback, ask questions, and post images/videos of the product/service.
So how can you use social media to your advantage and boost your CX and SEO efforts? Here's how:
Use your keywords as hashtags in your posts. This allows customers to find your brand/offering easily.
Respond to your customer's comment right away to boost user happiness. By interacting with your customer, you can make them feel special and appreciated by the brand. This, in turn, provides a positive customer experience.
Share and publish high-quality content and focus on growing your followers organically.
Engage with your audience and try to understand their pain points, motivations, likes and dislikes, and so on.
Drive brand awareness through diversified social media content.
Add valuable materials to your content, use the right visuals, and integrate the relevant keywords using hashtags.
Create blog posts with good backlinks—factor in elements such as length, thoroughness, and quality of information.
Social media can double up as an effective medium to enhance your customer experience and boost your SEO efforts if used correctly.
5 – Focus on Mobile-Friendliness
A responsive website design is a must today.
Like page speed, mobile-friendliness also ranks high on Google's search ranking factor.
No matter which device/platform your customers use to view your website, you need to account for mobile friendliness. 
According to Statista, the number of unique mobile internet users stood at 4.28 billion. Furthermore, a report states that nearly 60% of searches now come from mobile devices.
So what can you do to boost your website's mobile friendliness? Here are some tried-and-tested tips:
Avoid minimal horizontal scrolling
Ensure that it loads fast, less than three seconds at the very most
Avoids flash elements
Uses responsive design, which automatically adapts to the screen size of the device it is being viewed on–be it mobile, tablet, or desktop
Say goodbye to users zooming out and pinching in to read the content and make your website mobile-friendly.
Collectively, these factors can help you deliver a stellar mobile experience that positively impacts CX.
6 – Encourage Customer Reviews
Customers trust other customers; that's true.
This is why proactively asking for customer reviews is critical. While personal recommendations and user reviews may not majorly impact your SEO, they will drive user engagement.
It would help if you also used customer reviews to build credibility and trust among your user base.
Plus, since Google actively prefers highlighting the most relevant and worthwhile data for customers, you should prioritise customer reviews.
Here are a few tips to keep in mind:
Make a proactive effort to collect honest customer reviews.
Ensure that your timing for asking a customer review is optimal–ideally, you should wait a day or two before asking customers to provide their feedback.
Keep your survey forms simple, short, and easy to fill.
Follow-up once if the customer has not responded.
Sweeten the deal by offering customers promotions, discounts, etc., in exchange for their authentic and detailed review.
Set a timeline to accelerate the response time.
Respond courteously to both good and bad reviews, and thank all customers for taking out the time to respond.
Gathering customer reviews is a surefire way to capture the user as well as Google's attention. As long as the reviews are authentic and your brand is responsive, you're good to go.
7 – Build A Solid Knowledge Base
A rock-solid knowledge base empowers your customers to find the answers themselves, thereby boosting the turnaround time for getting their queries solved.
Take a look at Acquire's Help Center.
Knowledge base documents are neatly categorised into 18 categories, so their customers can reach the correct document without any trouble.
This comprehensive and well-designed knowledge base enhances the user experience, allows for quick problem-solving, and helps the brand establish itself as a warm and friendly entity.
In terms of the best practices to follow, here's a handy list:
Spell out your content and make it detailed yet crisp.
Use anchor links in lengthy articles.
Ensure that your content is skimmable and is easy to read.
Categorise and organise your articles logically.
Stick to simple, how-to article titles.
A knowledge base is essential for every brand that wants to empower its customers and self-serve.
As customers can get answers to their questions instantly and accurately, you can't go wrong with this strategy.
Bottom Line
SEO is not just about building a thousand backlinks and stuffing your content with a million keywords.
And CX is not just about closing customer tickets.
Together, SEO and CX can take your website to the next level.
Be rest assured that any SEO improvement – from crafting helpful and personalised content to enhancing your site speed and making it mobile-friendly – will directly and positively impact your customer experience.
Author Bio: Kashyap is a passionate Content Creator and Digital Marketer. He likes to talk about recent trends in marketing, advertising, and customer experience. When he is not working, you'll find him playing Table Tennis or Meditating.