If you are creating a blog of your own, then you must know just how hard it is to find the perfect stock photo to go with your posts.
The images used in a post can make or break a blog and are one of the most critical components used for boosting engagement.
Although in blogging the focus is usually on the written content, today it is more important than ever to have some visual elements in there too.
We are visual learners, and images can help us to connect better with the text and keep us engaged.
Not only that, but social media sites tend to display images more prominently in their feeds, plus visual content tends to generate much stronger engagement in general.
There are many things to consider when it comes to choosing imagery for a blog, as you can't just grab any image that you come across on the internet and post it on your site.
Whether you have the right to use an image is probably the most important things to consider, as if you violate the image copyrights, it can cost you and your company quite a bit of money.
Generally, lifting any content and using it without permission is an illegal practice that has to be avoided.
There is a massive range of free stock photo sites available online, all of which have extensive collections of images that are royalty-free, meaning that you can use them as you see fit.
If you are not happy with any of the images that you see on the free sites, another option is to purchase individual stock photos or consider buying a subscription pack.
Finding the right image can be very time-consuming, so here is a handy collection of some of the best image hosting providers to get stock photos from, the majority of which are free to use.
Top 10 Best Stock Photo Sites For Bloggers in 2018
1 – Dreamstime
Dreamstime is one of the best suppliers of royalty-free stock images in the entire world.
With over 53 million files for you to choose from, there is sure to be something to suit every blogger's need.
Thousands of new images are added on a daily basis, so if you can't find what you are looking one day, it doesn't mean that it won't be there the next.
Dreamstime has been around since 2000, and over that time has evolved into an active, community-based stock photo sites, with photos uploaded from photographers from all over the world.
To ensure that those that use the site receive the very best quality images, all contributions are reviewed and approved by the site's experienced editing team, with literally thousands of new images added on a daily basis.
Dreamstime also comes with a keymasters tool, which helps with the keywording process if you are having trouble coming up with your own.
This quality and diversity come at a price, though, as Dreamstime allows for very few images to be downloaded for free.
All the same, if your blog is regularly updated, this is the site that can supply all the imagery needed.
2 – WordPress PixelRockstar
If you are blogging through a WordPress platform, then there is a handy plugin you can use which will give you access quickly and efficiently to over 4 million legally safe images.
Any image you download can be used forever for any digital publishing.
The plugin offers three different plans at different price points, so it is worth taking a look to see which is best for you.
Once you have downloaded the image you need, the plugin helps you optimise images with SEO friendly captions and insert them into your post automatically.
3 – Unsplash
Unsplash is one of the world's leading stock photo sites.
The platform works by allowing photographers to upload their photos, which are then curated by a team of editors to make it look the best it can.
The result is a gallery of beautiful, high-quality images that can be used entirely free of charge for both commercial and non-commercial purposes.
It offers ten new photos every ten days via email subscription service.
4 – PicJumbo
PicJumbo is a free stock photo site that is slowly starting to gain popularity, with over 6 million downloads so far.
If you can't find the photos that you need in the free selection, you are given the opportunity to join the premium membership where you get full access to the whole range of content on the site.
Already, images from PicJumbo have been used for some of the most significant sites out there, including Lifehacker, TNW and Entrepreneur.
5 – Shutterstock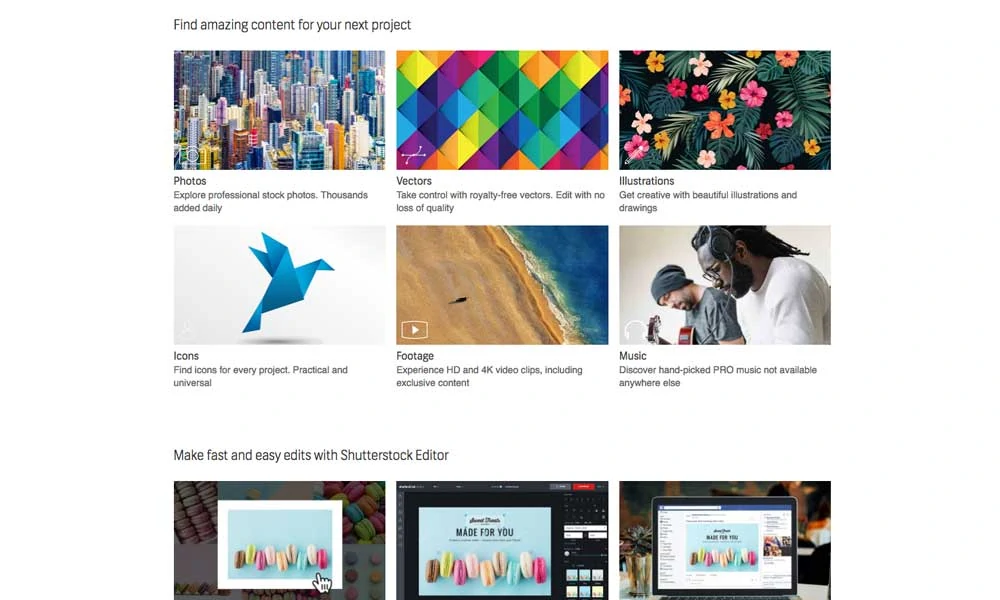 Shutterstock is likely to be the most well known of all the stock photo resource sites out there.
It currently has over 100 million images for you to choose from, with over 50,000 new images added on a daily basis.
The site doesn't just offer images; it also gives users music and videos for nearly any application.
Sign up is completely free and gives you access to the millions of affordable stock photos.
6 – Pixabay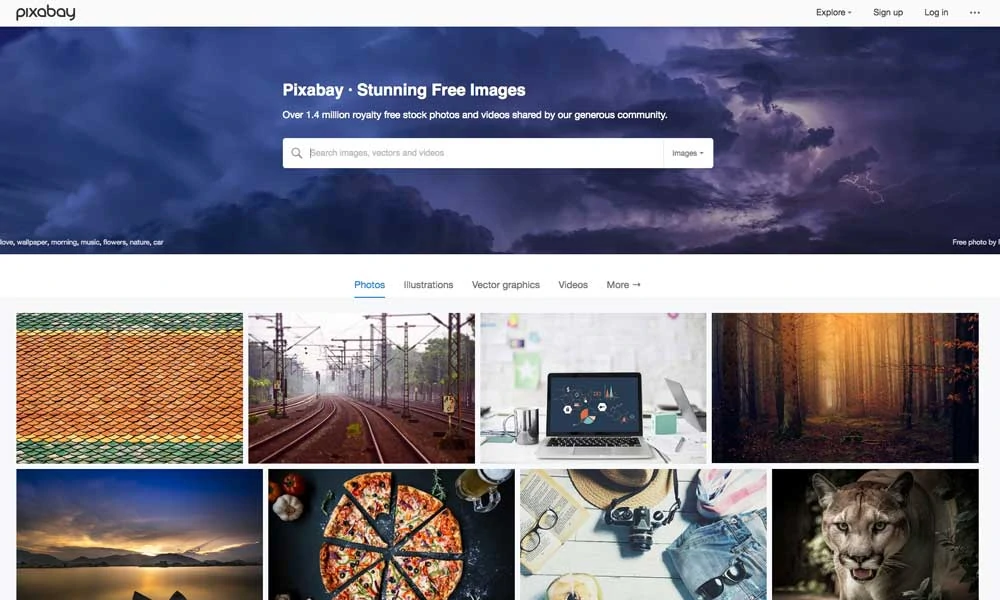 Not only will Pixabay cater for all of your image needs for your blog, while you are on the site you will also be able to find illustrations, vector graphics, and even film footage.
You can use, modify, and redistribute the photos on the site freely, without first asking permission.
The site currently has over 1.4 million royalty free stock photos that are shared by the photographic community, plus there is an app, so you can find the right picture while you are on the go.
Once you have found the image that is right for you, you able to use the photo forever, as many times as you like and on as many projects as you wish, so you can rest assured that you will be getting good value for your money.
7 – Picography
For the past three years, Picography has been providing some excellent, high-resolution images to millions of people.
You can use any of the stock photos wherever you like, with no attribution required.
Since its creation, it has grown to be one of the top sources for high resolution, free photos in the blogging industry.
8 – Stockvault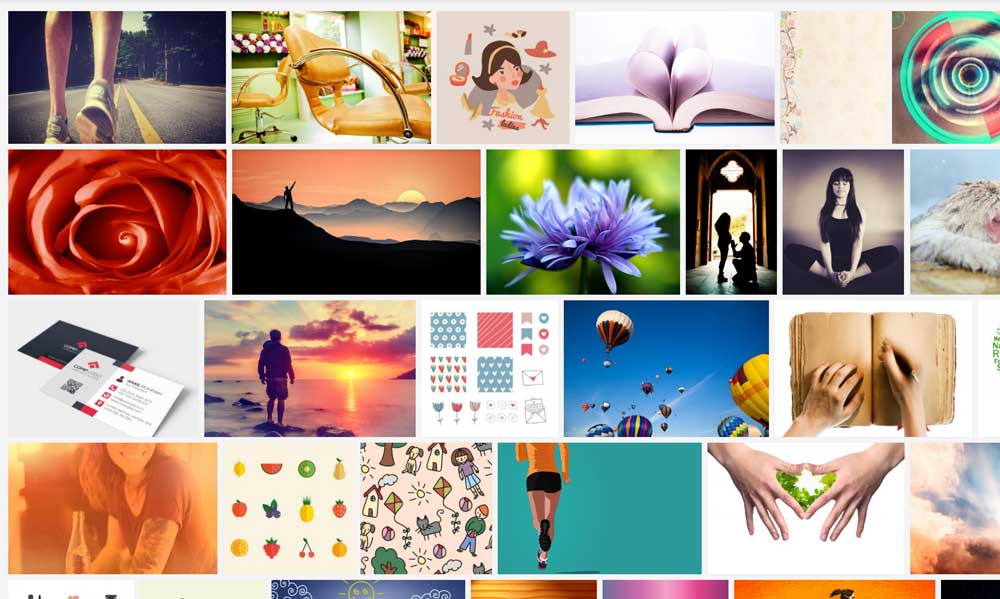 Hosting over 35,000 royalty free images, graphics, and designs from photographers and designers from all around the world, Stockvault gives you access to a vast library of images which you can use on your social media sites.
The purpose of the site is to collect many high-resolution photographs that can be used for both personal and non-personal design projects.
All photos are moderated by the site to ensure that they are all of the highest quality, and although you don't have to pay for any of the images that you use, you can support the photographers by using the donate button on the site.
9 – Kaboompics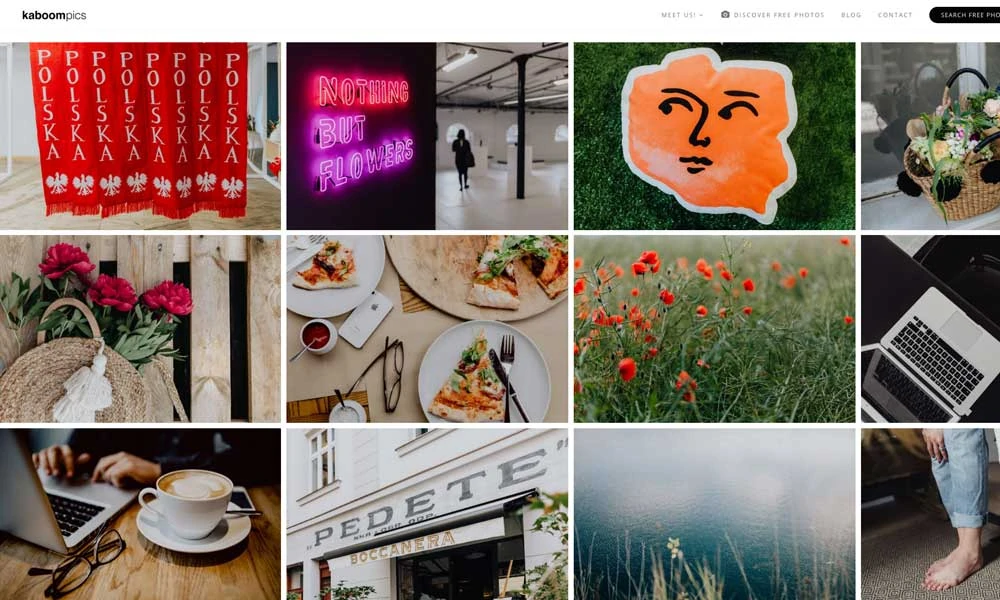 Kaboompics is one of the most visually pleasing stock photo sites to get your images from, as every image on the site is high quality, modern, and bright.
Plus, the site has a helpful colour palette tool which can be used to help you plan your visuals accordingly.
You can use the images how you see fit, both commercially and for personal use.
Every month, over 70,000 people from 209 countries visit the site and use the royalty-free service for their stock image needs.
You can find images for lifestyle, interior design and various other topics.
Over the years, the pictures from this site have appeared on sites like Forbes, BBC, Yahoo, HubSpot, CNN and many more.
10 – RawPixel
As well as providing its users with a diverse range of stock photos, RawPixel is also creating a project which has the aim of photographing people from every nation in the world.
The project is called the World Face Project and is an excellent and exciting initiative.
The stock photo sites aim to reflect today's society as it is, rather than the stereotypes that many images project.
They believe that together, coupled with bloggers, they will be able to have a positive social impact on the world.
They have also partnered with the charity 'hope for children' to help empower children all around the world to fulfil their potential.
Bonus: Startup Stock Photos
Startup Stock Photos is most well-known for offering free stock photos for bloggers, developers, creators, and publishers.
The photos provided are especially relevant for those that are creating a professional blog post.
People in the organisation all over the world have been using the photos provided by this site for many years to create various products.
Startup Stock Photos aims to be much more than just a stock photo website, as the team behind the company use their free time to find and share the productive spaces of the world with other creators.
Good Stock Photos is a collection of free images to use anywhere for anything.
Search for the exact photos you want, or browse by topic. All stock photos are unique and not found on any other stock photo website.
You can use them on personal or commercial projects without the need to credit the source. A new photo is published daily, so check back often.
These are only but a few of the many sites out there that provide some stunning imagery that can be used for your blog.
You need to make sure that the image you choose is not only relevant to the blog's content, but it should also be compelling.
It should be eye-catching, exciting and appealing all at once, as this is the element that tends to pull people and share the content on their social media pages.
On average, you should use one image per 500 words, and once you apply this tactic, you will start to see the results.
---
If you wish to discuss how we can develop your brand or provide graphic design for your product or business, email us: [email protected]
Inkbot Design is a Creative Branding Agency that is passionate about effective Graphic Design, Brand Identity, Logos and Web Design.
T: @inkbotdesign F: /inkbotdesign
---