The Best Digital Marketing Tools For Hospitality Businesses
Have you ever thought, what is shared between the most successful hotels or vacation rentals?
Besides the excellent service!
They give due importance to their marketing strategies and invest quality time to expand their customer base. 
Hotel managers are expected to offer incredible service, manage rooms, organise events, etc. 
They are also responsible for acquiring new guests through digital communities, which emerge every day.
Even today, for many hoteliers, digital marketing is new territory. 
And, it's hard to overlook the digital platform because it's here to stay. 
You no longer can afford to solely focus on running the business while leaving the online sales to OTAs.
Believe it or not, it's not going to work.
The breakthrough solution for the problem is creating a robust digital marketing architecture with a focus on tools to reduce the hotel managers' burden and provide a worthwhile booking experience to the customer.
These digital marketing tools will help you work diligently, and you can deliver the desired results in no time.
With so many tools available, you can get overwhelmed because choosing the right tool in your arsenal is not always easy. 
Before jumping off the end and giving every tool a try, consider the six most prominent digital marketing tools for your hotel.
Let's get started!
1 – Website Building Tool
Whether you manage a chain of luxurious hotels or run a vacation rental or operate a bread & breakfast, you understand the importance of an impressive and user-friendly website to showcase your property to potential customers.
But what makes a website appealing and attractive?
With 75% of customers admitting that they judge the business's credibility based on the company's web design, investing in an aesthetically beautiful vacation rental website design makes sense.     
The famous saying, "Beauty is in the eye of the beholder," fits perfectly for a website because unless you like it, you're not going to stay on the website for long. 
Psychology supports the idea that people are drawn to beautiful things and are inherently attracted to functional designs.
Therefore, it becomes easier for hotel managers to attract customers with a well-designed website. 
Excellent and attractive website design is one that applies the standard elements like shape, size, and colour in a way it creates a consistent visual language.
Recommended tool: Lodgify
In short: A good website design guides your customers' eye and tells them to see things which you want them to see.
2 – Social Media Listening Tools
In the social media world, everyone has a voice, and your customers are free to voice their concerns and even acknowledge your hotel's service.
Customers don't require your permission to talk about your hotel. 
So, you need to become an even faster listener who is capable of filtering out relevant information.
But, it's easier said than done.
With billions of users on social media, how can you listen to every conversation about your hotel?
This is where you will need a social media listening tool that gives you access to what customers are saying about your hotel, competitors, related keywords, or topics, followed by an in-depth analysis of the data to provide fruitful insights about the customer's demand. 
The tool gives you analysis and trends around your hotel and the entire hospitality industry as a whole.
Using the social listening tool, you can understand why, where, and how these conversations are taking place and what your potential customers think about your services and offers. 
It helps create future marketing campaigns, improves the content strategy, outpaces competitors, and build a strong professional relationship with the customer.
Recommended tool: Awario
In short: The only limit to the analysis you receive through social listening is your imagination.
3 – Revenue Management Software
RMS (Revenue management software) is the hottest buzzword in the hotel industry because of the numerous benefits it offers. 
Apart from automating the analytics process, it helps determine the right price for the hotel or vacation rental, thereby increasing the revenue.
With a revenue management tool, you can sell the right hotel room to the right customer at the right price on the right distribution channel. 
Such a tool uses the demand signals, market triggers, and historical data to come up with the right price.
A good RMS makes automated and accurate forecasts, which allows you to determine the demand and supply over the next 365 days. 
Due to the high accuracy, every department in the hotel can work in complete synchronisation and make smarter sales and operation decisions.
Investing in such software is the need of the hour because it enables hoteliers like you to price competitively and confidently. 
It will help you sail through the rough and uncertain times when the demand is on the lower side.
It will also give you a clearer market picture and boost confidence in the strategy you have selected.
Recommended tool: Hotel Tech Report
In short: Look at the bigger picture because being short-sighted for a long time will cost the hotel a great deal.
4 – Social Media Scheduling Tool
Social media is a ravage, making it imperative for a hotel to have accounts on all the leading social media platforms.
With 84% of millennials and 73% of non-millennials likely to plan their next trip based on someone else's social media update, you can no longer ignore the power of social media.
If you're looking to attract customers on social media, having a profile alone won't suffice.
Building a loyal customer base on social media platforms is an ardent and time-consuming task – a luxury that most hoteliers don't enjoy.
You no longer have to post updates to engage the customers manually. 
Because social media scheduling tools make you work smarter instead of harder. 
These tools are not just shortcuts for queuing the daily post. 
Instead, it helps in the overall management of social media profiles.
These tools improve efficiency, and you have more time creating viral blog posts and connecting with the target audience in real-time. 
Apart from scheduling, these tools give you a real-time analytics report to see your content's performance.
Recommended tool: Hootsuite
In short: Social media is the lifeline of the hospitality industry, and with the right tools, it doesn't have to be a time-eating monster.
Sale
1-Page Marketing Plan
Dib, Allan (Author)
English (Publication Language)
232 Pages - 05/05/2018 (Publication Date) - Page Two (Publisher)
5 – SEO & Digital Marketing tools
Despite the vain efforts of Google to relentlessly expand its advertising platform, organic traffic still results in a significant chunk of the hotel's online traffic and revenue. 
SEO is not dead, and it plays a crucial role in improving the digital marketing efforts of a hotel. 
As a hotelier, you should do as much as possible to optimise the website for Google search.
With 67% of hotel searches starting with Google, it's high time you consider SEO important for maximising the hotel's profitability and revenue.
The hospitality industry is prone to saturation in some areas, and when your customers search for 'hotels in (your city),' they are overwhelmed with hundreds of results. 
It's for this reason you need an SEO tool because it's your only fighting chance to outrank the competitors and maximise the bookings through organic search.  
From monitoring keyword ranking to tracking the visitors – an SEO tool will take care of all your search engine needs.
Recommended tool: Semrush
In short: Give your search results a boost and gather visibility your hotel always needed using an SEO tool.
6 – Task Management Tool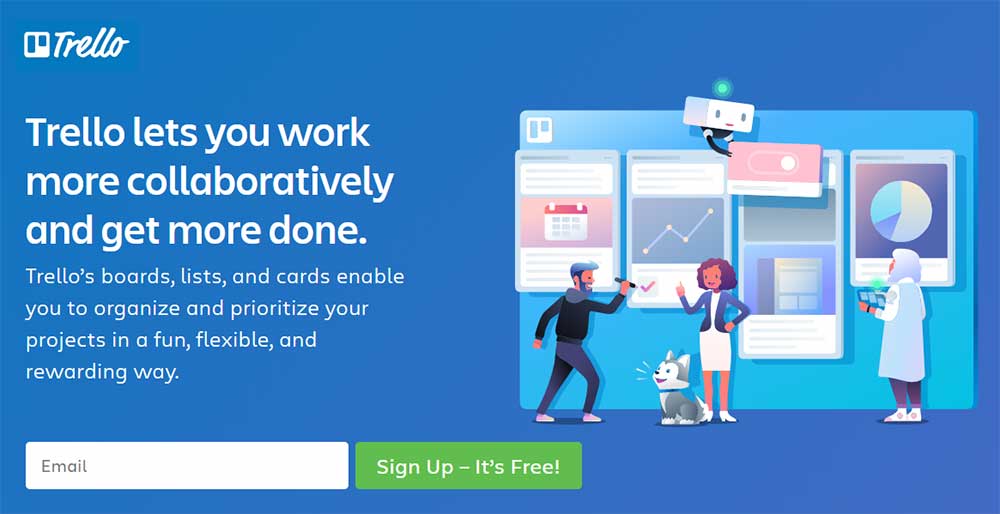 Your hotel probably has more daily tasks than anyone can remember or accomplish. 
From housekeeping to the front desk and from parking to dining, managing everything efficiently is an uphill battle. 
Manually categorising and executing tasks such as room cleaning, preventative maintenance, and guest requests is impossible.
You need digital marketing tools to make such a manual process obsolete.
The solution is investing in a task management tool to make all of this a lot easier.
Using such a tool, you can organise, track, prioritise day-to-day work for yourself and the team members. 
It will keep the team's project on track.
You can also build workflows, create checklists, assign tasks, and track every hotel staff's progress. 
Interestingly, these tools break the organisation silos and improve communication and inter-departmental collaborations.
Recommended tool: Trello
In short: The core benefit of the task management tool is to unlock the staff's capability.
The Hotel and Resort Marketing Bible
Wood, Andrew (Author)
English (Publication Language)
454 Pages - 09/06/2017 (Publication Date) - CreateSpace Independent Publishing Platform (Publisher)
Conclusion
For the digital marketing tools and strategies to be effective, you must align with the current digital marketing trends and be in-line with the customers' ever-changing behaviour.
With the changing hospitality landscape, customer expectations will continue to rise. 
Though navigating these changes would be difficult, digital marketing tools will help you achieve the goals.
Incorporating these tools will increase productivity, and you will have more time for connecting with the customers in real-time.
These tools are the cogs in the overall operation, and it keeps the hotel process going smoothly, thereby preventing potential roadblocks. 
To keep the wheel turning, you need the right digital marketing tools.
Be flexible and find ways to make the customers happy.
Last update on 2023-05-31 / Affiliate links / Images from Amazon Product Advertising API