What is Brand Photography, and Why is it Important?
In today's visually driven world, it is becoming increasingly difficult for businesses to stand out. This is why companies turn to brand photography to establish their brand identity and convey their unique story.
Brand photography is a powerful marketing tool that creates images representing a brand's values, personality and vision. By showcasing the essence of a brand through carefully crafted images, brand photography can create an emotional connection with customers, build trust and credibility, and ultimately drive sales.
In this blog post, you will learn what brand photography is, why it is crucial for businesses of all sizes and how you can get started with your brand photography.
What is Brand Photography?
Brand photography is an essential part of a company's visual identity. It refers to a collection of professional images created to visually represent a brand's unique values, personality and vision. These images are carefully matched to a brand's visual identity, using specific colours, tones, props and backdrops to create a cohesive and consistent look and feel.
Brand photography aims to tell a brand's story and portray its essence in images. This means taking photos of different elements that make a company unique, such as the team, the products, the processes and the premises. In this way, a business can create a visual narrative that connects with its audience and helps to build trust and credibility.
While many businesses may have invested in a professional photographer for their website or LinkedIn profile, brand photography goes beyond a single image. It's about having a set of consistent, high-quality photos that you can use across different marketing channels such as social media, websites, brochures and other promotional materials.
Consistency is vital when it comes to brand photography. A company can create a memorable and coherent visual experience for its audience by having visually consistent images with a brand's identity. This consistency helps to reinforce the brand's message and values, making it easier for customers to connect with and remember the brand.
Brand photography is an integral part of any company's marketing strategy. It is an investment in the visual representation of a brand's story and values, helping to build a connection with customers and reinforce the brand message. A company can maintain its strong visual identity by creating a consistent and high-quality series of photographs.
Brand Photography Humanises your Brand
According to a recent survey, a large majority of consumers, around 82%, trust a company more if the founder uses social media, while 77% would be more likely to buy from them. This means that having a presence on social media and showcasing the faces behind the business can positively impact brand reputation and sales. However, this does not mean that every post on social media has to feature the founder's face. Still, it highlights the importance of connecting with people, building rapport and making a human connection.
You may not be photogenic or uncomfortable in front of the camera. I understand these concerns as someone who doesn't like to be photographed. However, people need to know the face behind the company. Overcoming my fears and finding a photographer I felt comfortable and confident with was a game changer. I recently had my first brand photos taken, and I can't wait to share them with everyone!
When potential clients see you and your team in your marketing material, they can imagine working with you, get an insight into how you work and understand what kind of experience they can expect. By including images of people, you can transform your products and services from abstract concepts into tangible, achievable and desirable experiences. So don't be afraid to show the people behind your brand, as this can make a real difference in how consumers perceive and connect with your business.
Good Brand Photography = Good First Impression
In today's fast-paced world, people only have a little time to make decisions. Research shows that people form a first impression in just 50 milliseconds, a fraction of a second! Therefore, it is crucial to make a solid first impression, and this is where high-quality, consistent and professional brand photography comes into play.
Your brand photography should be visually stunning and capture the attention of potential customers within those first 50 milliseconds. It should convey your values, attention to detail and commitment to excellence. You can share that you value quality content, consistency and aesthetics by using high-quality images.
In today's digital age, people are constantly exposed to too much information. Therefore, standing out from the crowd and making an impression is essential. When presented well, people are already convinced of the value of the product or service without even knowing anything about it. The power of a solid visual brand is immense and can make the difference between the success or failure of your business.
With high-quality and consistent brand photos, you can quickly grab the attention of potential customers and make them want to learn more about your products or services. Your images should evoke emotion and connect your brand with your target audience. When you invest in high-quality brand photography, you invest in the success of your business.
It can Help Increase Engagement
The importance of visual content cannot be overstated in today's world. People are bombarded with information, and visual content is a powerful tool to grab and captivate their attention. Here are some sober facts that will convince you of the importance of visual content:
According to a survey, 65% of marketers believe photos, videos, illustrations and infographics are essential for conveying a brand story. This shows that visual content is integral to any successful marketing strategy.
Facebook posts from brands that contain images achieve 87% of all interactions. People are more likely to engage with your brand on social media if you use images in your posts.
51% of B2B marketers prioritise creating visual content as part of their content marketing strategy. B2B marketers know visual content is critical to communicating complex ideas and engaging their target audience.
Tweets with images receive 150% more retweets than tweets without images. This means you must include visual content if you want your tweets to go viral.
Articles that include an image every 75-100 words are shared twice as often on social media as articles with fewer images. This shows that including images in your blog posts and articles can significantly increase their spread on social media.
Facebook posts with images are shared 2.3 times more often than those without images. This shows that visual content is crucial for creating engagement and building a solid social media presence.
These statistics prove that visual content is essential for engaging and effective marketing campaigns. Incorporating visual content into your marketing strategy can help you connect with your audience, communicate your brand story and increase engagement on social media.
It can Create Trust and Brand Loyalty
A well-established and recognisable brand can strongly influence customers' perception and trust in a company. Customers are naturally attracted to companies that have professional and sophisticated branding. It gives an immediate impression of credibility and professionalism, which can significantly impact a company's reputation.
Any business must invest time, effort, and resources to develop a well-designed and visually appealing image. Customers are more likely to return when they are attracted by a company's professional appearance and have a positive experience with its products or services. These loyal customers become a company's most prominent advocates, spreading positive word of mouth and recommending the company to others.
Brand photography can be a powerful tool for businesses that want to build a solid and lasting connection with their customers. It can help create a sense of familiarity and predictability that draws customers back repeatedly. In addition, these loyal customers are more likely to recommend the business to their friends and family, which can lead to more growth and expansion.
Brand Photography Shows Emotion
As consumers, we are all driven by our emotions, which significantly impacting our purchasing decisions. If a company can appeal to positive emotions such as joy or excitement, it is more likely to attract and retain customers. Conversely, negative emotions such as boredom or frustration can cause potential customers to lose interest and look elsewhere quickly.
Therefore, companies must invest in creating a brand identity that evokes positive emotions in their customers. One way to achieve this is to hire a professional photographer to capture images that reflect the company's values and personality.
Brand photography can play a crucial role in creating a positive corporate image and goes beyond simply taking beautiful pictures. It is about strategically showcasing the company's products, team and work areas in a way that resonates with customers and evokes emotions that lead to positive brand associations.
For example, bright colours, straightforward demonstrations and authentic portrayals of the company's culture and values can help create a positive emotional connection with potential customers. Customers who smile while browsing a company's website are more likely to engage with the company and become loyal.
As a designer or business owner, it is crucial to consider the emotional impact of branding and photography. Businesses can increase sales and build long-term customer loyalty by creating a positive emotional connection with customers. In today's competitive business environment, brand photography can be a powerful tool to stand out and leave a lasting impression on customers.
Consistency is Key to Winning Brand Photography
Maintaining brand consistency is crucial for a company to achieve a strong identity and recognition among its audience. This consistency is limited to visual elements such as logos, colours and fonts and extends to photography. If your photos are inconsistent with your brand's overall style and message, it can confuse and dilute your brand identity.
Studies have shown that brands with consistent visual elements are three to four times more likely to gain brand awareness. In addition, consumers expect a consistent brand experience across all channels and devices they use to interact with brands. In other words: If your social media, website and offline marketing materials need a consistent look and feel, you risk losing your customers' trust and loyalty.
While stock images can be a good starting point, they are only sometimes brand-appropriate, and your brand may use the same photos as hundreds of other companies. Therefore, creating unique and personalised photos perfectly aligned with your brand's visual language and values is vital. Creating original images representing your brand's message and personality can build a solid and recognisable visual identity that sets you apart from your competitors.
Where can you use your Brand Photographs?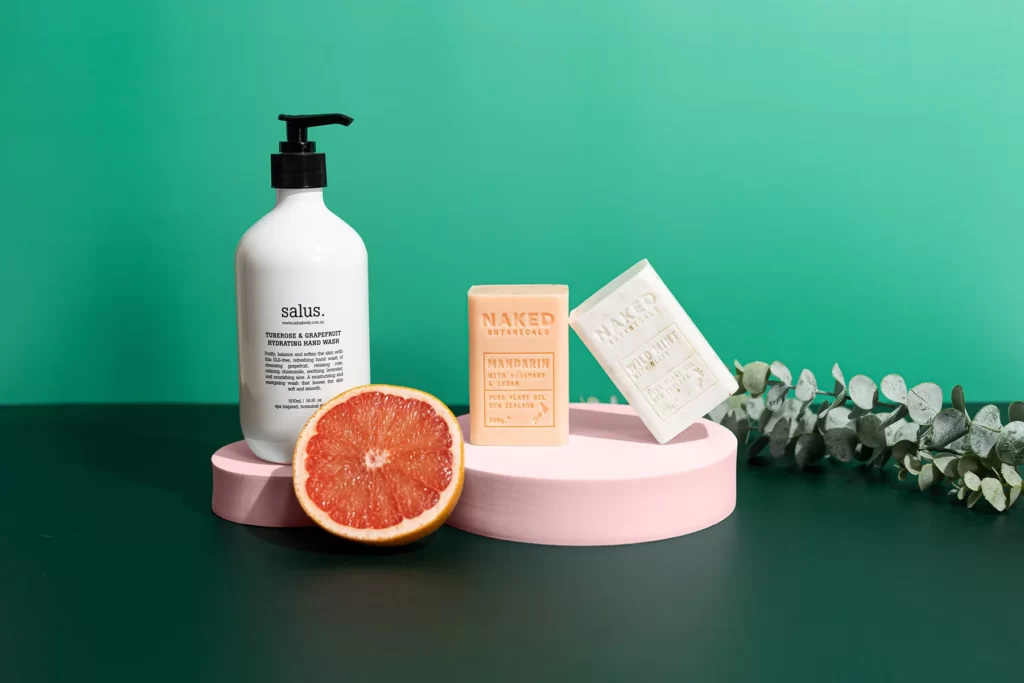 It is understandable to question whether it makes sense to invest in a professional photographer and what uses there are for the images. However, there are many creative ways to use your photos to maximise your investment. Here are some ideas to help you get started:
Profile photos for social media: whether you are a sole trader or represent a brand, using high-quality photos as profile images on social media platforms such as LinkedIn, Facebook, Twitter, and Instagram can have a significant impact on how people perceive you and your brand.
Instagram posts: Social media platforms like Instagram are visual, and great photos can help you stand out. Use professional images as Instagram posts to showcase your brand or products and increase engagement.
Instagram Stories: Add professional photos to your Instagram stories to engage your audience and visually interest them in what you offer.
About page: Your "About" page is an opportunity to introduce your personality and brand to potential customers. Using professional photos on this page can help create a more personal and trustworthy connection.
Blog posts: Use your professional photos to create visually engaging blog posts that tell your brand story, illustrate your message or give a behind-the-scenes look at your business.
Paid ads: Great imagery can help make your paid ads more memorable and effective. So use your professional photos as graphics for your ads.
Process presentation: Photos can be a great way to illustrate your process and show how you work, so potential clients better understand your expectations.
Email newsletter: Include a professional photo next to your name in the attachment of your email newsletter to personalise your communication and build trust with your audience.
Business card: use your photo as the focal point of a page on your business card to make it more memorable and personal.
Webinars: Use professional photos to introduce yourself at webinars so your audience can connect with you visually.
Team page: If you have a team, use professional photos on your team page to introduce each member and build a more personal connection with your audience.
PDF opt-in: Use your professional photos in your PDF opt-in to create a visually engaging experience for your potential customers or clients.
Client thank you notes: Add a personal touch to your thank you notes by including a professional photo of yourself.
PR/media/press kit: Use the professional photos in your press kit to make it easier for others to write and report about you and your business.
Email signature: use a professional photo in your email signature to personalise your communications and make a memorable impression.
Podcast graphics: Use professional photos to design your podcast to make it more visually appealing and memorable.
Online course content: Use professional photos in your online course to illustrate your message and provide learners with a visually engaging experience.
As you can see, the possibilities are endless! Investing in professional photos will give you high-quality images and create various creative ways to showcase your brand and connect with your audience.
Final Thoughts
As we have already established, brand photography is essential to effective business promotion. However, its use is not a one-time affair, as companies need to constantly re-evaluate their strategies and adapt to new trends and challenges in the market. This may require rebranding, which needs the help of a professional designer.
The role of a professional designer is to help the business owner find the best ways to represent their new ideas through images and text while maintaining consistency and integrity across all platforms. Although these approaches may change over time, it is still crucial to communicate a company's values and goals through different media.
Therefore, brand photography should be integral to any company's marketing strategy. It demonstrates the company's stability and the flexibility with which it responds to changing customer needs and market demands. By incorporating brand photography into their marketing plans, companies can leave a solid and lasting impression on their target audience and stand out from their competitors.
In addition, brand photography can help businesses build trust and loyalty with their customers, which can translate into increased sales and revenue. Brand photography is a cost-effective way to promote a brand, as you can use it across various platforms such as social media, websites and print materials.
In conclusion, brand photography is crucial to any effective marketing strategy. Companies can create a visually appealing and consistent brand image that communicates their values and goals to their target audience by working with a professional designer. By incorporating brand photography into their marketing plans, companies can build a strong brand identity, create trust and loyalty among their customers and achieve their long-term business goals.