Small Business Logo Design Services
Small business Logo Design is a core feature of the services offered by Inkbot Design.
We have lots of experience working with small businesses who need affordable but effective logo design.
We cater for budgets of all sizes.
Setting up a new company can be daunting, but we are available to assist with the business logo design and brand identity.
We can guide you through every step of the design process.
Logo design for small businesses has to be more affordable than for established companies, who have more disposable income.
Small Business logo design packages tend to start around £800.
This includes:
A selection of 3-4 logo design concepts
Developments and revisions until you are satisfied.
There are competitors on the market who sell logos for
as little as $99
– but any serious business owner will know the need to invest is greater.
It is imperative you hire a professional logo designer if you want your brand identity to succeed.
Amateur designers found on crowdsourcing sites do not have the time or the inclination to spend more than an hour per design. Oftentimes they rip off or copy clip-art and low-grade design templates. As professional logo designers, we dedicate
considerable time
to your brand identity. We conduct research, experimentation and development – to see which concepts work best with your company. This means the final business logo design is considered, 100% unique and effort has been spent to develop an image which represents your new or growing business.
Having Inkbot Design create my small business logo was one of the best investments I've made. The concepts presented were thought-provoking, professional and in line with my brief. I wouldn't hesitate to recommend them to other small businesses.
Want to learn more about a small business logo design?
Helping Small Businesses Grow Big
If you're brand new to business or stepping out in the world as an entrepreneurial sole trader, then you need to work with Inkbot Design.
We tailor our small business logo design services to your company and can meet all requirements and budgets.
All business logo designs offered, are both current and will stand the test of time – created with future growth in mind.
There are so many businesses launched daily, you need something that sets you apart.
Want your business Branding to stand out from the crowd?
Small Business Logos – To Spend or Not to Spend?
There are many headaches of running small businesses, from payroll to overheads as well as other miscellaneous costs. On top of that, "do I have to spend on getting a small business logo designed as well?"
That is one of the most intriguing questions a small business owner or a startup needs to ask before jumping all in. All your focus will be on breaking even within your estimated timeline; then you have to worry about sustainability.
So, you are probably making a wise decision, not keeping the company logo as one of the top priorities. Are you? Well, the answer is not all that objective.
There are many factors you have to consider, which will assist you in making an informed decision. Nature of business, types of customers and budget are just a few basics that form the tip of the iceberg. However, let's lay down some groundwork.
What Does a Logo Mean in a Small Business Sense?
The company logo primarily the visual representation of your identity. In the initial contact with your customers and other stakeholders, the first thing they will lay their eyes upon is your logo and other aspects of your branding and even judge your brand on it subconsciously.
As you can see, in the interest of brand recall, the company logo will be present on all business collateral as the first visual cue for your brand. It is much more than just a creative piece of art to give your products some style.
It serves the unique purpose of visually arranging all visible elements of your company under one umbrella.
Companies who like to stay ahead of the curve usually invest a significant amount on their logo and branding.
A well-planned small business logo will have the following characteristics.
Simple
Complicated logo concepts with intricate designing might be challenging to pull off. Many companies with the most iconic and memorable logos use simple designs that are easy to recognise, and in time they become widely known globally.
The Nike Swoosh is one of the most recognised brand symbols, and it is the epitome of simplicity. Almost anyone will recognise this mark without the need for textual stimuli.
Timeless
When initially designing their logos, companies must consider the following:
Style

Font

Package

Colour
These elements must be eye-catching but not over the top. Secondly, you must choose something appropriate for your business principles. Finally, you have to work out the kinks, for instance, deciding how much text to use in your logo, if at all.
Memorable
Companies put in much work to make their logos memorable. Sometimes they can spend millions of dollars to create a fantastic logo from scratch; on the other hand, companies like tech giant Apple use just small tweaks overtime to retain the overall essence.
Versatile
The business letterhead, business stationery, as well as most of the products will contain your logo. It must have the versatility to be used in multiple ways.
Appropriate
As discussed above, your logo must be appropriate, i.e. about your business in some way or concept, and it must have proper imagery and text, without any offensive content.
Why Small Businesses Need to Take Logo Design Seriously
Building a business or brand is not a fast and cheap process. It takes time, money and a lot of other resources. Some minor technicalities might be skipped, but if you skip over crucial elements, your progress will be critically deterred.
Here's why I think a well-designed company logo is one of those critical elements:
Standing Out
Standing out from your competitors is essential in an industry where most products are usually generic. This quality helps potential customers recognise your brand and ultimately leads to a more significant market share.
What better way to do this than by having a distinct logo and branding? It is the same reason why companies spend so much on the packaging. Research indicates that customers are more likely to buy from a brand they recognise.
Looking Professional
If a company has serious design flaws in its logo, it will have an inevitable negative impact, regardless of its product quality. However, if the logo looks "professional", it gives the impression that quite a bit of time and money has been spent on making it look good.
Such a company tends to be taken more seriously because a customer cannot help wondering if this is the effort that goes into a company's logo, then how much would they put into the work.
Highlighting Your USP
You have a great product, your initial market share is high, but you have to create a positive brand identity to reinforce your USPs. Some companies use their logos very effectively to highlight their USPs.
 Amazon uses the curve arrow in its logo to reiterate the message that they sell everything from A to Z. Ice cream chain Baskin-Robbins uses a different colour scheme to point out that it offers 131 flavours subtly.
 The Tour de France logo creatively hides a cyclist in their logo design. This subconsciously resonates with cycling enthusiasts the world over.
Putting your small business on the map
Expensive marketing campaigns and other mass-media advertisements may be out of the question for small businesses or startups with limited means. However, getting a well-designed logo with distinct creative elements can go a long way.
These items can be used for future marketing campaigns where you do not have to come up with new designs altogether, but play on the existing theme.
Brand Identity
This applies to any business, regardless of size.
Your logo is synonymous with your brand name.
What's more, it is also a reminder to your customers of what the perceived value of your brand is. With so much at stake, surely you can spend a few more dollars to come up with a professional-looking logo.
Especially if you are pitching a premium brand, an excellent looking logo helps. A shabby looking logo certainly does not add pizazz to your brand identity and contributes towards a poor brand image.
The reasons above justify why a logo is so essential as well as the advantages a company can achieve if it has a professional-looking logo that oozes quality and stylish design sense.
However, some factors may force a company to re-think this before they break the bank to get its logo designed.
The shift to digital
As the digital age matures, we see less "physical" aspects of a company and more of digital existence.
Previously there was a lot out there to stamp your logo on. Even if you did not have physical products, the presence of paper and print made it possible to have your logo everywhere.
Now, companies who deal virtually and have no physical products might argue that they do not need to spend a lot to get a premium logo because it will hardly be seen.
Web sites like Craigslist find such a need unnecessary.
Looking for a Professional Logo Designer for your Small Business or Startup?
A good
logo helps customers to identify your
company. 
The most

 

important job of a

 

logo is to help customers and customer prospects to identify your

 

company. That's why the best

 small business 

logos are simple and memorable.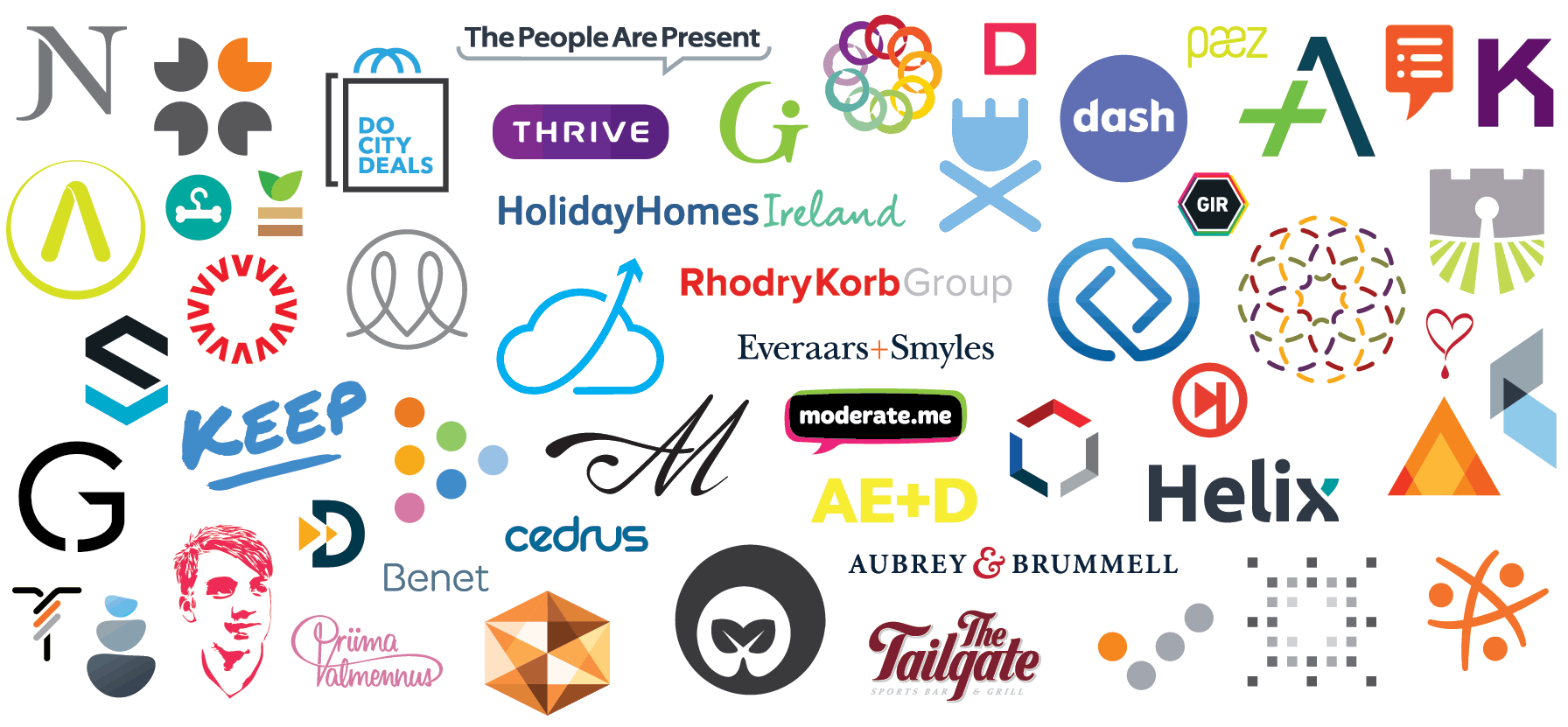 The brand makes the logo – the logo design does not make the brand.
Many companies first became famous due to various factors such as work ethic, superior quality and excellent customer relations; then they spent so much on a new logo.
What we have to remember is that all these giant corporations were quite well known before we started analysing logos and their impacts. The point is, success makes the brand, and a logo is merely a visual representation of that brand.
Small Business, small budgets
It is prevalent for startups to employ bootstrapping techniques to reduce costs during the initial stages of the business. A simple wordmark may be okay, but a premium logo might not be the first thing on the owners' minds.
Depending on the industry, the breakeven period can be quite far off, and owners may look to cut costs wherever possible.
Opinion
As expected, the list of reasons why a company should focus on getting a professional custom logo design for small businesses is considerably longer than the limitations. It certainly makes sense, as unless you are in a unique line of business where logos and branding are of little importance, or you are seriously struggling for cash. 
As a business, you have to realise the value addition your brand receives by having a logo that is solid in both design and marketability.
Final Verdict
Small businesses, in particular, have an imperative need to establish their brand identity as it is vital to gain permanent recognition from customers in an age where highly evolved marketing techniques make each marketing space available a highly coveted spot with many suitors.
Therefore, small businesses should make it a priority to come up with a logo representing their identity despite the costs associated.
In the long run, these costs will seem insignificant compared to an iconic and well-known logo.
Determined business owners will always find a way; if you are still undecided, remember, Nike paid just $35 for arguably the most famous logo on the planet!
Without a doubt, having Inkbot Design our small business logo and stationery is one of the best things to happen to our startup company.
They took time to understand our vision, made some suggestions and came up with a logomark that we are so proud of.
The entire process was seamless and the logo looks very elegant, capturing the essence and vision of our company.
If you are particular about quality, elegance, and perfection, you will be in very good hands with this Graphic Design Agency in Belfast.
Want your small business Branding to stand out from the crowd?