Eye-Catching Design Features for Different Types of eCommerce Sites
As an eCommerce business, your main goal is to convert visitors into customers. 
To do so, you need to have well thought out web design features that are engaging and directs visitors down the sales funnel to make a purchase. 
With the right visual effect, you can easily captivate your visitors' attention and encourage them to click the "add to cart button" and checkout. 
To create a full eCommerce website and generate leads, having eye-catching design features is essential. 
In this post, we'll cover the top tips you need to boost your eCommerce sales.
No one likes getting lost, especially when they're trying to find something they need. 
When a visitor comes to your website, they expect easy to understand navigation, or else they may be tempted to exit your site and search elsewhere. 
What does good navigation look like? 
Good navigation means there's a clear path for users to follow to reach their desired endpoint. 
This navigation should get them from a landing page to the checkout page to purchase in a few easy steps. 
There are a few different ways you can present navigation design features on your site.
Top-of-site navigation is where your categories and drop-down menu are located at the top of your site's pages. 
Take Snowy Pines White Labs, for example. 
In the image below, you can see at the top of their page they have various categories, such as "White Lab Puppies," "Our Dogs," and "Our Ozark Home," along with a drop-down menu under "Resources" where you can find their blog, contact page, and other FAQs.
Another way you can present navigation on your site is with bottom-of-site navigation. 
This option allows you to place categories and other pages at the bottom of your site. 
Another option, which is suitable for larger companies with multiple products and categories, is a layered navigation drop-down list that allows customers to search results using filters, such as colour, size, brand, and other criteria. 
Easy site navigation has the bonus of helping search engines to understand your website better. 
This increases the chances that you'll rank higher in search engine results which can lead to an increase in organic traffic. 
Testimonials
Shoppers want to buy from a credible site that they can trust. 
Placing testimonials and reviews throughout your site is a great way to be transparent and show new customers what previous customers thought of your products and services. 
Ninety per cent of consumers read reviews before making a purchasing decision. 
Having reviews, including the good, bad, and ugly, will instil a sense of trust in your customers. 
There are plenty of areas where you can highlight reviews. 
Zugu Case uses a long format style homepage to share important product features, key-value propositions, social proof, and more to encourage visitors to buy its product. The homepage showcases its products, features & benefits and provides social proof to help nudge visitors to become buyers. – Big Commerce
You can dedicate an entire page to testimonials, include a few on your homepage, or place reviews, star ratings, and comments on product pages. 
Below is an example from 1Dental. 
In the image below, 1Dental includes testimonials and star ratings design features on their homepage. 
There is also a scroll bar where you can sift through multiple testimonials from real, paying customers.
Product Descriptions
One of the downsides of online shopping is that customers can't see your products in person. 
This is where product descriptions come in. 
If your product descriptions are lacking, customers might be wary of clicking the "buy" button. 
Encourage customers to continue exploring your website and products by including a section for featured products, best-sellers, exclusive items, related products, or top savers. – eLogic
To encourage visitors to make a purchase, make sure your product descriptions are thorough and include all of the information customers may be wondering about. 
Product descriptions are also a great way to boost your site's SEO value. 
In your product descriptions design features, you can include any relevant keywords and FAQs that can help build your site's relevancy and authority. 
You should also include any specifications of your products, such as the materials used, dimensions or size, colour (s), where it's made, and so forth.
Lastly, include high-quality and original photos. Customers can spot a stock image from a mile away. 
Investing in a product photographer to take elegant and eye-catching photos of your products from different angles will allow customers to get a better sense of what they're buying. 
The challenge with large images is their loading time, which can slow down your website's loading speed. – Tech.co
If possible, try and incorporate videos, as well. 
Videos provide a 360-degree view of your products, giving customers a clear depiction of what you're selling.
Carousels 
Carousels can be a great way to add additional content and product information to your page without cramping or having a cluttered landing page. 
This can help prevent you from having to narrow down and be selective about which products you want to feature on said page. 
Carousels can be great design features to add to your site because they can provide additional information to your site visitors and they can save the user from having to scroll through your page. 
Make sure that if you are utilising a carousel on your site that it doesn't move too quickly. 
You'll want to include arrows on your carousel so that users can navigate through the carousel at their own speed and go back to a particular product or service if it catches their attention. 
With these elements in place, a carousel can be a great addition to your website. 
Search Bar
Depending on the number of items you sell, it may be difficult for shoppers to find what they're looking for. 
A search bar is essential for eCommerce sites. 
Often, search boxes in e-commerce stores are in very prominent positions, high up in the layout, enticing the user to search the site for the product they want. – Web FX
With a search bar, customers can quickly find what they're looking for, such as a men's small graphic t-shirt or insulated water bottles, for example.
As previously stated, having straightforward navigation is critical, and a search function is a great design feature to help customers traverse through your site.
Filters
Filters are another navigation tool that can improve the buyer's journey on your site. 
Filters are great for companies that sell numerous products with varying specifications, such as size, colour, and brand. 
Another important feature to have on your product listing pages are filtering options so that a user can easily sort through products based on price or type. Impactbnd
Having too many options can overwhelm your customers. 
Through filters, customers can narrow down their choices to make their shopping experience more enjoyable. 
Generally speaking, customers know what they are looking for when they land on your website. 
By providing your site visitors with filter options, you can make it easier for them to find exactly what they are looking for, which can increase your chances of closing a sale. 
FAQ's 
Adding an FAQ section your site can be extremely beneficial to the user experience. 
FAQ's can be added with their own landing page or can be added to the footer of the homepage or an "About Us" page. 
Adding FAQs to your website can help streamline the user experience by quickly and conveniently providing any information they may be seeking. 
Attracting a potential customer and showing visually that you can solve their problem is the foundation of a successful eCommerce site structure. – Onix Systems
FAQ's can also help reduce overhead expenses by reducing the bandwidth needed by customer service teams. 
Having an FAQ section on your site can also help to increase sales since your users can easily access the information they need to make a purchasing decision. 
If your business is already successful in the customer service space, it should be pretty easy to catalogue and put together the best FAQ's to add to this section of your site. 
Wishlist 
Wishlists can be fun and interactive design elements to add to your eCommerce website. 
Wishlists can be used for customers who might be interested in a product but aren't ready to commit to a purchase. 
A customer may be interested in a product but may want to continue shopping or wait until it becomes closer to a holiday or special occasion to make the purchase. 
It's also a way for customers to save products so that they can do more research around product details. 
A Wishlist can also be used as a helpful marketing tool. 
Ecommerce sites that aren't using wish lists are leaving revenue on the virtual desktop table. When shoppers share their wish lists with family and friends, it sends free traffic with built-in social proof to a website. – Search Engine Journal
If customers have items on their Wishlist, you can send them friendly email reminders so that they follow through on making a purchasing decision. 
Engaging Visuals
As they say, a picture is worth a thousand words, which means the right visuals can speak the story of your brand and products. 
Engaging visuals are one of the best ways to catch the eyes of your customers. 
With the right design features placed strategically throughout your site, you can guide your visitor's attention to make a call to action.
With the right images, you can explain what your products are and what they do. 
It needs to go beyond being attractive to being functional, leading potential customers to the products they are looking for and giving them a good reason to trust your product and your website to finally add those items to their cart and purchase them. – Tech.co
However, it's vital to ensure your images are crystal-clear without compromising the speed of your website. 
Large files and images can slow down your page speed, which can drive customers away. 
To keep your page speed up to par, make sure to compress your images and lazy load them.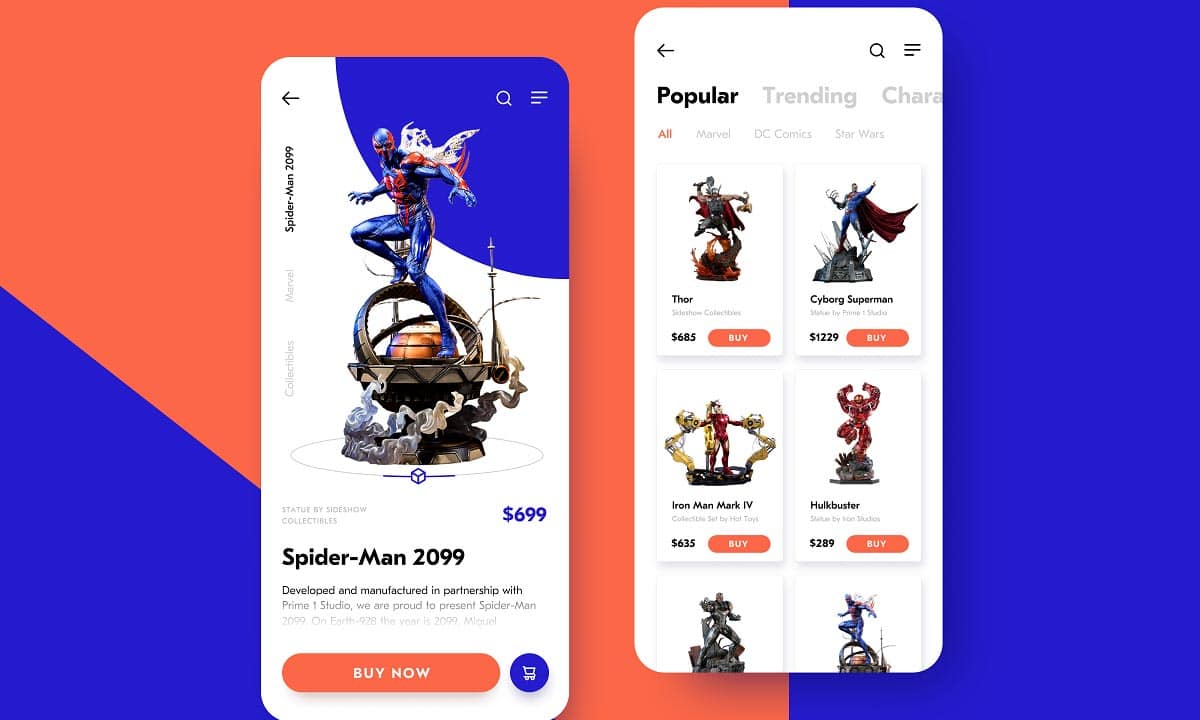 Wrapping Up: Improving the Design Features of Your Ecommerce Site
With these design tips on hand, you'll be able to take your eCommerce business to the next level. 
From improving the navigation of your site to incorporating visuals and testimonials, these are just some of the ways you can catch the eye of your visitors and convert them into leads. 
In a world where consumers have a plethora of options, it's increasingly important to design your site in a way that will help you stand out from the competition. 
It doesn't matter if you have millions of product pages or five. Vanity Planet found that adding Instagram photos to their product pages increased checkouts by 24%. – Search Engine Journal
The key is to ensure your site's design features are cohesive, engaging, and appeals to your customer base.
Author Bio: Samantha Rupp holds a Bachelor of Science in Business Administration and is the managing editor for 365businesstips.com. She lives in San Diego, California and enjoys spending time on the beach, reading up on current industry trends, and travelling.