19 Essential Tips for Working Remotely
Working remotely is an everyday lifestyle nowadays that we will all have to embrace sooner or later, and tips for working remotely are essential to do our best in the long term.
Working from home is not only waking up, turning on our computer and getting stuff done. There's a whole process to be done, and organising our life to make it match with this new lifestyle is vital.
In this article, we'll be sharing the 19 essential tips for working remotely that will improve your work-life balance and make you healthier and happier.
1 – Wake up on time
Waking up on time is not only important in corporate life but also when working from home. 
Getting up off the bed early will give you the chance to have your cup of coffee, enjoy breakfast, go for a quick run outside, and ultimately feel healthier.
No products found.
A study in the journal Sleep Medicine found that early birds tend to be less depressed and stressed.
Also, Benjamin Franklin, a successful American investor, once said that "Early to bed and early to rise makes a man healthy, wealthy, and wise". This is a fascinating and accurate quote that we should all follow.
2 – Dress professionally 
Dressing professionally when working from home is much more critical than many could think. Following a study by Mentimeter, 44% of employees working remotely chose to wear different clothes for days in which they have video calls. Besides, 12% of them avoided switching to video calls because they were naked or partially clothed.
There are a few reasons why it's an essential tip for working from home efficiently.
First of all, it affects your self-image. Many of us are tempted to work in pyjamas or too casual clothing, and that's understandable. However, wearing professional clothes will make you feel that you're actually working and eventually increase productivity and efficiency at work.
Secondly, it will boost your self-confidence. Wearing professional clothes will make you pay more attention to details and provide more detailed results and reports. Moreover, wearing an outfit that you like will make you happier and therefore boost your overall confidence at work.
In conclusion, dressing up when working from home will provide benefits that are rarely thought about before.
3 – Don't skip breakfast
A study conducted by the Journal of the American College of Cardiology proved that skipping breakfast is tied to a higher risk of heart-related or heart disease death. People who never had breakfast in their life had an 87% higher risk for cardiovascular death, compared to people who eat breakfast every day.
Other than that, it is essential to eat breakfast before starting your shift as it will help waking up and get more focused. It is also crucial to have breakfast on challenging days, as your lunch may be delayed by the things you have to do.
4 – Plan your day ahead
The organisation is vital when working from home, and planning your day will certainly help in many ways. There are many things you can do to plan your day. 
First of all, it will save you a lot of time. Planning a day will take you on average 10 to 12 minutes, and will make you save at least 2 hours of your time. Saving 2 hours of our time during the day is excellent, and this is something we can all agree on.
Moreover, planning helps with stress and will, therefore, make you healthy in both your personal and professional life.
Lastly, using a planner will undoubtedly help to organise your week better and write down the small details that you might forget.
Panda Planner Pro - Best Daily Planner for Happiness & Productivity - 8.5 x 11" Softcover - Undated Day Planner - Guaranteed to Get You Organized - Gratitude & Goals 6 Month Journal (Black)
★ GET MORE DONE. FEEL BETTER - Most people struggle to keep up with the demands of modern life, leaving them feeling overwhelmed, exhausted and robbed of their passion. Panda Planner is a scientifically designed daily planner that will empower you to take back control, reclaim your happiness and flourish in every way
★ scientific approach to productivity & happiness - overwhelmed by the symptoms of Lyme disease, traumatic brain injury and cancer, our founder turned to the proven Research of positive psychology and neuroscience and created a system to get his life back on track
★ You are awesome - you might not feel that way all the time, but if you could just find a way to stay on top of your sh*t, everyone else would recognize how badass you really are. Panda Planner unlocks your organization & focus so you can hit your goals, every time
★ BONUSES & guarantee - included with your Panda Planner are some incredible eBooks (on topics like "how to crush your goals" and "a billionaire's guide to productivity") and a video mini-course on how to skyrocket Your productivity. If you don't feel happier and more productive, just reach out to us for a simple, no-hassle Refund
★ We believe that the demands and stressors of the modern world shouldn't rob us of the lives we were meant to live. We believe that life is meant to be lived vibrantly! We are on a mission to help 10 million people Reclaim their happiness. Join the Panda movement!
Dale Carnegie, a popular American writer, once said, 1 hour of proper weekly planning will save you 10 hours of doing. It is a powerful and actual quote that we should all follow when working from home.
5 – Check your internet connection before your shift
Checking your internet connection before starting your shift is vital to have a smooth day at work. Your internet connection is one of the things that can make or break your day, and that is why it is so important.
If you have a video call with your team, you will need a more reliable connection, or you might not see them clearly and therefore could be damaging your project or make you lose important information.
An essential tip for working from home is to use a wired internet connection using a cable. The speed tends to be considerably higher and more stable when using that connection type.
It is also essential to take into consideration that many companies use VPNs to secure and encrypt their data online. In this case, your internet connection will certainly be slower, and you should talk to your IT department to help you with that.
6 – Make sure you have the right equipment 
Working from home wouldn't be nice without the right equipment for your computer or laptop. Having the right tools to work always make things easier, and even more when working remotely.
For instance, having comfortable headphones for virtual meetings will make it easier for you to focus on and take notes. Imagine having to make an essential decision for your company or team while scratching your head or moving the headphones during the entire meeting, that simply makes your life harder.
Also, think about the power of your laptop or computer. No one wants to have a slow computer that takes ages to load a critical file. Having a decent computer will make your life better when working from home and will make you improve productivity.
Moreover, you could also think about wireless pieces of technology. For example, having a wireless mouse, keyboard, or speakers on your desk will make it better looking and will, therefore, become more inviting for you.
To sum up, the power of having the right tech equipment for your computer is not to be underestimated when working from home.
7 – Keep your workspace professional and to your liking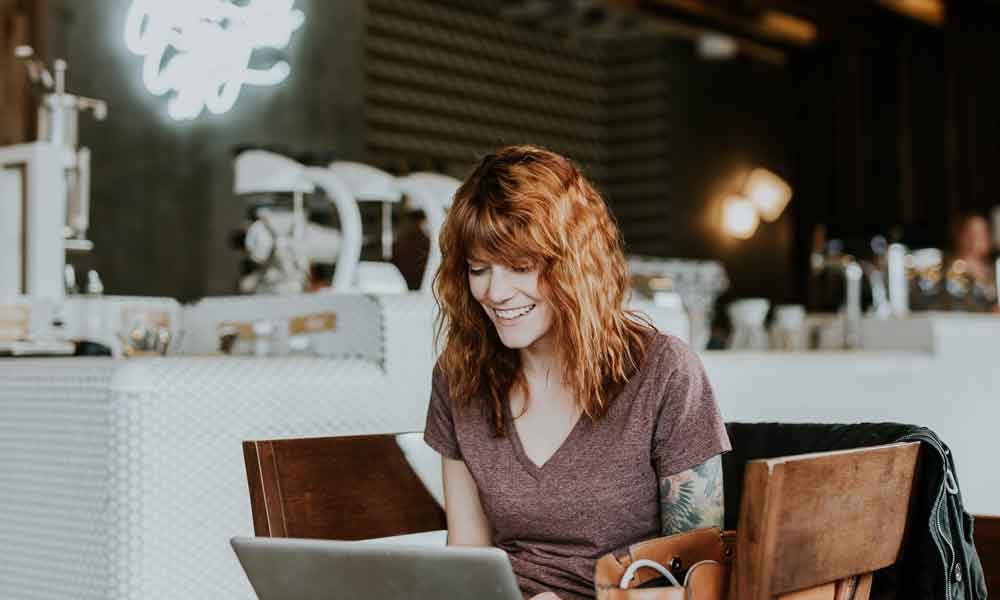 Keeping your dedicated workspace professional is another essential tip for working remotely.
In fact, with the lack of a dedicated space that you had in an office, you might feel lost without that corporate feeling that you need to focus.
Other than making it professional, it should certainly be of your liking. A study by the University of Exeter has found that employees who control the design of their workspace are happier, healthier. Also, they end up being 32% more productive, which is certainly something worth considering.
8 – Don't always report your progress
Reporting progress to your team is another vital aspect of working from home. However, sending too many reports might make you less happy.
As per a study made by SMF, happy employees are up to 20% more productive, and happy salespeople will increase sales by up to 37%.
Sale
Remote: Office Not Required
Used Book in Good Condition
Hardcover Book
Fried, Jason (Author)
English (Publication Language)
256 Pages - 10/29/2013 (Publication Date) - Currency (Publisher)
While complicated reports are essential to many managers, they're also complex to prepare, and employees generally don't like being looked at by their supervisor the whole day. 
For this reason, talk to your manager to send fewer reports, and your ultimate happiness goal will be fulfilled.
9 – Use Online Sharing Documents (Google doc, etc.)
Sharing documents online is much more efficient and useful than the regular and old fashioned word and excel documents. You'll be able to share real-time updates on files and keep your records well organised on the cloud.
Using online sharing platforms will ultimately help avoid losing some information in case a problem with your computer happens. 
More than 1 billion people around the world use Google Drive, including Google Docs and Google Sheets, and we encourage you to include online sharing documents in your working routine.
10 – Always Take Breaks on time
Taking regular breaks is an integral part of the working life that you shouldn't skip if your goal is to remain proficient at what you do.
Research by Connect Solutions found that the highest performing workers take breaks. The top 10% of productive employees tend to work 52 minutes on average before going on a 17-minute break. This means that they spend nearly a third of their work-life on a break!
Taking breaks is vital to reinvigorate your brain and boost your creative powers. Also, get some fresh air. These activities will go a long way to making you a more efficient remote worker.
11 – Maintain a consistent routine
Maintaining a consistent routine can be much more beneficial to your everyday life at work than you may think. You don't necessarily mean to do things related to work to maintain a routine. 
A study by San Francisco State University found that learning something new makes you happier in the long term. Take some time to do an online course or read educational magazines, and you'll notice the difference.
Other than that, a study conducted by Emory University revealed that reading books can boost our intelligence and increase our brainpower. 
Setting a consistent routine will make you feel more accountable to yourself and eventually more productive.
Social interactions have become just as important as ordinary conversations with friends. (social media, video call, etc.) Planning some video call or chat on social media are easy to include in a break and will change your mind and therefore make you happier.
Other than your friends, social interaction also means socialising with coworkers. A study by the Queen's University of Charlotte found that 75% of employers rate teamwork and collaboration as very important.
13 – Mute your notifications when needed
Receiving personal messages when working remotely can break your day. According to workplace expert Gloria Mark's report at the University of California, it takes 23 minutes and 15 seconds for the human brain to regain focus on a task after having been interrupted.
If you work these 23 minutes without proper concentration, it ends up in a long time wasted every day.
This is the reason why muting your notifications on your mobile, on your browser and other devices is an essential tip for working from home that you should do from now on.
Spending 10 hours at work while focusing on our cell phones will not do any good. However, spending 5 hours being focused with no distractions will work much better.
14 – Invest in blue light or computer glasses
Sitting in front of a computer screen all day long is undoubtedly bad for our eyes and not healthy. This is an inconvenience to working from home permanently as we tend to use our computer even during breaks or after our shift.
SOJOS Retro Round Blue Light Glasses for Women Computer Glasses Big TR90 Eyewear Frame SJ9001, Purple Tortoise Frame/Anti-Blue Light Lens
ANTI-BLUE LIGHT & ANTI-RADIATION COATED LENSES - The anti-blue light&anti-radiation coated lenses are best used for long hours of computer use to reduce symptoms of eyestrain and maintain natural sleep patterns. The original non-prescription lenses can be replaced with progressive lenses at any store.
UNBREAKABLE ECO-FRIENDLY TR90 RIM MATERIALS - TR90 is a kind of material which is super toughness, wear-resistance, stress-resistance, and thus the frame is not easily deformed or damaged. These blue light blocking glasses are made of TR90 full rims combined with half metal frames, anti-blue light&anti-radiation lenses, soft silicone nose pads, all the quality details ensuring you a perfect wearing experience.
SKIN-FRIENDLY & ALLERGY-FREE SILICONE NOSE PADS - The SojoS eyeglasses' silicone nose pads can adapt to different nose shapes. The nose shapes can reduce the burden on your nose and improve the headache issues effectively.
STYLISH CUTE PATTERNS & RETRO ROUND FRAMES DESIGN - The cute patterns and retro round frame shapes are designed by the SojoS designer team. The round frames can match with all kinds of facial forms. The multiple patterns and colors can match with different outfits in a daily fashion.
GIFT IDEAS PACKAGE - Blue light blocking glasses*1, microfiber pouch*1, microfiber glasses cleaning cloth*1, blue light test electric torch*1, blue light test card*1, glasses kit*1, beautifully designed box*1. It is also a gift packaged ready, making it a wonderful yet practical gift idea for friends and family!
Investing in blue light or computer glasses is an essential tip that you should consider as soon as possible. Eyes are sensitive, and these types of glasses will protect them, avoiding you to damage your sight and protecting them.
15 – Take time for physical activities
We should always take time for physical activities and even more when working from our living room.
Research by The Journal of American Heart Association proved that even 5 minutes of moderate to vigorous physical activity could offer health benefits. 
Taking time for physical activities will make you feel good, will reduce the risks of a heart attack, and will make you have a lower blood cholesterol level.
On top of that, doing physical activities will make you feel happier and ultimately can improve your brain health and memory, which will enhance your working life.
Fitbit Versa 2 Health and Fitness Smartwatch with Heart Rate, Music, Alexa Built-In, Sleep and Swim Tracking, Black/Carbon, One Size (S and L Bands Included)
Use amazon Alexa built in to get quick news and information, check the weather, set timers and alarms, control your smart home devices and more all through the sound of your voice (third party app may be required; amazon Alexa not available in all countries)
Based on your heart rate, time asleep and restlessness, sleep score helps you better understand your sleep quality each night. Also track your time in light, deep and REM sleep stages and get personal insights
Get a 90-day free trial of the Fitbit Premium to help you stay active, sleep well and manage stress. Unlock it all in the Fitbit app. (The valid payment method required. Cancel before free trial ends to avoid subscription fees. Offer valid for new Premium users only)
With a larger display and an always on option, your information?s always a quick glance away (always on display requires more frequent charging)
Play your favorite songs and playlists with Spotify app controls on your wrist. Also make secure purchases with Fitbit Pay and get called, text and smartphone app notifications.
Lastly, working out is the perfect excuse to get out and take some fresh air. Miriam Herst, Beauty Editor at All Things Hair the US once analysed the fact to catch fresh air and shared 
"I've been using my lunch break to walk to the park to get some fresh air. I come back to my at-home workstation refreshed and re-energised. It's easily my best tip for staying productive while working from home!"
We should all follow Miriam's example and take some fresh air during our breaks.
16 – Stay in contact with your colleagues
Staying in contact with coworkers and supervisors is critical in the corporate world and especially when working from home. 
There are many different ways to keep in touch with your colleagues, such as:
Chat on Slack and discuss work
Give them a quick call and share opinions
Send an email with a positive quote, and receive some positivity in return.
Other than that, you or your senior supervisor can organise team challenges to stay connected. 
Also, research made by ClearCompany found that only 5.9% of companies communicate goals daily. Organising team challenges could improve communication with your colleagues and improve your teamwork.
Lastly, Claire Lew from Know Your Team shared her experience as a CEO saying: 
"You can never over-communicate enough as a leader at a company, but at a remote company, nothing could be truer. Because you don't physically see people in-person, the information doesn't spread in the same way, so leaders need to do the heavy lifting for evangelising the message." 
17 – Plan your vacation
Planning your vacation has a lot more to do with working from home than you might think. We all need to take some vacation at some point, whether staying in our state or going abroad.
Planning a vacation while working remotely will help clear your mind and make you more motivated to think about something you look forward to.
18 – Enjoy some family time
Family time is precious time and should be considered when working from home, during your breaks, before or after your shift.
Our partner and children may end up needing more attention than we expect, and many benefits result from spending time with them. Spending time with your family, for instance, will result in less violence.
A poll of 2,000 parents conducted by Virgin Holidays and Universal Orlando Resort found that families spend about 36 minutes per weekday together.
Try to adjust your family time to spend more than the average with your family and increase happiness under your roof.
Last but not least, and talking more about role models, we can take the example of Robert Gallagher from Stress Management. Gallagher once said that We should make some time in between and organise our life, relax and spend more time with our family, friends, and pursue our hobbies.
19 – Log out on time
Logging out on time when working remotely is equally important logging out on time at the office. A study made by Buffer.com has found that 22% of employees working from home struggle with unplugging after work. For this reason, you should log out as soon as you're done with the day.
To log out on time is to enjoy life after work, remaining social and doing personal activities that are important to our mind and body.
The Bottom Line
These were the 19 essential tips for working remotely that you should be starting now. Of course, it's understandable that changing your lifestyle from one to another is difficult.
For this reason, we highly encourage you to add these essential tips for working from home slowly to your daily routine and notice the difference after a short while.
Note that some of these tips, such as enjoying family time or dressing up professionally, are not difficult to include in your everyday life, and you'll be happier in no time!
Author Bio: Georgi Todorov is a digital marketer, specialising in Outreach strategies, International SEO and Influencer Marketing. He recently started his own blog about digital marketing called DigitalNovas and joined All Things Hair to provide his marketing expertise.
Last update on 2023-03-09 / Affiliate links / Images from Amazon Product Advertising API