Tips to Save Time with Project Management Templates
Sometimes, you may need help to complete your project within the deadline. So, you look for project templates to do your work within the allocated time frame. Project management templates are built to complete the project on time. You can use templates to save time and effort. This article lets you understand the importance of project management templates in saving time. 
What are the Project Management Templates?
A project management template is a sample document that has placeholders to help you document different project activities. It is in a logical flow so the teams can quickly identify assigned tasks. Project templates will act as roadmaps and share goals, project scopes, timelines, and deliverables with the stakeholders.
Customisable project templates are better than standard templates. This enables you to adjust the structure and information to suit your project's needs. However, most standard templates are designed to meet the common goals of the project. So, you can use a standard template that also allows maximum adjustments.
Project management templates help document various activities like:
project planning 
creating work schedules 
setting goals 
managing costs 
assigning tasks 
tracking project status 
project control 
A project management template can help you work more efficiently and keep your project on schedule. 
Benefits of Using Project Management Templates 
Project management templates are in the form of process boards, Gannt charts, and process flow charts. It will clearly define tasks, assignments, times, dates, and deadlines. These are essential tools to use throughout your projects. First, it benefits you since your team gets some knowledge of where the project should take them. At the same time, it assists you as a roadmap to drive you into the project details. Further, it helps you in framing the estimation of future projects. 
Project templates help keep everyone on the same page. Stakeholders can see the timeline as soon as possible. Of course, it allows everyone to see their schedule and what others are doing. A project template collects all the necessary information regarding completing a project on time. Furthermore, if someone is on vacation, out sick, or the project's direction has shifted, it enables everyone to know the schedule quickly and adjust accordingly. 
Sale
Let's have a quick view at a few more benefits of project templates
Time-saving benefits: once your templates are set up, your stakeholders can quickly send a quote and set up a project. If your project is more complex and complicated, the more critical project management templates will be for saving time. 
Improved consistency and quality of work: Project management tools have a standard format to go with maximum consistency. Delivering them with a similar way of working is vital to attract your clients to your projects. 
Easier tracking and reporting of project progress: since everybody is on the same page, it is easier to track and report project progress. You can check who is slacking and create solutions easily. 
Reduction in errors and risk: project templates are pre-analysed devices. Thus, all the major mistakes can be avoided. This helps ensure the success of the acceptance of the project and hence improves sustainability. 
Increased team collaboration and communication: since everyone works with the same template, it allows sharing of thoughts and opinions. It will enhance team collaboration and communication. 
Increased efficiency and productivity: since everyone works on the same project template, people are conditioned to work together and complete tasks according to the sequence and flow of the project template. So, nobody can show a lazy approach. Therefore, it will help increase productivity and efficiency. 
Types of Project Management Templates
Project managers use different types of templates according to the nature of the project. You can select a template based on the main objective of the project. Here, you can see a small list that allows you to create a template or download a prebuilt one based on the nature of your project. 
1 – Product brief template:
The product brief template shows goals, attributes, and overall direction. In addition, it figures out requirements and critical product information that a project team needs to create a new facet or product. 
A product brief template is an effective device for project management. You can create a product brief with a few resources. But, at the same time, it can deliver enormous benefits. 
A product brief template includes critical information such as business cases, technical specifications, and other essential details. It will help a product team build a new feature or product. 
A product brief should answer these key questions:
What are we creating, and why? 
What problem will it solve, and how will it do so? 
Who are our competitors, and what are their specialities? 
What is our timeline? 
How can we measure success? 
The Product brief template will give a clear view of the project as a whole. 
How to write product brief slides 
Make sure everyone starts on the same page 
Use simple language 
Keep it short 
Set the direction 
Incorporate images 
Invite feedback 
2 – Action Plan Templates:
Action plan templates help project managers visualise the steps to complete a project. It is the step-by-step breakdown of how the project will go. An action plan template is essential to describe the team, time, and resources required to complete the project successfully. It comprises a timeline that organises tasks, priorities, and the stakeholder responsible. 
What and all should include in an action plan template 
A well-defined description of the goal to be achieved 
Tasks need to be carried out to accomplish the goal 
People who will be in charge of doing assignments/tasks 
Deadlines and milestones 
Necessary resources need to complete the task 
Progress evaluation measures 
Tips for writing action plan slides 
Define your goal: in this section, you should include what you want to do and what you want to achieve. Use SMART criteria (specific, measurable, attainable, relevant, timely) 
List the following steps: include what you want to do to realise your goal. This section contains the task, assigned to, and due date. You must ensure that the entire team is involved in this process and has access to the document. 
Prioritise tasks and add deadlines: list all jobs that must be prioritised. Then, add deadlines, and make sure that they are attainable. 
Set milestones: milestones are mini goals that lead to getting the primary goal. Adding milestones allows stakeholders to look forward to something and help them stay inspired even though the final due date is far away. 
Allocate all resources needed: Before starting your project, ensure you have all the necessary resources. Otherwise, first, make a plan to acquire them. You can create columns in your action plan to mark the budget of each task. 
Visualise the format: Whether the template comes in the shape of a Gantt chart, flowchart, or table. And make sure that it communicates all the elements you want to keep in your template. 
Monitor, evaluate, and update: monitor and evaluate the project progress and make updates accordingly. 
3 – Gantt Chart Template:
Gantt charts are a visual representation of many aspects of a project. For example, a horizontal bar chart typically shows you the timeline and status. It also shows who is responsible for what. 
Gantt chart enables you to show:
How a project breaks down into tasks 
The beginning and end of each task 
Duration of each task 
Who is assigned to each task? 
How tasks connect each other 
When crucial meetings will happen 
Work progress report 
Project schedule 
What are the components of the Gantt chart
Task list 
Timeline 
Dateline 
Bars 
Milestones 
Dependencies 
Progress 
Resourced assigned 
Tips for writing a Gantt chart template 
Organise your project details: Before mapping out tasks on a timeline, give basic information such as project name, start date, and select days you want to include in your project. 
Add tasks to your project: this is the first step in creating your project timeline. 
Schedule your job: you can schedule your task by dragging and dropping each task on your timeline. 
Add important project milestones: adding milestones will make it to track project deadlines, meetings, approvals, and other vital deliverables easily. This will appear as a yellow diamond shape on your Gantt chart. 
Add dependencies to the tasks: after entering tasks and milestones, now is the time to add dependencies to link them to. 
Apply task colours to enhance visualisation: colouring for different sections enables easy understanding. 
4 – Project Schedule Template:
A project schedule template will describe Who, What, and When. It also describes the deliverables, deadlines, and resources for each activity. It includes every single detail of the project. It consists of the goals and objectives of the project, the estimated budget and cost, who will be completing each task, the deliverables that will be produced, and the project's duration. 
What should you include in the project schedule template? 
Project deliverables 
The task required to achieve project goals 
Resources needed to complete tasks 
Dependencies between tasks 
Project timeline and task duration 
Estimated budget 
The planned time for each resource 
Tips for writing project schedule template 
Define goals: list down key deliverables and milestones. 
Identify resource team: list all persons that need to communicate with the project team. 
Determine your deadline: decide when you want to finish the project. 
List each step of the task: take those deliverables and milestones you defined earlier and break them down into smaller tasks and subtasks. 
Assign the task to team members: list the names of persons who will take tasks and subtasks. 
Set a due date for each job: calculate how long each task will take to finish, knowing that delays are inevitable. 
Organise project schedule into one template: organise all functions into one tool, and share it with your team. 
5 – RACI Chart Templates:
The RACI chart is the fundamental way of understanding the responsibilities and hierarchy associated with specific tasks of the project. It stands for "responsible, accountable, consulted, and informed." It also maps deliverables and tasks against roles on your project. Responsibilities and decision-making are allocated to each position using the above terms. 
When should we use a RACI chart?
RACI chart is best for complex projects, especially with many decision-makers and subject matter experts. For example, when you need to define the roles and accountability of each team member, a RACI chart can use. 
You can use a RACI chart to ensure participants understand their roles. Participants can quickly learn about the specific functions of team members if they use a RACI chart. 
RACI chart can use to prevent unnecessary project delays. For example, there may be delays if the stakeholders don't understand their roles and responsibilities. A RACI chart enables clarification of all doubts about roles and responsibilities so the entire project can be completed within the deadline. 
RACI chart can be used to streamline project communication. It can prevent communication errors and save time. It can also help you save time on unnecessary interaction or provide updates to non-stakeholders. 
The RACI chart will help avoid overlooking critical tasks and processes. It also helps how tasks affect each other and other business objectives. As a result, it ensures that your planning process includes all crucial people and functions. 
Tips for creating a RACI chart
Figure out the meaning of each role. Clarify as much as possible for participants to understand their role. And add a definition of responsible, accountable, informed, and consulted roles to team members to know what team and project expected from them. 
Add critical tasks or milestones only. A RACI chart should emphasise vital tasks, not regular ones. For example, remove weekly activities like meetings. 
Use wording from your project plan. Use the same terminology or language in the project plan and RACI matrix. For example, stakeholders can quickly identify deadlines and collect necessary details using the same terminology for tasks and milestones. 
Avoid assigning the same responsibility to multiple people. Projects sometimes need many stakeholders with the same duties. But in other cases, assigning too many stakeholders can cause delays, so only dispense responsibility when necessary. 
Analyse patterns. Ensure the RACI chart reflects at least some empty spaces for each role to avoid overstraining participants. For example, if some positions are accountable for most tasks, try to inform stakeholders and enquire whether other departments can take on these responsibilities. 
Review and update the chart. If there are any changes in roles and responsibilities, update your chart as necessary. Your matrix should be flexible and customisable. 
6 – Project Status Report Template:
A project status report template is a document that features the status of a project, project health, and project progress. It is a reporting tool about the status of the project. In addition, it will share necessary information with sponsors, clients, and team members. 
Tips for writing project status report template 
Project information. This is the space to include general information about the project. Add project name, report date, project manager, and stakeholders. Further, define whether the project report comes in monthly or weekly. 
Project status summary. This is space for a project progress report to stakeholders. You should include the features shown below: 
Key accomplishments: in this space, you can highlight deliverables, completion of milestones, and action items. 
Finished work: action items that have been finished 
Planned work: task assignments as per the work plan 
Project milestones: these can be a work package, completion of a milestone, deliverable, or a project phase 
Project deliverables: are the outcome of tasks linked with the project scope. Project deliverables are essential for project execution. 
Action items: action items are tasks that need to be completed to get project deliverables and finish the project. 
Project health. This is the current state of the project. Project stakeholders and team members can compare it to the project plan. It includes a project budget, schedule, quality, and scope overview. 
Risk management overview. This is space to include project risks, issues, and roadblocks. 
Conclusion and recommendations. Add resource management, risk management, or project scheduling concerns or requests here. 
7 – Project Roadmap Template: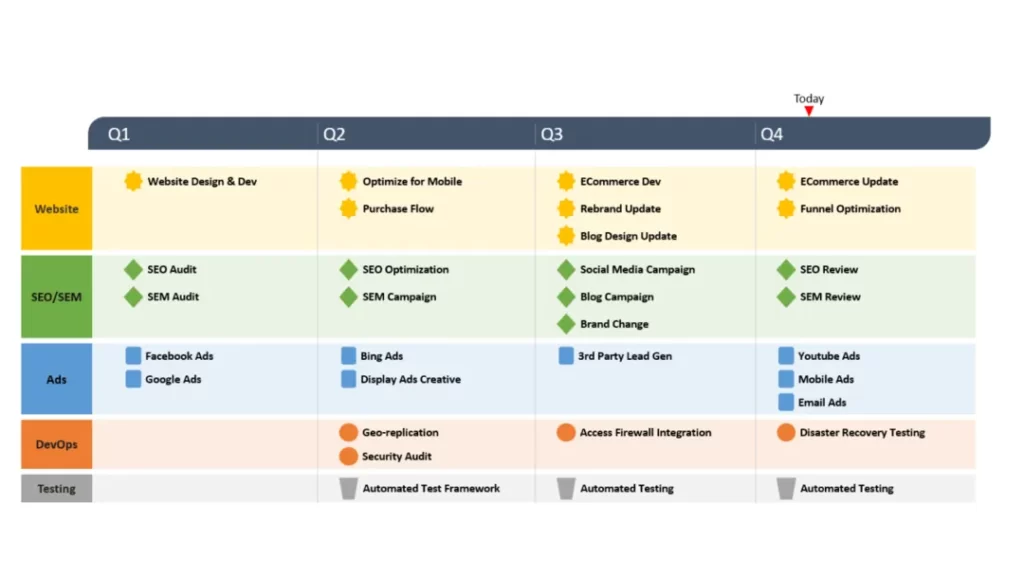 A project roadmap template is the most popular tool that maps out project milestones, tasks, and deliverables on a timeline. Its primary purpose is to represent the more extensive project plan and delineate its stages. Project roadmaps also include project scope, risk, and resource management information. It acts as a guide, and it will keep stakeholders informed throughout the project cycle. 
Tips for writing project roadmap template 
Project goals and objectives. The project's purpose and what you want to attain from the project. 
Project risks. Highlight risks related to project scope, schedule, goals, stakeholder expectations, etc. 
Project timeline. Add project milestones and deliverables to your timeline. Then, use the Gannt chart for more details of your project schedule. 
Task dependencies. Find dependencies based on the tasks you've plotted on your project timeline. 
Team members. List down the crucial stakeholders and project roles and how to attain them. 
Project resources. Identify the resources you need to complete the project. Resources include humans, materials, equipment, etc. 
Prepare a meeting agenda; roles and responsibilities are other major components to include in a project roadmap template. 
Some other standard templates used for project management 
Project management templates come in many forms. It provides templates for tasks, folders, and projects for easy navigation and management. It allows you to sort out similar projects or tasks based on your requests. Tasks and projects are the key pillars within the project management software that assist you in tracking and managing your work. Readymade templates help you to save time and effort. You can add a suitable one from the list below for your next project. 
8 – Report Templates:
These project status templates help you quickly make a report to get more visibility into your project. Report templates include: 
Monthly project status templates 
Weekly project status templates 
Sprint status 
Sprint Retrospective 
Active tasks by assignee 
Unassigned tasks 
With editable templates, you can modify the content and run the requested report as often as needed without making extra changes to the card. 
A few more templates are available online. 
Social media plans
Project plan templates
Calendar planning 
Product roadmap template 
Agile teamwork frameworks 
How to choose a suitable template for your project
Choosing a template depends on the nature of your project. However, it would help if you created a criterion for selecting a project template. For example, you need a project roadmap or action plan template for smaller projects that include project objectives, goals, work breakdown structure, work assignments, and deadlines. And consider its functionalities to meet your project goals. You can use a Gantt chart if your project is a complex one. 
Further, consider the sequence, layout, design, fonts, timelines, and space for status reporting. 
How to find and select project management PowerPoint Templates
PowerPoint is a popular name in the world of presentations and slideshows. But when it's time to start making a presentation, you worry about spending time and effort to design all the content. However, you can find a project management PowerPoint template online from different PowerPoint design agencies. They offer slides featuring project management templates. You can download a template freely or get it from the premium list. 
Project management PowerPoint templates should carry milestones, deliverables, tasks, and goals. You can select a Gannt chart, action plan, or roadmap template based on these parameters. However, in the case of PowerPoint, you must consider layout, design, structure, colour schemes, and compatibility with your project's nature. 
For instance, a project status template with RAG (red, amber/yellow, green) combination will be ideal for status presentation. It should also include a project summary, timeline, schedule, budget, benefits, and tasks with the status, owner, and due date. 
Conclusion
Project management templates help to standardise, streamline, and save time for daily work. It also allows everybody in the company to quickly recognise methods and checklists, no matter which project they are working on. In addition, you can easily update an existing project template using an editable chart. 
To create different types of project templates, you can follow specific tips. For instance, when creating a project status report template, you should include project information, a status summary (based on sub-tips), project health, and conclusions and recommendations. Similarly, a project roadmap template should include project goals and objectives, project risks, project timeline, task dependencies, team members, project resources, meeting agenda, and roles and responsibilities. These tips help save time and ensure your project management templates are comprehensive and practical. 
Last update on 2023-06-01 / Affiliate links / Images from Amazon Product Advertising API