7 Social Media Management Tools To Boost Social Channels
In 2020, a whopping 4 billion people used social media every month, making social media an indispensable part of people's lives, whether you're business owners, influencers, or regular social media users.
In the growing retail world, most businesses use different social media channels to boost their products and services.
With the current inflow of people using social media every day, there will be a time when they will have to decide if they should start investing in various social media tools to boost their online platforms, especially the business owners.
It might be scary for regular people and small businesses to invest in something they know nothing about, but it would be more waste of money if you keep sticking to the basics when there's so much more you can do with social media.
Well, fear not! To help you realise how much social media management tools can increase your online platform's potential (and sales), here are some of the reasons why it's beneficial for social media channels to use these tools:
Manage Customer Conversations
Social media channels play a crucial aspect in customer service, and as a matter of fact, most customers use social media to engage with brands because it's more convenient.
While social media channels are the best used for maintaining social engagements, conversations with different customers could be hard to track, especially if you keep getting new messages every day.
Social media management tools help you engage better with customers by allowing you to talk with them in real-time and keep track of previous and new conversations to provide a better service without missing information.
One feature of a social media tool that helps in engagements is that it stores all conversations in one place, making it easier for brands to go back to older messages, organise inboxes, and archive those that are not relevant anymore.
Another impressive feature of a social media management tool is allowing brands to search for keywords in conversations, so they won't need to scroll back.
Aside from messages, social media management tools also allow you to organise feedback and filter comments left by customers.
If someone leaves a nasty comment, you will be able to reach out to them and settle the issue privately.
Schedule Posts
If you're on Instagram, you're also most likely on Facebook, Twitter, Tumblr, LinkedIn, and many more. Handling multiple social media channels can be overwhelming, especially when managing content.
To boost your online presence, you have to be always visible. Doing this means you must post multiple contents regularly, which could be very time-consuming if you handle different social media channels.
You could be managing other things for your social media account, but you are stuck making a last-minute caption.
Social media managers can now schedule posts ahead of time through a scheduling tool. You can schedule a week or a month's worth of postings to maintain a healthy online presence without missing a schedule.
Another factor that you have to consider when creating content is consistency. So, if you want people to recognise your brand, you must be visible and consistent.
Eventually, you will increase traffic to your social media channels once you maintain a steady momentum of regularly posting content relevant to your brand.
Some social media management tools even allow you to plan your postings according to the current holidays, trends, and issues.
A scheduling tool allows brands to manage and schedule content for multiple accounts to save time.
Handle Multiple Social Media Channels Without Missing A Beat
Multitasking is no easy feat, especially when you're constantly in a head-to-head competition with different brands on various social media channels.
As your brand expands, there will also be an increase in the demand for your brand's attention, and sometimes when you have a lot on your plate, you can be more prone to mismanaging.
Social media management tools permit brands to manage multiple social media accounts simultaneously. This feature helps you maintain your presence while constantly monitoring engagements of 2 or more channels in one login on a single device.
Sometimes it gets frustrating when you have so much to do on your business plate. Juggling with the tabs, planning and creating your ideas, and logging into each account to post manually. This could be a headache, so why don't you reduce your extra efforts and streamline your workflow?
At such times Social Champ can be your loyal friend. It is a well-rounded social media management tool that helps you break your digital struggles. The tool is power-packed with incredible features and supports all major social media platforms such as Facebook, LinkedIn, Twitter, Instagram, TikTok, Pinterest, Google Business Profile, and YouTube.
Social Champ has all the versatile features you need to manage your daily workflow. With its team collaboration feature, you can work with your team without sharing credentials. Schedule your Twitter threads immediately, and see how your posts sound to your audience with the sentiment analysis feature.
Get in-depth insights into your social media posts for each network with the detailed analytics feature. The best part, the tool is pretty affordable and offers a FREE plan with UNLIMITED scheduling options.
Manage Audience Engagement
The internet is a scary place, especially for social media users. It's a free platform for opinions, so you must manage your channels carefully if you don't want to get caught in something that can tarnish your brand's reputation.
Think about why you are even handling a social media account or why you are posting quality content no matter how difficult it is to come up with content.
The answer is simple; you can gain an audience that will generate leads.
Before we talk about generating leads, you must know how to manage your audience and convince them that your brand is reliable. By doing this, you have to create a space on your social media channels.
Aside from the ones mentioned, there are so many other benefits that social media management tools bring! If you still feel lost and cannot decide which social media tool is best, we're listing our top picks here, so keep reading!
Whether you are looking for inspiration in content making or different infographic styles you can use, here are seven social media management tools that will surely boost your social media channels:
1 – AnswerThePublic
If you are looking for a tool for content inspiration, AnswerThePublic might be the one for you!
AnswerThePublic is a free website where you can find visual inspirations. The website extracts queries from search engines like Google and turns them into categorised keywords.
For example, if you plan to use the website because you want to make content for Facebook, you can search for Facebook and then click the button that says get questions.
The website will generate dozens of keywords that answer the words: how, when, which, who, what, why, will, are, where, and can.
All keywords are relevant to the keyword you searched for and are organised into five categories which you can find on the upper tab of the website; these categories are prepositions, comparisons, alphabetical, and related.
From the wheel of keywords, you can get inspiration for making content by picking keywords in which you can revolve your idea.
2 – ManyChat
ManyChat is a famous chatbot tool used for marketing that leverages Facebook Messenger and gives you easy traffic.
ManyChat helps you level up and market your brand by creating Messenger bots for you. The chatbots market your services and boost customer care.
Aside from marketing your brand through chat, ManyChat can also integrate various CRMs so you can target more broadcasts.
ManyChat gives you easy traffic because it boosts your open rates to above 60%, especially when you have new blog posts; in addition, broadcasts open rates can reach up to 80% by using ManyChat, which is relatively high compared to emails.
3 – ContentCal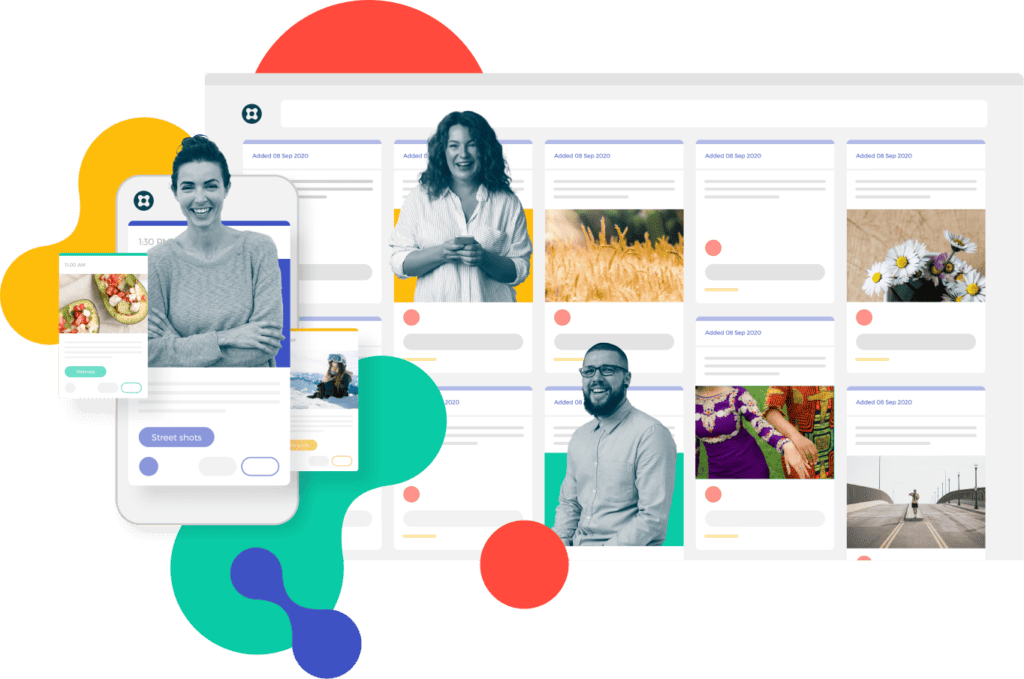 ContentCal is one of the best scheduling tools used in social media channels that has helped thousands of businesses, individuals, and other agencies with content planning and calendar.
It's a scheduling tool that offers various features that help you build more harmonised and quality content flows.
ContantCal's Analytic and Respond allows you to track the performances of all your posted content and guides you on how to improve the next content post to increase the numbers.
You can do many things with ContentCal besides scheduling posts to boost your social media channels.
These helpful features are collaboration, keyword filtering, visual content design, project management, feedback analysis, and many more.
Content creators can also use this tool to plan the visual of the content before posting by modifying layouts and adding more colours or elements, such as a logo design.
ContentCal is best for big and small businesses and various organisations. Their social media management tools are also recommendable to anyone who needs help managing and boosting social media channels.
ContentCal also helps you stay consistent with managing your content since it creates custom workflows for your brand.
We all know how consistency is essential in marketing, so if you're only new or have already established your social media channels, boost your online presence better with ContentCal.
It comes at a reasonable price and is one of the leading content calendars for social media management.
4 – Canva
You probably heard Canva many times before, especially when you were still a student.
Canva is not new to many since it's a global design tool that offers hundreds of layouts and elements you can use for making projects, logos, and other visual content for free! Not only is it known for content designing, but it's also widely known for excellent employee care.
Canva offers various layouts in line with the different formats of social media channels, such as Instagram, Twitter, Facebook, and more.
You can pick a layout for Twitter and easily create content that is matched already with Twitter's image formatting.
Canva's team integrated the tool to offer more social media management features. Canva continuously grows more prominent in marketing, such as scheduling posts and more unique layouts for other emerging social media channels like Tiktok.
Yes, you read it right! You can now schedule posts through Canva with its Content Planner, and with CanvaPro, you can access 17,000 premium templates and design tools.
Canva is a versatile tool that best supports social media sites like Facebook, Twitter, Instagram, LinkedIn, Pinterest, Tumblr, Tiktok, Weibo, and more.
So if you are using one of the platforms mentioned, Canva might be the right tool for you to begin remodelling your social media channels. There are so many things a social media manager can do with Canva!
5 – SproutSocial
Like ContentCal, SproutSocial is another scheduling tool that allows you to simultaneously organise and schedule posts across different social media channels.
SproutSocial is best used for collaborations with permissions that provide user-level access to managers, marketing assistants, copywriters, and other people part of the marketing process.
You can manage your content calendar with SproutSocial with a bird's eye view of content being posted and keep tabs on the performances of each content to integrate better content planning and scheduling through its social media analytics.
SproutSocial offers a 30-day free trial, so you can test the tool if it's practical for your social media channels and avail yourself of affordable subscriptions once you have learned how to use it properly.
6 – Hootsuite
Handling multiple social media channels can get messy and chaotic over time, especially when you get more traffic and clout to all channels.
Sometimes switching from one tab to another can give you a headache, which is why Hootsuite exists to help you manage your social media sites more conveniently.
Hootsuite brings all your social media channels into one login, so you can monitor everything under one dashboard without needing to sign in to every social media channel you have.
Another feature of Hootsuite that can help you manage better allows collaborations across teams and gives user-level access to each individual.
Hootsuite also has a page called Hootsuite Podium, which provides a list of free online courses you can take to develop marketing and social media management skills.
Moreover, Hootsuite is integrated to support top social media channels like Facebook, Instagram, Twitter, and Youtube.
You can have an in-depth understanding of how your channels' analytics work and how you can interact with different clients of different channels.
7 – SocialPilot
SocialPilot is a tool that helps marketing teams automate their social media activities.
It curates content from different industry sectors such as marketing, technology, medical, educational, entertainment, and more, so you can find relevant content that can be used as inspiration for your next post.
SocialPilot is also an all-in-one tool, as it is also a scheduling tool that gives you analytics of your postings to monitor your performance.
SocialPilot is a cost-effective alternative to other tools for posting content to multiple social media channels. If you're a starting business that needs help with social media management, SocialPilot is the right one for you.
Conclusion
Social media management sounds like an easy task to do when you use social media a lot.
However, once you're in the digital marketing industry, you will realise how complicated it is, which is why we have social media management tools to help us manage better and boost brands more effectively and efficiently.
You can use more social media management tools, but here are the top seven we recommend to help you boost your social media channels better.