The Power of User-Generated Content Campaigns
User-generated content (UGC) is taking over the digital marketing world. Brands that leverage UGC see higher engagement, increased sales, and boosted credibility. But running an effective UGC campaign takes strategy and creativity. In this post, we'll explore what makes user-generated content so powerful and provide tips to help you run a campaign that connects with your audience.
What is User-Generated Content?
User-generated content refers to any content created by customers or fans of a brand, not the brand itself. This includes:
Social media posts (photos, videos, reviews, etc.)
Blog comments and guest posts
Ratings and reviews
Podcast participation or guest appearances
Submitted videos or images
The key is that users create the content, not the brand.
UGC stands in contrast to marketer-created content. Both have value, but users see UGC as more authentic and influential. When real customers share honest opinions, experiences, and creative ideas, it carries more weight than promotional content.
Why User-Generated Content Is So Powerful
UGC has a level of authenticity money can't buy. It comes directly from real customers who love and engage with your brand. UGC amplifies word-of-mouth marketing and acts as an organic endorsement. No wonder it can be so powerful.
Here are five specific benefits of user-generated content:
1 – Improved Brand Trust and Loyalty
According to Nosto, 86% of consumers say authenticity is important when deciding which brands they like and support. UGC feels authentic because it comes directly from real users instead of paid sponsors or brand promotions.
This authenticity builds trust in your brand. People believe in real customers over ads and influencers. When shoppers see others happily engaging with you, it increases their confidence in your brand.
2 – Higher Conversion Rates
User-generated content directly influences purchase decisions. Stackla finds that UGC is influential along every stage of the buyer's journey:
Awareness: 49% become aware of products or services through UGC
Consideration: 70% rely on UGC when making purchase decisions
Conversion: 72% say positive UGC makes them more likely to make a purchase
When people decide whether to buy, UGC offers social proof of your brand's value. It gives potential customers the confidence to click "buy."
3 – Increased Site Traffic and SEO
UGC helps drive more visitors to your website. How?
For one, UGC is highly shareable across social media. This exposes new audiences to your brand and sends traffic your way.
It also improves your SEO rankings. When you incorporate UGC on-site, all that unique, fresh content signals to Google that your site is worth ranking. UGC also naturally uses keywords real people search for, which search engines value.
4 – More Engagement on Social Media
Social media thrives on authenticity. So, it's no surprise that UGC generates higher engagement on social platforms than branded content.
For example, eMarketer found Instagram posts with user-generated content see:
2.6x more likes than regular brand posts
28% higher comment rates
People find actual user content more engaging than overly promotional posts. That means more shares, comments, and overall engagement.
5 – Cost-Effective Marketing
User-generated content provides free marketing from brand advocates. You don't pay to create or distribute UGC – your fans handle that.
A strong UGC strategy can replace expensive traditional ads or sponsored posts. When done right, it provides content you couldn't afford to produce yourself.
In summary, user-generated content offers unmatched authenticity that builds trust, drives sales, improves SEO, fuels social engagement and costs little to nothing. It's marketing gold.
Examples of Successful User-Generated Content Campaigns
How can you harness the power of UGC for your brand? Here are some inspiring examples of successful User-Generated Content Campaigns.
GoPro: #GoProOfTheDay
Goal: Increase user engagement and showcase product videos
Strategy: Encouraged users to share videos shot on GoPro cameras on Instagram using a hashtag
Results: Massive amounts of unique GoPro content, over 68 million views of #GoProOfTheDay videos
GoPro tapped their passionate user base to create content for them. The dedicated hashtag lets them curate and share customer videos as official GoPro marketing.
Starbucks: White Cup Contest
Goal: Promote holiday drinks and connect with customers
Strategy: Asked Instagram followers to post holiday drink photos in branded white cups
Results: Over 4,700 photo entries and 190 million social impressions
By crowdsourcing festive photos, Starbucks gained visual UGC to promote seasonal offerings. Fans loved sharing their customised white cup designs.
ModCloth: Wanderlusters Customer Travel Photos
Goal: Showcase their apparel in real-world use
Strategy: Emailed customers requesting travel outfit photos for a chance to win a gift card
Results: 382 photos shared showing ModCloth clothing on adventures worldwide
This campaign authentically displayed ModCloth's "democratising fashion" tagline by featuring diverse real customers travelling in the brand's apparel.
Spotify: #SpotifyWrapped
Goal: Promote music streaming and subscription benefits
Strategy: Allowed users to share custom "wrapped" summaries of their yearly listening stats
Results: Over 60 million social shares, 3+ billion impressions, increased subscriptions
Letting users share their personalised listening data made #SpotifyWrapped go viral while highlighting the value Spotify provides.
These examples reveal how leading brands effectively leverage user-generated content at scale. Now, let's explore how to run your own UGC campaign.
How to Run a User-Generated Content Campaign
Ready to tap into the power of UGC? Follow this step-by-step guide:
Define Your Goals and Metrics
First, clarify your objectives. Potential UGC goals include:
Increase awareness and reach
Drive sales and conversions
Boost social engagement
Improve SEO and site traffic
Showcase customers using your product
Then, determine which metrics you'll use to track progress. Standard UGC metrics are:
Submissions/entries
Social reach and impressions
Site visits and traffic
Engagement rate
Sales or conversions
Matching goals to metrics ensures your campaign moves the needle on business outcomes.
Pick Your Assets and Platforms
What types of user-generated assets will you collect? Popular options are:
Social posts (Instagram, TikTok, Twitter)
Photos or videos
Written content like reviews, testimonials, guest posts
Ratings and surveys
Podcasts or live streams
Choose the formats that suit your brand identity and audience preferences.
You'll also need to determine which platforms to target. Meet your fans where they already engage online:
Multi-channel campaigns generate more awareness and response.
Provide Value for Participants
The best UGC campaigns offer incentives or perks to encourage contributions. Make it worthwhile for users to participate through:
Prizes, giveaways, or sweepstakes
Monetary compensation
Public recognition and exposure
Exclusive access or content
Discounts or special offers
Communicate the benefits of participating in driving submissions.
Promote Your Campaign
Once your campaign framework is ready, it's time to spread the word. Market the opportunity across:
Your website
Email newsletter and promotions
Social media posts and ads
In-store displays or packaging
Paid search/display ads
Influencer partnerships
Advertise everywhere your audience will see it. Create an appealing branded hashtag or title to identify campaign content.
Manage Submissions and Rights
Decide how fans will submit their UGC. Make it as frictionless as possible. Options are:
User-generated platforms like Social Native or Nosto
Social channels like custom hashtags or branded geofilters
Direct submission forms or email
In-store collection points
Be sure to get full rights to use and modify any content submitted. Have users agree to official rules or consent forms.
Curate and Utilise Content
Your goal is to collect high-quality, authentic content. Curate submissions to find the best UGC aligned with your brand image and objectives.
Then, get value from that content across marketing channels:
Feature on social media
Embed on your website
Include in ads and promotions
Showcase in-store or at events
Repurpose for video content
Refresh and rotate user content to keep it engaging. Feature UGC regularly, not just during campaigns.
Track Performance and Optimise
Monitor your defined metrics to see what's working. Identify the types of content, channels, and campaigns driving the best results.
Look for ways to build on success:
Double down on top-performing content formats or platforms
Adjust calls to action or incentives as needed
Test new campaign variations that generate quality UGC
Try different curation or display techniques
Continually optimise to increase performance over time.
Creative Ways to Earn More User-Generated Content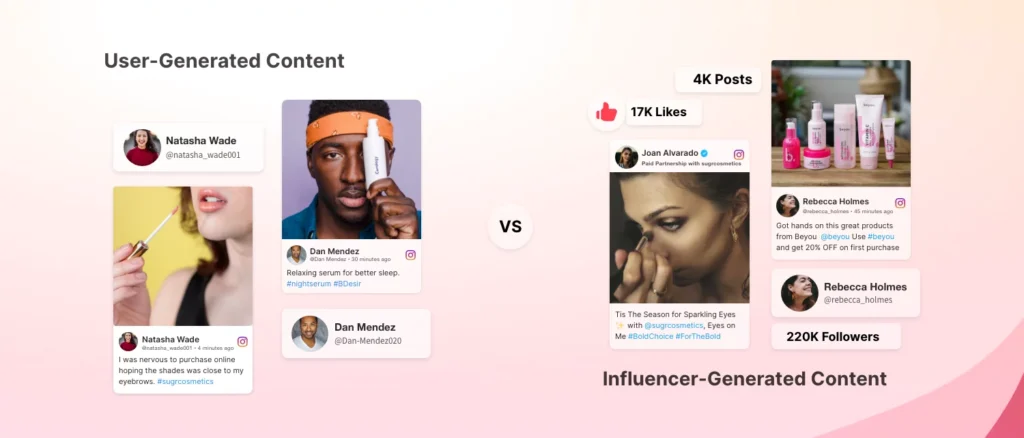 Stand out from the crowd by getting creative with your UGC campaigns. Here are ideas to inspire great submissions:
Crowdsource Ideas or Improvements
Ask for suggestions to make your product or experience better. People feel valued, and knowing their input drives real change.
Spotlight Loyal Brand Fans
Feature and recognise your most passionate advocates. It motivates engagement.
Tell a Story Across Multiple Posts
Encourage a series of related content like documenting a travel experience.
Tie Into Trends or Current Events
Connect your campaign to what's already popular, like holidays.
Co-Create Content
Collaborate with followers on content like songs or videos.
Takeovers
Let customers handle your account for a day, like Instagram takeovers.
Behind-the-Scenes
Give fans an inside look at your brand through employee-generated content.
Tap Influencers
Partner with relevant influencers to create and share UGC.
Make it Visual
Photo and video content performs best. Add your logo or hashtag.
Contests or Giveaways
Incentivise submissions with prizes for top content.
Keep exploring new ways to engage your community. The more creative your campaign, the better your UGC will be.
UGC Campaign Ideas Based on Business Model
Here are UGC campaign examples tailored to different business models:
Retail: Showcase Looks or Rooms
Ask customers to share photos wearing your styles or with your products displayed in their homes.
Software: User Tutorials
Encourage fans to create "how-to" videos showcasing product features.
Consulting: Client Success Stories
Request testimonials detailing positive results working with your firm.
Hospitality: Experience Photos
Have guests post engaging visuals highlighting their time at your hotel, restaurant, or venue.
Agencies: Case Studies
Collect detailed success stories demonstrating results delivered for clients.
Subscription: Unboxing Content
Get subscribers to share fun unboxing photos or videos when their monthly packages arrive.
Nonprofit: Supporter Stories
Ask donors and volunteers to share why they're passionate about your cause through written or video stories.
Match campaign formats to your customer's experience with your brand.
Top Tips for User-Generated Content Campaigns
Ready to run your first UGC campaign? Keep these best practices in mind:
Spotlight contributors to incentivise quality content
Mobile-optimise submission process for ease of use
Analyse results continually and improve each campaign
Repurpose top assets across platforms for maximum exposure
Feature a variety of customers to showcase diversity
Prioritise images and video – they perform best
Partner with relevant influencers to expand the reach
Rotate content to keep social feeds dynamic and fresh
Follow brand guidelines for image style and quality
Have users grant full usage rights upon submission
Be creative – the most unique concepts get attention
Focus on driving quality over quantity in submissions. Compelling, genuine UGC has the power to boost your business in significant ways.
Frequently Asked Questions
Here are answers to some common questions about running user-generated content campaigns:
What are some incentives to offer for participating in a UGC campaign?
Popular incentives are monetary rewards, gift cards, product discounts, public recognition, contest prizes, exclusive content access, early product access, or sweepstakes entries. Offer enough value to motivate quality submissions.
What legal permissions are needed to use user content?
Have users sign waivers allowing full rights to use their content across marketing channels, both online and offline. Make permissions clear upfront.
How do I feature user content on my website?
Options are displaying UGC in blogs, website headers, product pages as reviews, in pop-ups/slideshows, on your "About Us" page as testimonials, or on the homepage as social proof elements. Update regularly.
What is the ideal length for a UGC campaign?
Most campaigns range from 1 week to 1 month. It is long enough to generate awareness but not so long that your audience loses interest. Plan kickoff and end dates.
How much budget do I need?
UGC mainly requires staff time and creative thinking. A minimal paid media budget is required beyond existing social ad spend. Focus the budget on campaign prizes and incentives to attract content.
Conclusion
User-generated content delivers authenticity that cuts through sales hype. When leveraged strategically, UGC campaigns can become powerful storytelling tools that organically influence your audience. Yet success requires creativity and effort – UGC won't generate itself. By tapping your biggest fans as partners, you gain assets that allow your brand to connect on a deeper level. That connection sparks the brand love that drives growth and loyalty if done right.