7 Tips for Branding Images to Show Brand Value
"Well-established branding images inevitably spread good word-of-mouth amongst shoppers across the globe."
Are you still struggling in performing a reputed branding strategy for your business?
On the flip side, it is necessary for business owners to focus on branding for improved visibility with time.
Gone are the days when flyers and brochures were the only methods to offer information about products and services.
Today, with the internet, people prefer to stick with brands that allow engaging experiences to access information and shop for their favourite products using modern technologies that they use in their day-to-day life.
With user-generated content being one of the most trending methods to improve branding images, what can be the other ways of establishing excellent visibility for your brand?
To make it easy, I have come up with this blog post that will highlight the most important factors and proven methods that should be considered to create an everlasting image for your brand. Here we go:
Have you created a strong reflection of your brand online?
If you want to build a good rapport with the potential audience, what is the first thing that comes to your mind?
I am sure an attractive website!
However, only offering a website full of images and content may not encourage your audience to stay for long!
They are always looking for brands that offer something new!
Instead of only being loud about your product offer and sales, providing information that could encourage your audience to regularly visit your site (e.g. magazines, blog) will make them take action and have fun while engaging with your brand.
Best website engagement strategy from H&M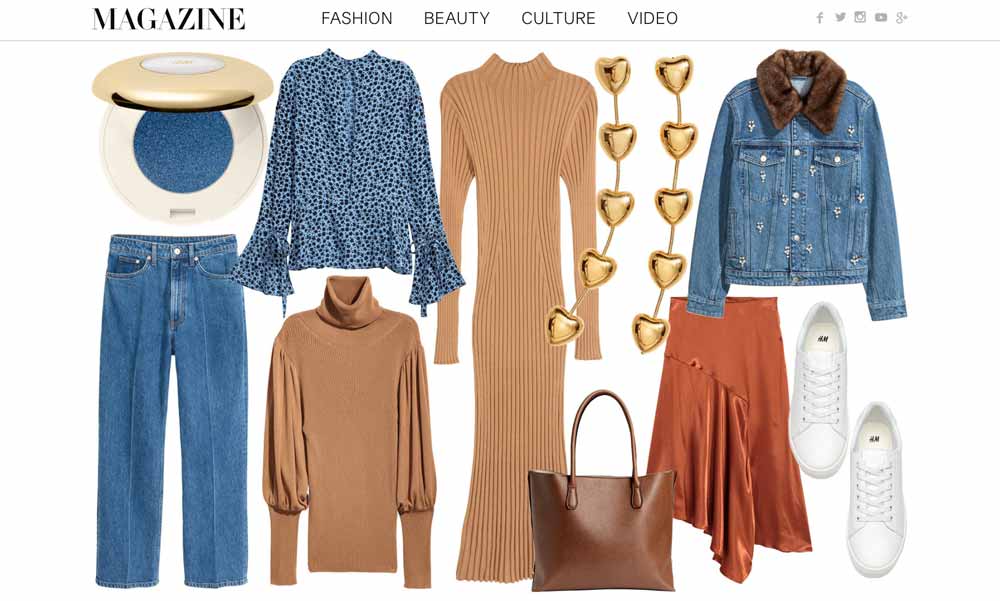 Hennes & Mauritz AB is a modern Swedish multinational clothing retail company that is not only recognised for offering designer wear but also allows its audience to get information about their products in most inspirational ways that include H&M magazine featuring real-life examples.
Takeaway
Keeping the audience updated about your brand is a must for a successful business.
However, this can happen only if you allow them to do so.
Offering content about your products using engaging tools that include videos or real-customer reviews can save your audience's time that they would spend behind browsing multiple sites for purchasing their favourite products your brand offers.
How about your Social Media business engagement?
Social networking sites allow the simplest ways to reach the target audience and improve brand value.
Therefore, it is necessary to perform unique social media strategies for your brand to carve better visibility on popular sites that include Facebook, Instagram, and Twitter.
What are the key factors for branding through social media?
– Be unique
– Encourage more customer reviews
– Post regularly
From relating their products via storytelling videos to selling their new collections over popular social media sites, Gap Inc. is frequently seen to be optimising their social-media posts using unique methods for all age groups.
Takeaway
Instead of using a manufacturer's product description and basic content for your business website, why not adopt trending methods that are used by social influencers like live video-sharing, and photo-sharing?
This will automatically encourage the relevant audience to engage with your branding images and share their good experiences with their networks too.
Do you publicise your brand?
The two important words to make your audience return back to a brand is "Conversion optimisation!"
Beneficial to start-ups and small businesses – they need to divert attention for their brand and products.
Online PR (Public relation) is helping many business owners an opportunity to offer extra values (story) about the brand and products among influencers via magazines, blogs, and newspapers.
Best online publicity by AO.com
AO.com – an e-commerce retailer specialised in electrical goods, accommodates expert content contributors who especially publicise their products and service via blogs, including the e-consultancy guest writers.
Takeaway
Being present on social media sites can surely help you increase visibility for your products and brands.
However, connecting with experts in the same field can help you increase the conversion rates for the brand by making information available to a network of people who are already interested in your offering.
Do you ensure content consistency and optimisation?
With hundreds and thousands of websites available online, content consistency will determine the power of your branding images in your potential audience's search results.
Apart from following the best SEO strategy for your e-commerce business, you need to ensure regular updates about your brand via blogs, social media platforms, and even your website.
Best content generation strategy from Burberry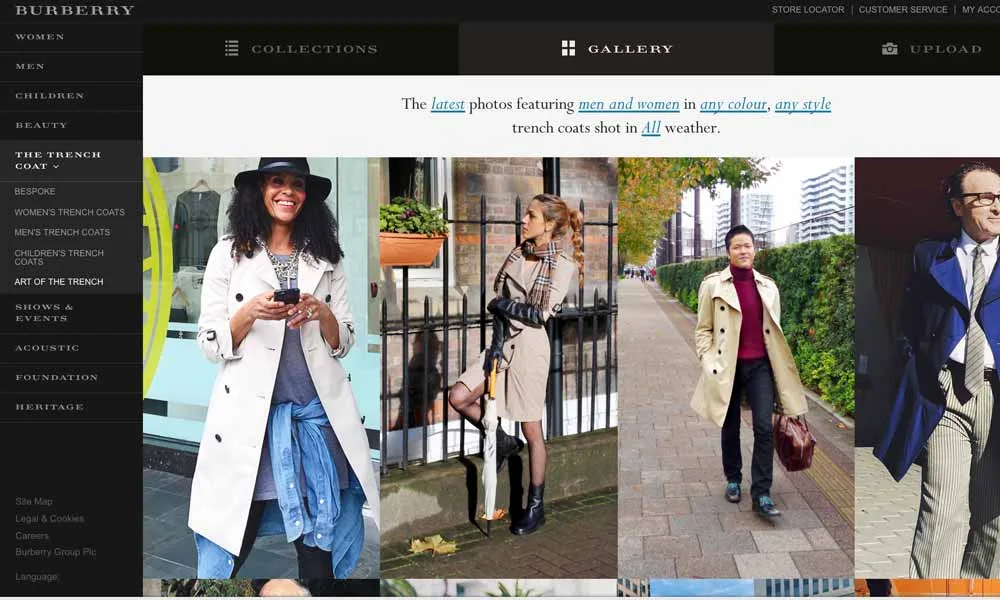 Burberry – British Luxury fashion brand has a hosted space "The Art of Trench" for the audience to post their images wearing Burberry products.
Takeaway
Instead of exaggerating product reviews, why not allow your people to share their product experiences via your website?
Apart from improving engagement for your site, encouraging user-generated content will also attract a new audience to spread word-of-mouth for your branding images.
Do you offer personalisation?
Imagine if everyone who entered your store got what they want!
Wouldn't that allow your audience an amazing shopping experience and incredible service?
However, with more and more people using smartphones for staying updated with their favourite brands, it becomes necessary you understand the type of content they would like to engage with and can be easily shared in their networks too.
Google Analytics allows e-commerce business owners to track their website behaviour – you would not like to miss out on any opportunity that knocks on your door.
Best personalised marketing strategy from Polyvore
Polyvore – a community-powered social commerce website has an app version that allows fashionistas to connect and explore products from fashion brands.
Not, only this!
The app is also allowing the potential audience to stay updated with the multiple styles and trends displayed by other fashionistas over the platform.
Takeaway
With the increasing number of users across multiple social media sites on a daily basis, imagine the scope of branding opportunities you can create by offering an app.
Integrating social share buttons to your mobile application will allow the potential audience to access your brand at their convenience and improve the number of your app users by sharing their good experiences with their networks.
Do you focus on a Unique Selling point?
A strong, unique selling point articulates the promise to your audience that makes you different and desirable.
Some of the valuable factors involved in propositions are as follows:
– Same-day shipping
– Flexible returns policy
– Excellent customer service with live help
Best unique selling point example from Toms Shoes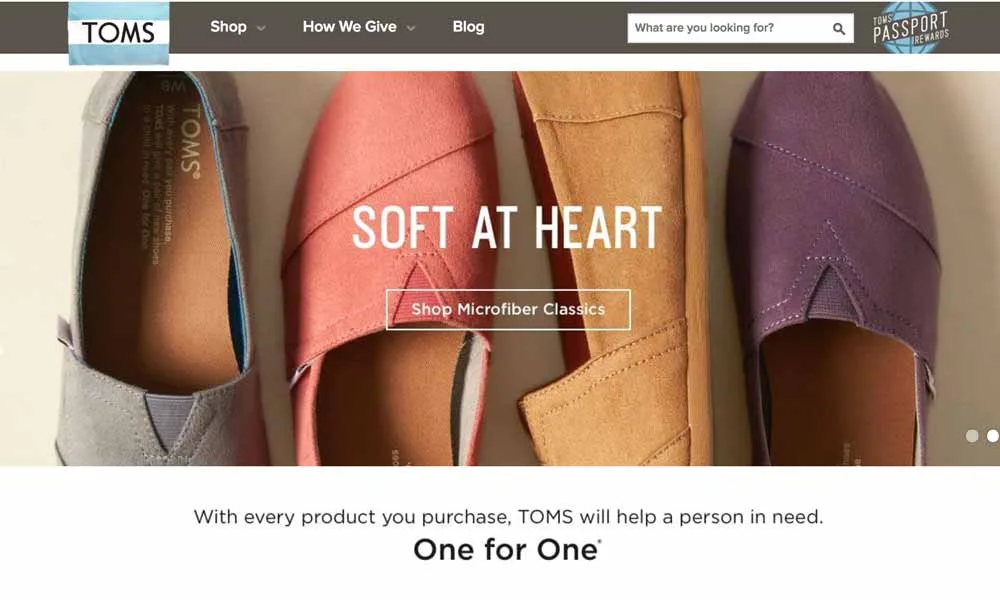 Toms Shoes is a manufacturer and designer of footwear known for its "one for one concept" model, which means they deliver a free pair of shoes to a child in need for every sale of their product.
Takeaway
Making your products available at discounted rates will increase the number of sales for your brand for that particular period.
However, with so many brands offering discounts on the same products you offer, how can you create value to keep them coming back to your site?
Relating your product purchase with a cause that may not benefit your audience but contributes to the betterment of society can immediately spread good word-of-mouth for your brand.
Do you have a niche market for your brand?
Selling multiple product categories can be your sales strategy, however, attracting the audience with a niche can help you build a long-term relationship with them.
Depending on the demand for your products, offering unique experiences for your niche products can improve specialisation and attract more and more audiences to shop from your brand always.
Best niche marketing example from Dior
Dior – a French luxury good company offers value to their customers with personalised videos about their niche on their website.
Apart from highlighting their multiple products (fashion accessories) in their promotional videos, focusing on their niche (makeup products) make them stand out in the crowd.
Takeaway
Offering rich content about your niche in your product promotion strategies, will create a unique demand for that particular product in your audience's mind and ensure they can always rely on your brand for their future purchases.
Closing advice
One of the fundamental purposes of any branding strategy is to let your customers know that you are paying attention to them.
However, striking a balance between, "How to provide them?" and "What to provide them?" isn't a simple process.
Ensure you do some careful research, planning, and testing before you spread information about your brand.
Because Branding images, once spoilt, may take a long time to regain reputation among the audience who have already shown interest in your brand.
As a marketer, you are also a consumer!
When it comes to creating a strategy for your brand, it is always suggested to put yourself into the shoes of the audience and ask yourself, "Is this delightful? Alternatively, is it just creepy?"
If it convinces you, find out what's bringing the vibe and keep optimising your branding images with time.
Does any of the above match your branding strategies?
Please share your views in the comment section below.