Video Content Marketing: 10 Unique Ideas to Make Your Content More Engaging
Did you know that, on average, people tend to watch videos on the internet for 16 hours every week?
What's more, 96% of people also revealed their video consumption has increased during the COVID-19 pandemic.
Videos can be a great tool to grab your audience's attention and market your products.
If done right, they can help you generate more brand awareness, leads and get more conversions.
The best part is that it's possible to succeed in video content marketing with a small budget.
If your small business is looking for ways to boost engagement and sales, you should leverage video marketing.
10 Ideas to Take Your Video Content Marketing Strategy to the Next Level
Not sure what kind of videos you should create to get more traction?
In this post, let's discuss different ways you can leverage video marketing to promote your brand.
1 – Create Explainer Videos
The first step for any sales funnel is to boost brand awareness.
You can do it effectively by creating explainer videos.
Just as the name suggests, these types of videos explain the core idea behind your business or how your audience can use your products.
Their purpose is to educate your audience and acquaint them with your brand.
It also offers you an opportunity to demonstrate how your business can provide value to your target audience.
Weber, a company that sells outdoor grills, nailed this strategy.
They uploaded a series of explainer videos on their YouTube channel that showed how people could use their grills and even clean them at home.
Image via YouTube
Similarly, if you have a software-based program, you can also use screencast videos.
It's like sharing your desktop screen with your audience to showcase different features of your program.
Here is an example of how Slack uses this strategy to connect with its audience:
Image via YouTube
2 – Create Social Media Video Ads
The next step in the sales funnel is engagement.
For this, you can leverage video ads.
Video ad spending on desktops and mobile devices is slated to create a market volume of more than $43K million by 2023.
Image via Statista
Video ads provide many opportunities to connect with your audience.
They can help you boost your reach, engagement, and brand awareness.
However, before you start producing social media video ads, there are a few things that you need to keep in mind.
These include:
Make the first few seconds of your video ad engaging.
Add subtitles if your ad has dialogue.
Use engaging visuals.
Include a compelling call-to-action.
Optimise your video's length, size, and ratio for different social media platforms.
[Pro Tip: To upload optimised videos, you should use special software to edit YouTube videos.]
It is also essential to write a catchy caption that makes people want to see your video ad.
One way to do this is to showcase the value that you provide in your caption.
Here is an example of a video ad that Semrush published on Facebook:
Image via PixelMe
3 – Conduct a Live Q&A Session
Whether you are launching a new product or looking to promote it, conducting a live Q&A session can be a great way to get your audience's attention.
Of course, they do the same in a text-based format, but videos can be more engaging.
82% of people revealed in a survey that they prefer to see live videos from a brand instead of social media posts.
That brings us to the following question: What kind of live Q&A sessions should you host?
Anything that is of interest to your target audience can be a potential topic for your Q&A sessions.
For instance, if you sell beauty products, you can talk about how your audience can take better care of their skin.
To get more traction, you can also invite influencers to host these live sessions.
This way, you can reach out to their audience and increase your reach as well.
American entertainment and fashion magazine, Cosmopolitan leveraged this strategy to grow their Facebook engagement.
They partnered with American television personality and fashion designer Lauren Conrad to host a live session during which they encouraged the audience to ask her questions.
Their video Q&A session was able to garner more than 200k views and received over 175 shares.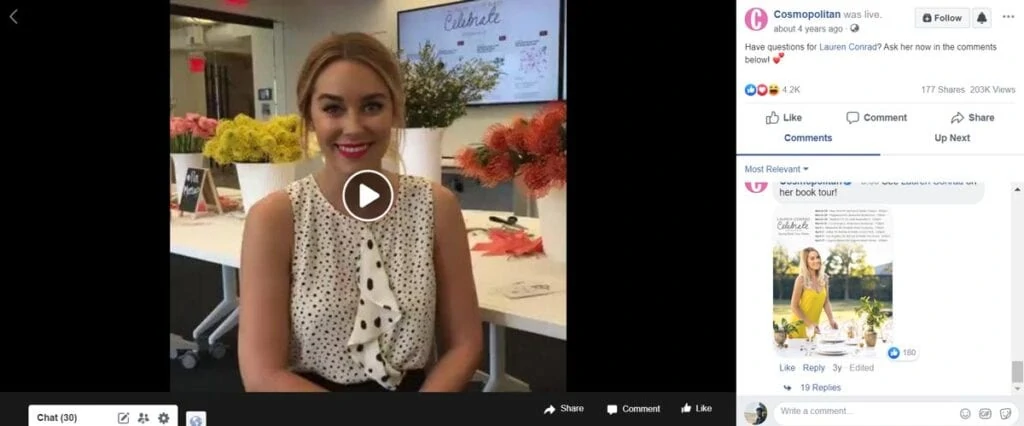 Image via Facebook
4 – Give a Behind-the-Scenes Sneak Peek
Behind-the-scenes videos are a great way to give your audience a quick look at your business's day-to-day operations.
Knowing what goes on in the back end can boost transparency and make them feel more connected with your brand.
If done well, it can also increase their trust in your brand.
In these videos, you can show your employees' camaraderie or how your products are made.
Alternatively, you can also give an office tour to show what your workspace looks like.
It can give your target audience a better understanding of your brand's values and personality.
Even if you are hosting an event, you can share funny backstage clips to give your audience a sense of energy.
The best part is that you don't need a ton of preparation before preparing a behind-the-scenes video for your brand.
All you need is a good quality camera and some creative ideas.
French luxury fashion brand, Louis Vuitton, uploaded a Reel on their Instagram channel to give their fans a sneak peek into their latest photoshoot.
Image via Instagram
5 – Make Topical Videos
Your brand can also take a firm stand on a social issue or a trending topic through videos.
If you want to create a video that can go viral, this is a strategy you should try.
Since everyone is already talking about a specific event or social cause, you can join in on the conversation.
It can be a great way to showcase your overall brand personality and support a cause that aligns with your brand values.
The best part is that you don't need a fancy tool or visuals to impact topical videos.
For instance, Nike created a simple Instagram video with a black background and inspiring text to support the Black Lives Matter movement.
Even though it was a short video, it clearly showed that the brand cared about taking a strong stand against racism.
Image via Instagram
Memes and funny videos are all the rage on the internet.
Not only are they easy to consume, but they also deliver a quick laugh and are super share-worthy.
If you can create a funny video or adapt a meme format for your brand's ad or social media post, you may be in some luck.
Such videos have the potential to go viral and boost your brand awareness, leads, and conversions.
However, there is one prerequisite to winning with this strategy.
It will help if you stay up-to-date on the latest trending memes and pop culture references.
Not sure what kind of share-worthy videos your target audience will enjoy?
Take inspiration from BarkBox's Instagram videos. The monthly subscription service caters to dog lovers.
So, they regularly post funny dog videos to keep their audience engaged.
While these videos don't directly promote their brand, they help with community building.
In the screenshot below, you can see a dog who is wearing a graduation gown.
If you scroll through the comments section, you'll see users talking about how cute the video is.
Some of them have even tagged their friends, leading to increased engagement.
Image via Instagram
7 – Weave a Story Around Your Brand
Do you want to make people remember your brand? You should create a video that moves them.
If your content can bring out their emotions, you've told a powerful story that is likely to be remembered by them.
Great storytelling isn't about promoting your product directly.
Instead, it is about showcasing a lifestyle or capturing a feeling related to your brand.
Take inspiration from this video ad created by Edeka, a German supermarket, to greet their customers for Christmas.
Image via YouTube
In this ad uploaded on YouTube, a father is disappointed as his children say they won't be able to come home to celebrate Christmas together.
The next scene shows them receiving his funeral invitation.
They rush back home only to find that he is alive.
They are relieved, but he tells them that he thought it was the only way to get everyone back together.
At the end of the ad, you can see that everyone has a great time and has dinner together.
Edeka highlights how strong family values and emotional connection are essential for their brand without directly selling their brand.
8 – Post Testimonial Videos
One of the best ways to win your audience's trust is to provide them with some social proof.
That's where video testimonials come into the picture.
You can ask your satisfied customers to create video clips documenting their experiences.
Next, you can combine them and publish them on your social media channels and website.
You can also add them to your landing pages or emails.
In a nutshell, you can repurpose the same content for multiple mediums.
The best part is that you can get free content without putting too much effort into the production.
At the same time, you can publish videos that are impactful to convince prospective customers.
Google AdWords Stories has used this strategy to win the trust of its target audience.
They have a whole video series documenting how small businesses used Google AdWords to scale their business.
In one of their videos, the co-founder of a small deli discusses how they could grow their business to almost $14 million via Google's advertising service.
Image via YouTube
The video includes customer testimonials as well as behind-the-scenes shots of the deli.
While the focus is on the deli's growth story, Google can subtly promote their advertising service.
9 – Engage On a Personal Scale
When you hear Apple's brand name, one of the first things you may associate with is Steve Jobs's face.
When people can connect a human face with a brand, they are likely to communicate with the brand better.
After all, it is not easy to get attached to an inanimate entity.
That's why your brand needs a human face.
If you own a business, you could go live and connect with your audience directly.
Please don't shy away from showing them your personality and engaging with them directly.
It's also a great way to build deeper customer relationships and make yourself seem more approachable.
Alternatively, you can also give the stage to your employees.
They can introduce themselves and talk about their work and share knowledge and tips on their area of expertise.
Social media management platform Hootsuite has a video series titled "Ask an Expert" on their Instagram channel.
In each episode, one of their employees shares tips and tricks on different topics related to social media management.
Image via Instagram
It's a quick 5-6 minute video session that is educational as well as engaging. Plus, it acquaints their audience with their staff.
10 – Make Unboxing Videos
Unboxing videos are viral on YouTube, especially in the tech and the beauty niches.
To create such videos, you can partner with influencers in your space.
Gift them your product, and they create a video that shows what your packaging looks like along with the product.
These types of videos are also great to highlight the main features of your products.
It's like a review that can also help you create some buzz about your product.
Alternatively, you could also create an unboxing video that is informative.
Here is an example of such an unboxing video published on YouTube:
Image via YouTube
Conclusion
If you want to win at marketing, you should focus on creating more video content.
After all, it is engaging for the viewers and can promote your product in multiple ways.
Take inspiration from the examples cited in this post and start working on your video content marketing strategy now!
Do you have any questions about creating more engaging videos? Please feel free to mention them in the comments section.
Author Bio: Shane Barker is a digital marketing consultant for 15 years, emphasising Influencer Marketing in the last five years. He is specialised in sales funnels, targeted traffic and website conversions. He has consulted with Fortune 500 companies, Influencers with digital products, and many A-list celebrities.
Social Media Profiles == >
https://www.facebook.com/ShaneBarkerConsultant
http://www.twitter.com/shane_barker
https://www.youtube.com/channel/UCiD3HGr_vpDp0ApavL-bEGA
https://www.instagram.com/shanebarker/