Selecting the Right Social Media Channels for Your Business Strategy
Social media marketing has been around for many years, but many brands neglect to capitalise on this low-cost method of engagement.
In 2021, more than 90% of large US companies regularly used social media for marketing purposes. Social media marketing is not only cost-effective, but it also delivers when it comes to a return on investment.
Furthermore, you can use social media channels to gather invaluable insights on target audiences, helping refine further marketing efforts.
Social media is regularly employed for lead generation purposes. A well-honed social media strategy can also drive more traffic to your business website and bolster your search engine rankings. All this combines for increased conversions and revenues.
The benefits of social media marketing are obvious, but for businesses unfamiliar with social channels, selecting the right platform can prove challenging.
Eager to build your online presence and expand your audience reach? We've put together an invaluable guide for businesses looking to deliver a winning social media strategy.
We'll break down how social media marketing can improve your prospects and engage your target audience. Most importantly, we'll spotlight the key things to consider when deciding which social media channels you should be using.
1 – Determine Your Objectives
Before you start adopting social media channels, you need to consider whether specific platforms will help you realise your objectives.
If you can't effectively leverage a specific channel to fulfil your business strategies, there's no point sinking time and resources into it.
2 – Using Social Media to Spotlight Your Brand
If your main goal is to raise brand awareness, using a central social media platform with an established audience makes sense.
According to Statista, Facebook boasts more than 2.89 billion active monthly users. As such, it's little surprise that Facebook remains the social media channel of choice for many businesses.
While channels with large user bases are ideal if you're looking for maximum reach, it's sometimes better to utilise niche platforms if you have a better handle on your target audience.
If you're looking to target millennials and digital natives, platforms like TikTok and Instagram may be a better avenue for you to explore.
If your budget allows, paid promotion is also something to consider. Almost every primary social media channel offers paid advertising platforms. Provided you're spending your money wisely; it can yield a significant return on your investment.
3 – Using Social Media to Generate Leads
Many businesses turn to social media channels to generate leads. However, if you're looking to secure quality leads that will result in conversions, you need to ensure you're delivering targeted campaigns.
Consumers also use social media channels to inform purchasing decisions. According to one ODM Study, around 74% of consumers regularly turn to social media networks to finalise purchasing decisions.
Although you can effectively use all social media platforms to increase conversions, some channels are better than B2B lead generation.
LinkedIn remains the best in class when it comes to B2B marketing. You can secure high-quality leads via on-platform networking and engagement with industry discussions. Furthermore, LinkedIn provides businesses with the option to create tailored ads for targeted campaigns.
4 – Finding Your Audience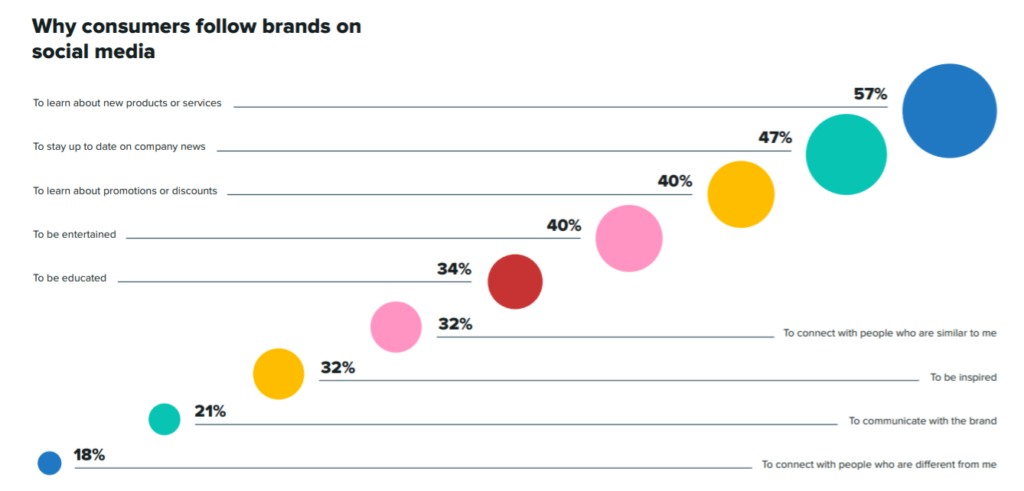 A good starting point is to consider your audience and determine what kinds of social media platforms they regularly use.
It's much easier to engage with an audience via a platform they're intimately familiar with. Currently, Facebook remains the most popular social media platform with people in the UK, with more than 43 million regular users.
There's also far more variety regarding demographics, particularly well-represented older age groups. For brands looking to target millennials and digital natives, Instagram may be a better option. Around 54% of all social media users in the United Kingdom use Instagram regularly.
The most successful social media campaigns have been designed with social media demographics in mind. When outlining strategies and selecting suitable social media channels, businesses must pay attention to data insights.
Even if you're confident you have picked a suitable platform, you must continue to monitor your audience as your campaigns get underway. Social listening tools are ideal for this purpose.
These tools will allow you to capture crucial data insights, including location, gender, and age metrics. Over time, you can use these insights to decide whether your channel of choice is the best fit.
When choosing the proper social channels for your target audience, always make decisions driven by complex data.
Suppose you've yet to select a channel; set aside plenty of time to investigate social media channel demographics to inform your strategy. Many businesses make the mistake of latching on to the latest trends.
Rarely a newly emerged platform may prove fruitful. However, these trend-led endeavours are simply a waste of time and effort most of the time.
5 – Competitor Analysis
Getting to grips with what the competition is doing is vital for any business strategy. When it comes to selecting social media channels, competitor analysis also comes into play.
Consider your direct competitors and probe what social media channels they're currently using. This will give you a clearer idea of the platforms you should be using, what type of content you should be publishing, and how often.
If you have minimal experience with social media management, analysing the behaviour of your competitors will give you a clear picture of the undertaking ahead.
When assessing competitors, look beyond the basics of content and frequency. Determine what content is most popular with audiences. Think about rival brands that use their social channels to engage with their audience directly.
Just as you would with your own social media channels, you can use analysis trackers and listening tools to see how well the competition is performing.
Not only will these tools allow you to determine if competitors are successfully targeting their audience, but you can also gain insights that will guide your content creation.
You should maintain monitoring the competition, even after your own social media channels are live and you're actively engaging with your audience. Competitor analysis is an ongoing process that will continue to inform social media strategy.
6 – Consider the Content You Want to Publish
The kind of content you're looking to create and publish will help determine which social media channels you should be using.
If your objective is to lean heavily into short-form video content, platforms like TikTok are the obvious choice. If you're focused on formality, channels like LinkedIn may be a better choice.
The Best Social Media Channels For Visual Content
If your main social media objective is to target consumers directly, you'll likely find an image-based platform the best fit.
Channels like Pinterest are incredibly effective at leveraging imagery for sales conversions. However, it's worth considering gender demographics with platforms like this one.
As of 2021, around 77.1% of Pinterest's active monthly users were female. If your target audience is primarily male, Pinterest is unlikely to be of much use to you.
Instagram is arguably a better option for B2C engagement. Currently, there are around 1 billion active monthly users, with around half of this number logging into the platform daily.
Gender demographics are also more balanced than Pinterest, with males accounting for around 52% of regular Instagram users. However, Instagram users skew heavily toward a younger demographic. It's estimated that around 59% of users fall into the 18-29 age bracket.
Are you looking to capitalise on video content? If the answer is yes and you're targeting a younger demographic, TikTok is a social channel you will want to utilise. With more than 1 billion monthly active users, the potential audience reach of TikTok is considerable.
However, some businesses may find the short-form restrictions of the channel limiting. Twitter and Facebook are ideal alternatives for brands that want to explore longer content to drive engagement, while a dedicated YouTube channel is also worth considering.
Social Media Channels for B2B Engagement
If you want to leverage social media to engage with other businesses and industry insiders, a professional platform like LinkedIn is the best option.
With more than 30 million active users in the United Kingdom, LinkedIn is a must for any self-respecting business looking to engage via social media.
Although LinkedIn is prized as a networking and recruitment tool, it's invaluable for promoting business updates and industry news. LinkedIn is an ideal platform for your marketing efforts if you're looking to establish your brand as an absolute authority in your chosen industry sector.
Maintaining Multiple Social Media Channels
It's not uncommon for businesses to manage multiple social media channels at any given time. Utilising multiple platforms gives you the freedom to publish content in various formats.
Multiple channels are beneficial for targeting a broad audience, with different platforms allowing you to segment your marketing efforts.
Many businesses find it helpful to utilise channels like LinkedIn to maintain B2B communications while leaning on services like Twitter and Facebook to connect with consumers.
You may also find it helpful to launch multiple accounts to engage with audiences in different territories on the same service.
This is particularly important if you're operating in multiple languages or the makeup of your target audience in one location doesn't match the demographic elsewhere.
The Drawbacks of Multiple Social Media Channels
Maintaining multiple social media channels can prove time-consuming. Ideally, it would help if you had dedicated social media managers in place to ensure the smooth operation of all of your accounts.
Furthermore, your teams must use scheduling tools and social media calendars to ensure consistent delivery across all channels.
Operating multiple social media channels isn't advisable for every business. Unless there's synergy between your channels, your audience may find specific platforms lacking in value. If there's a significant disparity between your channels, you chance to segment your audience and disrupt engagement.
To ensure consistency across social media channels, it's recommended that you define a style guide. You can distribute these guides among your social media managers and trams to inform posting best practices. As well as providing advice on the tone of voice, you can use style guides to outline content formats.
The Benefits of Social Media Marketing
By now, you should have a clear idea of what social media channels will bring the most significant benefits to your business. If you're still unsure, think again about your overall objectives.
Are you looking to raise awareness of your brand? You may want to investigate multiple channels for B2B and B2C engagement. Are you interested more in lead generation?
Before you start implementing a new social media strategy, it's also crucial to consider your target audience. This is arguably more important if you're focused squarely on B2C engagement. User demographics of social media channels vary wildly.
Facebook is often considered a middle of the road option, with a broad reach that encompasses a healthy balance of gender and age.
Furthermore, it enjoys universal reach. However, if your focus is digital natives occupying a younger age bracket, video and image-centric platforms like TikTok and Instagram may prove a better fit for your objectives.
You'll also need to spend time considering the competition. A meticulous competition analysis case study will let you know what your direct competitors are doing.
Use tracker tools and social media insights to determine what content your competitors have the most success with. This will inform your content slate and allow you to engage more readily with your target audience.
If you have a clear idea of the kind of content you're looking to publish, you can whittle down your social media channel options early.
If your focus is industry-specific articles and white papers, a platform like LinkedIn is the obvious choice. If short-form video is your focus, a platform like TikTok will prove a more suitable fit.
Finally, you'll want to consider the pros and cons of managing multiple accounts. Most businesses will benefit from maintaining more than one social media channel to extend their reach and yield the best return on investment.
However, operating more than one social media channel can prove time-consuming. If you want to enjoy the best results, you must invest in dedicated social media managers. Automated tools are also helpful for scheduling content in advance and ensuring consistency across the board.
Author Bio: Zoe Dromgoole is the Marketing Executive at Wood Flooring Ireland and runs social media marketing. Wood Flooring Ireland sell bespoke engineered wood flooring throughout the entire country.