Best 15 Websites for Free Design Resources
In recent times, the design world has witnessed a rapid surge in the number of digital freebies.
Developers are emphasising on these freebies to create aesthetically pleasing interfaces.
Well, you cannot deny that while thinking about design freebies, your mind automatically drifts towards your internship days.
Those were the days when you never have the time to come up with a decent design.
Nowadays, you can find websites where you would get a lot of free resources.
With the help of these high-quality stock images, you can be more creative with your work.
So let's assess the prospects of accessing the best 15 Websites for Free Design Resources.
365PSD
Among the best websites for free design resources, this is the best website to avail high-quality Photoshop sources.
Quite interestingly, it is one of the original freebie galleries which came into existence in 2010.
Since then it has increased its collections of UI kits, banners and web design page elements.
Note that most of the content available on 365PSD are related to digital designs, so it is impossible to find print mock-ups.
Hence, it anticipates well for the app and graphic designers who want to find freebies for a new Photoshop project.
In short, 365PSD has innumerable Photoshop files for designers.
Getty Images
Well, Getty Images is one of the most well-known websites to avail free designs.
But at Getty Images, you would only find stock photos.
However, you can get free photos with the Getty watermark on them.
Recently, Getty has changed that with an embed kink which displays a credit footer at the bottom of the photo.
Hence, with this recent change, Getty has made its resources appropriate for blogging clients.
All of the media is shared with a Creative Commons license which means that you can use it under most circumstances without any attribution. This Creative Commons license allows you to use all of their photos for any use, even commercial, without the need for any attribution. – Snap Agency
But if you want to lend a more professional look to your blog section, you have to look elsewhere than Getty.
Creative Alys
Creative Alys provides graphic designers with a variety of resources.
Among the websites for free design resources, Creative Alys is one of the major sites where you can get mock-ups, vectors, programming resources and fonts.
There is nothing special about their selection, but it is a great place to look at if you want resources urgently.
Due to their fewer resources, this site is appropriate for first-time designers.
Also, the resources available here are unique, and there would be no issues associated with plagiarism.
Vecteezy
Vecteezy is a popular vector art freebies gallery curated by the Eezy Network.
Vecteezy comprises tons of freebies which include patterns, brushes, vector illustrations and textures.
In other words, among the 15 Websites for Free Design Resources, Vecteezy is one of those sites which contain most of the resources.
The site resembles a big library and comes with a primary search feature.
You have to type whatever you are looking for to find the items. You can also use the filters with the help of which you can select the most relevant items.
Dribbble
Dribbble is one of the most user-friendly websites for availing high-quality free resources.
What's more, it has a freebie tag associated with it which makes it quite famous among designers.
However, a majority of eye-catchy designs don't carry this tag.
Hence, you have to look carefully to find the beautiful designs which aren't tagged.
If you are looking forward to some of the best stock images, vector illustrations, textures and fonts, Dribbble is your best choice.
You can find items such as free SVG's, free graphic packs, free illustrations, free icons, free templates, free backgrounds, textures and more. – Design Bundles
Graphic Burger
There are possibilities that many of you are aware of this fantastic free resource site.
Graphic Burger is one of those sites for free resources where everything is free.
Whether you need resources for personal use or commercial use, Graphic Burger has it all.
What's more, the resources are upgraded daily.
From UI kits to PSD files, you would find a variety of free resources with Graphic Burger.
Undoubtedly, you can count Graphic Burger among the top websites for free design resources.
These design elements are 100% free – no strings attached. – Design Bundles
Iconfinder
As the name suggests, Iconfinder is the perfect site for finding creative and high-quality icons.
In case you are stuck in the middle of designing and looking for the perfect icons, don't look beyond Iconfinder.
Iconfinder also has a versatile collection of simple and free images.
What's more, you can apply advanced filters to search for the icons you are looking for.
The advanced search option is also quite useful to narrow down your list of probable.
It is one of the most straightforward sites out there which would appeal to amateur designers.
The user interface is quite intuitive, and you would face no difficulties in exploring the site.
Icon Deposit
Well, the name of Icon Deposit may seem like you can get only quality icons here.
However, that is not the case!
Note that you can use this site for any freebie.
From buttons to brochures, you can access versatile design resources in this site.
Apart from buttons and brochures, Icon Deposit has a large number of mobile app UIs, mock-up posters and tabloids.
Icon Deposit has a large community of developers and contributors who ensure that the site doesn't run out of free resources.
Icon Deposit resembles a lot like Reddit, where users and developers can interact with each other about the overall quality of the resources.
Due to the open-source nature of the Icon Deposit, you would always find it full of free resources.
Brands of the World
Being one of the best sites for free design resources, Brands of the World is your ideal choice when you are working at a professional level.
No doubt, you need the best logos and vectors while competing against your rivals.
Moreover, you cannot copy the resources from other sites as this can degrade your reputation.
This is where Brands of the World come to the fore.
It is the perfect website with the help of which you can be creative at your work and compete with your rivals.
You can find high-resolution vectors as well as vector logos in this site.
Quite interestingly, you can also see the portfolios of great designers and brands.
Brankic 1979
Well, you cannot find a web design company which offers its old resources for personal and commercial use.
Among these sites, Brankic 1979 is undoubtedly one of the unique places to avail free resources.
It is a web development company which provides its resources to budding designers.
Note that Brankic 1979 has its own designers who work hard to provide you with creative resources.
From widgets to UI kits, you find many resources at Brankic 1979.
Reddit
Reddit is a large social networking site which allows designers, programmers and others to access great quality resources for free.
This site can be divided into smaller groups known as subreddits that are each dedicated to a different topic.
Being open-source in nature, Reddit offers you an extensive repository of designs and interfaces from across the world.
You can also find filter submissions tagged with design.
Hence, you can only explore the content and resources that are tagged with this key phrase.
A little digging will turn up free fonts, templates, and much more. Aside from free fonts and Photoshop goodies, you'll find free items for Illustrator, Sketch, XD, and Principle. – My Modern Met
UI Space
UI Space is one of those sites for free resources that come with a fantastic collection of incredible website design and templates.
You would find out that the grid layout fits well and provides each freebie with enough room to catch your eye.
What's more, you can search for resources with the help of advanced search options.
You can also apply various types of filters to get the most relevant items as per your preference.
However, note that each free resource you are going to use has its own attribution needs.
Hence, you have to be sure to check the license before using.
Pixel Buddha
Note that the freebies available on Pixel Buddha are entirely free to use both for commercial and personal use.
The collection of Pixel Buddha is just as impressive as all the designs and resources you will find are original and unique.
At Pixel Buddha, you would get an extensive collection of UI kits, animation, effects, mock-ups and templates.
Fonts for Peas
Among these sites for free design resources, Fonts for Peas is your best bet when it comes to avail quality fonts.
The fonts available here is scrapbook style fonts that are apt for commercial use.
But make sure that you use their button either on the site or in the credit links.
There is any number of places to find free fonts online, but here's one you might not have seen before. – Creative Bloq
If you are looking for quality fonts, then Fonts for Peas is your best bet.
KL- Webmedia
KL- Webmedia is another excellent design studio which offers an incredible list of free design resources.
If you are starting your career as a designer, then the KL- Webmedia site is your best bet.
You would get many varieties of UI kits, labels, fonts, textures, templates and widgets.
Aside from free fonts and Photoshop goodies, you'll find free items for Illustrator, Sketch, XD, and Principle. – My Modern Met
These free web design resources would help you to harness your creativity levels properly.
Let's hope that the websites, as mentioned above, would help you to get proper free resources for your designs.
Explore each of them carefully to know about their functionalities.
MasterBundles
MasterBundles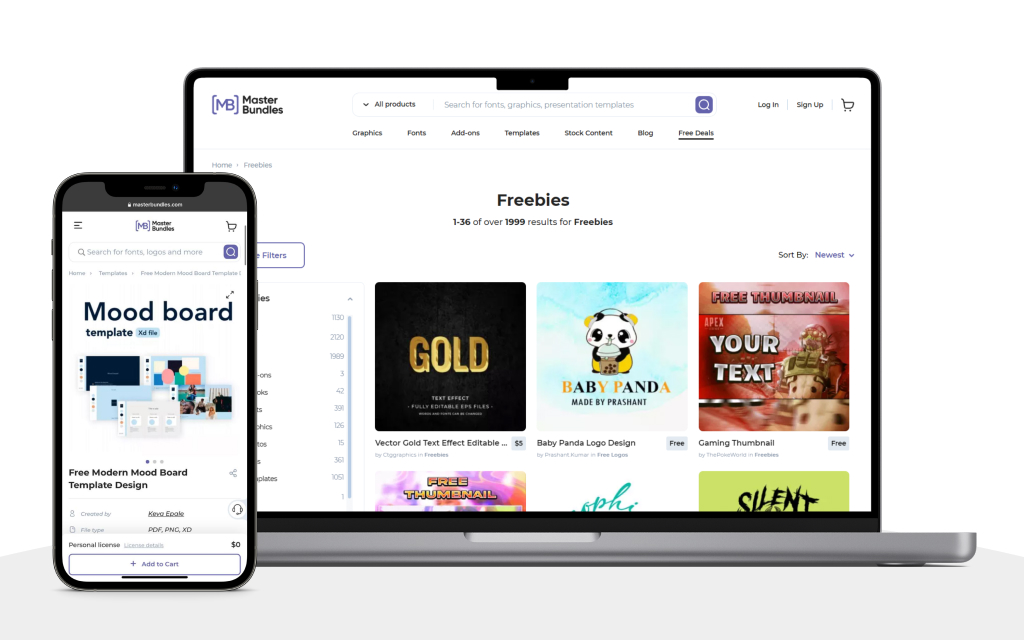 MasterBundles is a golden ticket for every web designer. Whether you are experienced enough or have only entered the design world, this site will be handy for you. There you will find plenty of visual elements that include: graphics, charts, bars, presentation templates and many more.
You will also be amazed by their number of free elements. So check it before making a purchase somewhere or spending time crafting the design yourself. On their blog page, you will find useful information on visual trends, so be sure to check it too!
Author Bio: Phrona Brown is the author of this article, and she is quite experienced in writing different social media platforms for marketing. She guides about promoting your business on social media.