12 Important Roles of UX Design to Small Business
There is no denying that various technological advancements are prevalent today. So much so that the next differentiator would be user experience (UX). 
This means that having a functional product or convenient service will no longer be enough. They should be easy for your customers to use. It is all about providing a meaningful experience to them.
And you can achieve this by considering UX design.
What is UX Design?
In a nutshell, UX design is a problem-solving discipline. It compels you to identify and understand user problems and providing solutions through your design.
For example, you know people struggle to get the ketchup out of the glass bottle. So, the possible solution can be an upside-down plastic squeeze bottle. 
A great UX means that the product is easy and great to use. This creates an enjoyable and seamless experience for the user.
How can UX Design Help a Small Business?
Creating a frictionless and satisfying experience is essential when running a business.
For one, making your products accessible and usable provides customer satisfaction. It also makes your product or service interactive.
Using our previous example, an upside-down squeeze bottle is easy for someone with locomotive issues to hold and use.
With the help of UX design, you can boost customer satisfaction. This can lead to the following:
Larger customer base
Get ahead of the competition
Stay profitable
Benefits of Effective UX Design to Your Business
Now that we have talked about UX design, we will now move on to the benefits that an effective UX design can bring to your business: 
1 – Improved conversion
Many sites sell the same product. However, customers prefer websites that provide them with an easy and practical user experience. 
According to a study by Forrester Research, a great UI experience helps increase conversion rates to up to 200%. 
Meanwhile, excellent UX can increase the same up to 400%. 
The study also states that usability plays a significant role in the overall customer satisfaction, so much that it: 
Enhances their willingness to pay to up to 14.4%
Decreases their reluctance to switch brands by 15.8%
Increases the likelihood to recommend the product to others by 16.6%
2 – Customer satisfaction
Like with any new project that your business takes on, it always takes a certain amount of risk. But because UX design focuses more on research analysis and testing, you'll be setting yourself up for long-term success. 
As the cliche goes, "Prevention is better than cure." This means that UX allows you to prevent as much customer dissatisfaction as possible. That's because pleasing unsatisfied customers can be costly.
Imagine the amount of money you need to shell out every time a customer returns a product.
3 – Identify deal breakers
Deal breakers are often questions that need to be answered first before a customer purchases. 
The transaction doesn't always need to be a sale. It can also become a lead, whether this involves showing interest in a product or signing up for a free trial. 
To know what these deal breakers are, you need to do qualitative research. This is usually a key component in the whole UX design process because it gives businesses a better idea about the user's problem and how to solve it.
You should ask questions like what your target customers are looking for? Is this information easy to find, or do they find it a bit confusing? The goal here is to uncover any psychological barriers so that you can do something about them. 
Remember that addressing these deal breakers wouldn't need a costly redesign for your site. 
According to award-winning UX/UI designer Michelle Dipp, this can be as simple as giving them the correct information in the right place. 
4 – Brand loyalty
A great user experience can go a long way for any business. 
That's why you must build trust in your brand, product, or service. Doing so allows you to create a long-standing relationship with your customers. 
Offering a seamless transaction can lead to customer loyalty. And these loyal customers are the reason you have repeat purchases. 
5 – User retention
Acquiring new leads to your business is only half the battle. After you've converted, how do you plan to keep your customers from buying? 
This is crucial, especially if you are in the e-commerce industry. That's because user retention allows you to upsell and cross-sell. 
In other words, an excellent UX design doesn't just allow you to get the attention of new users but also retains existing customers. 
One way to keep your customers is by creating a customer journey map. Often in storyboards and visual designs, its goal is to map out every iteration of the customer journey from start to finish. 
Doing so helps you foster empathy for your customers. This includes informing them where they are in their purchase cycle. 
From them, you can identify possible hiccups and figure out how you can prevent them. Otherwise, converting someone into a paying customer will be challenging.
Often, insightful metrics allow you to optimise your design. As such, you can drive better engagement, customer loyalty, and retention in the long run. 
6 – Improved SEO ranking
A great UX design also leads to better SEO rankings. Even Google themselves are actively promoting an excellent user experience through search results. 
That's because one of their goals is to provide users with the best answer or solution to their questions. And it would help if you did it quickly by delivering the most relevant information. 
This doesn't just translate to SEO, but with paid media or PPC (pay-per-click) marketing as well. 
For example, platforms such as Google Ads actively score your ad's "landing page experience" results. They also offer suggestions on optimising the user journey and focusing on these pages. 
Without a doubt, user experience plays a huge factor in the search algorithm of Google. 
As far as websites are concerned, poor user experience leads to low SEO rankings. 
7 – Expanded market reach
With nearly 68% of the world's population having a mobile device and 52% of internet searches done on mobile, you'll miss out on more than half of your prospective target market if you don't have a mobile-friendly website. 
Your mobile users expect that they can access, recognise, and navigate your mobile site as they would with a PC. 
Even though 61% of your customers will likely buy from a mobile-friendly site, most users will leave a site altogether if they experience a problem. 
8 – Increased sales
UX also helps drive more sales. There are two reasons for this. As mentioned previously, brand loyalty can go a long way in creating sales. 
So, when a customer has a great experience with your brand, they'll likely convert into loyal and repeat customers. 
Now, the other aspect lies on the more technical side. UX can drive sales by anticipating what the user wants to purchase and make it easy for them to do so. 
Although it may sound simple in theory, it can also be challenging to get right. A UX design can create an aesthetically appealing site with a logical and understandable flow. 
But you can drive sales by upselling products to customers at the right time. Making the cart easy to purchase from is an ongoing battle. 
You need to understand your customers by monitoring their consumer behaviour. This includes purchase history, standard exit pages, and more.
Once you understand your customers, you can create much more solid personas and their buying habits. Overall, UX allows you to build a site that's a money-making powerhouse. 
9 – Brand credibility
Do you know that 95% of new products that were launched in the US fail? It didn't take off not because of the product quality but the lack of perceived credibility.
That's precisely why credibility is one of the main factors that can influence UX. 
When users trust that a particular product or service will meet their needs, they see it is as credible and trustworthy.
However, building brand credibility takes time. It would be best if you also were consistent with every user interaction and transaction. 
UX will be harmful when users feel that you aren't professional or don't know what you're doing. This could lead to customers not seeing you as trustworthy, so they will not make a transaction with you.
10 – Enhanced user engagement
A significant part of UX is the interaction in your site that makes the user feel. 
A simple and uncluttered web design will stimulate the physical senses of the user. It will instantly grab their attention, make a memorable user experience, and will set you apart from the rest of the competition. 
Moreover, the design, especially the colours you use and the design, is also essential, as it can tell a story and connect with the user. 
However, user engagement and brand recognition aren't just accomplished through consistent design and writing style. 
Let's say your tone or the language you're using on the site isn't consistent. This can be jarring and a bit confusing in the long run. 
Ideally, the visual and other textual elements should be appealing enough to intrigue users. This will make them wonder what's next, leading them to explore other pages on your site. 
Interactive elements like videos (which can boost your site traffic to up to 300%), carefully placed call-to-action buttons, and social media feeds engage users and make them much more eager to return. 
11 – Increased referrals and sign-ups
The dream of every online business is probably to gather the correct information from customers every time. 
Getting in touch with customers or prospective customers via email is crucial for the success of your site. 
It allows you to provide product updates and drive sales. In addition, you can maximise email marketing to learn more about your customers.
Perhaps, you can send them a marketing survey or urge them to leave a product review.
Having a well-established UX design lets you create more appealing sign-up forms. Thus, it will drive conversions, as well as engagement. 
You can do this by enhancing the form's usability, making it easier to fill out, no matter what device the client is on. 
A social sign-in is also an excellent way of getting those much-coveted clicks from customers. That's because the information they need to input is only limited. 
A UX design will also simplify and enhance your referral program. If you don't have a referral program yet, you can experience the increased word-of-mouth via social media or forwarded emails. 
After all, if you want to give your customers a great experience, they're more likely to share the word with their friends. 
12 – Inclusivity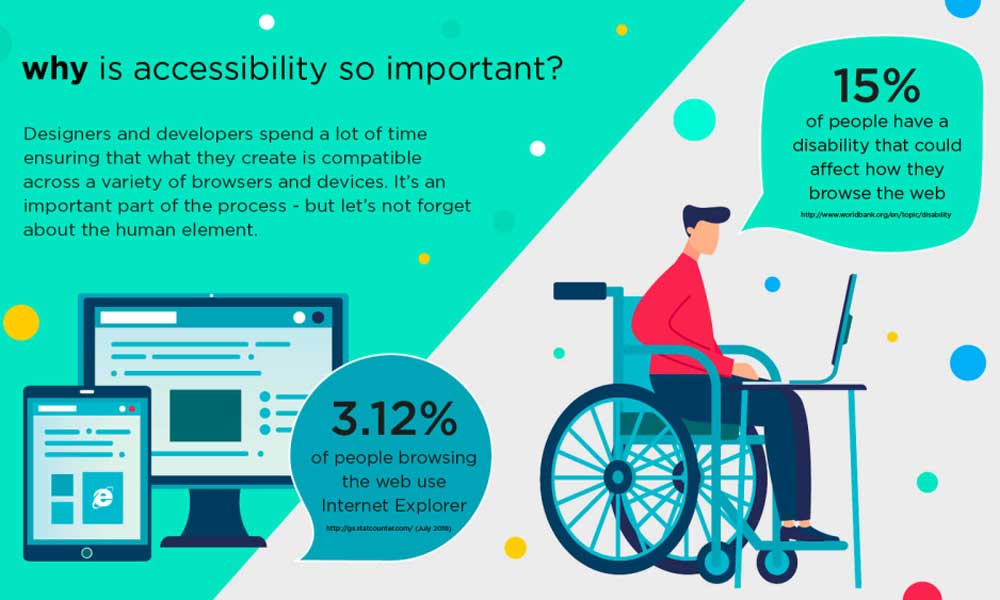 There has been a significant push to enhance accessibility to people with disabilities over the recent years. 
Although various UX design elements enhance the experience for everyone, the impact is multiplied for people with disabilities.
Some elements might be small, like a button that takes the user to the top of the page from the bottom or places a well-labelled alt text on the image. 
You might also want to build a site that's colour-blind friendly or reads exceptionally well on the screen reader. 
By doing this, you're opening up your business to a whole set of otherwise excluded customers in a site that didn't make any considerations for them. 
People with disabilities should deserve the same considerations and experience as any non-disabled individual. Through a UX design, you can provide that experience. 
Final Thoughts
Remembering why UX is essential will allow you to focus more on the users' needs, feelings, and wants during your entire design process. 
Taking time to get the UX design right from the beginning will let you save time and money in the long run. It also lets you reap the following benefits:
Improved conversion
Customer satisfaction
Identify deal breakers
Brand loyalty
User retention
Improved SEO ranking
Expanded market reach
Increased sales
Brand credibility
Enhanced user engagement
Increased referrals and sign-ups
Inclusivity
A well-tested and designed website allows you to amplify your online brand. 
UX design also improves customer loyalty, enhances SEO efforts, and increases sales. Lastly, you can build long-lasting goodwill with your customers.