Top 10 Best Invoicing Software for Freelancers
Whether you're a web developer, graphic designer, or content creator, you understand the life of freelancing can be pretty unpredictable. This is particularly true for payments.
Working with clients means you have different payment schedules – instant, weekly, biweekly, or monthly. Some large projects even pay quarterly.
As a freelancer, you're managing a business, so you must keep track of every payment for seamless invoicing. 
This is quite convenient when you use invoicing software, allowing you to get paid quickly and send reminders as necessary.
But what is the best invoicing software for freelancers?
Keep on reading to learn more!
Why You Need Invoicing Software
As noted before, freelancing is a business – not a typical career. You're responsible for managing all your projects efficiently, including handling payments, invoices, and taxes.
This means you must have current information on all the projects you've worked on, including the timesheets for hourly-paid projects.
This information is essential for clients who require invoices to complete payments. 
Plus, keeping records of such details makes you look professional to clients, and that's exactly what most clients want – you make your work and theirs easy.
Small businesses and start-ups must know how to manage their growth and get paid on time. That's why invoicing software is so helpful and recommended.
It can save you time and improve productivity, helping you refocus your attention on value-added activities. 
By getting help to manage this integral element of your business, you can avoid the stress of being overworked as the software handles the process for you.
Invoicing software has several benefits, including:
Seamless management of multiple invoices
Easy follow-ups and reminders to remind clients of pending payments
Improved cash flow for freelancers
More efficient and professional
Ensures accuracy in creating invoices
More importantly, the best invoicing software allows for easy auditing.
The invoice software keeps your billing information and invoices, which you can assess at any time for verification.
Some software can generate reports you need for tax processing and filing.
10 Best Invoicing Software for Freelancers
There are plenty of invoicing tools out there. Which one makes the ideal option to pick?
We've decided to help with that, and here are the best options you can use to manage your freelancing payments.
1 – Bonsai
Bonsai is a popular invoicing & payment solution for small businesses and freelancers. With Bonsai's online invoice generator, you can get paid faster by creating professional invoices in seconds with global reminders. Ready-to-use templates are designed to be both professional and stylish, so your invoices will always make a great impression.
Bonsai's invoicing is part of their complete product suite to help you automate your business and increase growth. They cover contracts, proposals, CRM, client forms, scheduling, time & task tracking, invoicing & payments, accounting, taxes and even banking.
Bonsai supports global payments with 100+ currencies to choose from. You can quickly get paid no matter where you and your clients are. Overall, Bonsai is a great software that can make managing your business and finances a breeze.
Join over 500,000 business owners and freelancers who use Bonsai and grow quickly.
2 – QuickBooks
Developed by Intuit and Reckon, QuickBooks is probably the best invoicing software for the self-employed.
Ideally, it's an accounting software offering all the tools you need to manage your invoices and payments.
It makes it super easy to organise all your business finances in one place and allows you to send custom invoices.
You can also schedule recurring payments to save time – essential for freelancers. 
It's an affordable online invoicing option at only $10.36 per user a month.
3 – Freshbooks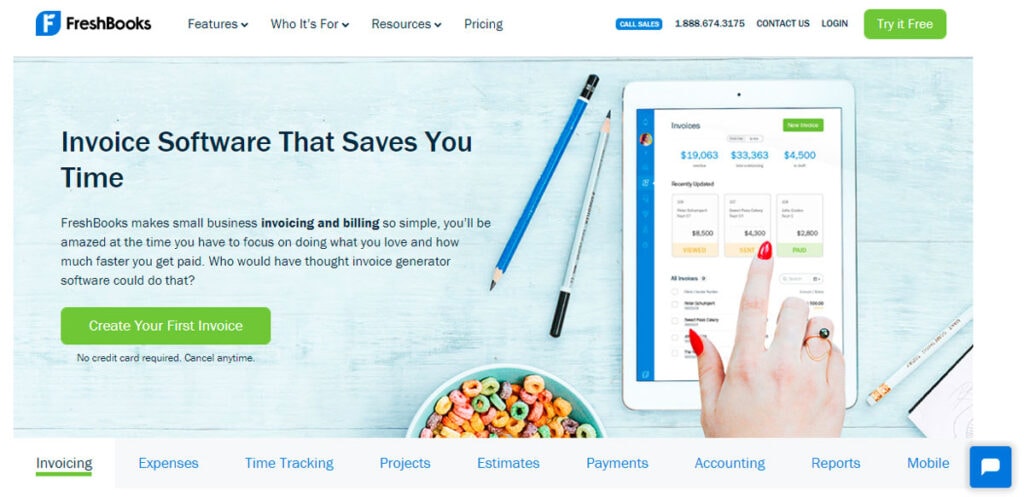 This option offers everything you'd need as invoicing software geared towards freelancers and small businesses.
Freshbooks has it all by sending unlimited and customised invoices to see when clients received, viewed, and paid your invoices.
You can use it on a computer, laptop, or smartphone for on-the-go invoicing.
You can also set up payment reminders and late fees, and Freshbooks accepts online credit card payments hassle-free.
You cannot overlook the return on investment at just $15 per user a month.
Additionally, it gives you business insights through easy-to-grasp reports. It also allows time-tracking on specific projects and clients for more accurate billing.
4 – Xero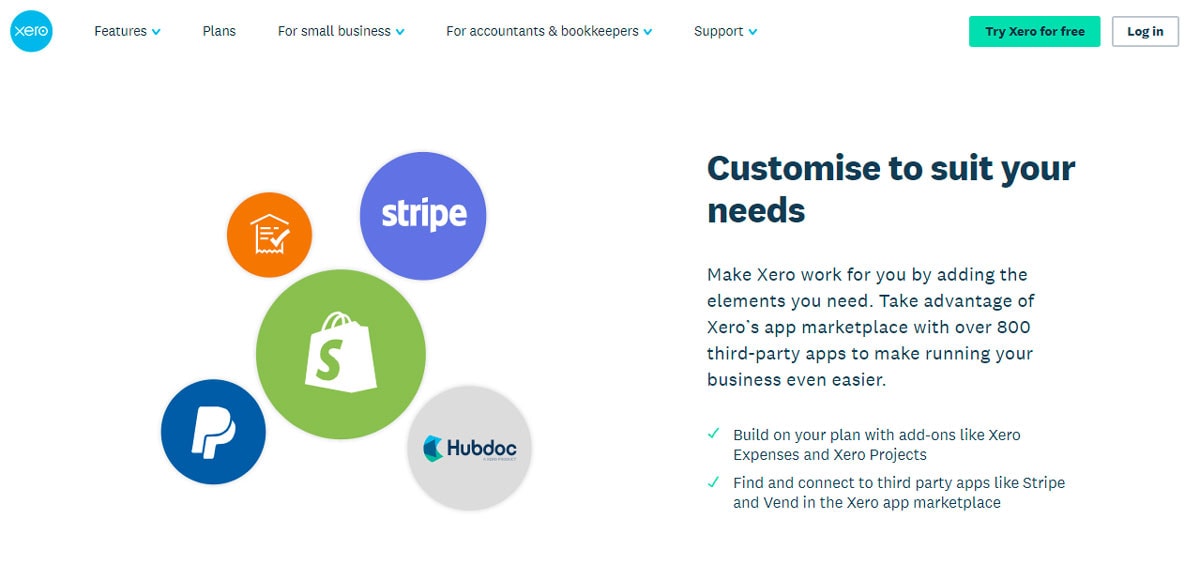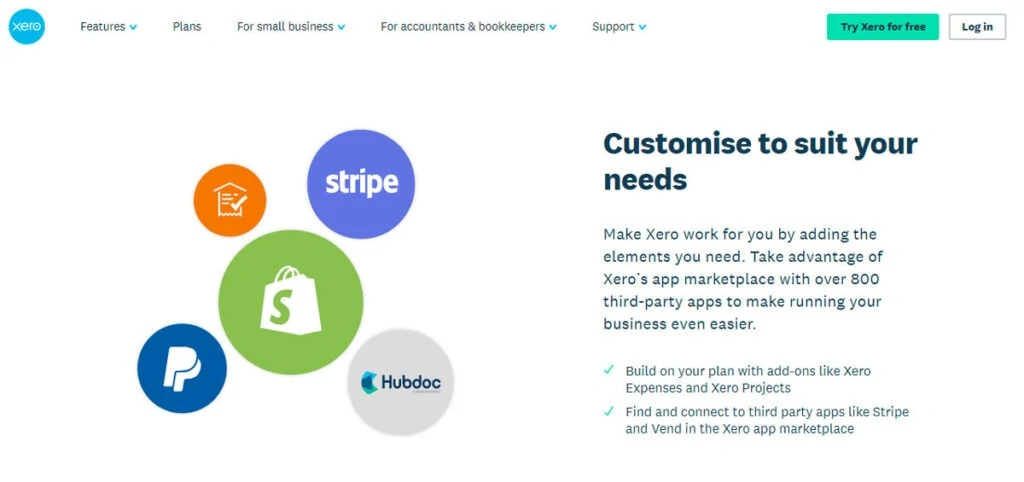 Xero is one of the more reliable and secure invoicing tool options available. It offers constant support and doesn't limit how many users your business can have.
Your invoices can be custom-made to suit your company, and setting up recurring options is easy.
Customers who are late with payment will receive tailored emails for a gentle but firm reminder. These emails are automated, so you don't have to bother with them.
Xero allows you to accept payments through PayPal, debit or credit card, making it very convenient.
You can even send invoices straight from your tablet or phone, and you'll be notified when invoices are opened.
If you do lots of business with one customer, you can set up bulk invoicing, saving you much time. It's almost unbelievable that you get all these features at only $20 per monthly user.
5 – Sage 50c
Sage has been a leader in the business management software world for many years.
It's no wonder their invoicing software for small businesses and freelancers has also become popular.
Creating and sending invoices is easy and relatively effortless. You can link your invoices to your bank account to track your finances.
Sage doesn't restrict you in what currencies you can invoice customers in; it comes with Microsoft Office 365 integration.
You can start a free plan that will last for three months, after which you will pay $192 per user a year.
6 – Invoice2Go
Invoice2Go may seem like a primary online invoicing software option, but it's a fantastic choice for a small business or freelancer.
There are no frills or fuss with this software – it's for invoicing and serves its purpose well.
You can track your invoices, see when customers have viewed them, and send payment reminders.
Although this is essential software, it allows users to track their business performance. The reports are also helpful for monitoring clients who are late on payments.
To get a taste of this service's abilities, you can start with a 14-day free plan, after which you'll pay $21 per user a year.
7 – OneUp
With OneUp's easy billing and invoicing tools, you get access to a service that knows the importance of finances to even the smallest business.
You can manage your invoicing, inventory, and accounting-related matters directly from your laptop or mobile.
Almost all your accounting is automated with OneUp, and your Customer Payments screen reminds you about invoices you must send out soon.
If customers fail to pay you, you will receive automatic notifications.
Going from project proposals to quotes invoices is straightforward with this invoicing app, and it only costs $9 per user per month.
8 – BillQuick Online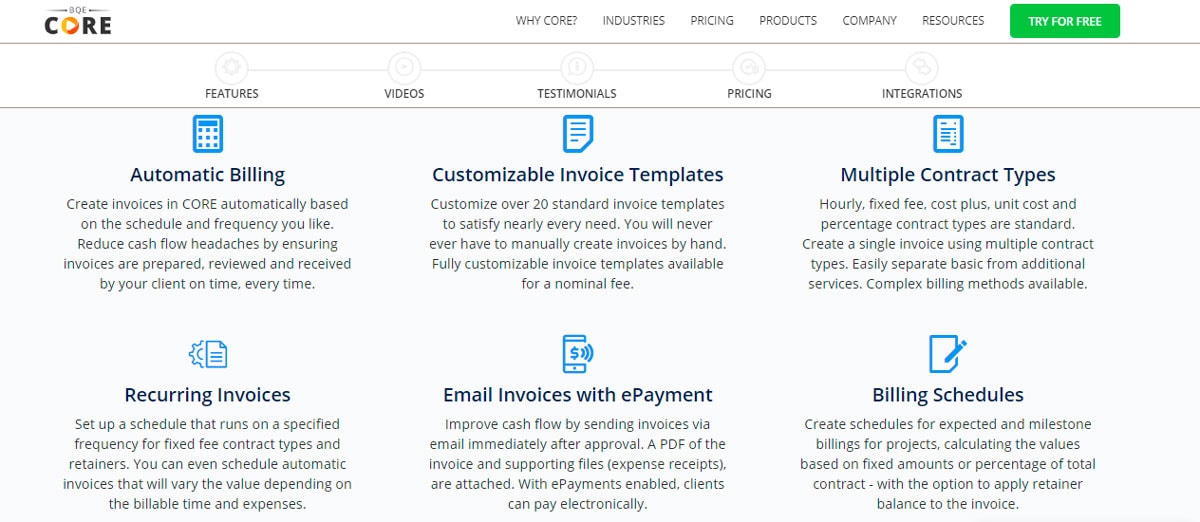 BillQuick Online is perfect for big and small businesses and professional freelancers.
You can choose from 180 templates to create an invoice that suits your needs best.
BillQuick also offers the ability to create automatic PDFs, a nifty feature, even if it doesn't feel necessary.
If you prefer to keep physical backups of your invoices, you'll appreciate BillQuick's printing feature.
The invoicing app lets you create several invoice types, such as retainers, repeating invoices, and invoices based on hourly payments.
Pricing starts from as little as $19.95 per user per month, which isn't bad considering the offers' features.
9 – Chargebee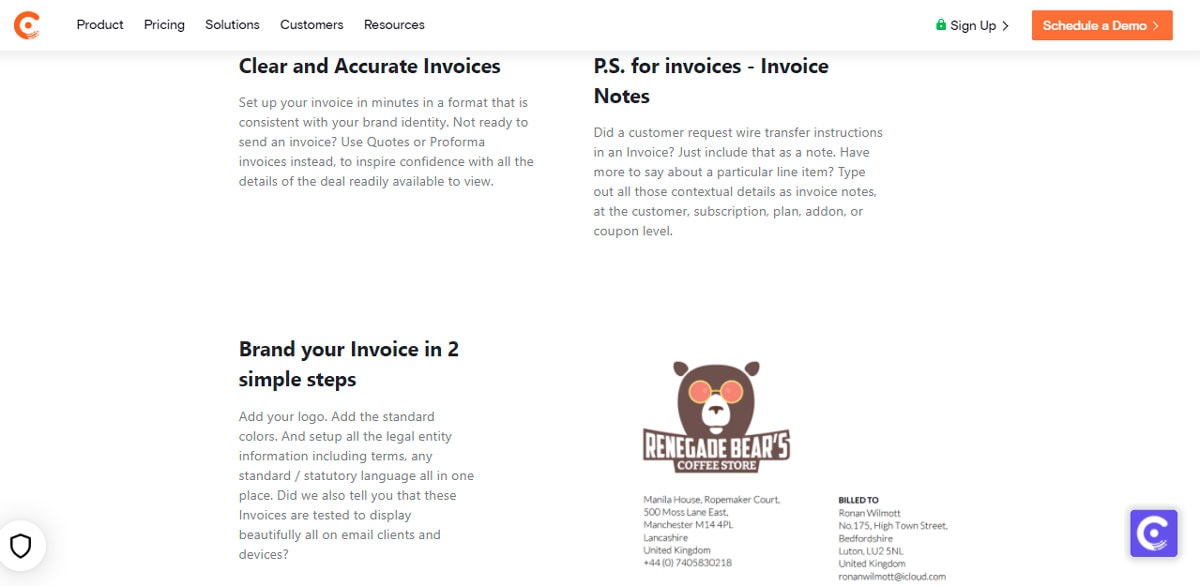 Chargebee is a bit more restricted than the other invoicing software options on our list – for companies that operate subscription services.
Chargebee covers all the finer details that go into this kind of service.
Invoices and expense tracking can be as comprehensive as needed, making taxes easy.
The metered billing support with Chargebee makes it stand out amongst similar software.
You can accept various payment options, such as online wallets, direct debit payments, checks, and credit cards.
Chargebee is more expensive than most invoicing apps, though, at $249 monthly.
10 – Invoiceberry
Invoiceberry is simplistic and straightforward in its use – no need for accounting knowledge to make the most of this invoicing software.
It offers intuitive guidance to simplify every step of the invoice-creation process, and setting up recurring invoices is hassle-free.
Busy freelancers and entrepreneurs will love how quickly they can create and send invoices and add logos.
There are several templates to choose from, and they all look and feel professional.
You can try InvoiceBerry on a 30-day free plan, after which you choose one of the paid plans.
The Solo plan costs $15 a month, and the Pro plan is $30 per month, and you can invoice as many clients as you want.
Bonus: Indy
The Indy Invoice Tool uses the industry's most trusted online payment solutions, and clients are one click away from paying using the method of their choice.
Indy is an all-in-one management software that helps self-employed and small businesses manage their invoices efficiently.
Invoice templates include all the info your clients need and allow you to add your branding.
You can link working hours directly to an invoice using the Time Tracker tool and save time.
Using Indy, you can:
Prepare professional Proposals in moments.
Create Contracts and send them instantly to your new clients.
Link contracts to projects to keep your records organised.
Make Tasks and connect them to projects to manage your progress.
Chat with your clients and team to build momentum.
Bill your clients using Indy's Invoices tool.
Bonus: Billdu
Billdu is easy to use but a feature-packed invoicing app for small businesses. It allows you to quickly create professional-looking invoices, estimates, purchase orders, delivery notes, and other documents your business needs. 
With features like automatic payment reminders, recurring invoices, online payments, expense management, and invoice status tracking, Billdu has everything you need to run and scale your business smoothly.
Furthermore, Billdu's affordable subscriptions and great reviews (4.8 out of 5 on the App Store, 4.7 out of 5 on Trustpilot) secure its place as one of the best options on the market.
Try Billdu for 30 days free (no credit card required), and then get it for as little as $3.99 on the Lite plan. Or, go one step further and enjoy the extensive possibilities with the Standard plan for $8.99 or Premium for $16.99.
Bonus: Affinda
Now, let's say that, as a freelancer, you have a few monthly invoices that you're sending to various clients, which is essential to you for tax purposes. Instead of extracting information manually, you can rely on Affinda's manual invoice extractor.
Besides the invoice extractor, you also get access to the receipt extractor and credit note extractor. These processes are handled with the help of AI technology and a sophisticated Machine learning OCR, which makes the results intelligent, accurate, and dependable.
From the accounting standpoint, this can eliminate a lot of unnecessary footwork. This makes a difference for freelancers, who are likely handling their taxes and accounting. It can free them up (no pun intended) to focus on their core tasks.
Invoices, Your Way
You're a self-employed professional who does business and marketing to clients your way. Why should you do your invoicing differently?
Use these invoicing apps to create invoices that suit you and your business.
Not only will it make your professional life a little bit easier, but it will also improve how your clients see you.
With the best invoicing software, no longer the headache it can be; you can focus more energy on growing your business.
Author Bio: Mark Quadros is a SaaS content marketer who helps brands create and distribute rad content.  Similarly, Mark loves content and contributes to several authoritative blogs like HubSpot, CoSchedule, Foundr, etc. Connect with him via LinkedIn or Twitter.