Top 20 Entrepreneurs To Emulate For Massive Success
Are you interested in wealth, success, and business? Of course, you would have never clicked on this article. I've got great news for you. Success is predictable if you follow proven frameworks and models others have used to see great results. Please understand that you don't have to make up a way to become more successful because it already exists; you have to find out, build the skills around making it happen then execute.
Here are a few statistics to know as you pursue your success in your career, regardless of whether you are an employee, an employee looking to transition to being an entrepreneur, or already a full-time entrepreneur. Globally, there are 532 million entrepreneurs out of 7.8 billion people on this planet. Around 60% of the 20th most valuable brands started as self-funded ventures or bootstrapped.
Self-made millionaires typically have a strong work ethic and are very disciplined with their finances. To give yourself a competitive edge and join the millionaire club, read this Career & Business Secrets Case Study. In this article, I will cover 20 entrepreneurs that achieved massive success.
1 – Henry Ford ($1.2B Net Worth When Alive)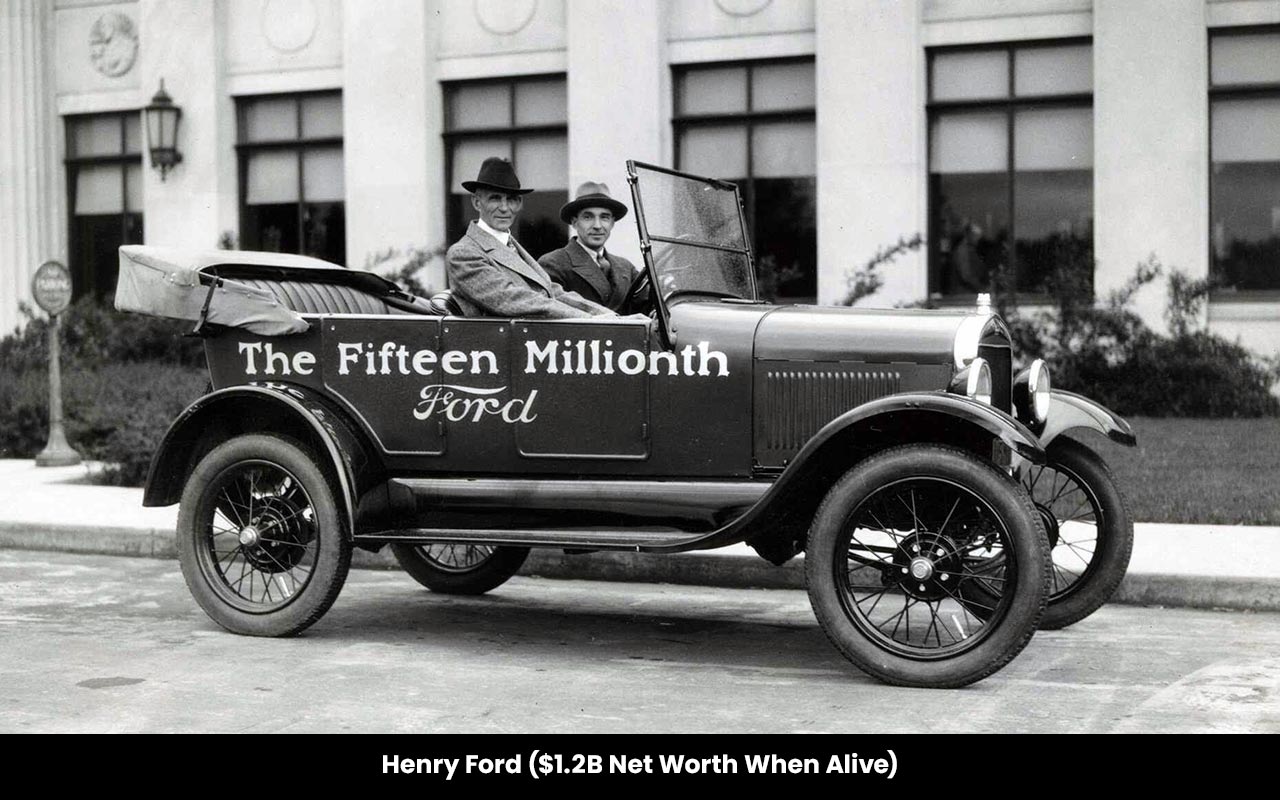 Henry founded the Ford Motor Company. His business enterprise manufactures cars at a mass scale and then sells them to the public. One of his most famous automobile creations was the Model T. Some experts say this Model T was one of the best-selling cars of all time. The milestones Henry achieved included having the first affordable car for the average person and the invention of the assembly line for car production processes.
Henry financed his company in the beginning with 12 investors and 1000 shares. Ford was successful for many reasons, and a couple was due to him finding simple ways to produce cars at a magnitude that workers could be a part of and not be complicated. In essence, he could make more cars with the time he had. One of Henry's strategies was paying $5 a day to their autoworkers, which in those days was double the average wage, so workers could afford the car they were making and felt confident in having stable work. Lastly, Henry knew how to communicate a vision and pull people into his world, like investors, business partners, and buyers in public.
2 – J. D. Rockefeller ( $1B in 1916 = $17B in 2022)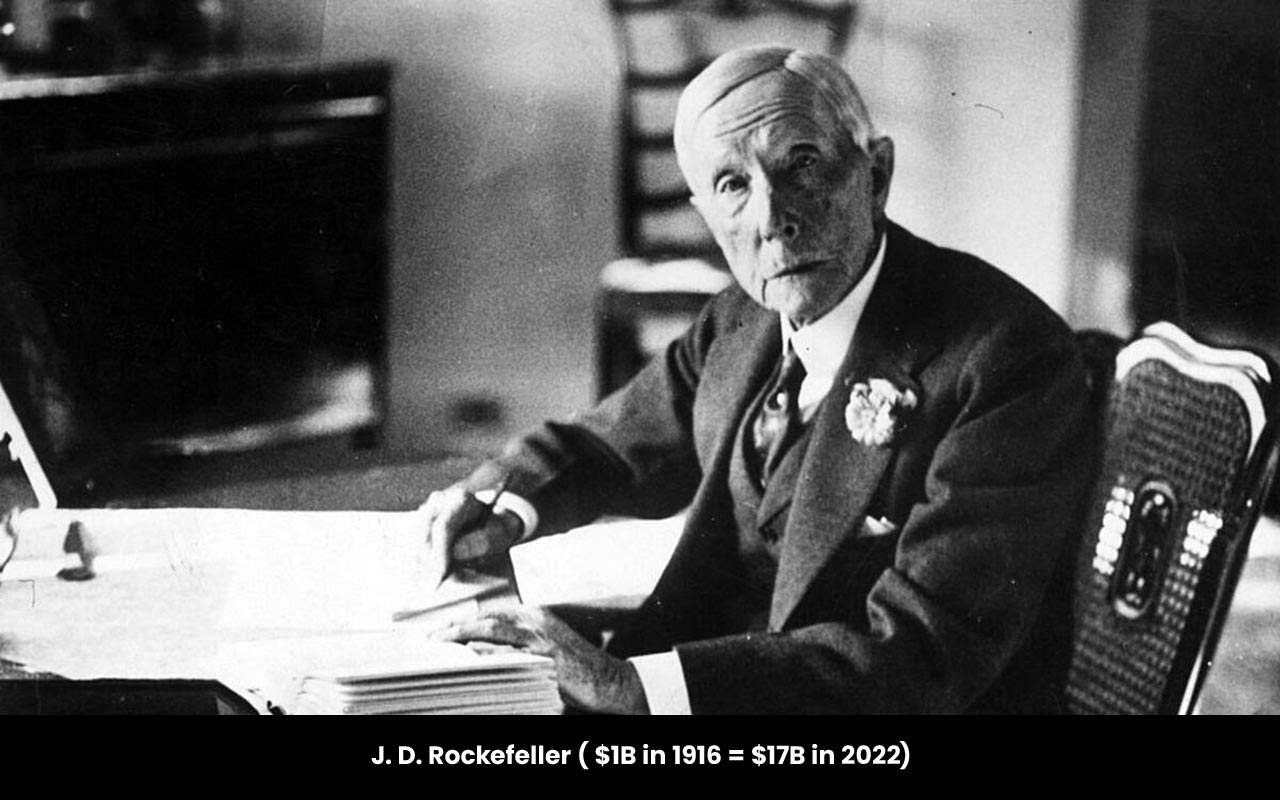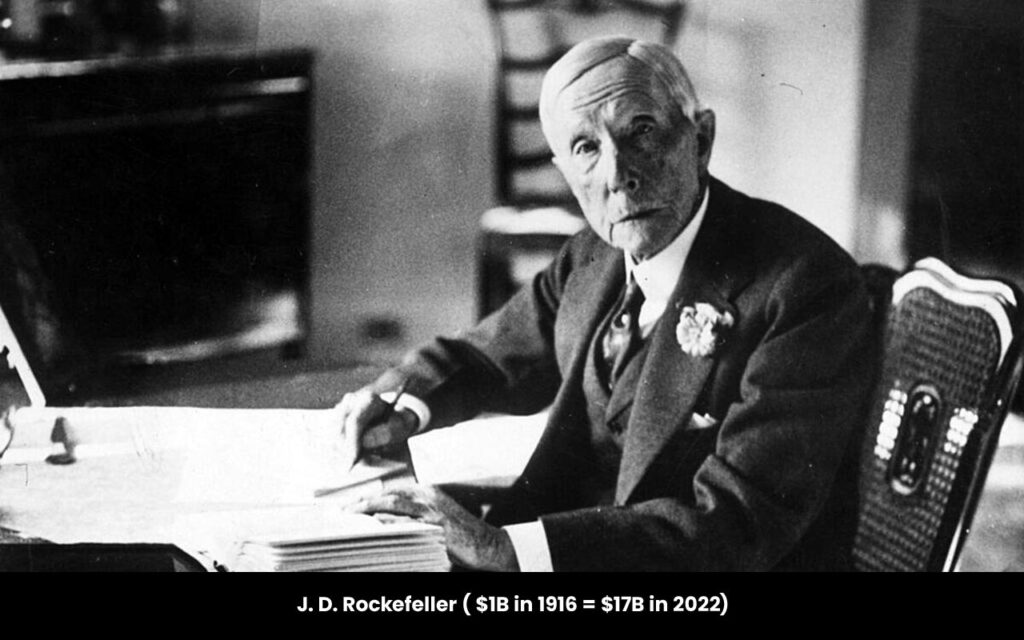 Rockefeller founded the Standard Oil Company. During his time, his business controlled 90% of the market share. Today there is more competition, but that much business made you a super-dominate force back then. Rockefeller's accomplishments include launching the field of study for biomedical research and funding scientific research that led to the creation of vaccines for yellow fever and meningitis.
Rockefeller grew his company by thinking differently. For example, he invested money into oil purification processes, and once the operations were found, he concentrated on oil that other businesses ignored. Rockefeller also wanted to control his revenue, as all businesspeople do, so he created a secret alliance of railroads and refineries instead of going with the tides of economic change. Controlling refineries, the crude oil was converted into kerosene and sold to the public.
3 – Charles Schwab ($11.6B in 2023)
Charles formed the Charles Schwab Corporation, which is a financial services company. The services are consulting and wealth management. This firm has $7 Trillion in assets under management. Charles offered discounts and fast orders as a benefit of doing business with him, and it got traction. Charles focused at first on the small investors, so this was the market he went after.
Charles was a well-paid employee at one point, but his vision for the future was more remarkable than playing it safe, so he left to begin his business pursuits. Today we're blessed to be able to keep our jobs as we build our enterprises to a stable income and client base, so making the switch to entrepreneur full-time is not an absolute risk. Charles and his business succeeded because they kept looking for ways to serve and add more value.
4 – Oprah Winfrey ($2.5B in 2023)
Oprah is a TV personality and business owner. Oprah founded Harpo Productions. Oprah had one of the highest, if not the highest, TV ratings in history. She has also won many social awards. Oprah was a millionaire by age 32 and a billionaire by age 49. She started the talk show at age 19; starting as young as possible is beneficial. Oprah accumulated her wealth through her firm. Her company would create the tv programming for cable, broadcast, and syndication with deals already set in place as far as the profit revenue split.
The secret to success from Oprah, was to focus on something bigger than yourself and money. Great advice, but people like me are looking for specific strategies to grow a brand to national and international levels. If we look closely, two secrets are found. First, produce video, written, or audio content daily, weekly, or monthly for life and then find other leaders to connect with and get introduced to their audiences. It's a win-win because both parties share audiences and grow together. This technique has a lot of different names but is commonly known as the dream 100 marketing technique.
5 – Aliko Dangote ($18.7B)
Aliko is a Nigerian Businessman who founded The Dangote Group. Aliko is from a wealthy family. The Dangote Group is a large industrial conglomerate in West Africa. Aliko is the wealthiest person in Africa and the richest black person in the world, with an $18.7 billion net worth, according to Bloomberg Billionaire's Index. Aliko also became the first Nigerian to be a billionaire. Aliko was given a loan of about 500,000 in Nigerian currency, around $1088, from his uncle to start trading in commodities like bagged cement and sugar.
Aliko went to the Central Bank of Nigeria and pitched the idea that it would be cheaper for them to let him manage their fleet of staff buses, and they allowed him to. So, the company went from a small trading commodity company to an enormous industrial group that sells and supplies customers with cement, sugar, and other products. The secret was knowing what pieces you need for business and the processes to make them all come together for business goals.
Lastly, Aliko grew his business by gaining more knowledge than others. This is common; mastering the understanding is the first step in whatever industry you're in or plan to go in, but you must find a workable, proven model or framework. Don't create it. Find someone and ask for it nicely or pay them for it. This will save you years of wasted effort. This technique is called "The Quantum Leap Advantage" (QLA), referenced by a businessman worth over $100M.
6 – Tony Robbins ($600M in 2023)
Tony Robbins is an American Businessman who has multiple companies that, in total, do over $1 billion in revenue. Tony has impacted over 50 million people in over 100 countries with his content. Tony is the world's number one life and business strategist. One of his secrets to success is learning from the best in the game. Tony learned from Jim Rohm, a notable businessman that became a millionaire in under five years.
Tony has studied and learned from many of the best business owners in the world, so I'm sure you can see how he can get exceptional results in business and life. Another secret I preach comes from Tony, focusing only on frameworks that work and using the 80/20 rule to get your desired outcome. Before you begin a task or chase your dream, define the product clearly and then align that with a series of activities that produce a proven result. I'll throw in a bonus for you.
Work weekends! What super-elite businessperson do you know that doesn't work weekends? Right, they aren't any. Love what you do, or you will struggle with this one.
7 – Jack Ma ($24.5B in 2023)
Jack is a Chinese business magnate who founded Alibaba. Jack built a multi-billion dollar business and was among the first Chinese internet companies. His firm is an eCommerce business. Jack started his business with $80,000 from 80 investors. The company has come a long way since its beginning.
Jack has used many approaches to make sales. One uses data to uncover what the market wants to buy and then position the company to sell it. Another way is using partnerships to reach more people and customers. Another secret to his success is browsing, researching, and practising talking to the market you want to sell to, as this gives you incredible insight.
Lastly, what Jack did well was find out how to package an idea into a product or service and then market it to meet consumer needs. This is a skill that only some people have, but if you work on it, you can become better at it.
8 – Mark Zuckerburg ($62.5B in 2023)
Mark is globally known and famous for being the founder of Facebook. Like most visionaries, they begin with a vision. His vision was to connect people at a deeper level. Mark's interest was in computer science, and he began to build a social platform. Mark succeeded in creating the largest social media platform in the world. Facebook makes billions from advertisers, a standard monetisation method of social media platforms. Their goal is the adoption of the website and retention.
Mark made Facebook grow in many ways, and one way was a growth hack referral system automated generator. Think about it. You create an account, and Facebook tells you to invite friends. They do this because it extends their reach, and they know you're more likely to stay and use the platform if there are people you see on it. This is golden. The number one marketing consultant in the world said your business needs at least ten automated referral-based systems in place. Examine building one referral system that is stable before adding more.
9 – Richard Branson ($3.6B in 2023)
Richard is a businessman and owner of Virgin brands and businesses. Richard founded a magazine company at age 16 and owned or owned hotels, record labels, radio stations and more. In his book "Screw It, Let's Do It" he mentions that the centre of all success is goals and having fun. If you're not having fun building the business, mastering business skills, getting clients, and doing business, you may need to rethink your industry. Richard's business success stems from following his heart and passion as it leads you to double down on mastering marketing and sales.
In his first magazine company, he cold-called and then pitched advertising space, and when mistakes were made, he improved his cold-calling scripts and how he spoke to decision-makers. Eventually, he landed his first sale; then others came later. Richard believes you will become a better business person over time, but for the time being, focus on your marketing and selling skills early in your enterprise. You can learn this from books, courses and interviewing top players or even some people doing well making extra income on the side apart from their day jobs.
10 – Arianna Huffington ($100M)
Arianna is the co-founder of the Huffington Post. The Huffington Post is a news website with a global reach. The website covers broad topics across areas such as but not limited to business, entertainment, and politics. The website attracted a large number of visitors then next was adding advertising space for revenue generation. Here the currency, by currency I mean asset, was the people because when a source like a website or software tool has lots of users or visitors, there is an enormous amount of potential income that can be captured. This is why businesses spend millions of dollars doing influencer marketing deals. Enterprises want the reach that the influencer has.
In the same way, companies wish to spread the influencers; the advertisers want the traffic and customers of website visitors or users in a software tool. The critical takeaway is to build communities as the long-term strategy. Partnerships will get you off the ground and make sales faster since building a community can take years of hard work.
11 – Simon Nixon ($1.3B in 2023)
Simon is a British billionaire who founded the company Moneysupermarket, which is a price comparison website. Like many other elite entrepreneurs, Simon dropped out of school to start and build their business full-time. Simon, during an interview, said he was bored of being in college, so he left and started his business venture. When he started his company, he saw the lack of price comparisons between mortgages, so he made a website to make the comparisons.
To market this, he created a magazine with best-buy tables and gave them away for free. Once he noticed the market was responding well to this, he started charging a subscription fee. This is a common practice in entrepreneurship when testing a new idea. He gave away his product for free and, in return, got feedback to validate that his idea would work and that people would pay him. In marketing, this is known as a freemium. Dry testing is testing a sales offer before investing time and money into its production. This is one of the biggest secrets in business. Sell what people want to buy, not what you think they want.
12 – Anita Roddick ($54M)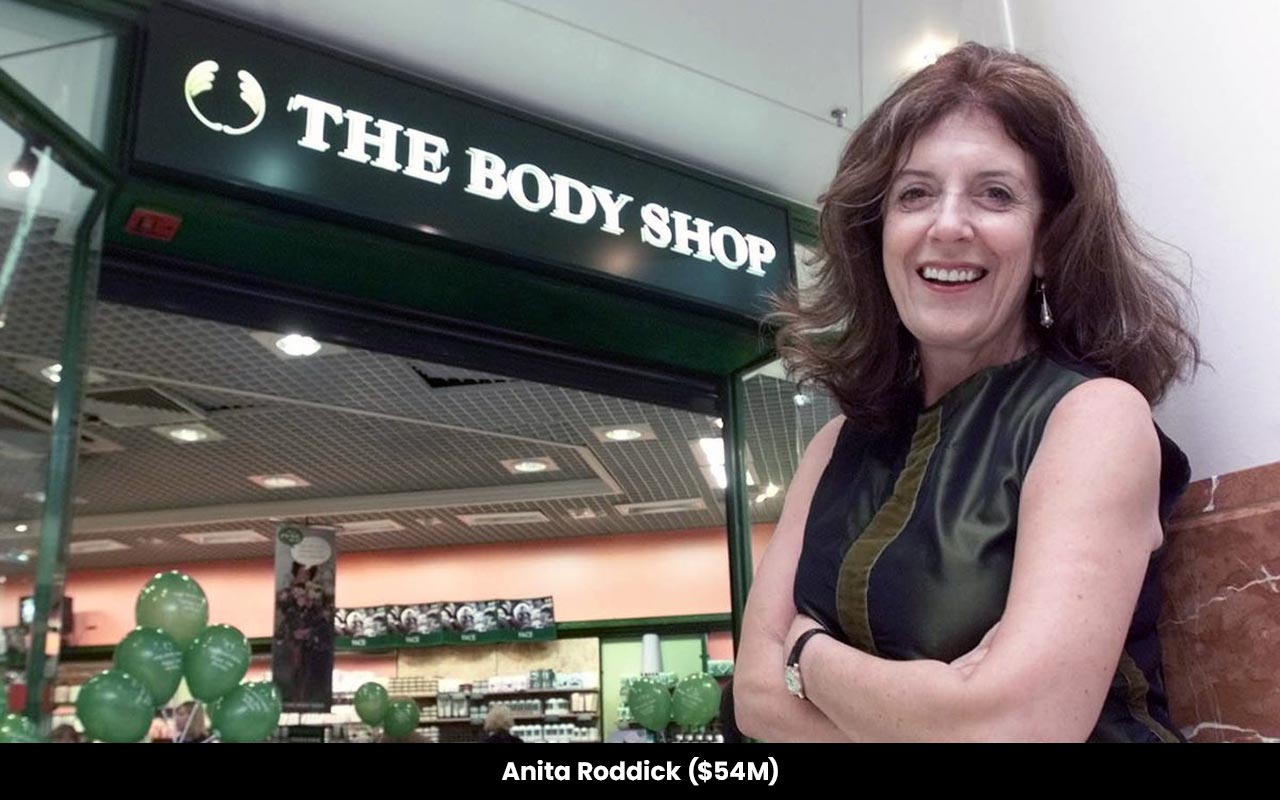 As a British businesswoman, Anita made her fortune through her company, The Body Shop International. This company sold cosmetics. In 2004, the business had over 1900 branches worldwide and served 77 million customers. Her company was named 2nd most trusted brand in the United Kingdom & 28th globally. Anita's company succeeded because it helped create the idea of being conformable and good-looking in your skin and not trying to look like other people.
This was a global marketing message that captured the attention of millions. The message was honest and natural, which is why it stood out among its competitors. Another strength of this company is that it communicates incredible value to customers by being all-natural and society-focused driven.
13 – Carlos Slim ($88.3B in 2023)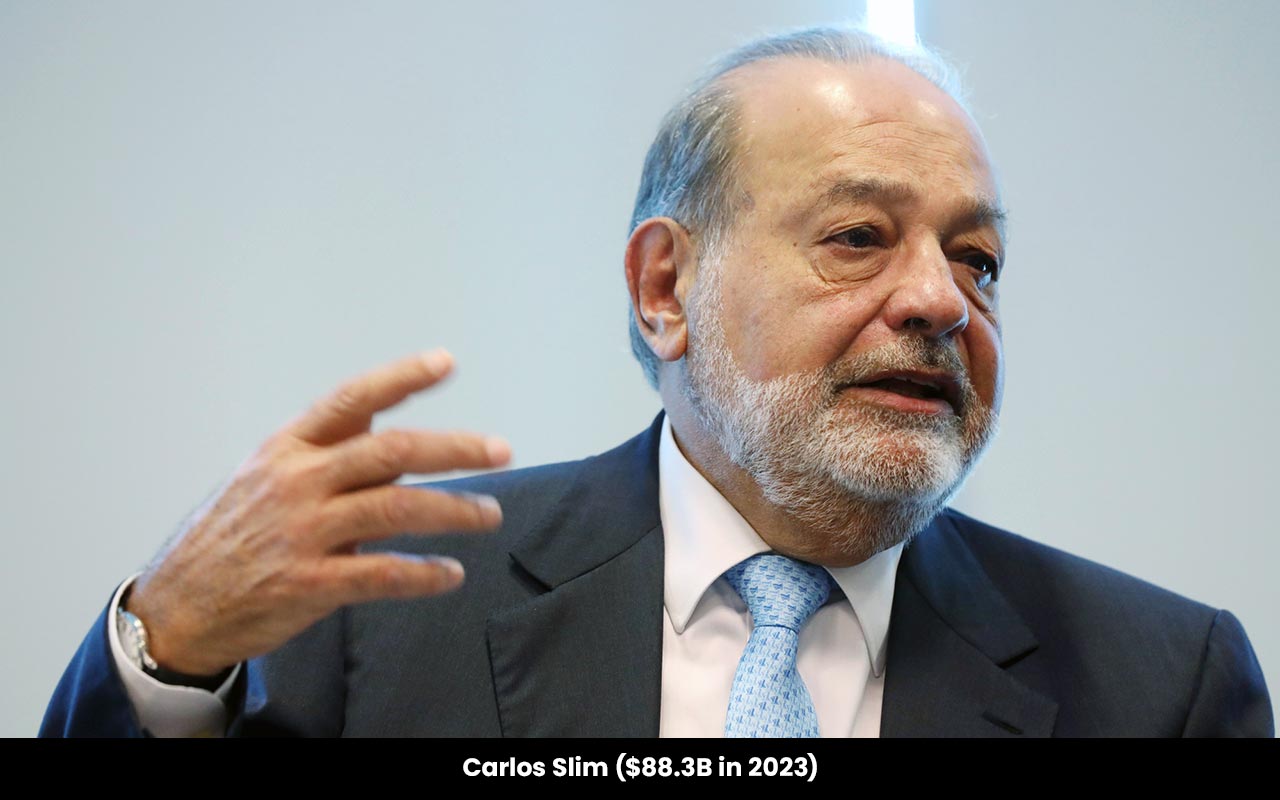 Carlos is a Mexican business magnate. He founded América Móvil, a telecommunications business headquartered in Mexico City. Carlos grew his company to be, at the time of this article, the largest mobile phone operator in Latin America. In 2008, Carlos achieved a 6.4% ownership of the New York Times. From 2010 to 2013, Forbes named Carlos the wealthiest man in the world but later was dethroned.
Carlos saw success with America Movil because he already understood how to operate and run a business. When he was younger, he started business ventures that gave him the capital to make more significant investments. Carlos also helped his father in his company, which he took over when he died. By the time Carlos founded America Movil, he had priority business experience that helped him get reach and build a base of customers. Even if you don't already have business experience, you can still start now to make a more extensive and impactful business throughout your business life.
14 – Walt Disney ($125M at the Time of His Death in 1966)
Walt Disney is a powerhouse of a global brand. Walt created the mass media giant The Walt Disney Company. His success was so great that he is on many lists of legendary businesspeople of his era. Walt funded his dream and vision by borrowing against his life insurance policy, convincing ABC television network to invest. In return, he would help build a successful tv program and find multiple sponsors.
Walt created the first cartoons with synchronised sounds and full-length animated movies. A key takeaway is understanding how to fund your business and what capital sources are available. Lastly, consider bootstrapping your own business, as data and references show that many multi-million and multi-billion-dollar firms were bootstrapped at the beginning stages. In Some cases, you will need funding, but in others, there are techniques to grow at massive levels with little or no cash upfront.
15 – Adam D'Angelo ($700M)
Adam is the entrepreneur behind Quora. Quora is a social question-and-answer website founded by Adam. Adam was a former Chief Technology Officer at Facebook. Adam has won a silver medal in the International Olympiad in Informatics and was named the 2nd most intelligent person in tech by Fortune magazine. Quora became popular quickly because the questions being answered were answered profoundly, creating a sense of community that fostered honest conversations.
Some of the most respected brands and enterprises focus on being the brand that adds the most value to your target audience and then monetises later. Quora got its first users by using an invite-only marketing strategy. When you study business over a long period, you notice some of them create new innovative ways to build their businesses, but a good deal use already proven techniques to increase business awareness and amass great success.
16 – Evan Luthra (Multimillionaire)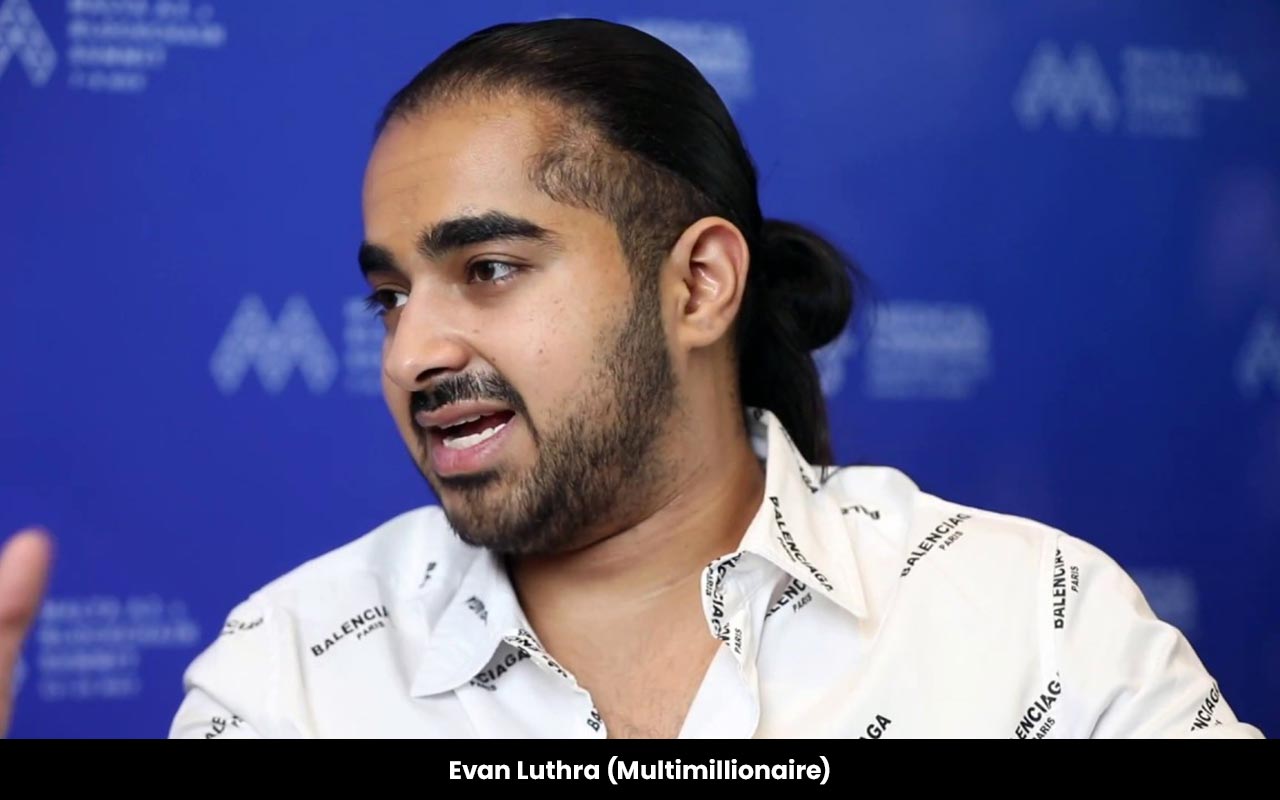 Evan is a wealthy young Indian businessman who was mentored by the legendary businessman Steve Jobs of Apple. Evan made his fortune through developing apps and websites when mobile apps were a big thing, and hot money was to be made. Evan was making seven figures by the age of 17. He was honoured by Forbes as being in the 30 under 30 categories.
Evan is a current leading expert in blockchain technology. He mentioned in an interview that he has become successful from 3 core philosophies: conceptualisation, innovation, and execution. Finding a person to model your life after is ok, but when studying them, you find practical steps and techniques to build your business and personal brand to greater heights. Look deeper at the stories you hear about practical applications that can be derived and will guide your activities.
17 – Daymond John ($350M in 2022)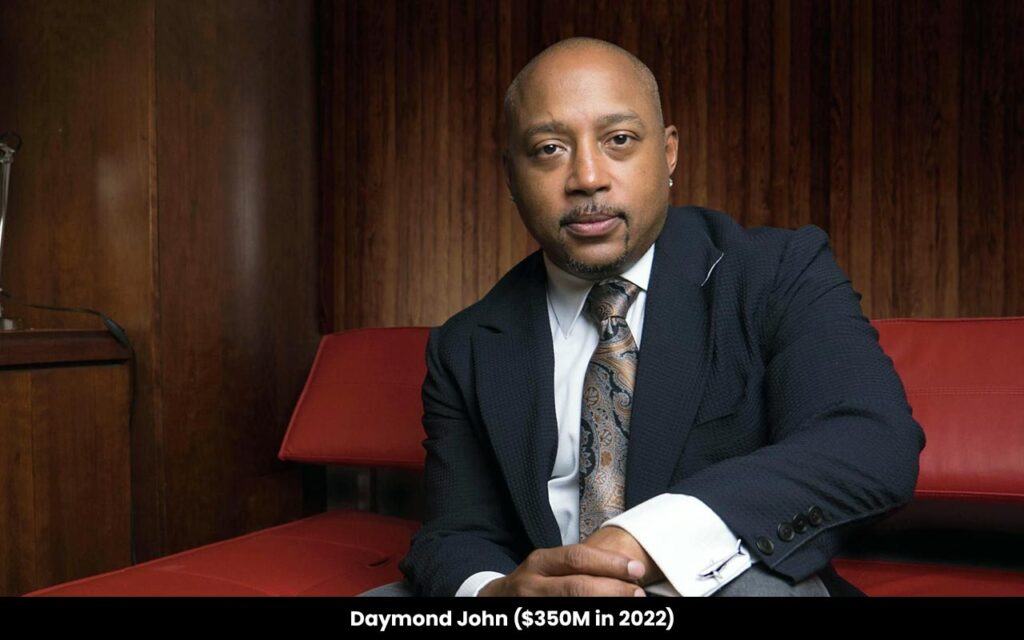 Daymond is an African American businessman from humble beginnings. Daymond owns multiple companies but is famous for the FUBU brand clothing line he started. He is also renowned for being an investor on the tv show Shark Tank. Daymond grew his clothing line to $300 million in sales with over 5000 retail stores at its prime. During a documentary of Daymond, they needed financing, so they ran ads to find investors and could prove that they had large pre-orders and it's highly likely to produce reasonable returns to investors.
Daymond developed his business skills and got a celebrity to wear his clothes which skyrocketed his brand to a national phenomenon. This type of marketing is known as influencer marketing. Most start-ups may struggle with getting high-power celebrities to promote their brand, but businesses are still getting results by targeting micro-influencers. Targeting micro-influencers is more realistic, and data support that you are likely to succeed at higher rates versus trying to target super highly-influential people.
18 – Mark Cuban ($4.6B in 2023)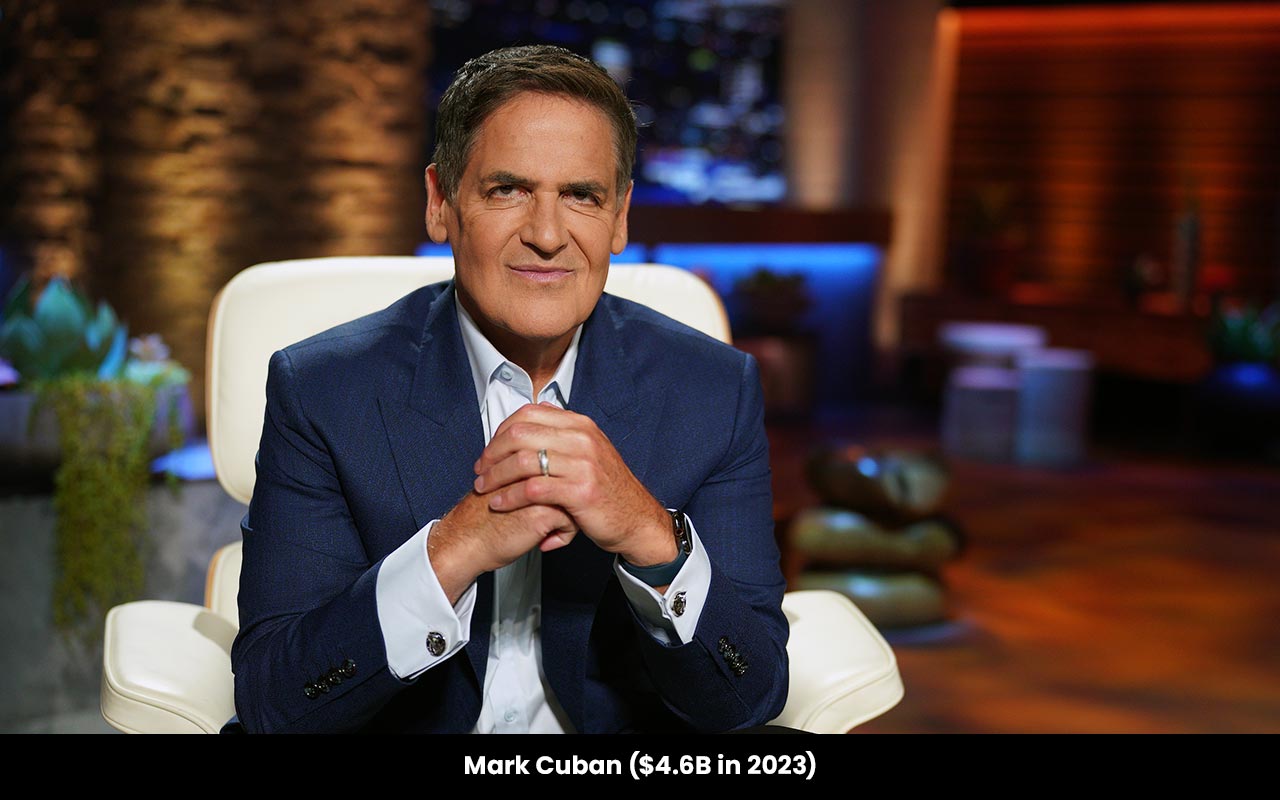 Mark is an American billionaire businessman and the Dallas Mavericks Sports Team owner. Mark has had numerous business ventures. One of his best-known businesses was when he founded broadcast.com. Broadcast was a video portal. Mark went on to be a huge success and eventually sold the business to Yahoo for $5.7 billion in the year of 1999, according to Forbes. Mark knew one of the essential things in business is sales. So, he often focused hard on learning how to sell at a young age, so when he later started broadcast.com, he knew how to position it.
As a business owner, focus on understanding what language to use; the pain points your target audience cares about, and their needs on top of what triggers them to buy. Mark said in an interview. Learn how to sell. Become a salesperson and learn the techniques. Those that master how to deal with it can go anywhere in life they want to. The biggest takeaway is knowing how to trade professionally.
19 – Madam C. J. Walker (Multimillionaire)
Walker was recorded to be the first woman millionaire in America. According to the Guinness Book of world records. Walker founded Madam C.J. Walker Manufacturing Company. This company manufactured and sold hair-care products for Black women and others. After some research, she found where she could create an opportunity for herself. She made her first oil-based conditioner product and began door-to-door marketing. Later, it branched out to traditional advertising.
As you build products and services, what you sell has to be what the market or your customers want, or you will need help. It is often a good practice to test market response before launching a product. In some cases, some business owners don't push the market because what they are going to sell is already selling, or you will tailor the marketing message to having a unique selling proposition if it is a new product and people may not have heard of it.
20 – Steve Jobs ($10.2B in 2011)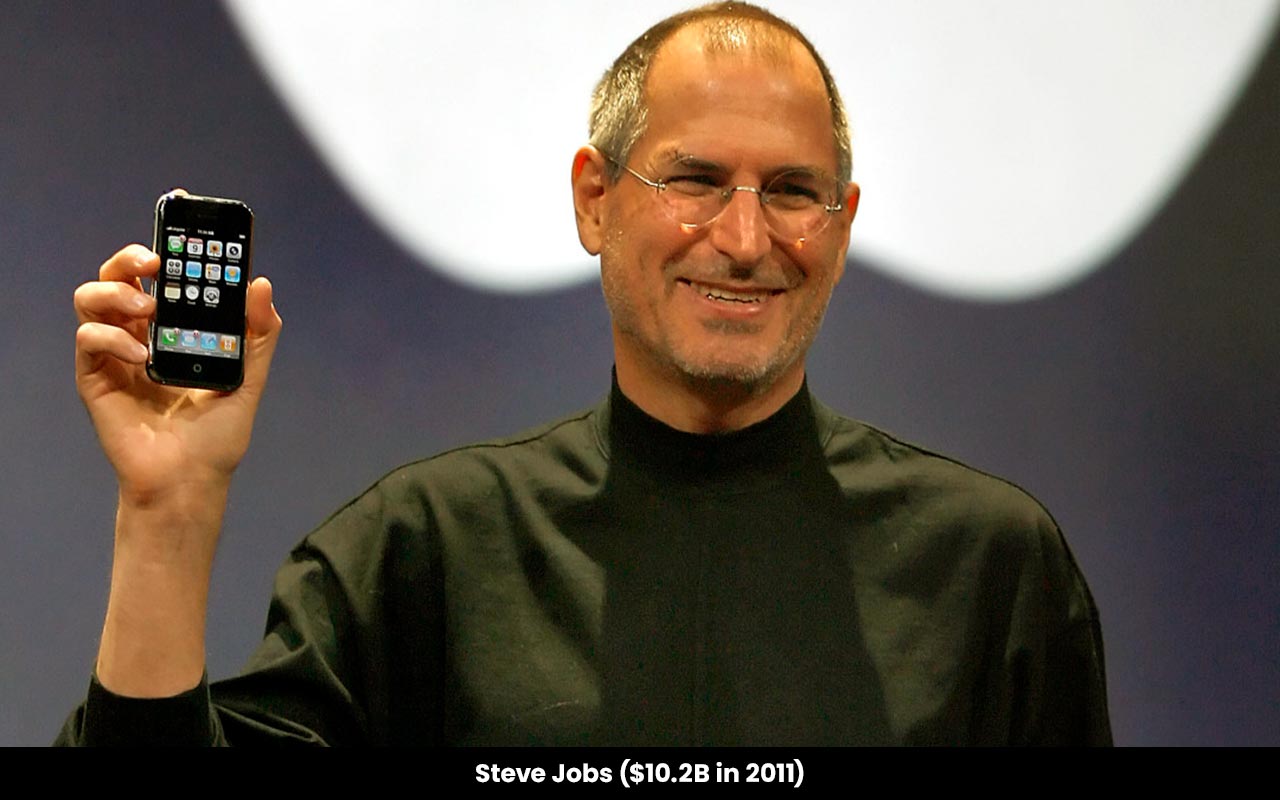 Steve Jobs is famed for being the founder of Apple and the inventor of the iPhone. Steve was an American billionaire businessman who started Apple by selling his Volkswagen bus, and his business partner sold his scientific calculator. When you believe in something bigger than yourself, you make sacrifices to fund your dreams and vision. Steve succeeded at putting a "dent in the universe", changing the world, because he desired to create something that would revolutionise society.
He played a massive role in how computers went from being just tools to being used in everyday life. The genius behind the success of Steve Jobs and Apple is many things, but one thing that stands out is that he sold the experience, not the product. Steve was big on customer experience, being incredible and hard to match by others. Whatever you are selling, think about what you can do to enhance the experience. Test different things and capitalise on what works.
Conclusion
More and more people are starting businesses for different reasons. Mass culture promotes self-independence, financial freedom, and legacy. With all of this, why do only a few select groups of people still make it? The answer is knowledge and skill. The major takeaways from this article are to watch businesses conduct business or work in the industry or sector you want to be in and understand all the systems in place from marketing, sales, product development, administration etc.
The super-elite, elite, and micro-elite business owners think and play by different rules. Find ways to partner with other businesses to grow your own, focus on business strategies, and utilise universal marketing techniques that have stood the test of time. Good luck with your ambition; remember, you can go as far as you want.
Author Bio: Martize T. Smith has his Master's in Finance & Economics. His mission is to educate the global audience and empower them to understand and apply wealth-building strategies at the highest level. Martize is also an author and advocates for ideal lifestyle design that supports building the skills necessary to live the life you desire on your terms. Mr Smith has focused on building an international brand based on his compelling vision of "Empowering better financial literacy with the right financial tools and insights. Martize believes in finding proven frameworks that work and yield desired outcomes expected for success.