Top 8 Tips for Building Brand Loyalty
Let's assume you need a chair, a simple one, quick. Where would you get it?
Almost certainly there is IKEA on your list. 
Even if you have never shopped there before, somehow, you know that their products are valuable, and feel you can trust them.
That's called the IKEA effect, and it helps the company to spread its brand loyalty all over the world.
So, what is it in the marketing strategy that makes people love them and advise their furniture to friends?
The Psychology of Branding Businesses that wish to understand the role of psychology in creating a strong brand must look into the five core dimensions: sincerity, excitement, competence, sophistication and ruggedness.
Here are eight tips that reveal the components of building brand loyalty increasing strategy that IKEA and many other successful brands use. 
Check them out to see what you could add to your next marketing campaign and improve your customer loyalty.
Respond quickly
Nothing is perfect, and no FAQ covers all the possible questions. 
So, when a customer seeks information regarding your product or service, they expect to get an answer straight away.
Being always there for your customer is a positive step to building brand loyalty.
When a person meets a friendly staff, gets an extensive explanation of the concepts they might not understand, sees that their concerns are addressed, they feel valued and safe.
After all, loyal customers are more likely to recommend you to their friends, support future launches and talk about your brand on social media. – SproutSocial
One more fact: the more actions and time it takes to get information, the less likely to purchase people get.
One of the quickest and most effective ways to establish immediate communication between a brand and a customer can be using software like website live chat from HelpCrunch.
By using advanced live chat software, one support rep can assist different clients simultaneously without compromising his or her own productivity.
Take a cue from Zappos. The company uses live chat for immediate responses. 
A customer can ask for information, get help with issues, even request product recommendations. 
The responses are always enthusiastic and friendly, and it looks like they don't use any scripts. 
Even better, Zappos customer support works 24/7, making them super comfortable to use.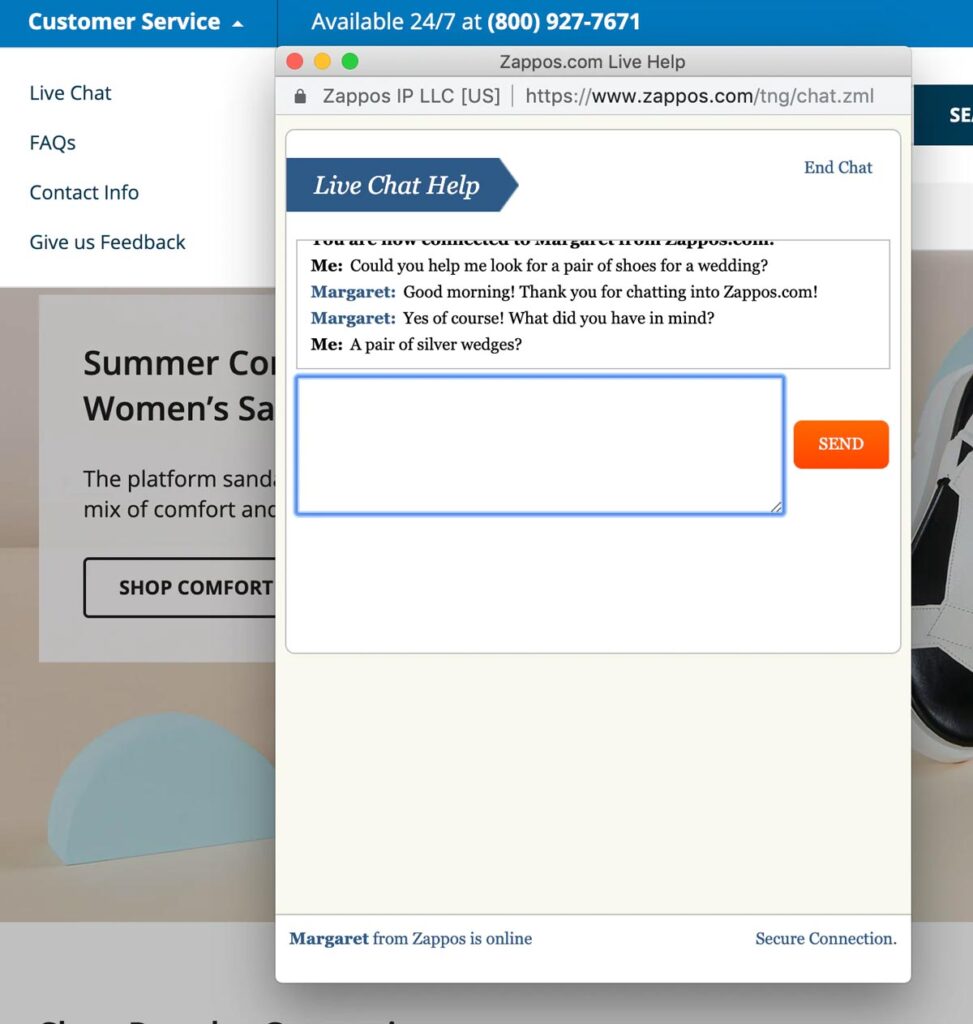 By adopting this particular business/marketing orientation, rather than a sales orientated approach, for example, you're reminding your customers that they're always the focus of your operations. (The opposite to this would look like your organisation rewarding new customers by giving them better deals than for current customers, which should always be avoided.) Always be responsive to your clients when they get in touch and look to understand them in every way. – Orientation Agency
Go mobile
More than half of the world traffic comes from mobile devices. 
People check their phones as they wake up, commute, eat or when they get bored at work.
All this makes phones an effective way to improve brand loyalty. 
All you have to do is to create an app or a web application that's easy to use, and that provides instant communication with your brand. 
Worth noting that a good app goes beyond being a smaller version of your website.
Here are the key features of an app that will increase customer loyalty:
Notifications and messages telling about updates, hot offers and other important information;
Personalised experiences due to using on-device catching;
Great design. An appealing graphic design sets the mood and makes it easier to spot your brand's app among others on the screen.
Customer loyalty is ultimately about reaching out, nurturing and retaining the customers who really make your business. – CrazyEgg
In the world of beauty products, Sephora brings personalisation to a different level. 
Their app remembers what items a client had purchased on the current season last year, sends reminders to use the loyalty card, and has virtual fitting rooms.
Even better, the app considers each user's skin type and shade and reflects how that or another product will look on them.
Sephora's rewards program offers free samples and tutorials to loyal customers. – NYTimes
Get creative with problem-solving
The "compare yourself to who you were yesterday" motto is suitable for personal use but not for business.
You can't make your customer service better than it was three years ago and be happy. 
You have to make it better than your competitors' now.
That's why brands go the extra mile to delight their customers.
They are obsessed with collecting data and using it for creating a seamless experience and support as a customer interacts with a brand.
Being always there for your customer, even when they don't expect that is the best way to increase brand loyalty.
Focus on customer experience and service, not on sales Another way of building loyalty is by focusing your organisation's combined efforts on customer experience and service. – Orientation Agency
For example, there is the famous story of how Warby Parker provided perfect customer service creatively. 
A man accidentally left his pair of Warby Parker reading glasses on the train as he travelled from NYC to Boston. 
In a few days, he received a package with two pairs of reading glasses and a book with a note from the General Counsel of Warby Parker. 
The man was impressed and shared this story on his Facebook. He also became the brand's loyal fan.
Customers that exhibit brand loyalty are devoted to a product or service, which is demonstrated by their repeat purchases despite competitor's efforts to lure them away. Brand loyalty is demonstrated by repeat purchases of a product even when the consumer has choices of competing alternatives. – Investopedia
Long before social media, marketers knew that people show more loyalty to the brands that share the same values. 
Yet, now, the customers' focus has shifted to the brands that "listen" to them.
This means that your customers want to interact with your brand as if it was a person. 
Loyal customers are more willing to stick around, and more likely to become strong advocates for your brand on their social channels and among friends. – CrazyEgg
They want your brand to share its story, message about the news and offer an opinion to let your readers resonate.
So, when creating a social media promotion strategy, create engaging content and formulate your messages carefully.
If your following still isn't active on social media, you can publish comments and reply to them. 
It can show your followers that you care about them and set an example to become more active on your profile and therefore share their pain points with you.
A great example of a brand getting up on social media is MoonPie. 
The company has mastered the art of comedy on Twitter, having skillfully integrated it into their marketing.
While being entertaining, MoonPie shows an in-depth knowledge of the latest trends and news, so their posts are always relevant.
Declare your mission
People remain loyal as long as they have an emotional attachment. 
By formulating your mission statement, you declare your brand's purpose, explain what you do and how you do it. 
A strong motto sets a track toward the goal that your team is pursuing. 
A complementary component of the mission statement is the core values: several things that guide you in your decisions. 
Together, they form your brand image — something that your customers can appreciate, value and look up to. 
Something that helps them to establish a deep connection with your brand on an emotional level and works on building brand loyalty.
Loyal customers search multiple stores for their preferred brands are more likely to forego their purchase in case the brand is not available. – MarketingTutor
Have a look at Tesco. Their mission statement is short and sweet. 
By telling their audience "Serving shoppers a little better every day," they let them know exactly what to expect from interacting with the brand. 
It's healthy food stocked from farmers, uncompromising quality, excellent customer service, and charity programs. 
Their slogan also shows the potential employees what to strive for, highlighting the importance of each worker's personal responsibility for the company success.
Create a sense of community
It is so much easier to sell products and services to your loyal fans than to strangers.
Having a community of loyal customers means higher sales, premium prices and focusing on retaining clients rather than seeking new ones. 
Communities can be built using different strategies; most of them combine:
Bringing together a bunch of people sharing the same goals and interests and engaging them in a discussion. This is generally made by creating Facebook groups, chats in messengers and such.
Admitting the value of content marketing. That means providing valuable information that can help your followers in their daily life.
Offering exclusive content within the group. This can be hot deals, daily specials or personal discounts in a newsletter.
Real-life meetups. Meeting someone face-to-face creates an impression that we know this person better and can trust them more. You can join a local meetup, or organise your own.
Gymshark is one of the fastest-growing sports clothing suppliers. 
They turned their blog in a hub connecting experienced athletes and those who never did any lifting but are interested. 
They provide all sorts of information regarding health, workouts, nutrition and, of course, fitness clothes.
In their marketing strategy, Gymshark relies on influencers, thus allowing customers to group around their role models and engage with them on a personal level. 
They also post user-generated content on their Twitter from time to time. 
By doing so, the company lets its clients see the "real" feedback, which is believed to be more authentic in the client's eyes.
Having a loyal customer base can help a business push past its competitors and give it the competitive advantage it needs to succeed in the marketplace. – Trackmaven
Run a Brand loyalty program
There have been discussions regarding whether or not loyalty programs create brand loyalty. 
The short answer is "yes, but only a good loyalty program." 
Make sure that yours is an organic part of your entire marketing strategy, relies on your business type, audience, and goals. 
Think of metrics you are going to use to determine whether your program is successful. 
Even if you don't have a digital rewards program, you can use social media to get the word out to a wider audience about these options. – SproutSocial
There are some features that the best retail loyalty programs all incorporate:
A simple and transparent system of rewards
Loyalty cards or stamp cards
Small membership fee
Valuable non-monetary rewards
Extra points for promoting brand awareness
Thus, DSW gives points to customers for each purchase and offers certificates that clients can unlock as they spend a certain amount. 
Traditionally, they rely on an automated rewards system — their clients don't need to carry a plastic card around to use their bonuses. 
However, such a seamless experience has led to customers forgetting about the loyalty program altogether. 
So, DSW started a personalised email campaign. 
Each client receives an email telling them how many points are there on their account, how many more they need to get their next certificate, and how much they saved for the time they have been a loyalty member.
Use feedback to improve
People rely on other customers' opinions to decide whether a brand is trustworthy. 
So, reviews and ratings from your satisfied clients should be the core of your marketing strategy. 
Has someone left a favourable comment about your product? Showcase that to your audience! 
This requires social listening, and many brands try to make it easier for themselves to monitor what has been said about them. 
They engage customers to boast their purchases on social media by creating a branded hashtag.
Don't forget that customers today crave communication with their favourite brands. 
Make sure you have an open channel, create a customer satisfaction survey — and use their answers to make the necessary changes in your service. 
Remember to tell them what exactly you have done and what new issue you have resolved for your clients.
Have you seen the Airbnb Instagram?
Before COVID-19, the company did not generate any content. Instead, they let their customers create the brand story. 
And they always give references, so people get more following and thus are stimulated to create even more posts and visuals relevant to the company.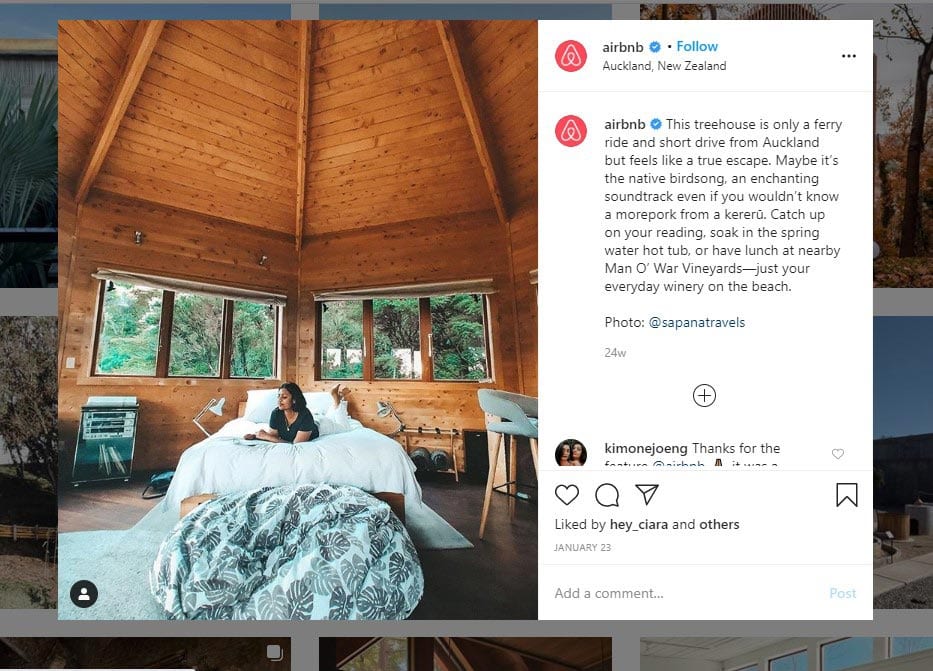 Final words
Use these tips for building Brand loyalty as inspiration for your next marketing campaign. 
By investing in your brand image, customer engagement, understanding what makes your audience tick, you become more than a seller to them. 
Being personal with your customers, you tell them you have all that's needed to become their friend.
Author Bio: Lidia Bondarenko is a PR and outreach specialist at HelpCrunch, an all-in-one customer communication platform. Her professional experience encompasses customer service improvement, social media marketing, and SEO. Her free time she spends searching for new marketing trends and tv shows and practising yoga. Follow her on Twitter @Liya_Bondarenko.
Top 10 Books on Building Brand Loyalty
Bestseller No. 1
Bestseller No. 2
150 Pieces Heart Shaped Lash Extension Refill Filler Loyalty Punch Cards with Metal Single Handheld Hole Paper Punch Puncher for Eyelash Extensions Business Beauty Salons DIY Craft Decoration
What you receive: there are 150 pieces of eyelash punch cards, with letters printed in elegant font, beautiful style and sufficient quantity, and together with 1 piece handheld metal paper punch puncher with grip, a practical combination for you
Reliable material: lash extension refill filler cards are made of thick cardstock, waterproof and dust-proof to use, lightweight and portable, convenient to carry and store, not easy to be wrinkled or faded, can serve you for a long time; Handheld hole paper punch puncher with soft handle is rustproof and easy to handle
Practical design: these loyalty punch cards are printed on both sides, easy, simple and elegant design makes it look graceful and novel, with smooth surface and cool tactility, can easily attract your guests' and costumers' favor and compliment; Each hand-held hole punch with clippings is receptacle to catch the hole scraps to reduce mess
Suitable size: the lash loyalty punch card measures approx. 3.5 x 2 inches, which is a proper size for eyelash makeup learners, makeup artists and makeup favors, the handheld metal single hole paper punch puncher with grip fits for 36 mm depth into the paper, not for bank card or hard cardboard
Functions: the pink lash loyalty punch card design of these customer loyalty cards can add more vigorous feeling to each lash extension refill, these cards can also allow your clients to write some praises or suggestions to eyelash technicians; This heart shaped single handheld hole paper punch puncher matches our lash loyalty punch cards well, through this, you can effectively carry out a statistical feedback
Sale
Bestseller No. 3
Creating Brand Loyalty
Used Book in Good Condition
Czerniawski, Richard D. (Author)
English (Publication Language)
298 Pages - 12/01/1999 (Publication Date) - Hudson House Publishing (Publisher)
Bestseller No. 4
100 Pieces Watercolor Reward Punch Cards Customer Loyalty Cards Incentive Cards Business Card Size for Business, Class, School
Large quantity and various styles: the package contains 100 pieces punch cards in 4 different styles and 25 pieces per style, each card is approx. 3.5 x 2 inch; Large in quantity and bright in color, these colorful punch cards are suitable for many occasions
Punch design: incentive card has 4 different styles, vibrant patterns and colors, and is printed with letters like 'punch cards', '10 punches equals', etc., simple and generous; All styles are vivid and eye-catching, blank back design allows you to send other messages to students; Punch design 1 to 10 score, you can punch in according score
Durable material: customer loyalty cards are made of quality copperplate paper, thick enough for various writing tools, such as ballpoint pens, watercolor pens, fine-tip neutral pens, ink and pencils, and the ink will not penetrate to the back, keeping business card clean and neat
Suitable for the crowd: these watercolor punch cards can be customer loyalty cards to impress your customers, also able to be incentive cards to encourage kids to behave well and develop a nice habits in completing tasks, doing housework, etc.
Applicable occasions: these business punch cards have blank sides where you can write custom details or other information, available for a variety of applications, such as home, school or business use, serving as a loyalty card in small businesses, such as boutiques, hair salons, spa shop, photographic studio, bake shop, etc.
Bestseller No. 5
Bestseller No. 6
Bestseller No. 7
Bestseller No. 8
Bestseller No. 9
50 Pink Watercolor Reward Punch Cards | Customer Loyalty Cards | Incentive Cards
50 Reward Punch Cards | Customer Loyalty Program Cards
Cards measure 3.5" by 2" (Standard Business Card Size)
Great for Small Businesses (Boutiques, Hair Salons, Stylists, Spas, Photography, Etc) to use for customer loyalty reward programs
Feminine Pink Watercolor Design - Thank You printed on back side of cards
Heavy-Weight Card Stock | Designed and Printed in USA
Bestseller No. 10
Last update on 2021-07-25 / Affiliate links / Images from Amazon Product Advertising API