How to Keep your Brand Design Consistent Across Platforms
Keeping your brand design consistent across all platforms is like rule number one of marketing.
The more consistent your messaging is, the more likely people are to remember your brand.
However, for new, not-yet-quite-established brands in the early stages, it can be a tricky thing to master.
This is especially the case when dealing with offline and online marketing.
So, just how do you make sure that your brand design remains consistent across all platforms?
Here's a comprehensive guide with everything you need to know about keeping a brand design consistent.
Create a Brand Book
When you first start a business and begin to employ staff, it's usually a given that some sort of employee handbook is written.
The same should go for your company branding.
This book will let everyone who comes into contact with it know exactly how you wish for your brand to be presented.
Just because you know every detail about your brand design, doesn't mean that your team will – much less third parties.
This style guide should contain the following information:
Typography and accepted fonts
Colour palette including Pantone colours
Appropriate logo spacing
Ideal logo sizes
Examples of how not to re-create the branding
All in all, this brand book should explore your brand identity.
By putting this book together, you're creating a fool-proof guide, so you must include even the most basic of information.
Invite the reader to ask you questions about anything they're unsure of, just in case you've missed any details that are relevant to the task.
Ensure they're aware of how seriously you take your brand design. This stops them from taking any risks with it.
Establish Platform Guidelines
As previously stated, most brands have unique requirements that third parties are expected to comply with, and this can differ on various platforms.
Brand guidelines generally refer to the design of the logo and all visual aspects of the brand, though the tone also needs to be taken into consideration.
Always keep this in mind when creating new banners or adverts for marketing purposes, and don't stray from what the brand stands for.
Each platform will have different options when it comes to how your brand comes across.
And social media channels can widely differ in the audience, media and strategy.
Below are some tips on how you may wish to keep your brand design consistent on each platform:
LinkedIn – A social networking site for professionals. All content should be geared towards making corporate connections.
Facebook – Good for posting a combination of media; both visual and long-form textual content. Able to target most demographics through paid advertising.
YouTube – The biggest video sharing platform. Good for creating engaging videos for a young demographic.
Instagram – Focuses on visual content, both videos and photos. Great for showing off your brand design and identity.
Twitter – Only accepts a limited number of characters, so tweets need to be engaging and concise. Good for sharing blog posts and driving traffic to your site.
Sale
Though they're all very different platforms, your brand voice and design should remain the same across the board.
So, how do you achieve this? By following your brand guidelines on each site.
Make your profile picture and cover image the same on every platform and show off your logo wherever possible.
You should also repurpose content, so, for example, tweeting a picture of your latest Instagram post.
Stay in character – don't let your brand voice change. More on this below.
Setting the Tone
Your brand tone is unique to you.
Pretend your brand is a person, what would he or she sound like when they're speaking?
This persona communicates directly to your customers and the rest of the world through your various marketing campaigns and social posts.
When setting the tone for your brand, you need to consider two factors:
What is your brand message? This should be the same as your mission statement. Who you are and what you hope to achieve. The very nature of your brand will mean that you naturally begin to tailor the voice to suit what you're trying to represent.
Who is your audience? There's a huge difference between colloquial language and corporate jargon, and the two shouldn't ever cross when it comes to the different target demographics.
If you're trying to reach older white-collar workers, then corporate jargon is a deal.
On the other hand, if you're marketing a new product to college students, then corporate-speak wouldn't go down well.
It's all about knowing your audience.
Most importantly – make sure your brand voice is easily recognised!
Just like your brand design, the tone of your brand should be distinguishable from other brands.
Innocent Smoothies have done an excellent job of this, creating a name for themselves in an otherwise crowded market thanks to their clever brand design and voice.
Bring Offline to Online
It comes as no surprise that most branding efforts are focused on the internet or apps. The way technology is headed, Alexa developer work has made it possible for adverts to be played through to a family's home device.
This, along with other advances in technology, has made it even more tempting to stick with online marketing.
However, this doesn't mean that your business's offline presence should be ignored.
In fact, there's a whole other audience that you're isolating if you simply concentrate your marketing online.
This means that where you're launching a huge campaign across multiple platforms such as newspapers, the internet and billboards – it's more important than ever to keep it consistent.
Whether you're speaking to a conference hall full of people or meeting a potential client for lunch, your offline brand should match your online brand when it comes to tone, style and message.
It can be useful to run offline and online campaigns alongside one another, instead of targeting each area individually.
Partner With the Sales Team
Your marketing and sales team should work together closely when it comes to launching new marketing strategies.
The sales team has an unmatched front-line experience that will be able to provide you with a special insight as to why a piece of content may not be working.
They may feedback on some pointers that you can change, for example, if they think the brand message isn't being consistent across all platforms, you can alter this.
This constant communication will undoubtedly help the brand stay consistent, as you'll have both teams working towards a common goal – to ensure the marketing campaign is as successful as possible.
Ensure Resources Are Available Across Departments
It's all well and good having brand guidelines, but if you don't provide the necessary resources to relevant staff members it can quickly fall apart.
For example, without a central .png file for your company logo, someone may resort to copying it from elsewhere.
Or worse, screenshotting it.
The more diluted this image becomes from the original, the worse it will appear.
A pixelated logo is one thing, but it can be especially painful to see circulated by your own staff members.
To avoid this issue, create a shared file on a shared company network that provides all the necessary files.
This should ideally include logo, headers for official letters, email templates, etc.
If presentations outside of the company are also frequent, then ensure some form of template is provided for this as well.
And if outside printed resources–posters, pamphlets and the like–are being produced, then this needs to be the responsibility of one key person.
This way you are able to keep your brand design consistent across the materials.
As, otherwise, you could find yourself with very different materials that do not match your brand message at all.
Are You Creating a Consistent Brand Experience?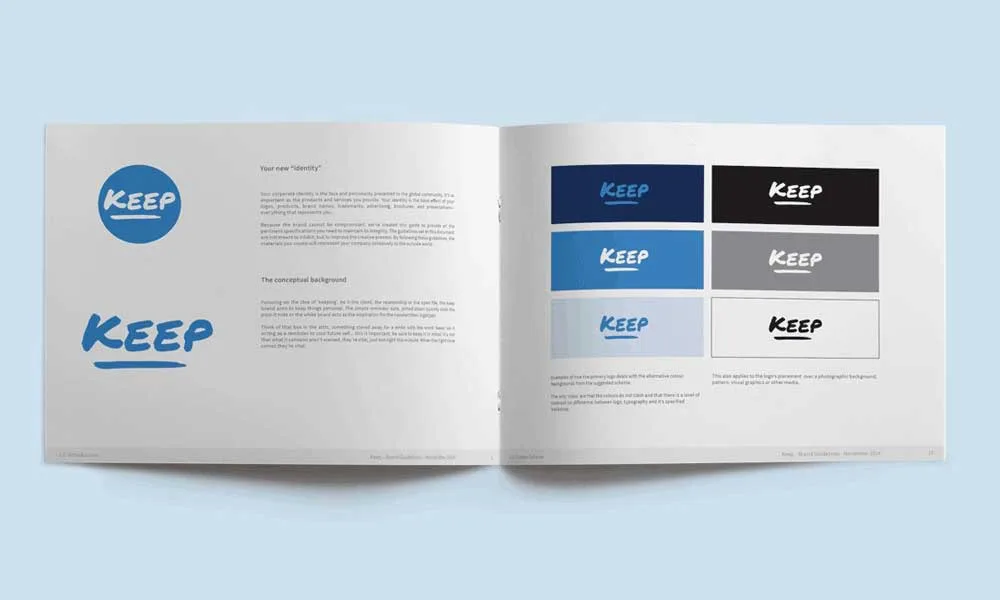 Marketing techniques have become as simple as saying something funny in a tweet and watching it get retweeted thousands of times, all the while reaching a new audience in the process.
So, with it becoming such an "easy" and simplified version of what it was, it can also be easier to make a few mistakes and mishaps along the way.
Especially when it comes to crafting a brand identity.
The desire to create engaging content quickly can result in confusing or distracting elements that distract entirely from the point of the message you've worked hard to establish.
And remember, people may never really appreciate or understand the difficulty in creating a cohesive and consistent brand experience.
But, they will notice if you produce a widely different experience across platforms. So, try to avoid this at all costs.
Final Thoughts on Keeping a Brand Design Consistent
Abiding by the above branding guidelines will put you in good stead when it comes to keeping your brand design consistent across all platforms.
Some variation is normal but, wherever possible, you should be striving for consistency across the brand.
Educate your staff, give them access to the appropriate resources and don't sit idly by!
Branding is one of the key elements of your business, so make sure it sends the right message.
And not one of a brand that doesn't know who they are.
Last update on 2023-09-22 / Affiliate links / Images from Amazon Product Advertising API