Top 12 Graphic Design Fonts Used by the Professionals
As a graphic designer, it's essential to master creating business cards, brochures, logos, and other materials that can work both as marketing materials and visual aids.
However, a lot of inexperienced designers forget about one simple, yet crucial element in all these designs – fonts.
In the past, there weren't many options to choose from, but today there are so many font options for designers to choose from that they can easily get carried away and include something that simply doesn't "do the trick".
Overthinking is one of the most significant issues, so to help you avoid doing that, we've picked out the twelve best graphic design fonts that professionals use and you should too.
This font is so popular that everyone has heard of it, even people who don't have anything to do with design.
You can find Helvetica in every possible software that allows users to write.
It's used heavily by both professionals in various fields as well as non-professionals.
This doesn't make it any less appealing even though some argue that it is overused.
However, if you want to deliver a message clearly and directly, Helvetica is the right way to go.
Still, it can't and shouldn't always be used, as some people think.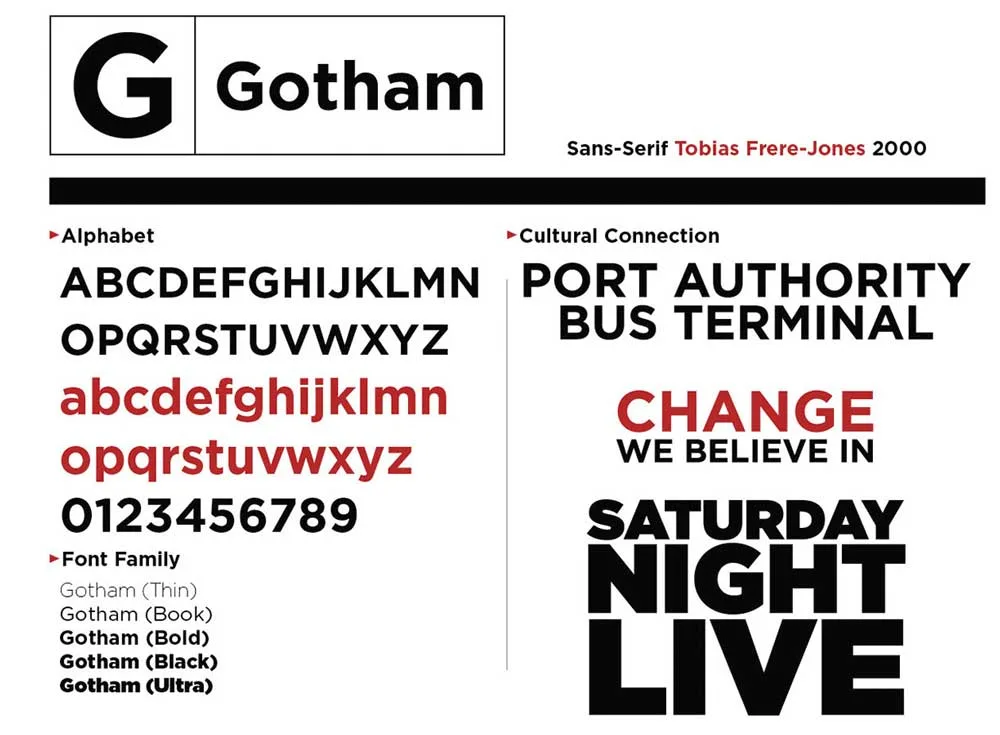 This lettering is inspired by thousands of signs across New York, and it has a lot of authority and functionality, which made it very popular in the design world.
What's even better is the fact that many different styles come in different widths and heights.
You can find ultra slim options, narrow or thick styles which makes it one of the most appropriate graphic design fonts for the web as well as top print designs.
Simply put, Gotham is very modern at the moment.
It has a clean look that conveys the message.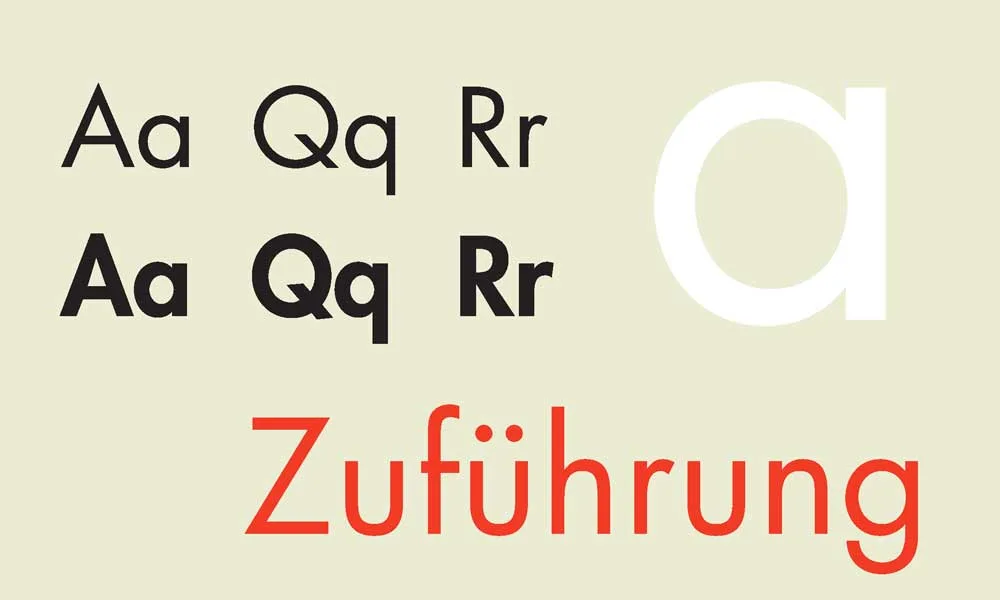 This is one of the first ever typefaces that fit into the modernist category.
At the same time, Futura is a sans-serif font that is very versatile.
Even though it is almost 100 years old and many other sans-serif fonts were "invented" during its time, it is still regarded as one of the most versatile graphic design fonts.
What's great about it is that it can be easily inserted in various types of layouts and look immersive while not taking attention away from the whole design.
It is mostly used with large displays, books with small texts, corporate branding typefaces, and company logos.
At its core, it relies on squares, triangles, and circles to create its style.
If you intend to create a design that is luxurious and special, then Didot is the right choice of font.
It brings out the elegance in your designs, and the name is quite similar to Dior, which makes sense, given its effect.
If you want to have a classic look that inspires style and elegance, then this is one of the best design fonts.
There are also different versions of Didot which are slimmer, thicker, shorter, and longer, allowing you to fit them into different designs effectively.
The Didot styles is a classic French design, but it has a contemporary twist in its geometry which makes it more interesting.
Garamond is one of the best graphic design fonts used for textbooks, magazines, fashion blogs, websites, and generally long texts that need to look appealing.
It's the second most popular font after Helvetica and some might say, the second best.
It also comes in many different versions.
The most popular one at the moment is Adobe Garamond. This is a traditional style serif typeface which was created by looking at the designs of an engraver that lived in the 16th century.
This means that this serif is more romantic and rounded than the newer fonts and it has an organic design.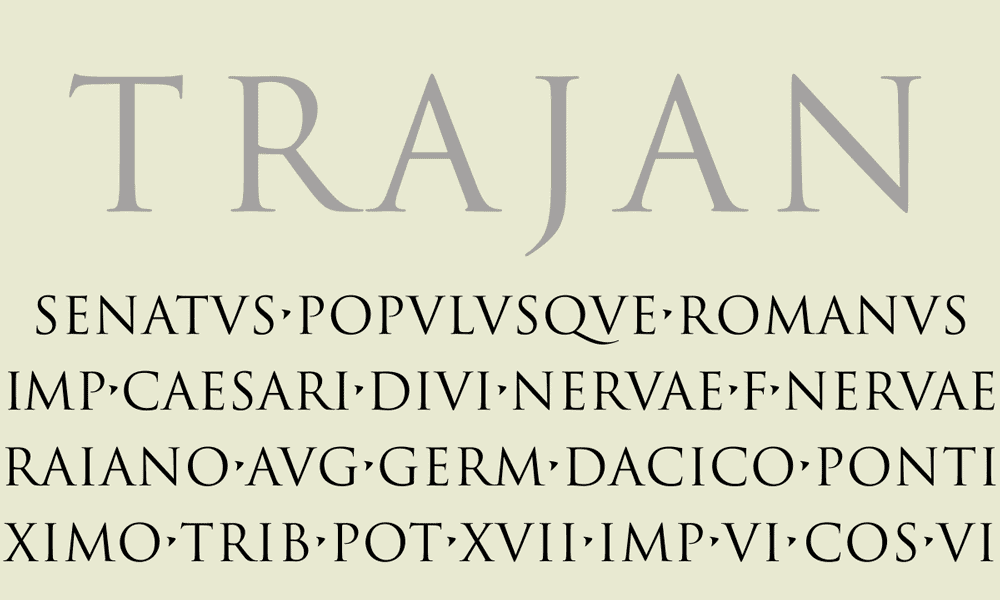 This is a traditional serif typeface that was inspired by Roman square capitals, and this is where it gets its name.
It's used in many movie posters and can be applied to designs that have something to do with history, tradition, law, religion, class, and so on.
Even though it's not that old, its roots go back to the 16th century and look very ancient, which can sometimes be ideal.
Initially, this serif typeface was designed for Adobe and today there are hundreds of different variations of Trajan.
Many people might argue that it is "overused" but it is a fact that this font works and, if you use it, nobody will notice it except, of course, other designers.
Rooney is a modern typeface that has quickly grown in popularity due to its excellent effect on screen.
In most cases, it's used for websites and applications as it has a friendly, warm feel, while not looking too cheerful or tacky.
It has six different weights and can be used for both large applications and small ones.
This serif typeface was designed to create a new font that will have a rounded typeface while not being unserious.
With softer curves and well-rounded shapes, this font gives smoothness and warmth to designs.
This type has a lot of versatility, and there are many different versions, but they can also be manually edited within the design to get an even more distinctive feel.
This font is ideal for logo designs, short decorative texts, and headlines that need to draw attention.
This font is a serif without brackets and a tight structure of flat lines.
It gives contrast as it has both thick and thin lines and the whole geometry of this font makes it very aesthetic.
With Bodoni, you can create an aspirational and luxurious look with your designs.
At the same time, Bodoni brings in a bit of compression, and this creates a bit of a retro feel.
To make your designs have an expensive, exclusive, and intellectual look, make sure to use this font.
In case your graphic design is centred on logos and posters, then the Reis font is your go-to option.
It's a modern handwritten font that gives the feeling of both digital and physical writing.
Many graphic designers use it, and it can often be found on logos and design posters.
Due to its double-sided nature, it's both suitable for commercial use, as well as personal.
It has an informal look, and it looks great on most posters, allowing you to deliver a message in a casual, but effective way.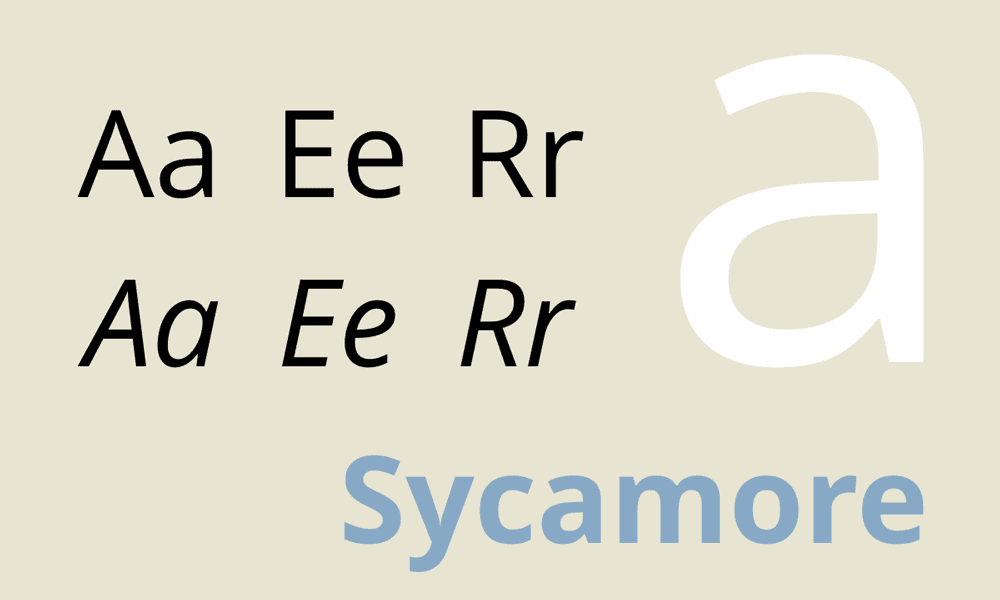 The Open Sans font is ideal in combinations with flat designs.
What makes it different than other sans fonts is that it has a more neutral and cleaner look.
This is why it is very versatile and why many web designs and print layouts use it.
Still, due to its neutrality, it cannot make a design recognisable, and other elements on the screen need to make up for this.
Google sponsored this serif typeface, and it was designed to have open forms and upright stress while at the same time being neutral but inviting and friendly.
It can both be used for large screens and small designs.
Even today, Google uses it for many pages and advertisements.
The Caslon serif typeface was first invented in the 18th century by William Caslon.
Even though these typefaces are old, they have a style which is very organic and simply beautiful.
These properties make this font consistently relevant and fresh-looking, even today.
Even though this serif font is old-fashioned, it is still trendy because of its everlastingness.
If you want to romanticise your designs or add a bit of depth and warmth, this font is the right choice of graphic design fonts for your work.
This font is also very versatile as it can be used for both headlines and body texts as it has excellent italic weight.
Anders is one of the newest fonts that hasn't yet achieved such significant popularity, but we expect it will be big.
Tom Anders said that he created this font as an experiment and that his goal was to create a unique font that will have a modern design with minimal style.
This is precisely what this graphic design font represents: a simple, minimalistic typeface which is great for designs that are made today.
Its lines on the letters are great for creating space.
This makes this font perfect for smaller applications including business cards, promo materials, and advertisements.
At the same time, the double lines on the letters make the whole font look more unique.
If you want to be a successful graphic designer with the right fonts, these are your bread and butter.
Make sure to learn when the specific graphic design fonts are adequate for your design and you will be able to bring your work to a whole new level.
---
If you wish to discuss how we can develop your brand or provide graphic design for your product or business, email us: he***@in**********.com
Inkbot Design is a Creative Branding Agency that is passionate about effective Graphic Design, Brand Identity, Logos and Web Design.
T: @inkbotdesign F: /inkbotdesign
---