9 Things to Consider when Designing an eCommerce Website
Almost all online entrepreneurs want the same things when designing an eCommerce website – they want it to be a sales booster, a lead magnet, a differentiator and a miracle worker! Without a great website, it rarely happens!
Even with a great product line and a long list of loyal customers, most outdated sites with obsolete features aren't helping you much with sales. You need a modern, user-friendly, as-unique-as-your-business website that can launch you firmly on the sales trajectory.
However, simply having a website doesn't necessarily guarantee success. The chances of your sales graph nose-diving are high with a poorly designed site.
Customers won't take your business seriously if your website design is clumsy, colours jarring, content riddled with mistakes and outdated.
According to a report, nearly 75% of online users judge the website's credibility based on its aesthetic appeal.
So, design matters, and it sells.
There was a time – yes, there was – before e-commerce took over when businesses spent time, effort and money creating the best store for customers to walk into.
Get into any store of a reputed business, and you can see their use of brand elements, clean spaces, bright colours, and elegant design evident throughout the store.
This exceptional shopping experience is now being translated into e-stores as well. However, designing an eCommerce store and ensuring consistent traffic is way more challenging than designing a brick-and-mortar store.
That's because it's easier for visitors to exit from a horrible e-shopping experience – at any stage of the process.
Whether you like it or not, your customers believe that your business' quality is related to your website's quality.
You can't just have any website design and expect it to give you the sales you are after. You need the right – the almost perfect – website that can subtly compel your customers to make purchases.
Let's dive in together to determine what points you should consider while designing your eCommerce website.
1 – Go Minimalistic!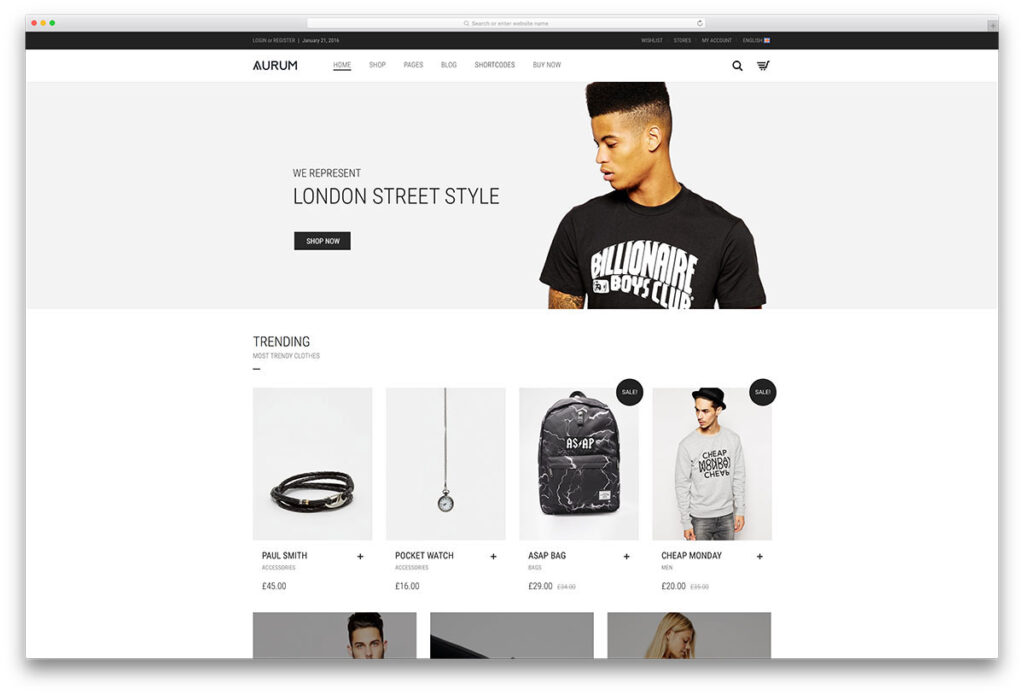 Do first impressions matter? Well, yes, they do! We are all guilty of unconsciously judging a book (e-store in this case!) by its cover.
94% of the first impressions created by a website are related to its design.
However, don't go overboard with the design. A good rule of thumb for designing a website is following the KISS model – Keep it Super Simple.
You don't want to bombard your visitors with many colours or fonts.
Use high-quality images and colours to your advantage. Colours inspire emotions and feelings in people if used well; colours can even get customers to perform required actions.
While designing the website, pay special attention to the above-the-fold area of the site.
Draw attention!
When it comes to designing an eCommerce store, less is always more. Consider a design concept; make sure it matches your brand before committing to it.
Excessive use of the design on the web page will impact page ranking and speed and confuse your visitors.
Imagine you are looking for a specific product on a website, and you have to sift through all the jarring colours, screaming POP-UPs and banner Ads!
Too many elements take away the whole point of having a website – to make a sale!
Offer your customers a clear, simple, concept-based design that resonates with your brand.
Pick a UX Writer Over a Regular Copywriter
You'll understand this better with a simple example – there are chances that you might be stumped if you came across a pop-up that says "Authentication error has occurred." You will likely understand a simpler "You've entered an incorrect password."
Copywriters are perfect when you want a sales copy. But picking a UX writer does the trick when you need to provide simple and valuable information to end-users.
Tell a Story
Who doesn't like stories?
We all are storytellers by nature. We not only enjoy telling a good story but also like listening to one. As an eCommerce business owner, you should find ways to incorporate story elements in your design.
Your company has a story and a vision, and you cultivated the idea with passion, and it finally took shape. When you tell this in the form of design, you are forming a connection with your customers.
Your eCommerce website becomes memorable. It has a personality now. In a world of digital connections, you'll be able to develop personal and emotional relationships.  
2 – Quality Breeds Trust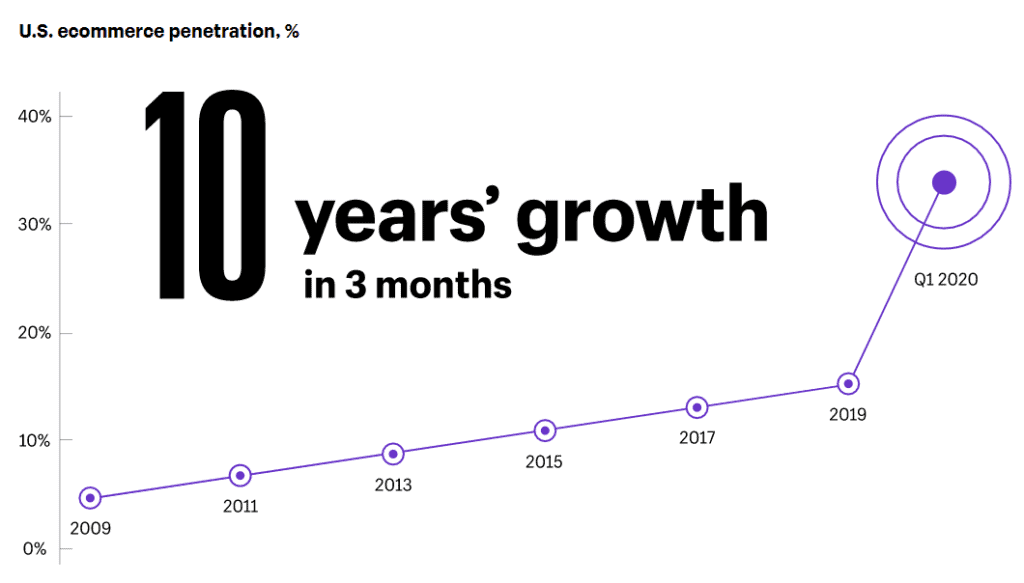 Have you ever visited a website that had a different layout and design on each page?
Or one that was next to impossible to navigate (even with a map!)?
Such design flaws are fatal to the overall appeal of the site. A fantastic product catalogue won't save your store if you have these 'design disasters' on your site.
To improve your store's recall value, you should have a clear and consistent design throughout the website. Make sure you incorporate the same design and thematic elements across the pages.
Your customers will know that you are conscious of your brand image and take quality seriously. A sloppy design will keep away traffic for good! With a consistent design, you lend a professional touch to your site.
Brand Identity
Everyone wants to buy from reputed brands, not from a faceless e-commerce nobody! If you build trust, make sure you have given your branding a good thought. 
Take time to define your brand, identify your core customers, and identify your personality. Now, infuse these elements into your web design.
You'll have better chances of earning your customers' trust when you are projected as a strong brand.
Show Distinguished Trust Seals
Most visitors shy away from making the final purchase if they are concerned about your site's security and privacy protection.
Prominently place recognised trust seals to reassure customers that their payment information or private data is protected.
Add Reviews and Testimonials
Product reviews and testimonials add credibility to the website. 85% of users consider website reviews as trustworthy as personal recommendations. 
When you add video reviews from satisfied customers, you help undecided shoppers take the final sales decision.
Besides, you'll be able to boost your store's credibility if you put in both positive and negative reviews of your products.
3 – Mobile responsive
Mobile is at the forefront of the eCommerce business. 55% of traffic to sites across industries is from smartphones.
Even with the rise in e-commerce, many stores are not looking at higher conversion rates on mobile phones. The reason is – poorly designed and badly optimised mobile stores.
One reason brands cannot provide an enhanced shopping experience on mobile phones is the limited real estate available on smartphones.
There is only so much space available that it becomes all the more important to focus on the location of content, images and CTA while designing.
Faster page loading on mobile also has an impact on conversion rates. Even a mere 0.1-second decrease in the loading speed positively affects business sales.
4 – Aim for Faster Page Loading Time
There are two reasons why a poorly designed website can wreak havoc on your store's traffic and revenue.
First – your store's visitors won't be too willing to hang around for a slow website to load. A lot of images and videos on your website are going to impact its page load speed. Customers are more likely to search for faster loading stores.
Next, Google could penalise you for slower site speed. Its algorithm is designed in such a way that it takes into account page speed for page ranking. So, if your site is slower, your site might end up on the second or third page of SERPs. If you are on the second page of Google, your store traffic will take a hit.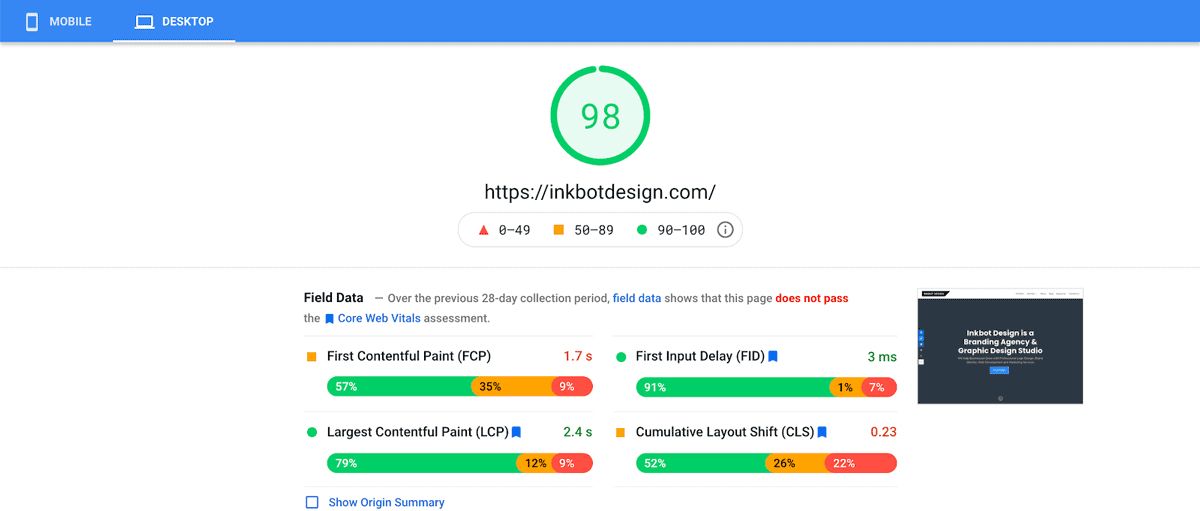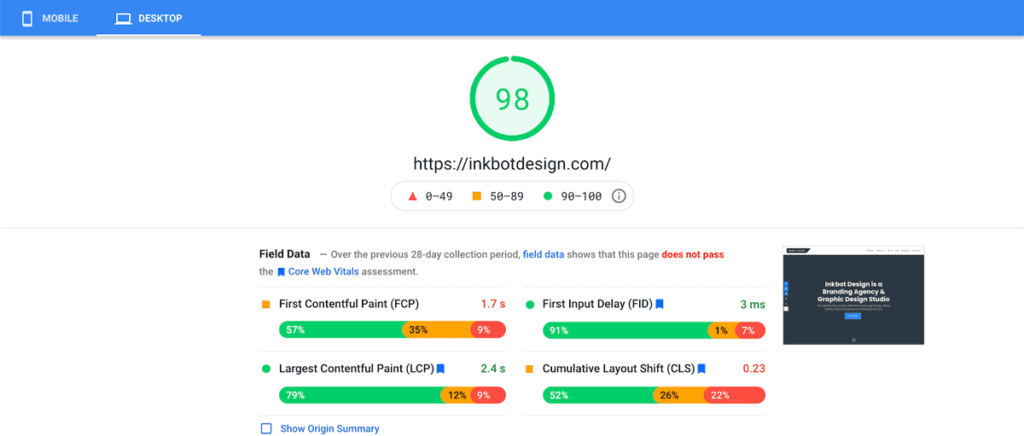 5 – Scalable and Customisable
It would help if you planned for the future – even when designing an eCommerce website. 
The future of eCommerce is promising, unpredictable and challenging. You should have a design that satisfies your business needs right now and can adapt to future demands.
You don't want to be stuck in the mould – a custom store design can help you go a long way. If you don't have the technical prowess in designing, you can engage an experienced eCommerce website design & development company to help you out.
6 – Make the Content Easy-to-Scan
Your customers will not spend precious minutes reading your long winding product descriptions – a hard fact but true! 
You might've spent hours writing the perfect copy, yet your customers aren't going to read every word. They'll search and scan the text to understand the gist.
It would help if you tried breaking the content into easy-to-scan categories. Use simple words – you don't want your visitors running for their thesaurus just to read your content! 
Use bullet points, tables, images, and bold call-to-action buttons to draw their attention toward important information.
However tempting, refrain from turning your Homepage into a product listing catalogue. You want to get your customers buying your products off the shelves, but don't get them into a buying frenzy the minute they click in.
Have an eye-catching title – short, memorable and descriptive. Add a noticeable non-generic CTA – use colours to create a sense of urgency.

Your website visitors shouldn't require a map to move around. If your customers have to click on ten different categories to find the product they are looking for, you can be sure that their next click will be on your competitor's website.
Make product pages easy to navigate to and search for. You can incorporate filters, in-page search and sort product category features on your site.
With a clear navigation path, you can funnel your customers to the checkout page before they start getting tired or lose interest mid-way to the cart.
8 – Cater to the Cart Design
One final hurdle in the eCommerce business, perhaps the most significant, is the product checkout process. Make sure – and we can't stress this enough – to have an easy and hassle-free cart checkout process.
A poorly designed cart design and checkout is a certain sale-killer. A cart design shouldn't be over complicated, lengthy, and look shady.
Your customers are going to remember the experience they had in your store. So, you must make their shopping cart experience as seamless and straightforward as possible.
9 – Provide Multiple Payment Options
You have funnelled your customers to the payment page – everything is going well! When you might be tempted to heave a sigh of relief, there is yet another hurdle you might have to cross. 
Customers who don't find their favourite payment option will likely quit the purchase.
Designing a system that accepts various payment options is not expensive or time-consuming. You don't have to add obscure payment types to your website, but missing out on popular and trusted ones like PayPal might spell disastrous to your sales. 
Wrapping Up
Designing an eCommerce website takes time, effort, and money. The first step to a great website is hiring a website development company. 
Take your time in figuring out the right design for your store, keeping your customers, your products and your unique selling point in mind.
Be willing to experiment, accept changes, fail, test and rework the product. Don't expect to get everything right from the word go.
Once you are finished designing, test your website at every stage of the sales process. Be ready to make changes if the numbers don't improve. 
Ditch the Green for the Red if a Red CTA brings in better conversion. Make the header on the Homepage bigger if it can bring in more traffic.
Design is not an exact science – some might find your store design terrific, while some could find it terrible. Either way, you can't satisfy them all.
All you have to consider while designing your store's website is your customers, target market, product, the user experience you want to provide, brand personality and budget. Always keep your customer in mind when designing an eCommerce website.
Author Bio: John is the President and Co-Founder of WebDesk Solution, LLC. Living the digital agency life for over ten years, he explores an extensive eCommerce world. He has immense experience in all major e-commerce platforms and has expertise in Shopify development. Being a nature lover, he likes to breathe the fresh air on the hill stations during vacations.