The Top 10 Best Fonts for 2019
A font can instantly evoke a certain kind of reaction.
Picture the fonts used for Star Wars, Walt Disney and Harry Potter, and you're immediately transported into their world.
Pick the right font for your business, and you can do the same.
We've nothing against Times New Roman, but this blog looks at some of the fonts you really should be using this year.
Best fonts for 2019
We've looked through some of the 130,000 fonts available for purchase at www.myfonts.com and picked out some of our favourites that match the trends you can expect to be popular this year.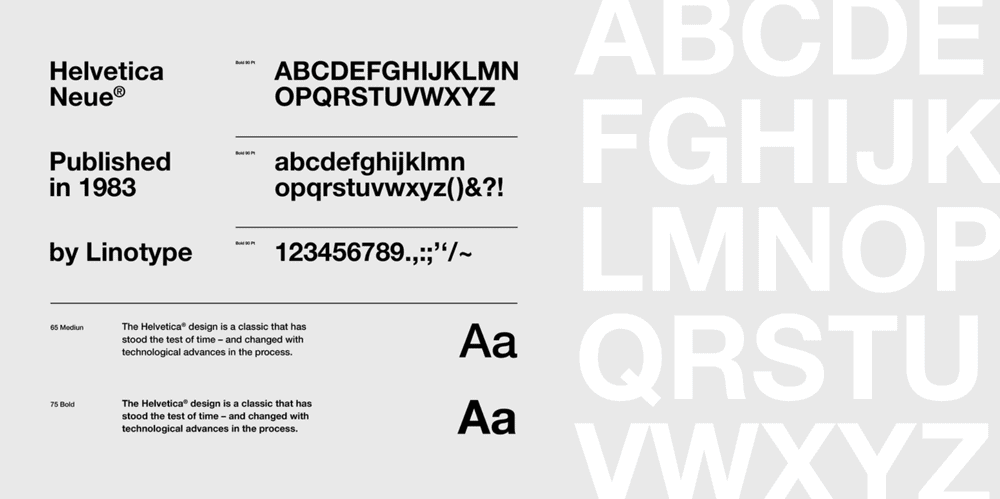 What better place to start than at the top of the current Best Sellers list.
It's easy to see why Neue Helvetica is so popular at the moment thanks to its clean and crisp typeface.
It's minimalist and lets your content do the talking.
This font is part of many vintage and classic styles that are increasing in popularity.
Vintage or retro fonts are useful for when you're trying to tap into a customer's past.
By targeting their nostalgia, you're forming an emotional connection that encourages them to find out more.
Bignord Vintage is more historical than nostalgic, encouraging customers that have an interest in history and society to take a look.
We expect handwritten fonts to be even more popular this year and Authenia is an excellent example of this.
Small businesses that sell directly to customers are especially fond of handwritten fonts because they humanise their business.
With a handwriting-style font, you feel as though you're dealing with a real person, rather than a faceless company, which makes you more likely to want to buy from them.
We like Baro for many reasons.
The bold typeface really stands out and would be perfect for making sure you catch someone's eye.
The overlaid chromatic typesetting creates layers and adds depth.
Plus, the use of colour really makes the text pop.
Why restrict yourself to black and white?
Cutouts and overlays are a trend that we think will be popular this year.
It's a great use of negative space and looks fantastic when used over imagery.
P22 Blanco Neg is useful if you're trying to make a bold statement that combines both images and text.
Professional, yet gothic in style, Neue Haas Grotesk is versatile, making suitable for a museum as well as a law firm.
It's an updated traditional font that we think will be ideal for events and exhibitions marketing.
Want your font to immediately show someone that you're professional, established and trustworthy?
Look no further than Pluto.
It's elegant, friendly and the font of a business that you've visited for years and years.
If your brand is all about the great outdoors or nature, then Nexa Rust is perfect for transporting the reader outside.
The font is rugged, bold and has an almost weathered feel.
Because of the rustic and robust connotations, this font is ideal for small businesses that sell outdoor equipment, winter clothing or organic food.
We love the contemporary feel of Adventures Unlimited.
Its laid-back and carefree style makes it perfect as branding for small businesses that are trying to target a cool and fun demographic.
You'll see this font at bars, restaurants and on t-shirts this year.
How do you immediately show customers that you're creative, fun and vibrant?
With a font like Wild Bloom.
It's whimsical, playful and can be enjoyed by both kids and adults alike.
The bold and colourful font grabs the eye of someone who's passing by and demands their attention.
Perfect for standing out from the competition.
How Do You Know Which Font to Choose?
These are our ten current favourites on the myfonts.com website, but not all of them are right for you.
Just because you like the look of a font, it doesn't mean that it's good for your business.
It's not a decision you should take lightly.
A font can be the difference between you grabbing someone's attention and them looking elsewhere after having an adverse reaction.
If you're choosing a font for the first time, then there are a few questions you can ask yourself so that you make the right choice.
Who's Your Ideal Customer?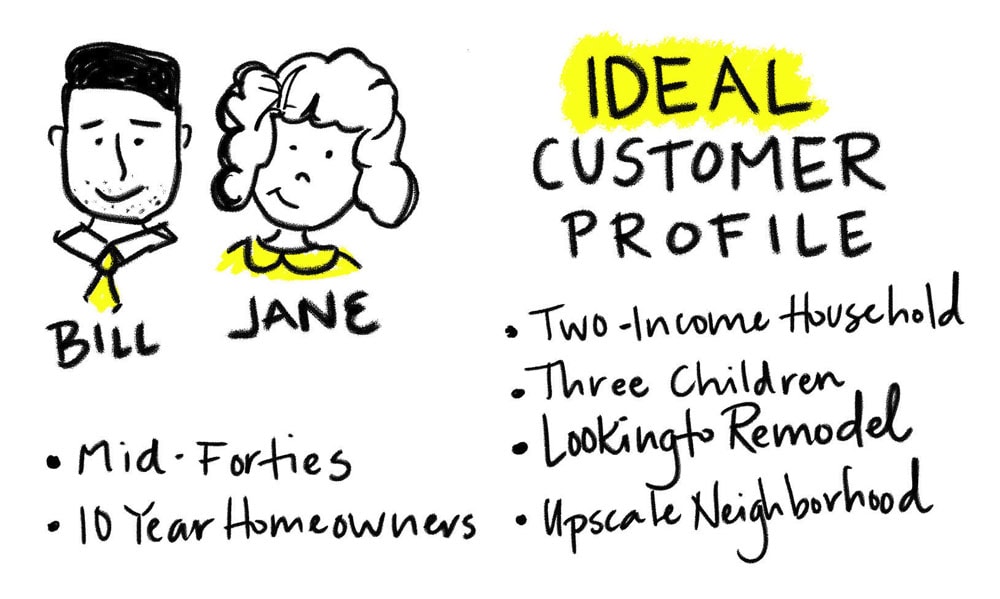 It's essential you have a good idea of your target audience anyway, but especially when it comes to your online branding.
You need to know what kind of fonts your ideal customer will be attracted to and which are good fits for your business.
When making any business decision, it's worth having your target customer in your mind and thinking about how it would impact them.
If you haven't already thought about your ideal customer, then you can create them by considering a few questions.
How old are they?
Are they male or female? Is that important to your business?
What's their job and how much do they earn?
Where do they live and do they commute to work?
Do they have a family, children and pets?
Do they shop for themselves or the whole family?
What are their hobbies and interests? How do they spend their weekends?
Do they shop online or do they prefer brick and mortar stores?
Are they active on social media or are they more likely to have seen a television ad?
Answer these questions, and you'll begin to put a person together.
Decide everything about them, give them a name and then think about how they'll feel about your branding, fonts, special offers and everything else.
If there's a reason they won't like it, then make a change.
What Do Your Customers Want to See?
Different demographics look for different things when they're shopping around.
Parents who want something family-friendly will love fonts like Wild Bloom because it shows them that you're a business that caters for the kids.
If you're a high-end bar, then your font should reflect that.
You might turn some customers away if your branding uses a font like Authenia.
Although the handwritten-style font is great, it's not the right tone for a luxury bar.
The same considerations need to be made when you're deciding which colours to use for your fonts.
Black is classic, stylish and sophisticated but that might not be the tone you're trying to achieve.
It's also pretty common, so if you're really looking to make a statement, it's worth considering something else.
Although we've just said that certain fonts don't work with some tones, there are no absolute rules that you need to stick to.
Sometimes, you make the biggest impression by subverting what a customer expects to see.
If you're a marketing company, then a customer may expect to see a fairly standard, professional font.
However, by using something like Baro, you show that you're not afraid to take risks, stand out from the crowd and show off your creative side – all traits that someone might look for in a marketing agency.
You've Made Your Decision – But is it the Right One?
Before committing to your decision, narrow down your choices and mock up your branding with each font.
Take some time to get used to them and see how you feel after some time has passed.
Then, when you've made your choice, it's time to get some feedback.
It's always worth getting different opinions on something before ultimately committing to it.
You can change your font in the future, but this can be inconvenient, costly and undo the public profile you might have created.
Get feedback from your colleagues, friends, family and customers on your font and ask them a few questions that'll give you an idea of how successful it is.
Do they like it? If not, why not?
Is it easy to read? You might have chosen a font you love, but if it's hard to understand, then you'll frustrate your customers. This is especially important if you'll need your font for much text, like on menus or in brochures.
Are the colours right? The font might be perfect, but the colours are holding it back.
What fonts do similar businesses to yours use? Avoid choosing a font that's the same as your competitors as you'll confuse customers and annoy them. It's a good idea to do the opposite to really stand out from the crowd.
It's never too late to make a change when it comes to your font, but constant alterations and rebrands will harm your business in the long-run.
Fonts are just one area of your branding that you need to get right for your business to be a success both online and offline.
There's a lot to think about, and it's essential to create a strong and consistent brand identity to make sure everything your business produces helps to raise your profile.
For advice and guidance when it comes to design and print services, make sure to visit B&B Press.
Author Bio: Anna Liversidge is the digital marketer at B&B Press based in South Yorkshire. By day, you can find her writing blogs and creating content. By night, she is typically at the gym or experimenting with new healthy recipes in her kitchen. Follow Anna on Twitter: @BBPress_AnnaL