The Importance of Book Cover Design For Success
Too often, we have heard the words, 'don't judge a book by its cover.' However, that book cover is one of its most essential aspects, so much so that it can even aid or hamper its success.
We are familiar with millions of products with an appealing first impression that captivates the attention. Similarly, the cover of a book matters too; as a salesman, you need to capture the audience's attention and make them purchase your valuable invention. You don't have to bind the book pages, but make them interconnect with each other through positive means.
No matter which genre you're planning to target in your book, if it's not appealing enough to make the readers read it, you're missing out on an ample opportunity. Book cover images are not just pieces of decoration that you can add without thinking twice! 
It's the way you can catch the reader's attention by telling them what's inside the book. Compelling visuals compiled with attractive elements make an unbreakable connection! 
This blog will look at what makes for a good book cover design for book success, going through the motions and helping you understand why books everywhere are judged heavily by their covers.
Your Book Cover Design is Made to Catch Attention
The first and most important thing a book cover design does is to bring attention to book. Books are judged by their covers far more often than not, and their book covers are looked at before the title even comes into play.
Plenty of times, a book cover that looks 'cool' might bring along new readers, whereas a somewhat regular looking book cover design may not be able to do.
That being said, the book cover design is nothing to skimp over. Some might say it is a critical part of the book, even more so than the text inside it. No matter how good the book is, a bad book cover might lose you the sales you need to reach the bestseller threshold and get that all-important sticker on your book.
A Good Book Cover is Thematically Consistent
Like most things in art, you cannot take out its soul and expect it to work with the rest of what is made. Without understanding the material, a book cover design is as good as a mechanic designing a house; success in such a scenario can only ever be a coincidence, hanging by a thread.
We have dedicated designers who work with authors and editing consultants to create the perfect book cover design. The chances are that the author's prerogative can be added on, so we make sure that the book cover is looked at based on art and selling potential.
Overall, though, the book cover design needs to 'feel' like the rest of the book. The themes have to be consistent. If a particular character is shown, that is what the readers will imagine that character to look like, which means the author's description of them has to be apt as well.
It All Starts With An Idea
Research is the king of everything! Whenever we start something new, it's always advised to research a bit before making the final move. The same applies here too. 
No matter if you're planning for a book launch or something else. Without research, you can not develop the best idea to fit your book. 
But, the person who is doing the research has to work smartly! Search for the leading book sold in the past few years without wasting time and analyse their book covers. 
In this way, you can analyse the gap and develop something unique that is tremendous and flawless. 
It's About More Than Just the Bind
You might think that keeping the book's binding together is the task the book cover is assigned and that the book cover design is a trivial detail. However, that is not true.
A great book cover design can use the bindings and the spine to unleash creativity that can catch even more attention from readers.
Your Book Cover Design Needs a Gushing Review
People like being reassured that the content they are going to consume is vetted to be worthy of their time, and a good book cover utilises the space to include a book review boasting about its quality.
Whether it is a single like or several, a book review should balance complexity and simplicity in its review, always ensuring that the reader is hooked but never giving away too much.
This review is often found in the back of the book in a typical book cover design. However, that is not a necessity. One can get creative with it and even put it in the spine.
Your Book Cover is the Reader's Glimpse into the Book
As always, be thematically consistent. If that fits the author's themes, you can be attention-focused, flashy (yes, those are two different things), or the complete opposite.
The book cover is supposed to be a glimpse into the book itself, so it fits if the book conveys the themes and the immersive feel of the book to the reader in its book cover design.
Of course, subtlety is necessary, too. You cannot tell everything about the book right before the first page is even looked at.
Your Book Cover Design Needs a Critical Part of the Book
Think of it like this.
If you have a fictional book written, its book cover design needs something appropriate that fits in a fictional universe. Perhaps your character is the centre of it, so make it part of the design.
The first Harry Potter book, for example, used the titular character as its primary book cover design subject. However, it also used an iconic location within the book's world, i.e., Hogwarts, and put the character on a broomstick. This information was thematically consistent with the story and hooked the reader in without giving much away.
If done right, the book cover design can act as its own marketing asset. Your book cover design gets put everywhere, so consider it necessary as a brand's logo. Imagine Coca Cola or Pepsi without their logos. Now imagine your book without a book cover design.
Your Book Cover Design's Typography Plays a Huge Role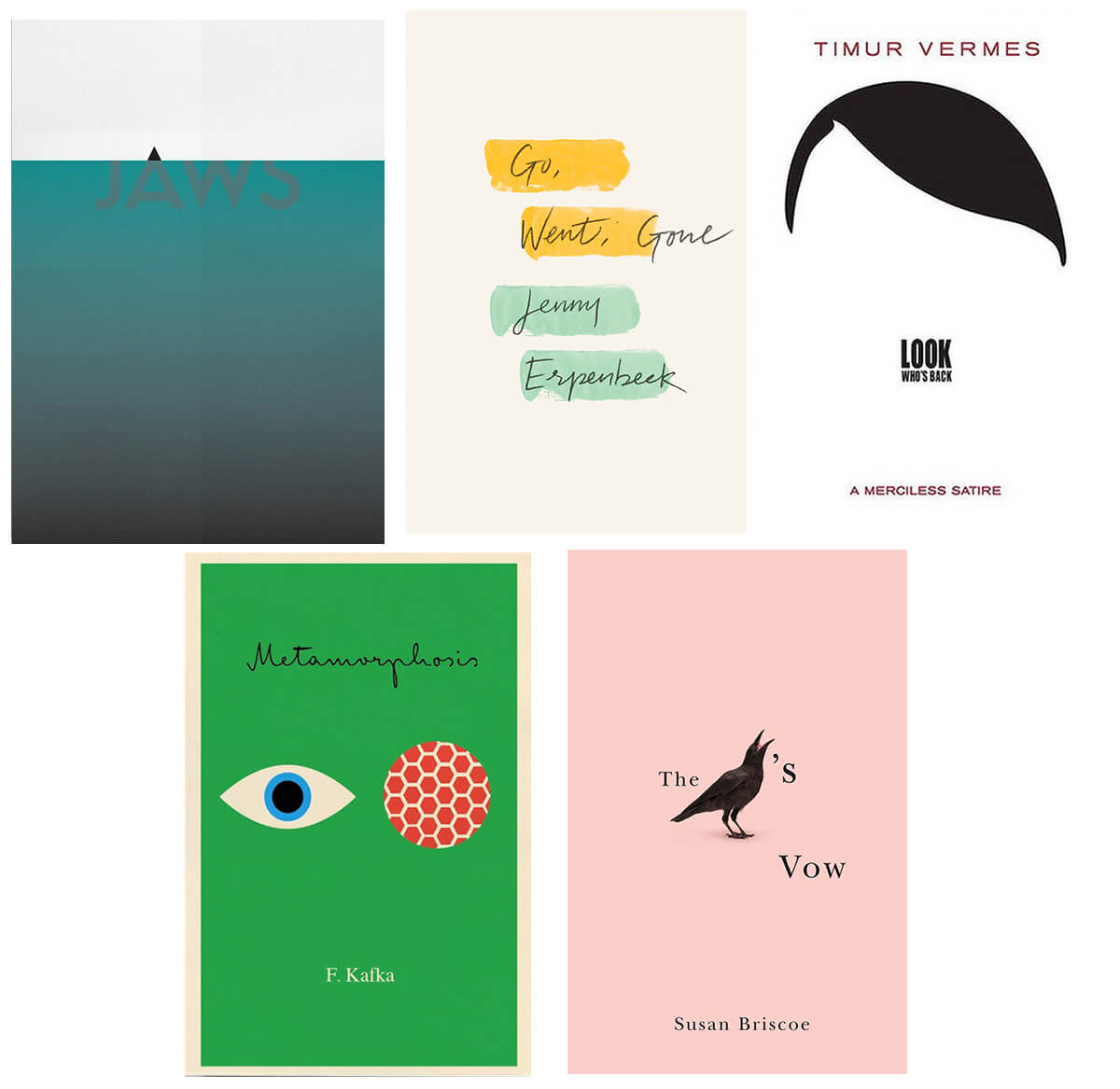 The typography is the style of the text or the appearance of the print.
A horror book has a 'spooky' vibe to its text and typography. Similarly, a formal font is the serif font used in professional works. In contrast, other less formal works can get away with sans serif fonts while still thematically consistent.
Every genre can have a different font that works best with it. For example, the Bentham and Day Roman fonts are popular in the romance genre, while the Gotham and Bodoni font is used in non-fiction books.
Plan How Your Book Cover Will Look
Plan out your book cover design and layout first. Keep the text simple. Don't over-format it with italics, bold letters, underlines, and font size changes. The book's title should be the largest, with the rest being up to the designer.
You can also follow the standards of book cover design if you want to work under some limitations to bring out your creativity (yes, it works). This allows you to understand the limits and then cross them rather than working on an open canvas.
Don't Go Beyond Your Genre—Unless Necessary
A good book cover can sometimes be about following the status quo rather than breaking it. Unless, of course, that is what the author demands.
It can be tricky to be creative when working with plenty of rules and genre expectations, but in the end, they create a better product overall.
That is because your reader is subconsciously looking for certain aspects already. For example, if they want to read a fiction novel, they want a story with a unique premise.
Colours Are Always an Artistic Choice
You can use colours to draw attention, but you can also use them to convey the mood and message of the book the author is trying to send.
However, if you want to capture attention, look for blending colours on opposite ends of the spectrum—Blue and Orange, Yellow and Purple, etc.
Moreover, colour can represent themes as well. Green could mean life or toxicity. Red could mean love or danger. Yellow could mean happiness, sickness, etc. Use these colours to your advantage. Draw the reader's attention, and do so in a thematically consistent manner in your book cover design.
Tell a Story
A good book cover design works well with the book as an extension, but a great book cover design tells its own story.
Use the images, the typography, the layout, everything. Use visual imagery and allegorical rules to depict different aspects of your book. Allure and fascinate the reader through your book cover design, and tell a story that makes them want more.
Use contrast to create points of attention, but don't skimp on details on other areas, either. You want your readers to see the cover again and get fascinated by every added detail.
Don't Forget The Layout
And yes, we're done with all the detailing but forget one of the essential things: layout! The book's first page must be engaging, so the readers will create a curiosity about purchasing it later. A customer first purchases from their eyes and then does the needful. 
It would be a win-win situation for everyone if the designer designed the book's layout to appeal to the audience. 
Author's Recommendation
As an author with years of experience dealing with content writing and relative domain, I recommend you design the book cover with minimal objects, giving the design space to breathe. 
We usually make such mistakes where we give less importance to the book cover. However, the book has a catchy name and story. Later, when the book is launched, it doesn't get the desired attention, and we then regret the mistakes.
Keep the design of the book minimal, creative, and colourful! If you add so many objects, the audience will get confused seeing the title and other objects together. The best way out is to develop sleek and flawless book covers that are captivating enough for the audience. Millions of authors earn so much only because their books have an appealing cover, topped with engaging stories?
Conclusion
A book cover design uses many elements that can serve an author and designer's boon or otherwise not do so.
Even your book cover design should convey a clear message to the buyers: they don't have to look around for someone to explain what's inside! Selecting the fonts, layout, and other necessary elements is essential and should be done in a manner that catches the readers' attention. Try to utilise compelling colours that increase the book's beauty, and yes, you can always go for gradient effects.
Regardless, a good book cover design considers all aspects and utilises them to the fullest, ensuring that the end product creates a unique, easy to recognise, and catchy book cover design that gives readers a sneak peek of the rest of the book without even opening the book itself! 
Got some questions? Feel free to share in the comments section. We're more than happy to assist you with your questions and want to see your creativity after reading our blog.