Top 10 Fashion Logos: Best Designs in the Industry
In the fashion industry, a logo is everything. It is the first thing that customers see, and it can make or break a business. 
A well-designed logo can create a lasting impression and encourage customers to return time and time again. On the other hand, a poorly designed logo can turn customers away and discourage them from ever returning.
There are countless fashion logos, but only a few truly stand out. This blog post will look at the top ten fashion logos and see what makes them unique. 
From iconic designs to modern masterpieces, these fashion logos are some of the best in the business.
So without further ado, let's take a look at the top ten fashion logos:
1 – Helly Hansen Logo Design
Helly Hansen was a Norwegian captain who, in 1877, started producing oilskin jackets, clothing and tarpaulins made from linen soaked in linseed oil.
The company has grown since then, and its logo design features a simple yet stylish red HH on a white background. This fashion logo is versatile and looks great on both men's and women's clothing.
Today they are recognised for outdoor sports gear, waterproof fishing gear and apparel for the sailing and snow sports community.
The creatively combined HH fashion logos split at the diagonal to present a unique and memorable mark for the brand.
Set in Helvetica Bold, the logotype shows balance, with boldness, often set in the red and white associated with Switzerland.
2 – Hugo Boss Logo Design
One of the most easily famous and instantly recognised fashion brand logos globally, Hugo Boss AG was founded in 1924 by the legendary fashion designer Hugo Ferdinand Boss.
The company initially produced work uniforms for the German military, but by the mid-20th century, they had moved into the fashion industry.
The Hugo Boss logo design is a simple yet effective wordmark set in a bold sans serif typeface.
The black and white colour scheme keeps the logo looking classic and timeless, while the use of negative space creates an interesting visual effect.
This original fashion logo was created by Sören Stauffer in 1985 and has remained unchanged until 2021.
The simplicity of this fashion logo is one of its key strengths – they can use it on any product or marketing material without looking out of place.
It's also worth noting that the Hugo Boss fashion brand is one of the few fashion brands that don't use a symbol or icon as part of their logo design.
What sets fashion logos apart from other types is the need to convey both style and sophistication.
A fashion logo needs to be eye-catching and stylish while conveying the right message about the brand.
3 – Ray-Ban Fashion Brand
Ray-Ban is a brand of sunglasses and eyeglasses founded in 1937 by the American company Bausch & Lomb.
The brand is best known for its Wayfarer and Aviator sunglasses, popularised by Hollywood stars in the 1950s and 1960s. Ray-Ban was sold to the Italian eyewear conglomerate Luxottica in 1999.
The Ray-Ban logo features a stylised version of the company's initials "RB" inside a circle.
The current logo was introduced in 2007 to evoke the brand's retro roots.
Their custom, cursive logotype presents a brand that's casual, optimistic and a little laid-back in their style, even if the products are meticulous and luxurious.
The double 'R' in the Ray-Ban logo mirrors the shape of their most popular product, aviator sunglasses.
This symmetry is an important design element that gives the brand a recognisable mark.
The circular border around the Ray-Ban initials also recalls the shape of lenses, while the American flag inspires the blue and yellow colour palette.
These elements work together to create a fashion logo that is uniquely stylish and iconic.
4 – Alexander McQueen Logo Design
Alexander McQueen is a British luxury fashion brand founded by designer Alexander McQueen in 1992. The brand's logo is a skull with crossed swords. The logo was created by designer Peter Saville and first appeared on McQueen's second collection, "The Birds."
The Alexander McQueen logo is simple but effective. The skull and crossed swords are potent symbols, and the black-and-white colour scheme makes the logo look modern and classic.
The deceptively simple logo design is set in Times New Roman, known for its legibility and formal style.
Inserting the 'c' into the 'Q' suggests the idea of the 'seed-like' potential to grow into the internationally renowned fashion brand that it is today.
5 – Bulgari Logotype Design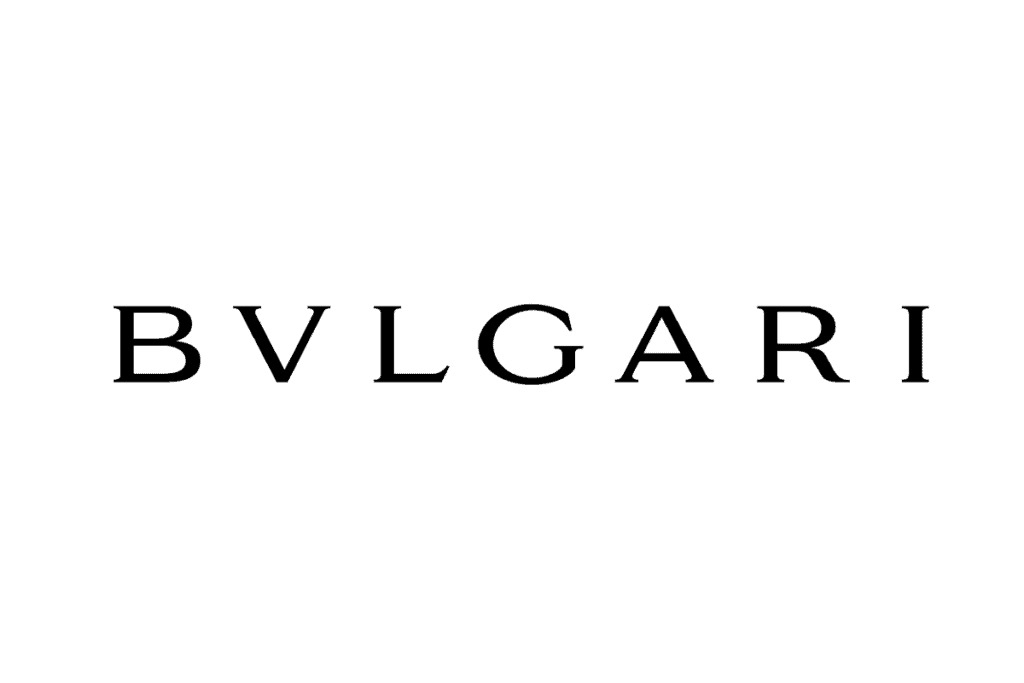 Bulgaria is an Italian jewellery and luxury goods brand that produces and markets several product lines, including jewellery, watches, fragrances, accessories, and hotels. 
The Bulgari logo is one of the most popular and iconic fashion logos. The Bulgari name is derived from "bulgaricus", which means "Bulgarian" in Latin.
The Bulgari logo consists of the brand name in a very stylish and modern font. The first letter, "B", is slightly larger than the rest of the letters, which creates a sense of hierarchy and importance. The brand name is encircled by a double "C", which represents the two founders of Bulgari – Constantino and his son Sotirio.
The Bulgari logo is simple, elegant, and easy to remember – everything a suitable fashion logo needs.
I couldn't find the typeface used in the Bulgari brand logo, which may be bespoke, but a close variant is 'Times Small Text' by Monotype.
6 – Hollister Fashion Logo
Hollister is an American lifestyle brand owned by Abercrombie & Fitch Co.
They originally designed the concept to attract consumers aged 14–18 at a lower price than the parent brand through its SoCal-inspired image and casual wear.
Conceptually, the Hollister fashion brand is based on a fictional character called John M. Hollister, a boy who spent his days surfing and having fun on the beach.
He opened a shop in California when he got older, naming it after himself. 
This fictitious backstory creates interest in the public, setting it aside from competitors.
The fashion logo is a simple yet highly effective design consisting of a bird and an "H" letter.
This logo is often seen on t-shirts, sweatshirts, and other Hollister clothes.
7 – Chanel Logo Design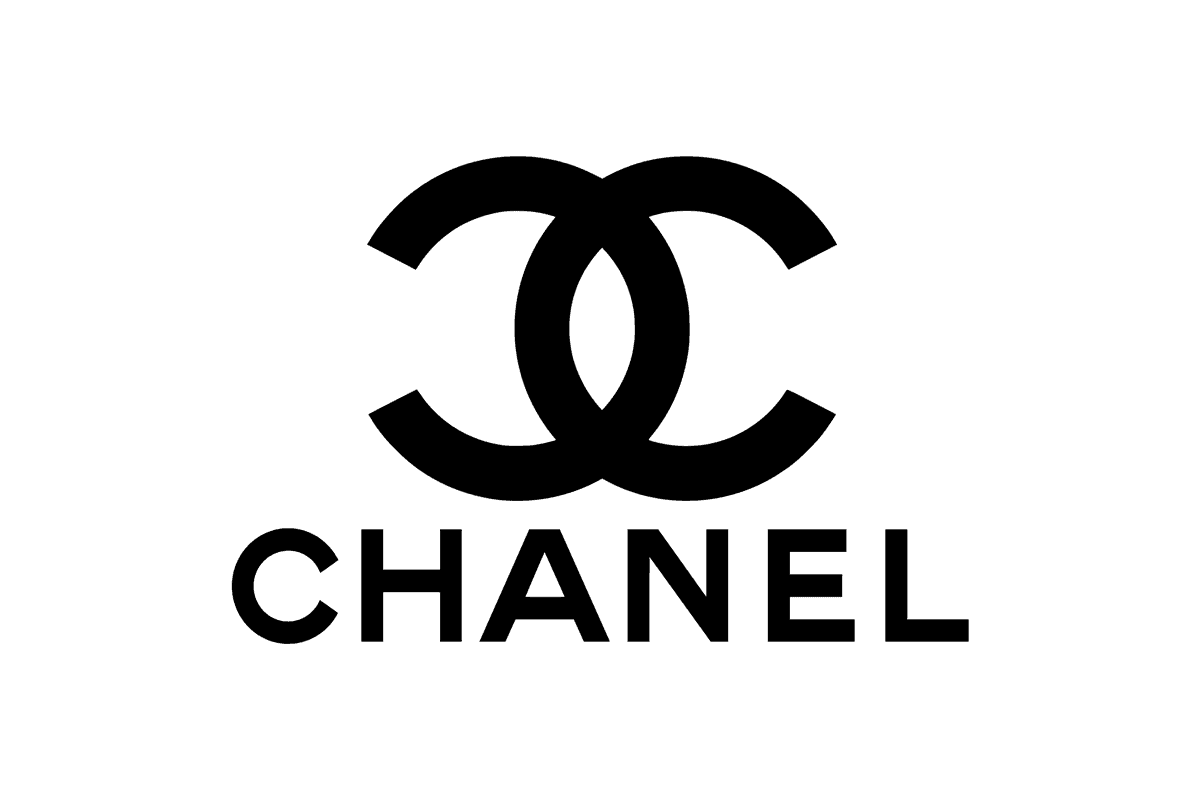 Chanel is a famous French fashion house known for its "haute couture", ready-to-wear apparel and fashion accessories. Gabrielle "Coco" Chanel founded the company in 1909.
Coco Chanel herself designed the interlocking "CC" logo. The double Cs represent her initials, but they also stand for "chic and classy" – two qualities that are synonymous with the brand.
The Chanel logo is one of the most recognisable fashion logos globally.
A recurring story implies that that of Château de Cremat inspired the Chanel logo, a pair of intertwined Cs. 
However, this story has been proven to be false.
The Chanel logo is simple yet elegant – just like the fashion brand it represents.
8 – Nike Logo Design
Nike is an American multinational corporation engaged in the design, development, manufacturing and worldwide marketing and sales of footwear, apparel, equipment, accessories and services.
The Nike "Swoosh" is a corporate trademark created in 1971 by Carolyn Davidson, while she was a graphic design student at Portland State University.
The company executives selected the mark now known globally as the Swoosh, paying her $35 ($206 in 2015 dollars) for her services.
Nike has since become one of the largest and most recognisable brands globally.
The Nike logo is widely regarded as one of the most fantastic and famous logos and has been featured on some of the world's most iconic buildings, including the Sydney Opera House.
It has also appeared in numerous magazines such as Time, Forbes, Businessweek and Newsweek.
The simple yet powerful design of the Nike Swoosh makes it one of the most influential fashion logos in history.
9 – Superdry Branding
SuperGroup is a British international branded clothing company and owner of the Superdry label. They were founded in Cheltenham, England, in 2003. The company's CEO is Euan Sutherland, and the founder is Julian Dunkerton. 
Superdry sells a range of fashion items, including women's, men's and children's clothing, footwear, accessories and homewares.
Superdry was one of the first fashion companies to tap into social media marketing. They have over 12 million followers on Instagram and often partner with high-profile celebrities like Cara Delevingne and David Beckham to promote their brand.
Superdry has a very distinct visual style – its logo is written in a custom font. They heavily use distressed textures and vintage graphics in their product photography and marketing materials. This gives them a strong visual identity that is instantly recognisable.
Superdry products combine vintage Americana styling with Japanese inspired graphics.
10 – Levi's Classic Fashion Logos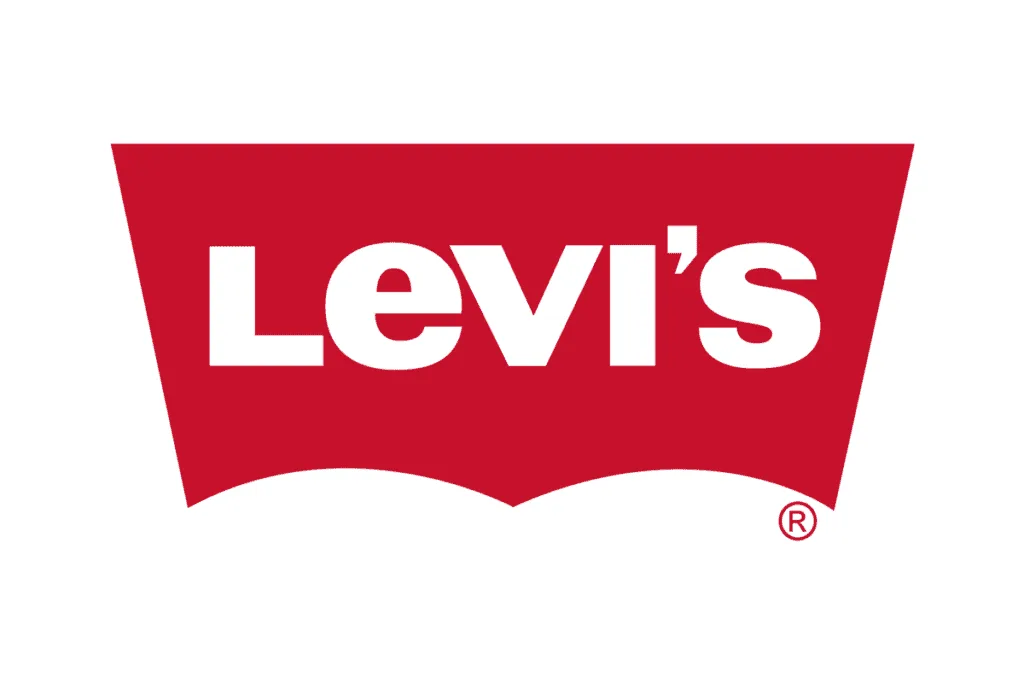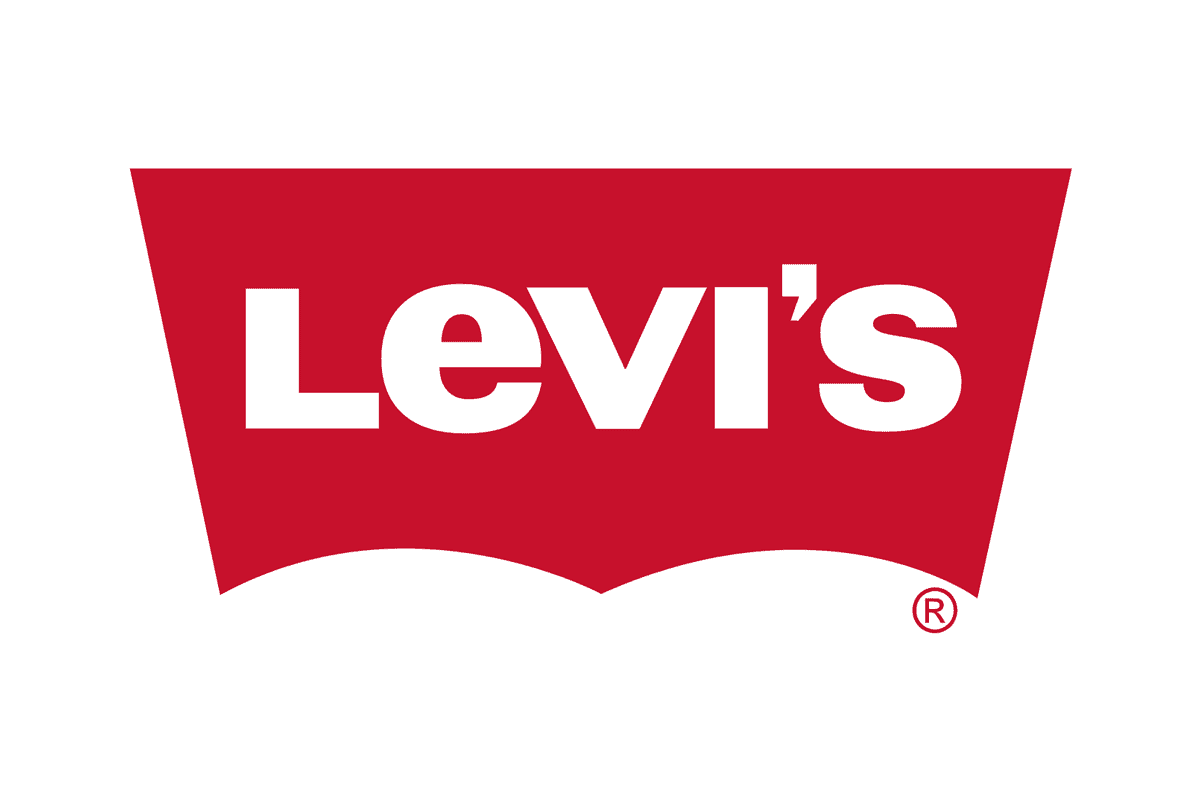 Levi Strauss & Co. is a world-renowned American clothing company. Established in 1853 by Levi Strauss, the company is best known for its Levi's jeans brand.
Whilst the denim jeans were patented in 1873, it took 63 years for Levi's logo design to be constructed.
The Levi's logo is one of the most classic and instantly recognisable fashion logos in the world. The simple red tab on the back pocket of Levi's jeans has been a fashion icon for over 100 years.
What makes Levi's logo so successful is its simplicity. The logo consists of a small red tab with 'Levi's' written in white. This minimal design means that it can be easily recognised, even from a distance.
Levi's logo is so iconic that it has become synonymous with the brand itself. When people think of Levi's, they immediately think of the red tab logo. This is a testament to the power of a well-designed logo.
What do you think of our list? Did we miss any fashion logos that you think are iconic? Let us know in the comments below! Please also check out our blog for more logo design tips and trends. Thanks for reading!