The Top 10 Best Collaborative Tools for Designers
Designers are serving the global community beyond the borders and cultural differences.
They tend to find a remote job and start working for a client or employer without fearing for visa or job restrictions.
The ease of working from your home country has attracted more professionals to enjoy the peaceful environment, have a custom work schedule, and take rest as they want while retaining the same job or managing multiple clients.
Working remotely with a client or team creates a communication gap that makes it harder to understand the requirements, changes, and modification of the design.
For this purpose, various project management and online collaborative tools are available to streamline their communication and productivity.
With the help of these innovative platforms, designers can find it easier to communicate with clients, fellows, and co-workers.
They can quickly get to know the strengths and weaknesses of a proposed project, get feedback, evaluate and modify the changes in real-time, and get a go-ahead for coding.
Following are some of the commonly used and designers-specific collaborative tools you can get help from.
Also, see – 12 Tips For Increasing Productivity When Working On Your Own
1. GoVisually
GoVisually is an excellent, free collaborative tool for designers.
The additional feature of this tool is the permission to annotate specific factors and add comments to the project.
This application removes the hassle of hectic email communication about revisions and editing.
It brings the client and designer on a single platform to streamline the request for revision on particular aspects of a design.
The email correspondence often makes it difficult for a client to describe precisely which elements shall be revised in which way.
As a result, the developers and clients experience improved understanding and productivity.
GoVisually helps the developers in collaborating with multiple teams and clients as it creates layers for each user on the page.
The users can quickly display or hide the content page to stay focused on the project under discussion.
This results in smooth communication and teamwork between different teams and departments.
Alternative – Filestage
Filestage is a feature-rich review and approval platform that allows designers to invite internal and external collaborators in a matter of seconds.
Graphic designers understand how tough it can be to collect feedback from decision-makers in one place – deciphering and collating handwritten notes can be very challenging and it dramatically impacts your efficiency.
Filestage puts an end to that dynamic by giving you a single place to collect all your feedback. Your users can leave in-context comments that move your designs forward. The tool also offers an integrated to-do list so that you don't ever miss an important piece of feedback.
Filestage also shows you the status of your designs in a matter of seconds. At a glance, you can see which stakeholders still need to leave feedback and approve your work.
2. InVision
You must have heard about InVision, even if you have recently stepped into the field of web and graphic design services.
It is a well-known tool for working in collaboration with different teams to streamline the flow of getting feedback, approving an idea, and finalising a design.
InVision has a captivating inbuilt application that helps a team of developers to create prototypes while receiving real-time feedback from peers.
The peer can collaborate and conclude a decision that they can start coding for it without any ambiguity.
3. Slack
Slack is one of the practical solutions for easing team communication with on-site or remote workers.
If strictly speaking, Slack cannot be categorised into the tools that are dedicatedly developed for collaboration.
However, its popularity among the designers and developers makes it grab a mention every time such resources are discussed.
It helps you create rooms for a private chat, upload files for peer reviews, and refer to the conversation that is preserved forever in the platform.
You can make more out of Slack by bringing remote workers and clients on board, and eliminating the time-consuming process of communicating via email.
Get rid of the sending and receiving the email messages in pursuit of a real-time chat.
Also, see – 8 Tips for Streamlining Client Communication
4. Trello
Trello is an advanced version of Slack, whereas it lacks the functionality of instant chat with a team.
It is a complete application for managing projects with a visual card-based system.
Users can create multiple pinboards for each task for easy collaboration with remote workers.
You can host all the tasks on a board to facilitate the team members in knowing what's in progress or near completion.
With the help of a progress gauge, you can evaluate the projects in the pipeline.
Designers can find it helpful in creating a whiteboard to have the flexibility in communicating with clients and co-workers.
The whiteboard communicates at a glance all the tasks that either need to be done, the ongoing activities, or upcoming tasks in the list.
Furthermore, any change or addition you make to the board gets synced with the cloud server, so the board on other devices gets updated accordingly.
5. Mural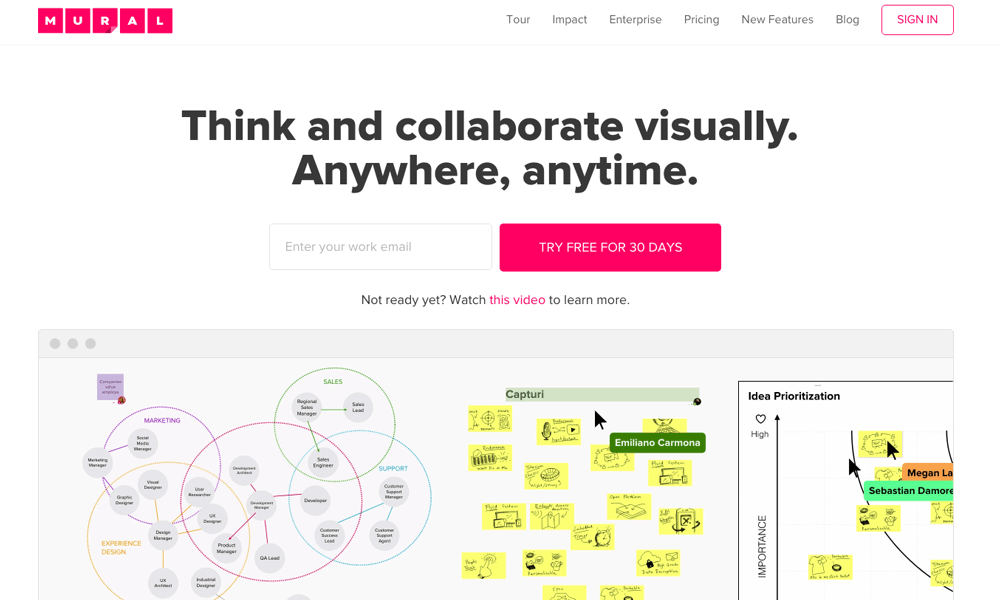 Finding a perfect tool that suffices all your needs is still tricky.
The mural tool is developed with the same perception as Mariano Suarez Battan – a designer who was unable to find collaborative tools that perfectly satisfy his professional needs.
So, he came up with Mural that acts as visual thinking and brainstorming for the entire team.
The shared design board can be used to create, produce, and encourage new ideas.
The appreciation of ideas and user interaction makes every user feels he or she is a contributing member of the team resulting in a highly productive and supportive working environment.
6. Interact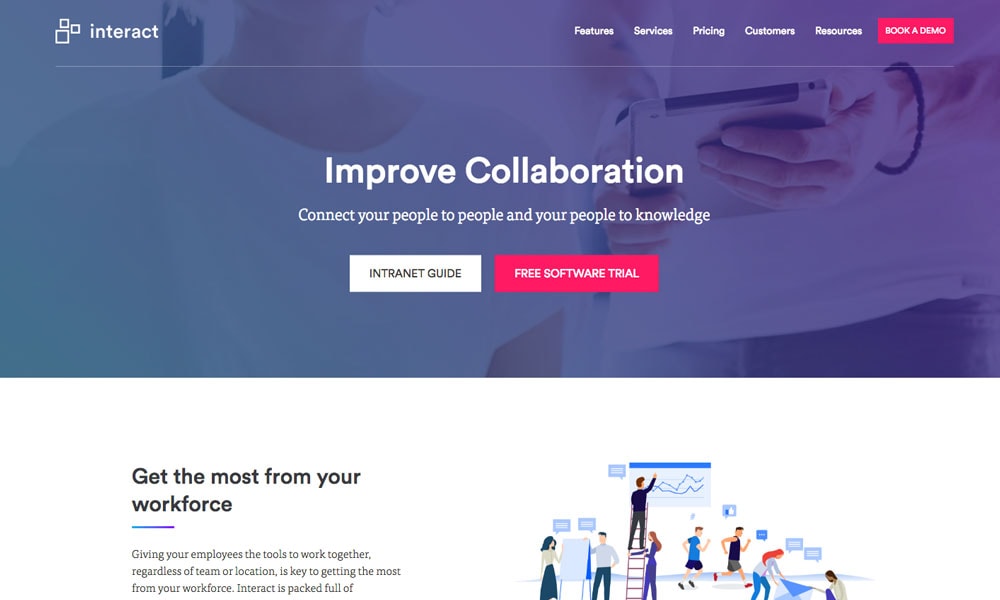 The teams that need to collaborate, communicate frequently, or share files and suggestions may greatly benefit from the feature-rich tool known as Interact.
The tool is equipped with most of the necessities that a designer may need to ensure productivity while working on multiple projects.
Interact is backed by an intelligent store platform that keeps a record of various actions to show the content that is relevant to the user.
The brilliant display of content facilitates users in viewing only the required form of data for the project they are working on.
The sophisticated platform of Interact Intranet encourages user collaboration and talking about new ideas with the help of microblogs and exposure to corporate social networks.
Alternative – Blink
Blink is a collaboration and communication platform loved by design agencies and in-house design departments alike.
That's because Blink combines a slick messaging platform where users can receive real-time feedback with an easily accessible information Hub for keeping essential information such as brand guidelines and policy documents.
Think your favourite cloud storage and messaging app combined!
Best of all Blink gives you reach and engagement analytics data on your posts so you can evaluate the effectiveness of your design collateral based on internal engagement before setting it live.
Blink also has an impressive list of integrations with other apps like Office365 and Zapier and great micro apps that help teams radically improve their productivity.
7. Red Pen
Red Pen is one of the collaborative tools that are exclusively developed for designers to help them showcase their projects and invite constructive criticism.
This platform is essential for freelance designers, either as beginners or has spent years in development, but still, lack improvement.
They can simply drag and drop their project to the dashboard and invite colleagues, friends, and clients to leave improvement suggestions.
The interactive feature of the Red pen that needs a mention here is the track of multiple versions or revisions which helps you to go back and grab a previous design you want.
8. Visme
Unlike other project management and collaborative tools, Visme runs in a browser and aims to serve both the designers and non-designers to create visual content.
It collects all the tasks and activities of a team and displays them in a centralised control panel.
The users are given the access the create amazing and captivating visual projects in a collaboration that includes web content, infographics, screenshots and presentations.
The ease of accessing resources and interacting with the team member makes it one of the best platforms for collaborating on projects.
It ensures the effectiveness and efficiency of the entire team.
Among many features, the striking one is the built-in analytics for teamwork.
This allows the project managers in knowing the workload, progress, and activity every user is doing towards a project.
9. Cage
The revamped version of Cage defines the application as a dedicated platform for project management and designer collaboration.
The application assures smooth and uninterrupted team communication, managing assets, reviewing media, collaborating and approving tasks between the team members.
These tasks can be performed in the centralised control panel of the applications.
This is tantamount to reduced communication on calls, emails, and group meetings which ultimately save a lot of team time and ensure productivity.
The designers find enough time to focus on perfecting a project with major and minor modifications so that they can finish soon and happily start another one.
10. Conceptboard
Conceptboard is not one of the ordinary collaborative tools as it accompanies the functionality of managing projects on a whiteboard.
All the data about your project gets stored on a cloud server that is duly classified in folders.
The project data syncs automatically as soon as you modify a task so that the information is available to other users or on different devices you use.
This collaboration tool help designers share ideas, add comments and notes, upload files, and submit feedback on an upcoming project.
The ease of communicating with peers makes it one of the must-have tools for creating visual designs.
Binfire (Bonus!)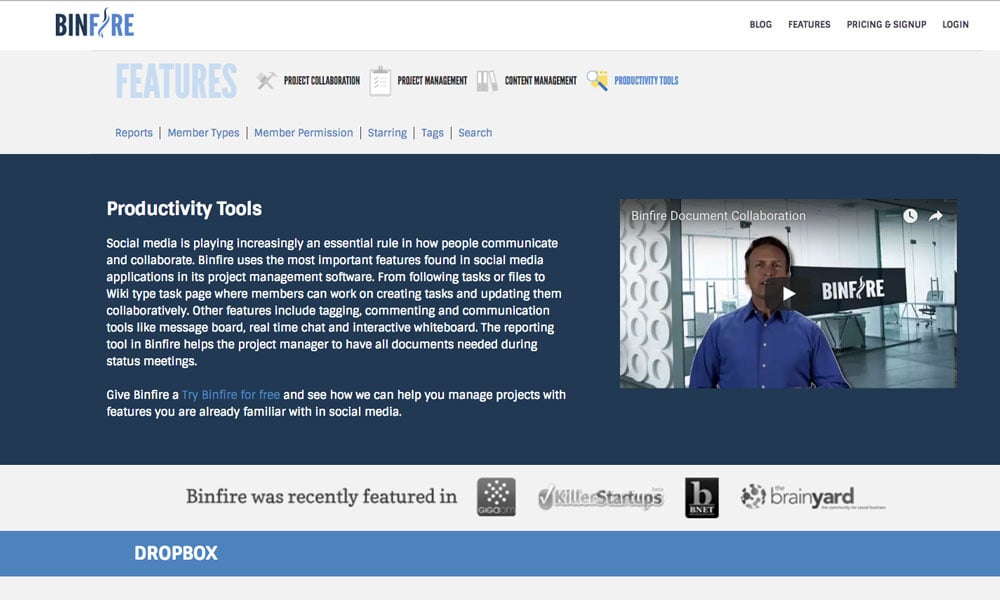 Most collaborative tools are developed to assist the designers and coders in general.
However, Binfire has a competitive edge in focusing the small as well as big teams.
It is more of a project management application that ensures efficient communication between the teams.
Binfire incorporates the use of a whiteboard that allows designers and team members to frequently update and take the clients on board.
The addition of the client to the project management board further accelerates the design process.
You can speedily communicate with the client, know the problems they face, and address their issues on the whiteboard.
This also expedites updating the client about the latest modifications in the design.
Bannersnack
Bannersnack is a creative management platform aiming to improve remote design teams' workflow in an intuitive way. 
Whether you're looking to save some time or for a cost-efficient alternative to other collaboration tools, this platform has plenty to offer, including a cloud-based workspace with unlimited storage and thousands of professional templates, illustrations, and design elements available at no resale price.  
Bannersnack focuses on increasing productivity, allowing teams to communicate better, share notes and projects, give feedback, and pass around links rather than countless versions of design files.
Scribe
Scribe is a collaboration and productivity tool for any designer working with teams, customers, or contractors. Its biggest application is streamlining documentation: It captures your screen while you complete a workflow and then instantly creates a step-by-step guide with screenshots and written instructions.
Scribe makes creating documentation significantly easier and faster for designers, training teammates, sharing a workflow, or showing work to a client. Individual Scribes can be shared via link or within teams or embedded in a CMS, knowledge base, or other tools. The Washington Post, for instance, uses it to build out its Figma documentation.
Scribe's Chrome extension is free with unlimited use and users. Its Pro version unlocks features such as desktop app recording and screenshot editing.
Concluding our Top 10 Collaborative Tools
Relying on email and conventional instant messaging tools is no more a useful strategy for projects.
If you need to stay productive and prompt in communication, there is a considerable list to follow.
Some of the valuable tools discussed above that may suffice the needs of interacting with colleagues, clients, and coworkers.
However, you are free to try out new collaborative tools and come up with an innovation of your own.
It will not only prove beneficial for you, but for the entire community working across the globe.
Be different and have the lead in coming up with a custom solution that is impressive and productive the more.
Author Bio: Asad is an internet marketing expert with a focus on SEO & Paid media. Currently, he is heading the marketing department of GO-Gulf – a Dubai-based premium web development & web design company. With over eight years of experience in online traffic generation, targeting a relevant audience and conversion optimisation, Asad has helped numerous award-winning businesses increase their revenues throughout the UAE. You can reach him on LinkedIn.