The 9 Best External Hard Drive Options
External hard drives are a great way to store data and files securely. They are portable, easy to use and, most importantly, offer a high-security level. 
With an external hard drive, you can rest assured that your data will be safe from prying eyes and be there when needed. There are many different types of external hard drives on the market, so choosing the right one is crucial.
We've compiled an in-depth guide about the best external hard drives to help you make an informed decision. We will also explore the different features each type of external hard drive offers.
So, we have you covered whether you are looking for the best external hard drive for your home, office, or business!
Best External Hard Drives in 2022 / 2023
1. Overall best: Seagate Backup Plus 5TB
"The best backup drive for MacBook pro"
The Seagate Backup Plus HDD external hard drive is an excellent choice for reliable and high-capacity storage. This external hard drive has a large capacity of five terabytes, making it perfect for storing pictures, music libraries, and other vital data. In addition to the large storage capacity, the Seagate Backup Plus external hard drive comes with a two-year coverage plan.
Seagate will replace it for free if anything happens to your hard drive within the first two years. The Seagate Backup Plus 5TB external hard drive is perfect for backing up your photos, music, videos and other important files. It features a USB 3.0 port for high-speed data transfers, making it easy to get your files off and onto the drive.
It's available in various colours to match your style and features a Stellar Style metal casing for extra protection. This high-performance storage device has a preloaded NTFS driver to work with Windows-based systems to accomplish set-up quickly and easily.
The Seagate Dashboard software is also included to provide easy backup options for your social media accounts and cloud storage services like Dropbox or Google Drive. You can also keep a local copy of your backups on the hard drive for safekeeping. It also features a compact, lightweight design to fit into your pocket or backpack easily.
You can easily take this sleek and portable external hard drive anywhere to access your files anytime and anywhere easily. This makes the Seagate Backup Plus external hard drive an excellent choice for anyone needing reliable, high-capacity storage.
Pros
Affordable
Several colours available
Compatible with all devices
Cons
It does not support Thunderbolt.
2. Best Budget Portable Hard Drive: WD Elements 12TB external hard drive
Sale
The largest backup storage appliance you'll need
WD Elements 12TB external drive is a high-capacity storage solution for your photos, videos, music and documents. With USB 3.0 compatibility, you can connect it to your PC or laptop and transfer files at blazing speeds. This WD Element comes ready to work with Windows PCs. It features plug-and-play installation and ultra-fast data transfer speeds.
The bump in storage space has never been this affordable, and the storage solutions for your entire family are covered – from desktop to laptop, personal cloud device and gaming console.
The integrated WD Backup software makes scheduling automatic backups of your valuable data easy. And with the included WD Discovery software, you can easily connect to popular social media and cloud storage services.
WD helps people safely store their memories in ways that ensure protection against prying eyes or precious moments lost due to mechanical failures. With 12TB of storage, there's plenty of room for years worth of photos, videos and music.
And if you ever need more space, you can easily add an external hard drive or SSD with their easy-to-use expansion port. The WD Elements is also available in an easy-to-use desktop version. The desktop drive has a sleek design that takes up very little space.
The portable and desktop versions of the WD Elements hard drive come with a two-year limited warranty. WD Elements hard drives are the right choice for easy, reliable, and affordable storage.
Pros
Large storage space
2-year warranty
Low cost per gigabyte
Cons
Extra charges for using the backup feature
External power adapter not available
3. Best Security-Minded Desktop Hard Drive: ADATA HD710 PRO rugged external HDD
Most secure backup system
The ADATA HD710 PRO is a rugged external hard drive that can withstand drops, shocks, and vibrations. It is designed for demanding environments and professionals on the go who need a reliable way to store their data. The drive features military-grade shock protection and an IP68 waterproof rating, making it ideal for use in harsh environments.
This rugged, dependable device has an intricately-designed outer housing to protect your data from impacts and dust, like a built-in rubber seal to block all debris from entering the ports or any other openings.
It also features triple-layered construction. The hard drive is encased in a rugged silicone sleeve that protects it from accidental bumps and scratches.
The HD710 PRO is available in capacities of up to 12TB, making it perfect for storing large amounts of data. The Exclusive Shock vibration sensing technology increases data repair accuracy for everyday activities such as handling the device with carelessness.
You'll never have to worry about losing your important files again. This portable storage device offers a complete range of capacities to find the perfect balance between speed, size and price for your needs.
Neat Cable Management ensures that the cables are neatly wrapped to keep them from being loose and tangled. It also makes it easier to charge, sync and transfer without hunting for the cables. The result is a product that looks great and works even better.
Pros
Good build quality
Impressive cable management
Durable external storage
Good dollar-per-gigabyte ratio
Cons
Short USB-cable
4. Best High-Capacity Portable Hard Drive: SanDisk G-Drive Professional 18TB external hard drive
Best backup hard drive for photographers
The SanDisk G-Drive Professional 18TB external hard drive is perfect for demanding video and photography workflows. The large capacity ensures plenty of storage for your projects, and the rugged build can withstand even the most challenging environments. It has an all-aluminium case that helps protect it from damaging falls and crush zones to keep it safe.
You can also pair this up with your laptop or desktop via USB 3.1, so you don't need to worry about losing any data. G-DRIVE PRO comes with a USB Type-C cable for connectivity to any system equipped with the latest universal connector.
The 5gb/s data transfer rate enabled by USB 3.1 Gen 2 makes G-DRIVE PRO up to two times faster than traditional single-port external drives and up to 10 times faster than legacy devices on USB-A.
The G-DRIVE supports Apple Time Machine so Mac systems can back up data without professional intervention.
The main benefit of the device is that it connects directly to a computer and offers plug-and-play connectivity with Mac OS X and other supported OS.
SanDisk also offers free technical support for the life of the product. It is ready to work with Apple Time Machine, making it easy to back up your computer. With up to 260MB/s read and 260MB/s write speeds, it provides powerful performance that can keep up with even the most strenuous tasks.
Pros
Dust & waterproof
Aesthetic design
Competitively priced
5-year warranty
Cons
Windows requires reformatting
5. Best Portable Hard Drive for Gamers: G-Technology ArmorATD
Sale
Best backup system with pre-installed backup software
G-Technology ArmorATD is a sturdy, protective enclosure that houses desktop drives with 5TB or less storage capacity. Featuring foam cushions on both ends and ruggedized construction wrapped in resilient polyurethane, ArmorHD can withstand your worst falls—by some distance.
Your data will always be safe with this external hard drive. When you're out in the field or on the go, your data is susceptible to elements and conditions that could damage or destroy it.
With G-Technology ArmorATD, you can rest assured that your data is well-protected against the elements.
The Triple-layer shock resistance design provides powerful protection to your hard drive. The Room For Adventure feature on the G-Technology ArmorATD hard drive lets you take your essential files. The drive is lightweight and compact, making it easy to throw in your bag or luggage.
It also has a protective sleeve that helps keep it safe from bumps and bruises. Ready to Go With Mac And Windows is a feature of the G-Technology ArmorATD that allows you to use the drive with both Mac and Windows computers.
The drive is formatted for HFS+ (Mac) and NTFS (Windows) to easily switch between the two operating systems without needing to reformat the drive.
Powered by the USB-C port, this external hard drive is compatible with most notebook computers and devices by plugging in a connector. Pushing one button enables auto backup of files and data to your computer, so you don't have to spend time syncing the device each time you switch it on.
G-Technology offers a 3-year limited warranty on the ArmorATD drive. Your drive is covered against manufacturing defects or malfunctions for three years from purchase.
If your drive fails due to a defect, G-Technology will repair or replace it. This warranty applies only to the original purchaser of the drive and is non-transferable.
Pros
Cables for both Typ-A & Type-C ports
Stylish design
Protective bumpers all around
Cons
Pricey per gigabyte
6. Best for speed & performance: Samsung X5 Thunderbolt 3 Portable SSD
Sale
SAMSUNG X5 Portable SSD - 1TB - Thunderbolt 3 External SSD (MU-PB1T0B/AM) Gray/Red
THUNDERBOLT 3 AND NVMe POWER: First ever NVMe-based portable SSD from Samsung featuring Thunderbolt 3 technology, the X5 delivers up to 40Gb/s data transfer speeds
LIGHTNING FAST READ WRITE SPEEDS: Sequential read and write performance levels of up to 2,800MB/s and 2,300MB/s, respectively
DURABLE DESIGN: Full metal body with glossy top and non-slip bottom mat withstands drops of up to 2 meters; Shock resistant internal design features Dynamic Thermal Guard technology to help maintain optimal performance and temperature
SECURE ENCRYPTION: Optional password protection and AES 256-bit hardware encryption keeps your personal and private data more secure
Compatible devices: Television
The Samsung X5 Thunderbolt 3 Portable Solid State Drive (MU-PB, 2TB) is the world's first portable Thunderbolt 3 storage solution. With the Samsung X5, you can experience the blistering speeds of Thunderbolt 3 and NVMe power.
This allows you to transfer data to 2,800MB/s- 5x faster than USB 3.1. Samsung X5 Portable SSD supports Thunderbolt 3, which delivers up to 40Gb/s data transfer rates and 4K video. This makes it possible to edit high-resolution videos on the go.
The drive uses NVMe PCIe technology for faster read-write speeds so that you can access your content in a snap. You can store up to 200,000 photos or up to 70 hours of video. The drive is also backward compatible with USB Type-C and Thunderbolt ports.
The Samsung X5 Thunderbolt SSD is designed for durability. The metal casing and shock-resistant interior protect your data even if you drop your drive. The USB-C connector is also robust and can withstand wear and tear.
This drive is perfect for taking your data with you on the go. You can easily back up your photos and videos or transfer large files quickly with its fast transfer speeds.
It uses AES 256-bit encryption. And they encrypt all data on the drive when it is at rest. This protects your data against natural and human error and external threats like theft or damage to your system.
Pros
3-year warranty
Excellent performance
Thunderbolt 3 interface
Full hardware-based encryption
Cons
Not waterproof
7. Best-Designed Portable Hard Drive: WD My Passport 4TB
Sale
The WD My Passport 4TB is a slim external hard drive perfect for storing your photos, videos, music, and documents. This drive features a sleek design that makes it easy to take with you on the go, and it comes with WD Backup software to help you keep your data safe.
With the Backup option, you can back up every file in your account and store it on the Western Digital external hard drive. There is also a Smart Backup feature which only backs up new or changed files since the last time you backed up.
The WD My Passport drive has a 256-bit hardware encryption feature protecting your data from unauthorized access. If your drive is lost or stolen, your data will still be safe and inaccessible to anyone who doesn't have a password. The software is easy to use and can be set up in just a few minutes.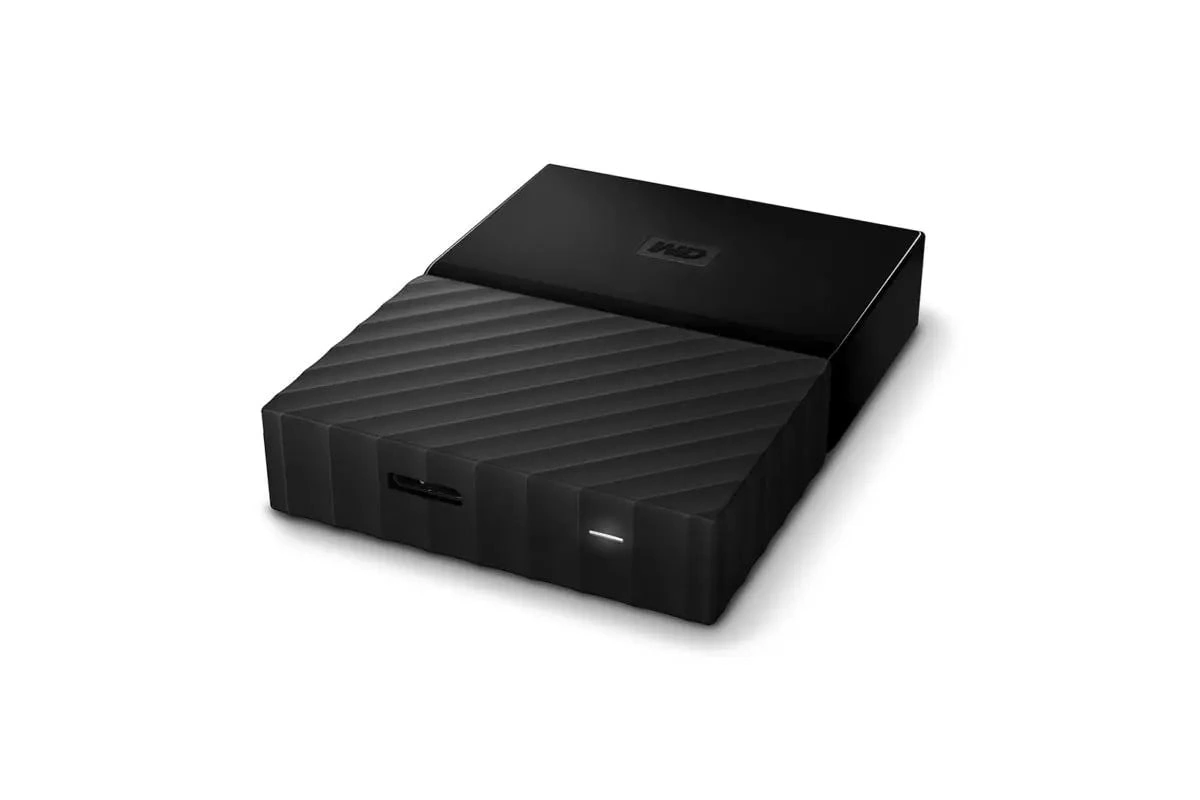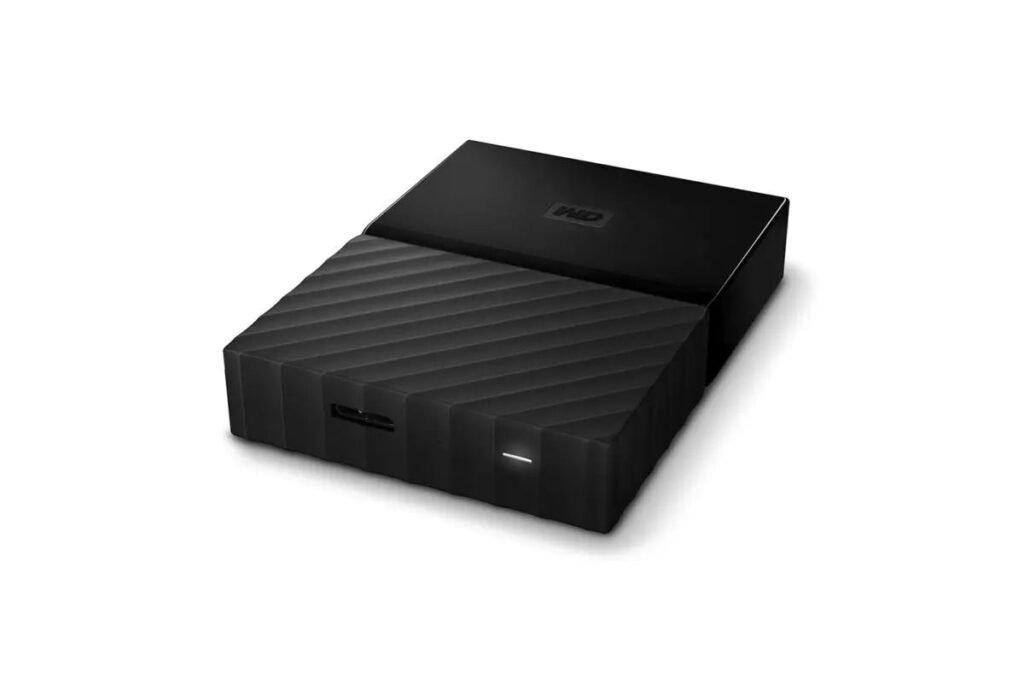 It comes with a SuperSpeed USB 3.0 port, allowing transfer rates of up to 5 Gbps. This is ten times faster than USB 2.0, so you can save time transferring large files between your computer and an external hard drive. The drive is also backwards compatible with USB 2.0 ports, so you can still use it with older computers.
The WD drive comes with a 3-year limited warranty. This means that you are covered for three years in the rare event that your drive fails. Depending on the issue, WD will work to replace your drive or fix it.
This warranty also protects your data and helps you keep your business running smoothly. The WD My Passport is an incredible external hard drive for small businesses. It has plenty of storage space, and the warranty gives you peace of mind in case of any problems.
Pros
USB Type-C port
3-year warranty
256-bit AES hardware encryption
Cons
Relatively expensive
8. Best Desktop Hard Drive (RAID): LaCie Rugged Mini 2TB Portable HDD
Sale
LaCie Rugged Mini is one of the most durable external SSDs that can withstand accidental drops, crushing pressures, and water damage.
With its all-terrain reliability feature, you can take your data anywhere without worrying about your data's safety. The durable design means the drive can withstand being dropped, making it ideal for rugged environments.
The LaCie Rugged Mini also features a USB 3.0 port for ultra-fast data transfer speeds and a built-in SD card reader for easy file transfer. Moreover, Password protection ensures your data remains safe and inaccessible if the drive is lost or stolen.
The hardware encryption activates automatically once the drive is connected to a computer, making it easy to keep your data secure. The Rugged Mini can hold up to 2TB of data, perfect for backups, archives, or moving large files between computers.
It is designed to be used by people who want to store important files like images, videos, music and documents without carrying heavy equipment.
One of the best features of this product is how it works seamlessly with the iPad. You can quickly transfer files between the two devices using a USB cable.
Pros
Come with a backup tool
Up to 2TB
LaCie Toolkit software is easy to use
Innovative casing design
Cons
Slow read-write speed
9. Most durable: ADATA SE800 1TB
ADATA SE800 1TB IP68 Rugged - Up to 1000 MB/s - SuperSpeed USB 3.2 Gen 2 USB-C External Portable SSD Blue (ASE800-1TU32G2-CBL)
Superfast Read/Write Speed up to 1000 MB/s *Result by ADATA internal lab. Actual performance may varies based on paired devices, file sizes system configuration and other variables. Mac user may experience slower performance due to Mac connector limitation
IP68 Rated: Ruggedized Waterproof / Dust-proof / Drop-Proof
Exquisite hairline-brushed surface for sleek look, compact and lightweight it's perfect for travelling
Interface: USB 3. 2 Gen 2 Type-C, backward compatible with USB 2. 0
Limited 3 Year Manufacturer warranty by ADATA
As portable storage needs have increased, ADATA has risen to the challenge with drives that are not only fast and reliable but also durable.
The SE800 is ideal for professionals looking for a rugged drive that meets military drop-test standards.
Military-grade shock and awe? More like data protection on demand! This heavy-duty drive can withstand hazards that would destroy other portable drives, making it the perfect choice for storing and transporting large amounts of data.
This rugged portable hard drive features IP68 dust and water protection. This means it can be submerged in up to 2m of water for 30 minutes without sustaining damage. It's also drop-resistant to handle up to 1.5 meters of accidental falls.
The SE800 runs on a USB-C interface and is compatible with PC and Mac computers. It comes with a three-year warranty, making it an excellent choice for those who need reliable storage that will withstand the elements.
The SE800 features a USB Type-C port compatible with the latest generation of PCs and laptops. The Type-C port is also backward compatible with USB standards, meaning you can use this drive with older devices.
The ADATA SE800 1TB is a portable hard drive with a 3-year limited warranty from the manufacturer.
If your drive fails or stops working, you can get it repaired or replaced by ADATA at no cost.
The ADATA SE800 1TB has a hairline-brushed surface with an exquisite look and feel. The surface is also fingerprint and scratch-resistant, which helps to keep your drive looking great for years.
It is compact and lightweight, perfect for business trips or zipping around on a flash drive at home. With Size A circuitry that's slender and low profile, the external drive can easily attach to your keychain.
The ADATA SE800 external hard drive delivers superfast read/write speeds up to 1000 MB/s, making it the perfect choice for creative professionals and enthusiasts who demand the best performance. Plus, it's plug-and-play compatible with Windows and Mac so that you can get started immediately.
Pros
Highly durable
Affordable cost per gigabyte
Compact and lightweight
Available in several colours
Cons
Short cables
Choosing the best external hard drive
Many factors are involved in deciding which is the best external hard drive for any given situation, so it's helpful to know where you'll be using your device and what features you will most need. Here are some factors to consider:
Storage capacity: How much data do you need to store? This is the most critical factor in deciding which external hard drive to buy. If you only need to store a few hundred gigabytes, you can get away with a smaller, cheaper device. But if you need to store terabytes of data, you'll need to invest in a larger, more expensive hard drive.
SSD vs HDD: Solid-state drives (SSDs) are newer and faster than traditional hard disk drives (HDDs). However, they're also more expensive. If speed is essential to you, you should consider getting an SSD. But if you're on a budget, then an HDD will suffice.
Transfer speed: How fast do you need to be able to transfer data? You won't need a high-speed external hard drive if you only transfer small files. However, if you're dealing with large video or image files, you'll want a device that can quickly transfer data.
Portability and durability: Do you need to be able to take your hard drive with you on the go? If so, then you'll want a portable hard drive. These devices are smaller and usually come with their protective case. If you don't need to worry about portability, you can opt for a larger desktop hard drive.
Security: Do you need to secure your data with encryption? If so, you'll want an external hard drive that offers advanced security features. Some drives come with software that lets you encrypt your data, while others have locks that prevent unauthorized access.
Closing Thoughts
While cloud storage is becoming increasingly popular, external hard drives remain a viable option for those who want to keep their data close at hand.
External hard drives are available in various sizes and price points, making it easy to find one that meets your needs. They are also relatively easy to use, and most come with backup software that makes it simple to protect your data.
In addition, external hard drives offer faster data transfer speeds than many cloud storage services. For these reasons, external hard drives are suitable for anyone who wants reliable, local storage for their files.
Last update on 2023-09-24 / Affiliate links / Images from Amazon Product Advertising API