7 Best UI Design Tools for Beginners
Long gone are the days when Sketch alone ruled the proverbial arena of UI design tools.
In the past decade, the needs of businesses, entrepreneurs, and even tech enthusiasts advanced rapidly.
Today, design fuels marketing strategies, from social media activities to websites and more.
In turn, the market sought to provide comprehensive solutions for every use, system, and user experience level.
However, this plethora of options does make it harder to narrow down the absolute best contenders – especially if you're a beginner who understandably minds the steeper learning curves of some.
With that in mind, in this article, we'll outline the best UI design tools for beginners in 2021 and beyond.
Picking UI design tools; UI rules
But before we do, we should likely set some proper foundations.
Specifically, what UI design tools for beginners should seek to achieve, and what qualities they should bring. Hopefully, doing so should make your choice all the easier.
UI design in itself is a profound subject that likely warrants its own article to explore.
Here, then, for the sake of text economy, let us briefly outline some crucial UI design rules and guidelines you shouldn't overlook.
That is, what such tools should seek to accomplish.
1 – Visual consistency
Initially, visual consistency is crucial, no matter what you design. Any end product should offer visual consistency to its users to ensure an optimal User Experience (UX).
In the case of websites specifically, reaping Search Engine Optimisation (SEO) benefits somewhat hinge on it.
Moreover, visual stability is one of the three main factors of Core Web Vitals, gauged through Cumulative Layout Shift (CLS):
2 – Responsiveness
On the subject of usability, UI responsiveness is equally crucial.
Again, regardless of your end product type, responsiveness guarantees a better UX, and thus user satisfaction.
In this regard, responsive web design also plays a vital role in SEO – as the aforelinked article illustrates.
3 – Contextual value
Finally, your end product should offer demonstrable contextual value. That is value in the context of your user's intent.
It is here where your end product will ultimately dictate which UI design tools for beginners work best for you. Here, consider the following:
Time. When will the user interact with your end product? Will it be, for example, regularly or mostly in response to specific, time-bound needs?
Location. Where will interactions occur? Will your users typically come from desktop or mobile devices? Will they be at home or on the road?
Intent. Finally, what will fuel interactions? Will your end product offer value concerning said fuel?
These are, of course, just rudimentary explorations of much more complex topics. However, they should suffice for this article.
The difference between UX and UI
Now, we must make another vital distinction before delving into desirable qualities for UI design tools for beginners.
Having touched on UX, and seeing how UX and UI are often paired, let us briefly distinguish the two terms.
In brief, UI design refers explicitly to the user interface – as the name suggests. Therefore, it delves into typical user-side factors like visual appeal, ease-of-use, and so forth.
Conversely, UX refers to the overall user experience. In essence, it is a problem-solving principle that spans web design, page design, app UIs, and more.
Understandably, the two see interchangeable use because they overlap in their goal to provide an impeccable end-user experience.
Still, the two are distinctly different, even at a cursory glance.
To conclude on a more profound view, let us cite Jonathan Widawski, CEO of Maze – whose product we will list below:
On UI, he argues that "UI design is about using typography, images, and other visual design elements to turn a basic interface into something digestible and usable." Conversely, "UX design is about understanding the overall journey of your users and turning it into a product".
For a slightly different perspective on this distinction, you may also refer to the following video by CareerFoundry:
UI design tools for beginners; desirable qualities and factors to consider
Finally, let us briefly outline the second part of the introduction; what qualities UI design tools should bring.
1 – Focus and flexibility
First and foremost, different UI tools focus on different aspects of UI design. Some will focus on wireframing, others on prototypes, and so forth.
Some will steer closer to the UI aspect of design, while others on the UX aspect – hence the distinction above. Here, your priorities, expertise, and niche should inform your choice.
Moreover, some tools will offer distinctly more flexibility than others.
Some, like Proto.io, provide immense flexibility, allowing for prototyping across different devices, while others will not.
Similarly, each tool will offer different plugin options and different asset libraries. This aspect, too, will depend on your unique needs and criteria.
2 – Ease-of-use
Second, all UI design tools for beginners should be easy to earn their spot on this list. This factor is, of course, relatively subjective, but it should explain why some UI design powerhouses were excluded.
In this regard, consider how much ease-of-use suits your expertise. Similarly, consider how much material like tutorials and how-tos you may expect to find.
Finally, you may examine how much power and flexibility a tool might sacrifice to offer accessibility.
In some cases, sheer potency might warrant putting up with a steeper but still realistic and manageable learning curve.
3 – Pricing and platform(s)
Finally, you may examine each tool's pricing and available platforms.
You may not likely bypass the former – many beginners may not switch to new platforms for design tools. However, you may carefully consider the former.
For instance, many tools may fairly charge for vast arrays of features – ones that, nonetheless, beginners may not need.
Top 7 Best UI design tools for beginners
Having covered the above, we may finally delve into our main subject. Consider the following seven tools that may best suit your design and testing needs in no particular order.
1 – Sketch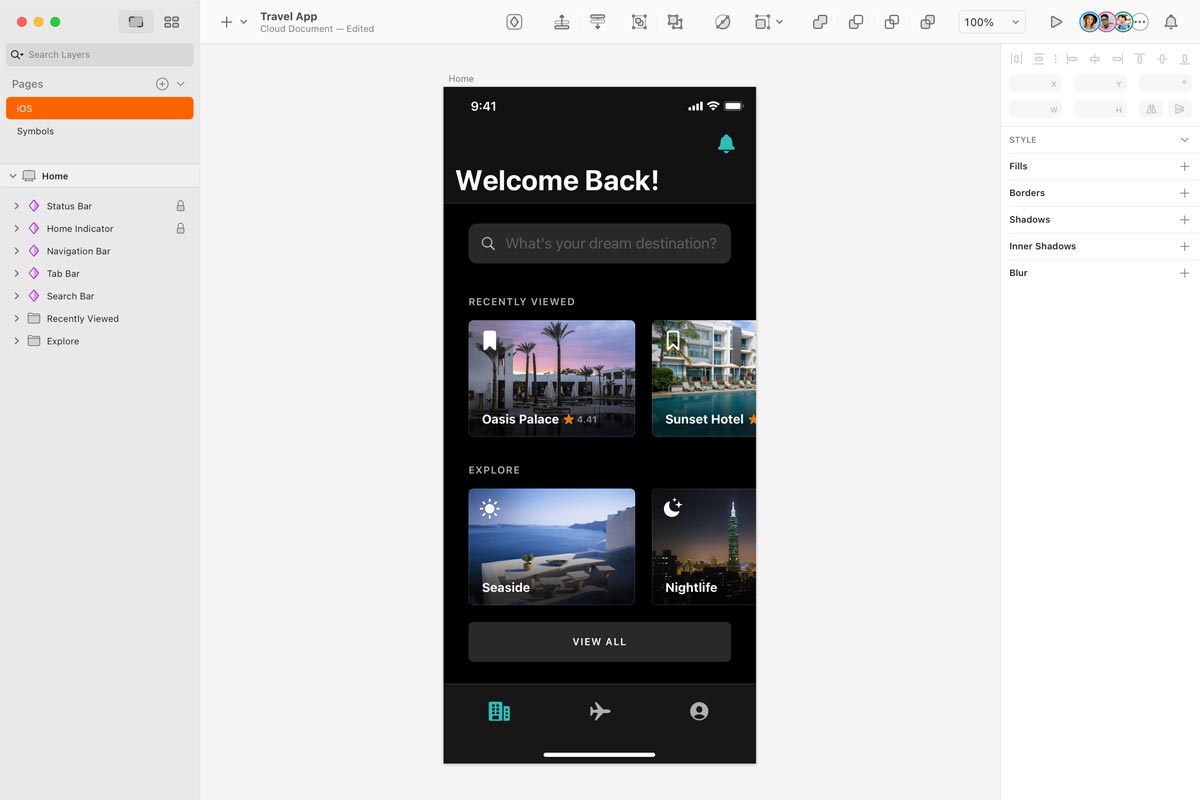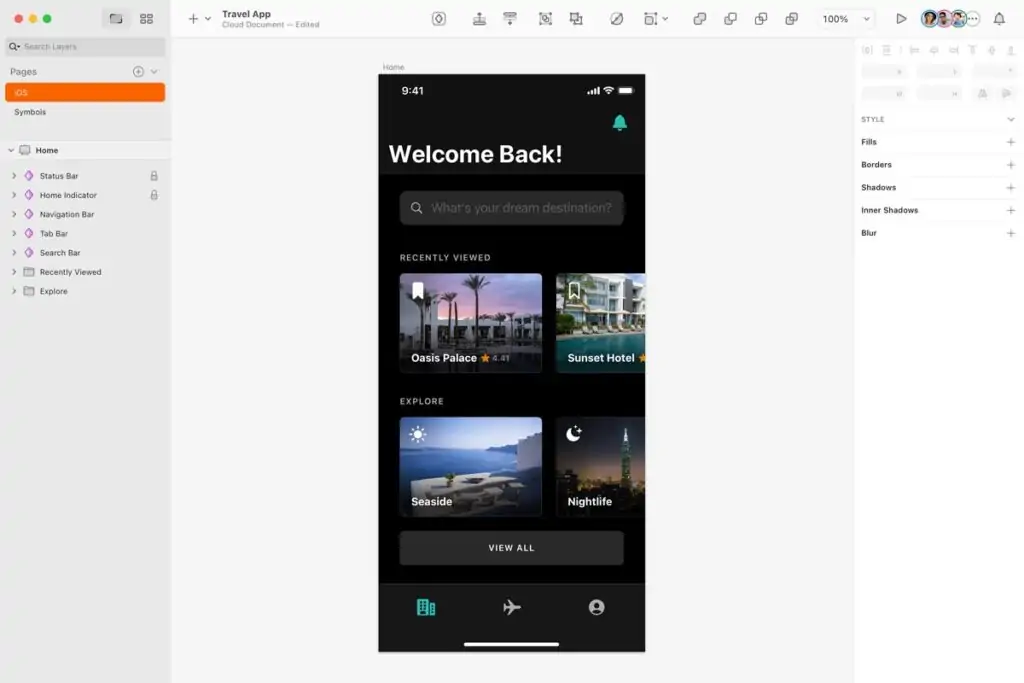 The industry standard for many professionals across the globe, Sketch rightfully continues to dominate the UI design tools market.
It does face competition, but its power, flexibility, and comparative ease-of-use have fortified its position.
Alt-tag: The interface of the Sketch app on a page that reads "welcome back!"
Sketch facilitates interfaces and prototypes through an intuitive interface of its own. It offers nested objects. The Symbols feature for UI asset reuse, instant mobile previews, and more.
In recent years it has continued to expand its functionalities, offering broader plugin integrations.
Its two notable drawbacks lie in its exclusivity to Mac systems and a lack of a free plan.
System(s): Mac.
Pricing: $9 per editor, monthly, or $99 per editor, yearly.
Free trial: No.
2 – Adobe XD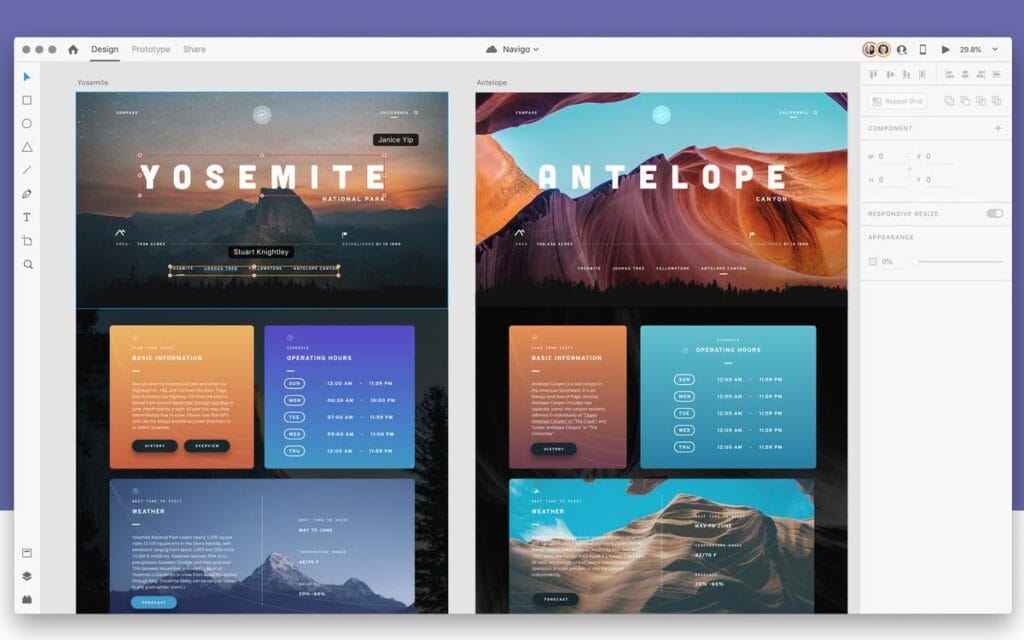 Sketch's main competitor for many, Adobe XD offers a very viable alternative for beginners and seasoned professionals alike.
Having launched as recently as 2016, XD quickly acquired a faithful audience for multiple reasons.
XD also specialises in prototypes and offers nearly unparalleled flexibility in this focus as a part of the Adobe suite.
Through access to the Adobe Creative Cloud tool collection, it offers seamless integration with various Adobe tools.
While pricing may seem steeper, Photoshop integrations alone make it alluring enough for many.
Potential pricing for multiple tools aside, XD's main drawback lies in the learning curve.
Especially for this list, its interface does pose a relative challenge for newcomers – even ones familiar with other Adobe products.
System(s): Windows, Mac.
Pricing: $9.99 per month, or $52.99 for selecting 20+ Creative Cloud apps, including XD.
Free trial: Yes, seven days.
3 – Maze
On to the aforementioned Maze, Maze offers a powerful testing platform for UI designs.
Maze has seen use by such notable brands as Uber, IBM, Logitech, and Greenpeace, among 40,000 others.
Thus, while it may see use in various fields, it still offers an immensely potent tool for designers seeking insights.
As a testing platform, Maze offers qualitative data through usability tests, connecting designers with users.
At the same time, it offers A/B tests, heatmaps, and other tools to yield quantitative data for further improvements.
Most notably, Maze offers integrations with such prototyping and wireframing tools like Sketch, Adobe XD, InVision, and Marvel – all contenders on this list.
Its main drawback naturally lies in its lack of natural design features.
System(s): Web.
Pricing: Professional plans are $25 per month per seat. Organisation plans come with custom pricing and start at ten seats.
Free plan: Yes, for individual projects.
4 – Axure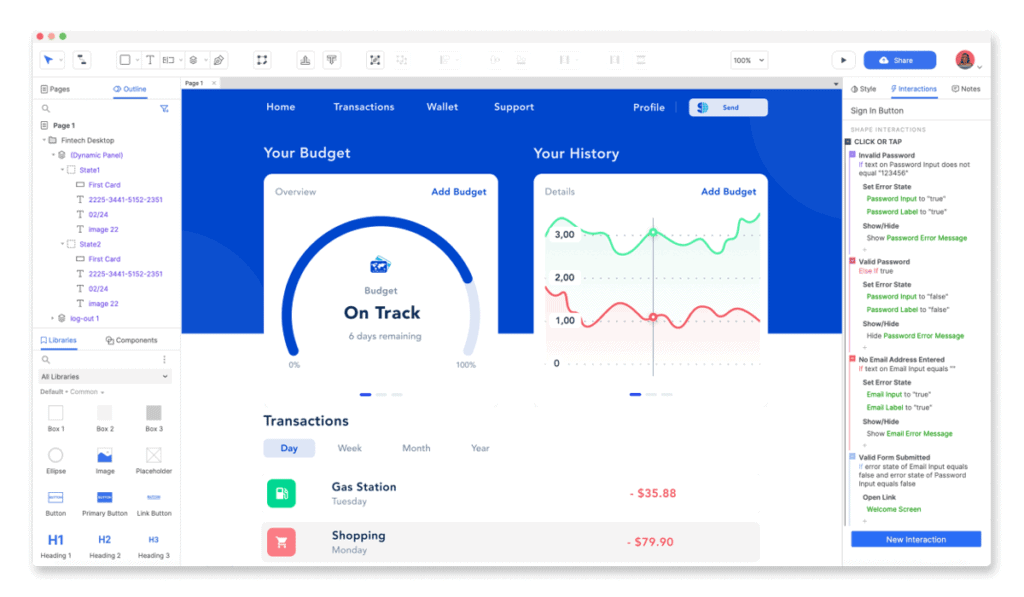 Returning to design tools, Axure presents itself as a UX-focused tool. The platform allows for both wireframing and prototyping and comes with a keen focus on structurally complex projects.
Finally, as with others on this list, multiple designers can work concurrently on the same project file.
Its considerable power aside, Axure offers an attractive option among UI design tools for beginners due to its accessibility.
Indeed, Axure offers exceptional ease-of-use, facilitating such features as dynamic panels and graphic interactions without requiring coding.
The main point of criticism for Axure arguably lies in its pricing. It does offer a free trial, however, so you may gauge its value in action.
System(s): Windows, Mac.
Pricing: Pro plans are $25 per month per user, billed annually, or $29 month-to-month.
Free plan: Yes, 30 days.
5 – InVision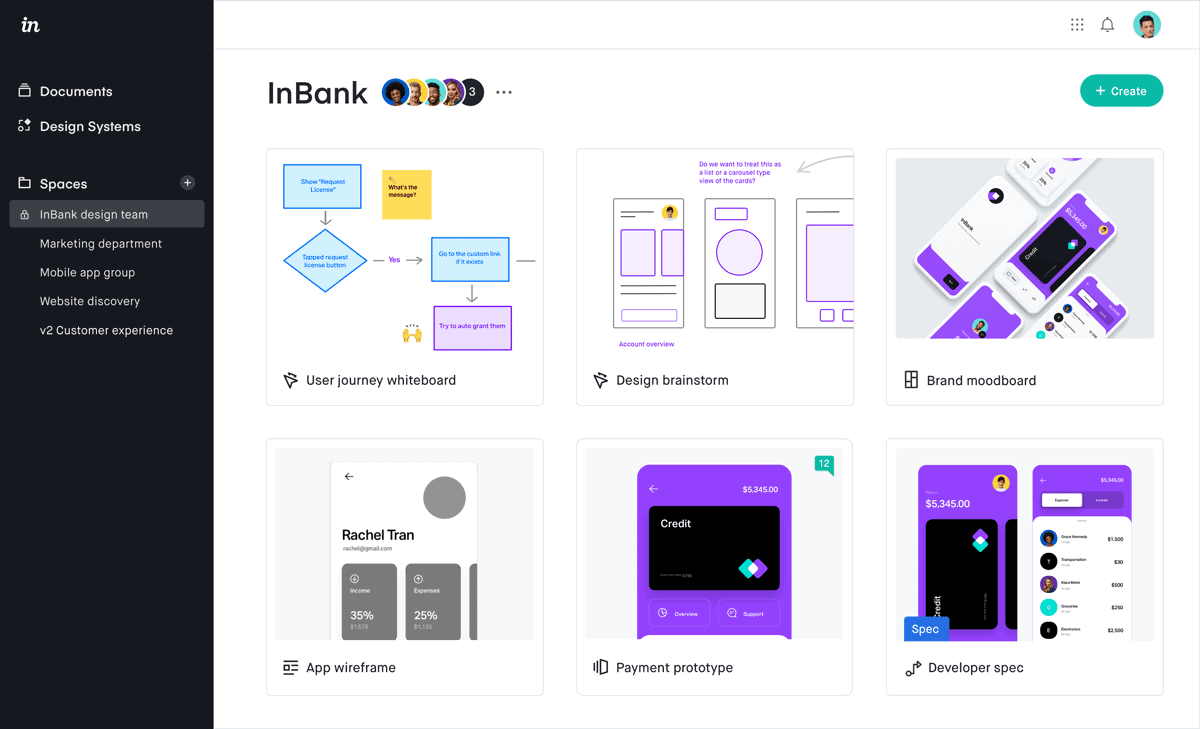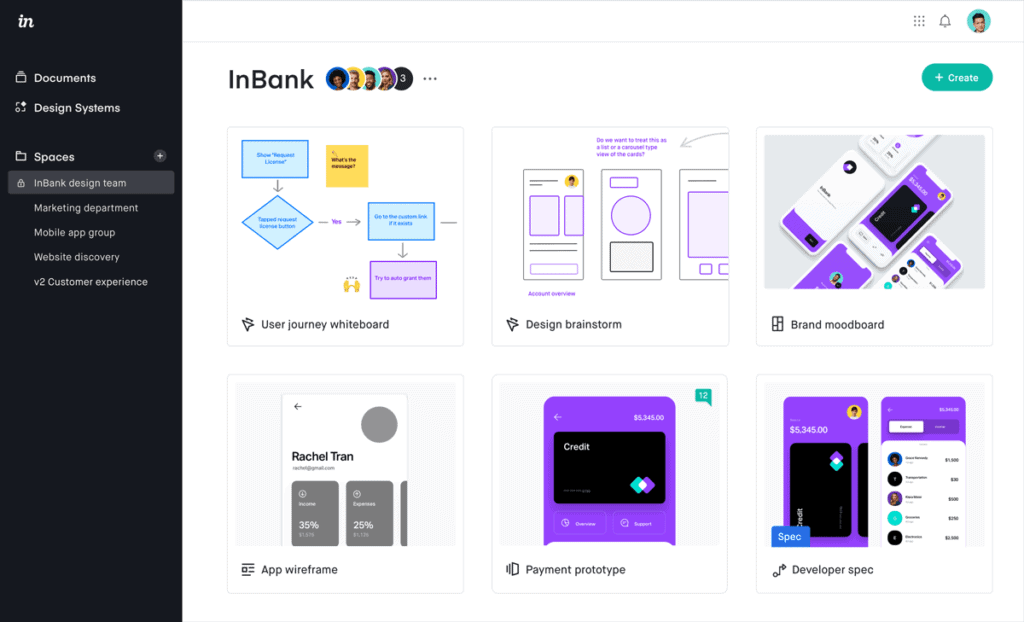 Another notable contender, InVision offers a comprehensive design platform for multiple purposes.
Wireframing and prototyping also focus on UX, allowing designers to map out user journeys and refine handoff features.
With InVision Studio, InVision offers an impressive array of features, including preset transitions and interactions, a vector-drawing tool, and more.
Additional resources include a component library of templates and other resources.
Finally, this newcomer-friendly tool has notable integration options, including a Sketch import feature and an unlimited free plan.
InVision's main shortcoming arguably lies in its raw power compared to other contenders, like Sketch and XD.
System(s): Windows, Mac.
Pricing: Pro plans are $9.95 per user, billed monthly, or $7.95 per user per month, billed annually.
Free plan: Yes, unlimited.
6 – Marvel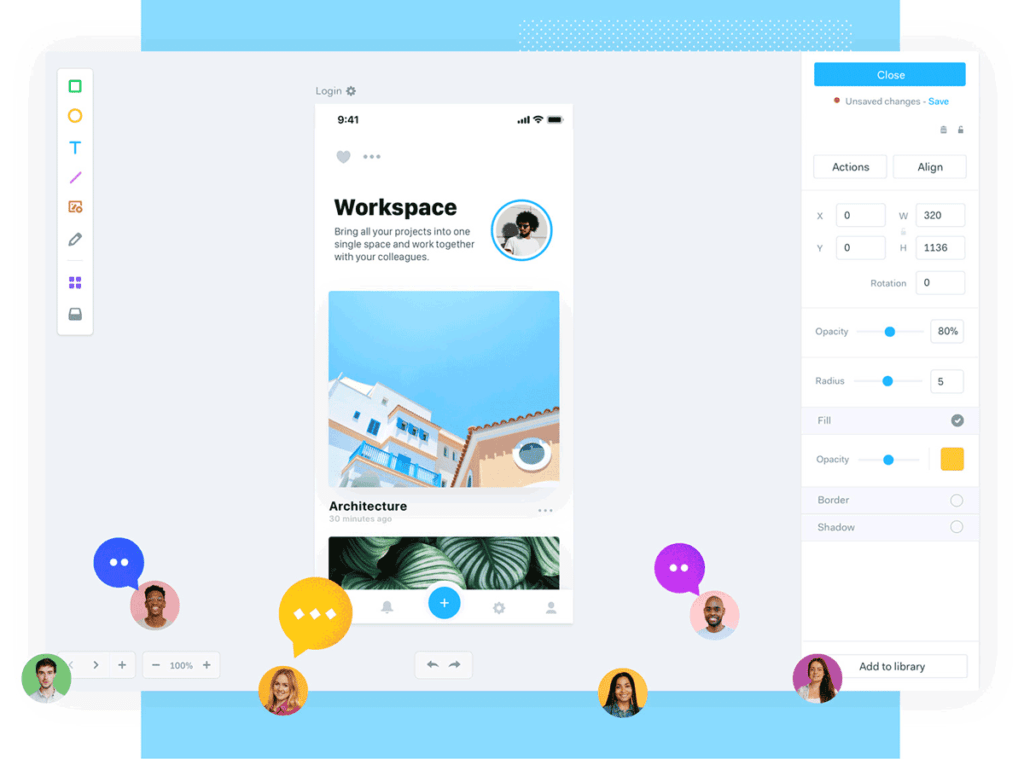 Much like InVision, Marvel also offers a lucrative option for all stages of the design process.
From design and wireframing to prototyping and user testing, Marvel rightfully presents itself as an all-in-one solution.
Nonetheless, Marvel's key strength arguably lies in prototyping specifically.
It offers a handy page builder alongside an array of features for gestures, screen elements, and so forth.
Moreover, as it caters to iOS and Android systems, Marvel offers undisputable ease-of-use that newcomers will welcome.
It does sacrifice relative power compared to others on this list, but it remains an attractive choice.
Relative power aside, Marvel's main shortcoming compared to other options lies in its lack of Windows or Mac apps.
System(s): Web, iOS, Android.
Pricing: Pro plans are $12 per month, billed annually, while Team plans are $42 per month, billed annually.
Free plan: Yes, for individual projects.
7 – Proto.io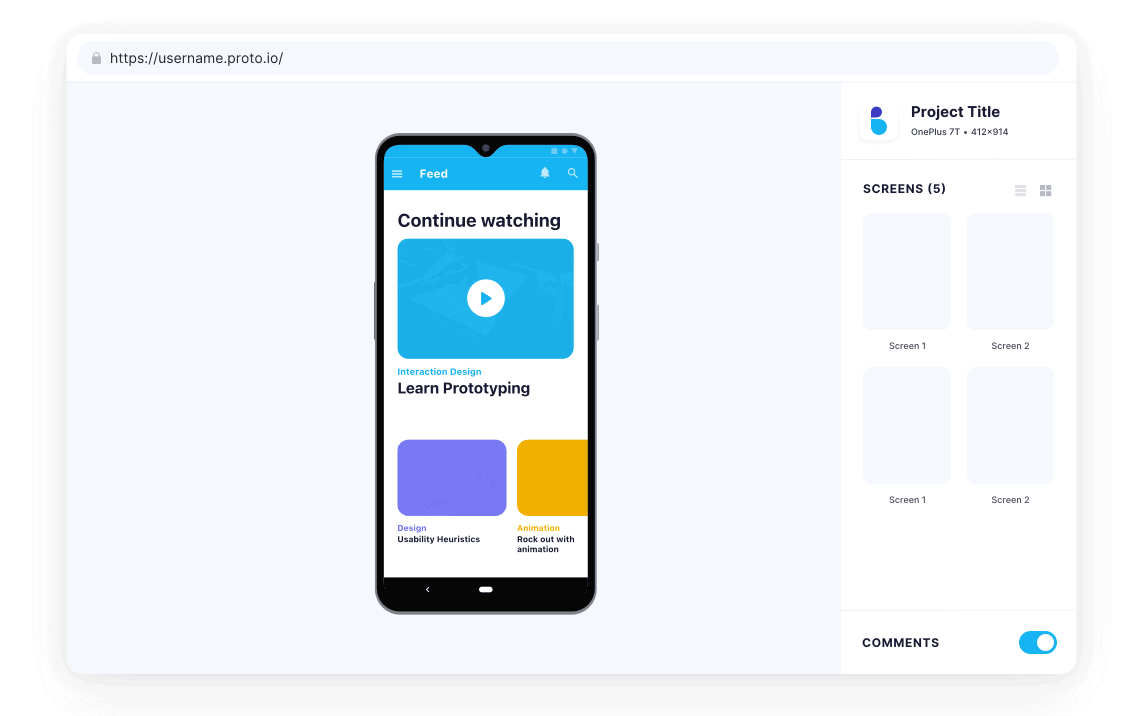 As the name suggests, the web-based Proto.io primarily focuses on prototyping. Still, it does not lag as regards wireframing and also offers outstanding flexibility.
Unlike some of its contenders, Proto.io allows prototyping for anything with a screen interface, from Smart TVs to gaming consoles.
Similarly, it offers a wealth of resources, including over 250 UI components and over 1000 templates.
Moreover, should its design tools not suffice, it offers the option to import designs from Sketch, Photoshop, and XD.
Finally, it comes with distinct ease-of-use and a smooth learning curve, making it ideal for beginners.
That said, Proto.io, unfortunately, comes with no free plan, and its pricing is steeper than its contenders. Moreover, the cheaper Freelancer plans only allow for one user.
System(s): Web.
Pricing: The Freelancer plans are $24 per month, billed annually. Starter plans, which allow for two users, are $42 per month, billed annually.
Free plan: No.
Conclusion
In conclusion, the market offers more options for UI design tools for beginners in 2021 than ever before.
From the sheer power of industry-leading Sketch and XD to the versatility of web-based Proto.io and iOS – and Android-friendly Marvel, options abound.
Still, it is this wealth of choices that makes a final choice difficult.
Some contenders offer unmatched ease-of-use, like Proto.io; others offer attractive pricing and free plans, like InVision; others offer unique functionalities, like Maze.
That's why, ultimately, the choice should hinge on your own unique needs, tastes, budget, and other factors.
Author Bio: Jonathan Waters is a freelance copywriter and part-time web designer. He is an avid SEO practitioner and tech enthusiast interested in customer journey mapping and UX design. In his spare time, he keeps up with the latest digital marketing trends and revisits shows from the 80s and 90s.