Top 10 Best Project Management Tools
Being organised and efficient is essential to completing projects on time and within budget as a project manager. This is where project management tools come in – they provide an effective and streamlined way to manage tasks, resources and team members.
Adopting new methods and tools is more important in the ever-evolving business landscape. Using the correct project management tools can help you increase productivity and stay ahead of the curve.
To help you choose the best tools for your needs, we have compiled a list of the ten best project management tools. These tools have been selected based on their ability to improve team communication, facilitate task organisation and increase overall project management efficiency.
Let's now take a closer look at why it is essential to use project management tools. Firstly, they provide a central platform for managing all aspects of a project, including schedules, budgets and resources. This ensures that all team members are on the same page and working towards the same goals.
Secondly, project management tools allow you to track progress and identify potential problems in real-time. This makes it easier to address issues before they escalate and ensures that projects stay on track.
Third, project management tools help streamline communication by providing team members with a single point of contact to collaborate, share files and provide feedback. This eliminates the need for endless email threads and meetings, leaving more time for essential tasks.
Finally, project management tools provide the transparency that helps build trust with clients and stakeholders. With real-time updates and clear visibility into project status, stakeholders can be confident that progress and goals are being met.
Using project management tools, you can take your project management to the next level, making it easier to manage your team and deliver projects efficiently. So without further ado, let's dive into the ten best project management tools that can help you streamline your workflow and increase productivity.
1 – Monday
At the heart of monday.com, Work OS is an innovative and dynamic platform that offers unparalleled flexibility and versatility to businesses across all industries. The Work OS allows users to create and customise the tools they need to manage every aspect of their work – all in one central location.
One of the critical features of monday.com is the ability to combine building blocks such as applications and integrations to create or customise workflows that meet all business needs. This means that the platform is highly adaptable and can be used by many teams, from marketing and sales to software development and project management.
With monday.com, businesses can easily create and manage tasks, track project progress and collaborate with team members in real-time. The platform's intuitive user interface and customisable features make it easy to handle everything from simple to complex workflows. Teams can stay on top of things and deliver results quickly and efficiently.
monday.com also offers industry-specific products, such as Monday marketer, Monday sales CRM, Monday dev, Monday projects and Monday work management, all built on the Work OS. These products offer specialised features and tools designed specifically for each industry, making it easier for companies to streamline their workflows and achieve their business goals.
Whether you're a small startup or a large enterprise, monday.com has everything you need to improve your team's alignment, efficiency and productivity. Companies can create the perfect configuration for their unique business needs by customising workflows and using industry-specific products.
Pricing

2 – ClickUp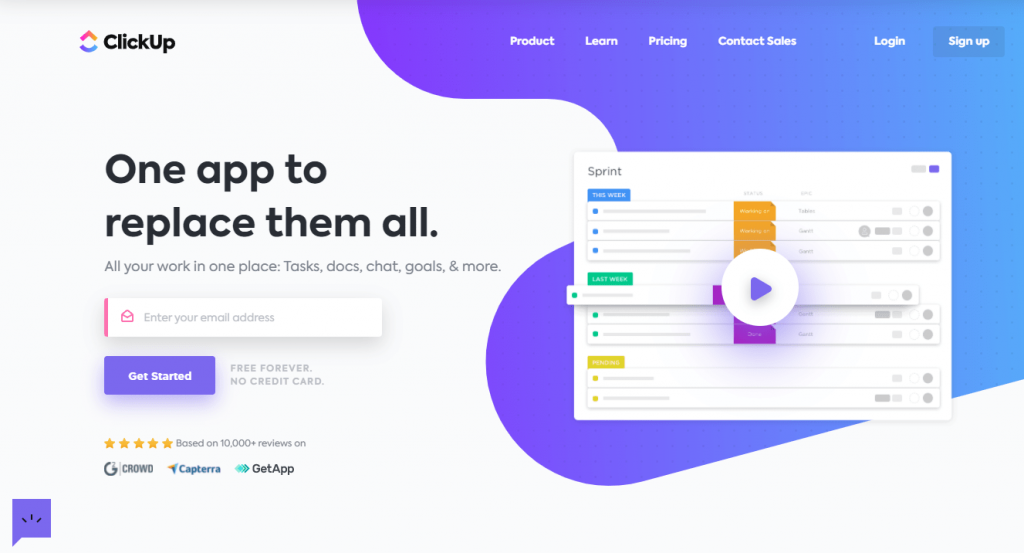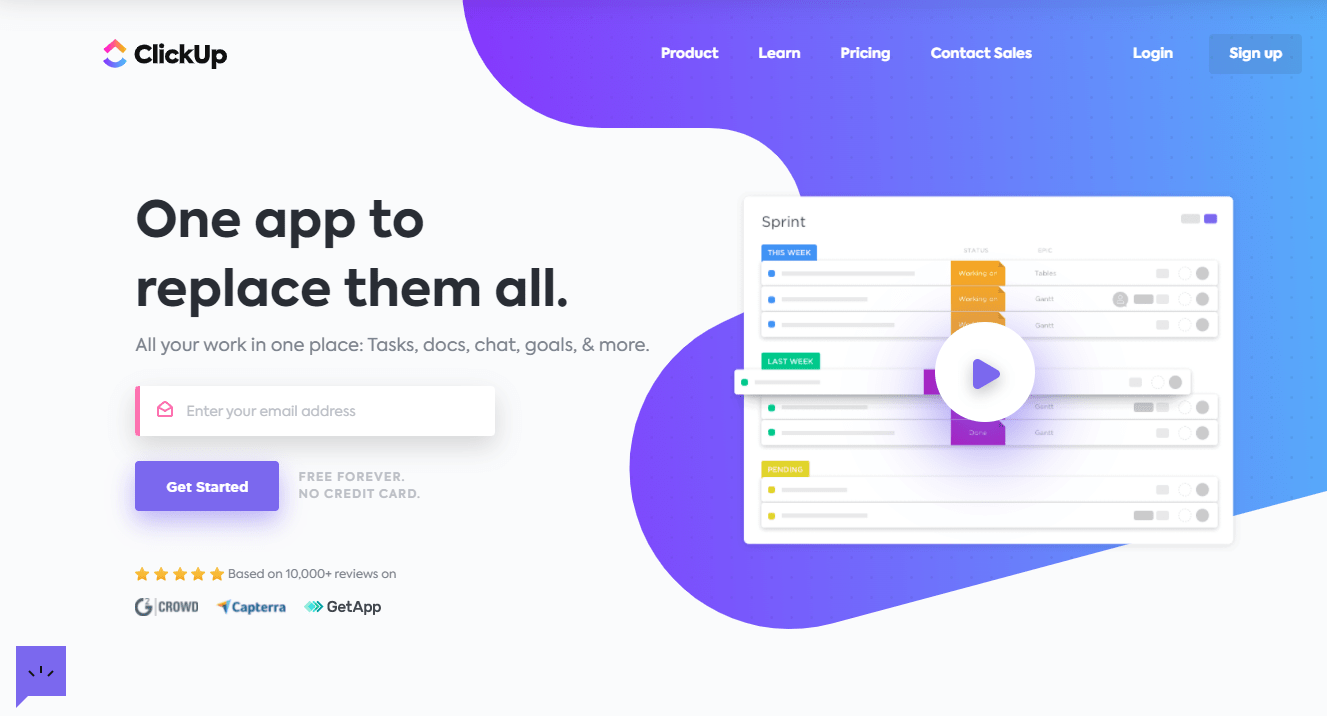 ClickUp is a robust and comprehensive productivity platform that enables teams to streamline their workflows, collaborate effectively and achieve results efficiently. This all-in-one platform serves as a central hub where teams can plan, organise and execute their work using a wide range of tools, including tasks, documents, chat, goals, whiteboards and more.
One of the critical benefits of ClickUp is its customisability. Users can customise the platform to their needs and preferences with just a few clicks. This level of customisability means that teams of all sizes and types can use ClickUp to manage their projects and tasks more effectively, improving their productivity and overall efficiency.
In addition to its flexibility, ClickUp offers a range of advanced features that make collaboration a breeze. Teams can use the platform's built-in communication tools to stay connected and on the same page, even when working remotely. These include real-time chat, video conferencing and collaboration features such as whiteboards and documents.
Another standout feature of ClickUp is the Goals function, which allows teams to track progress towards specific goals and key deliverables. This can ensure that all team members are working towards the same goals and that the team stays on track to meet project milestones.
Whether a small startup or a large enterprise, ClickUp is a robust platform that can help you streamline workflows, improve collaboration and increase productivity. With its intuitive interface, customisable features and a robust suite of collaboration tools, ClickUp is the ideal productivity platform for teams looking to take their work to the next level.
In summary, ClickUp is a comprehensive and versatile productivity platform that offers a range of features to help teams plan, organise and collaborate more effectively. By customising the platform to their individual needs and taking advantage of its advanced features, teams can increase their productivity and streamline their workflows.
Pricing
3 – Airtable
Airtable is a breakthrough platform that enables teams to build applications on shared data to achieve unprecedented productivity, flexibility and collaboration levels. Over 300,000 companies, including 80% of the Fortune 100, rely on Airtable to connect their people and data and achieve their most important goals.
While Airtable may look like a spreadsheet at first glance, it is much more than that. Airtable's unique building blocks allow teams to model the things they work on, define relationships between them, and create views specific to their type of work. This level of customisation gives teams the flexibility they need to tackle any challenge, no matter how complex or unique.
One of the critical benefits of Airtable is that it allows teams to adapt quickly to market changes or shifting objectives. This level of agility is possible because Airtable provides transparency and visibility to employees and managers, allowing teams to work together seamlessly and more efficiently. And because Airtable doesn't require IT resources, teams can solve many use cases without relying on specialised technical expertise.
Airtable is the ideal platform for teams looking to streamline their workflows and increase productivity, whether you're a startup or a large enterprise. With its flexible building blocks, customised views and intuitive user interface, Airtable is the perfect solution for teams that need to work with data powerfully and flexibly.
Try Airtable and see why so many organisations are moving from spreadsheets and rigid project management tools to Airtable's Connected Apps Platform. With Airtable, you can easily create apps tailored to your team's unique needs, streamline workflows, and achieve your most important goals.
Pricing
4 – Notion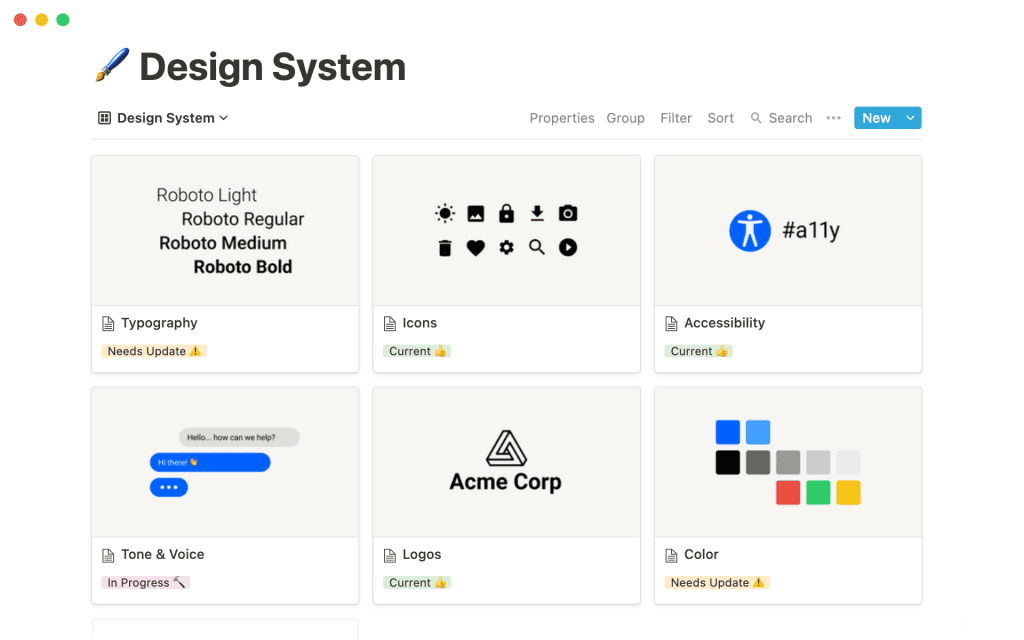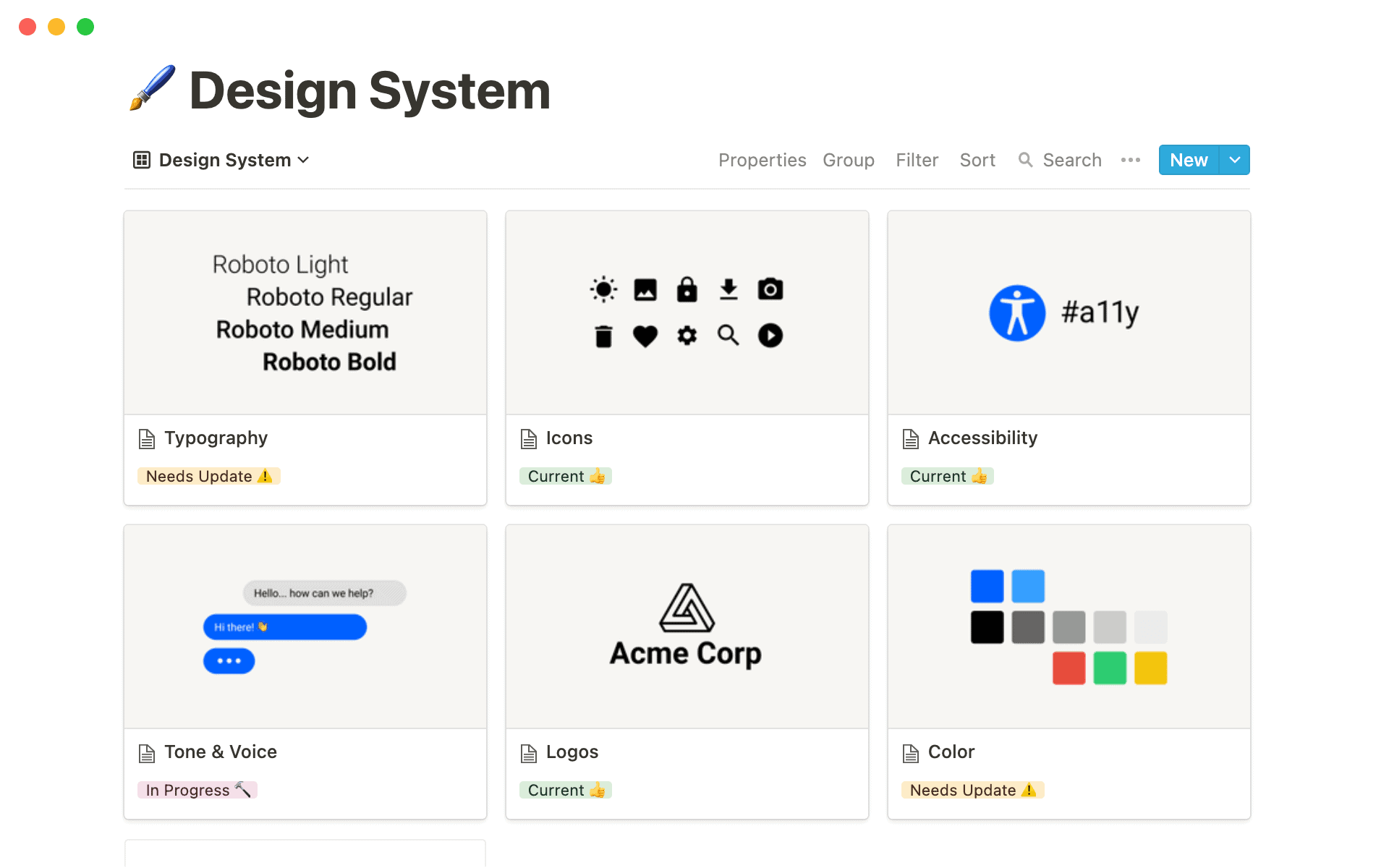 Notion is a versatile workspace that revolutionises the way teams collaborate. With its unique combination of notes, documents, project management tools and wikis, Notion offers teams a comprehensive workspace that you can customise to their individual needs. Tens of thousands of groups and businesses worldwide use Notion to improve collaboration, stay informed and increase productivity.
At the core of Notion's power is its flexibility. Unlike other productivity platforms, Notion allows teams to create a workspace tailored to their needs. Whether you're working on a project, taking notes or organising your thoughts, Notion gives you the tools you need to get work done. You can customise everything from the layout of your pages to the way you organise your information so you can focus on what's important.
With Notion, teams can collaborate in real time, creating a seamless and efficient workflow that eliminates communication gaps and fosters community. This powerful platform allows team members to work on collaborative projects, assign tasks, set deadlines and track progress. In addition, Notion's robust database capabilities can be used as a knowledge management tool, facilitating the capture and organisation of information that the entire team can access.
Another great advantage of Notion is that you can access it from anywhere. Whether sitting at your desk or on the road, Notion allows you to work from anywhere, making it an ideal tool for remote teams.
In summary, Notion is a powerful workspace that combines notes, documents, project management and wikis. The customisation options, collaboration features and database capabilities make Notion the ideal tool for teams that want to increase productivity, stay organised and work more efficiently. With Notion, you can customise your workspace to meet your individual needs, collaborate with your team in real-time and access your work from anywhere.
Pricing
5 – Basecamp
Basecamp is an award-winning collaboration tool trusted by thousands of teams worldwide. It's a robust platform that enables teams to work on projects, communicate and stay organised daily. Whether collaborating with teammates in the same office or with clients worldwide, Basecamp is the perfect tool to help you get things done.
One of the critical benefits of Basecamp is the ability for teams to see what everyone is working on quickly. This eliminates the need for endless meetings and email chains and allows teams to work more efficiently. Basecamp enables team members to track tasks, set deadlines and view progress, keeping everyone on the same page.
Basecamp also offers a range of collaboration features, including the ability to collaborate on documents. This makes it easier for team members to edit and comment on files that all team members can access. This saves time and ensures everyone has access to the latest version of the document.
In addition to these features, Basecamp makes it easy for teams to plan projects, set milestones and track progress. This is all done through an intuitive, user-friendly interface that makes it easy for team members to keep track of their tasks.
Another great advantage of Basecamp is its versatility. It is an ideal tool for teams of all sizes and industries, from marketing agencies to software development companies. Basecamp can be customised to each team's needs, making it a highly versatile tool.
Basecamp is the #1 collaboration tool for thousands of teams worldwide. Its ability to help teams work on projects, communicate and stay organised every day without endless meetings or email chains makes it the perfect tool to get things done. Basecamp makes it easy for teams to see what everyone is working on, collaborate on documents, plan projects and track progress – all from an intuitive, user-friendly interface. Basecamp is highly versatile and can be customised to each team's unique needs, making it an indispensable tool for teams across all industries.
Pricing
6 – Asana
Asana is a comprehensive work management platform that helps teams seamlessly manage daily tasks and strategic initiatives. With Asana, teams can feel more confident, move faster and achieve more with less, no matter where they are.
Asana has been designed with the utmost care and attention to ensure you can execute your plans according to your needs. Unlike other work management platforms that focus solely on quantity rather than the quality of features, Asana focuses on the scalability and reliability of its platform to ensure you are always prepared and organised.
Trusted by more than 114,000 paying companies and millions of users in 190 countries worldwide, Asana is the perfect solution for your business. Whether you need to manage product launches, marketing campaigns, business goals or anything in between, Asana has you covered.
With Asana, you can easily visualise your workflows, track project progress, collaborate on tasks and documents, and streamline team communication without relying on emails and meetings. In addition, Asana offers a wide range of integrations with other tools and applications that make it easy to optimise your work processes and increase your team's productivity. Be sure to check out this Asana alternative too!
Pricing
7 – Trello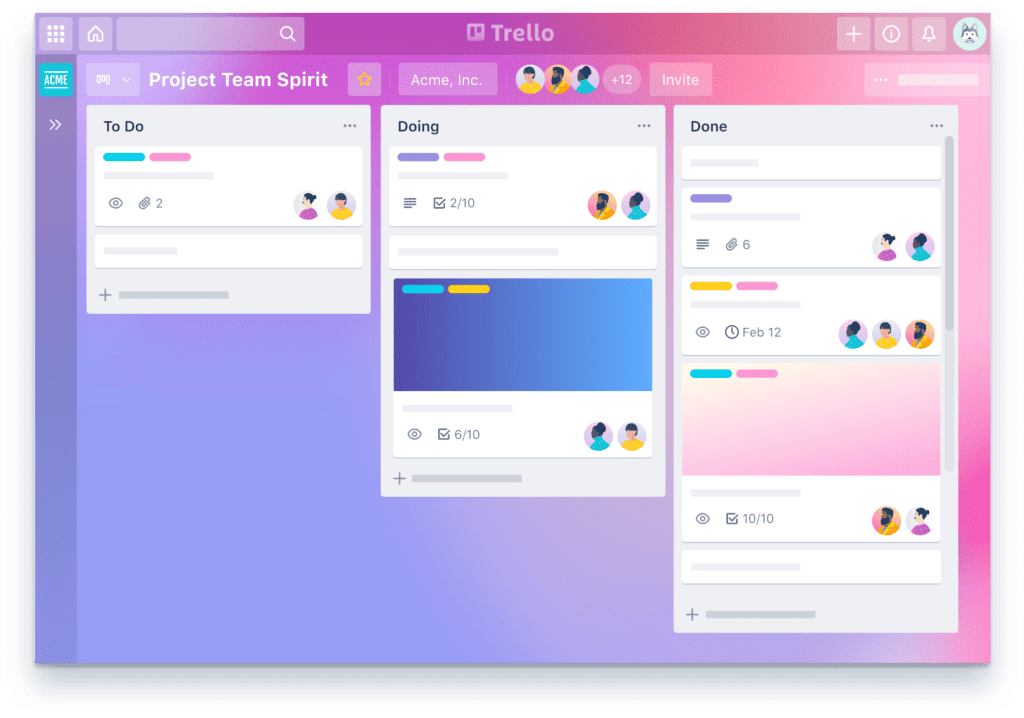 Teams in today's businesses face many challenges in their day-to-day operations. Spreadsheets, emails and constant notifications can be overwhelming and cause tasks to get lost and lack visibility, causing team productivity to suffer. As well as managing these mundane tasks, teams also need to create projects, track progress and achieve business goals, which requires a clear overview of the whole process to keep everyone on the same page.
That's where Trello comes in: a visual collaboration tool that gives your team a shared perspective on any project in a fun, flexible and rewarding way. Trello is designed to be used by anyone, regardless of their role within the organisation. Sales, marketing, HR and operations teams can develop and customise Trello to suit their needs and working styles. With over 100 integrations with other essential tools such as Google Drive, Slack and Jira, Trello is a living, breathing project hub for cross-team collaboration, no matter where your work takes place.
Trello's simplicity sets it apart from other project management tools. Its core features are as easy as organising sticky notes on a wall. There is no cumbersome onboarding process, so joining groups is easy. Just sign up, enter a team and instantly see progress on all the team's projects.
Trello brings joy to teamwork by making it transparent and easy to share across committees and teams. Users can customise Trello with features like board backgrounds, emoji reactions and stickers. The fun and intuitive features promote engagement and encourage team members to take ownership of their work.
Trello has become the go-to visual collaboration tool for teams around the world. Whether you're a team of two or a group of two thousand, Trello helps you organise and manage your projects so you can focus on what's essential: achieving your goals.
Pricing
8 – Wrike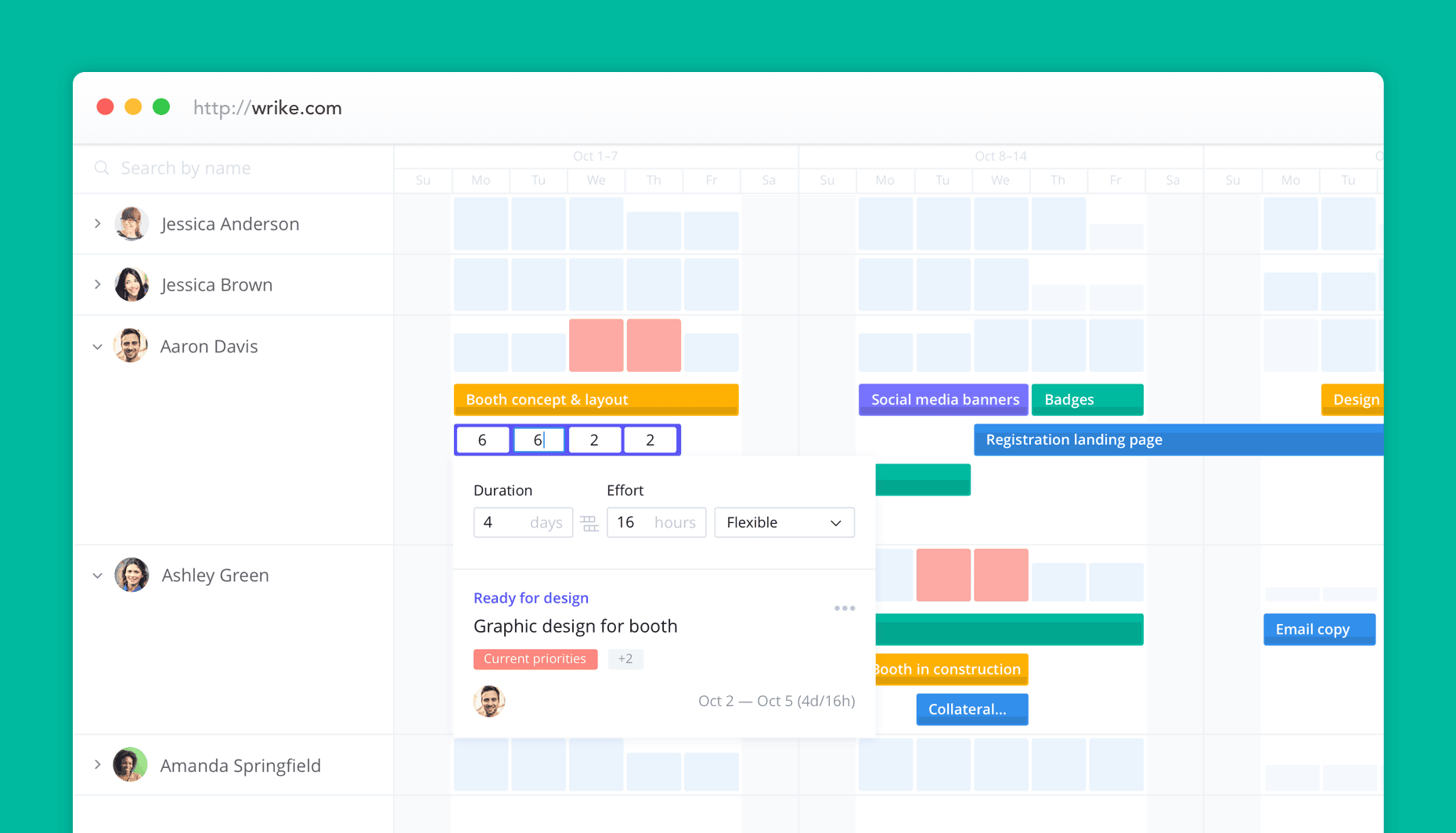 Wrike is a comprehensive and robust work management platform that facilitates teamwork and empowers organisations to exceed their goals. Whether you're collaborating on projects, managing tasks or streamlining your daily workflow, Wrike brings everyone and everything together in a unified workspace to increase efficiency, boost productivity and allow your team to focus on the most critical tasks.
With a range of powerful features, unparalleled versatility and an intuitive user interface, Wrike is the ultimate work management solution for any organisation looking to optimise, scale and stay competitive in today's fast-paced world. Its flexibility and adaptability make it suitable for various industries and professions, from marketing and creative agencies to construction and engineering firms.
Wrike is the driving force behind the success stories of more than 20,000 satisfied customers, including some of the most recognisable names in the industry, such as Estée Lauder, Hootsuite, Nielsen, Ogilvy, Siemens and Tiffany & Co. The success stories of its customers demonstrate the value and impact Wrike has on businesses looking to streamline operations, improve collaboration and achieve their goals.
Wrike's sophisticated features enable businesses to easily manage complex projects, delegate tasks, set deadlines, monitor progress, and track performance on a single platform. With features like real-time collaboration, task prioritisation, workload management and custom workflows, Wrike makes it easy for teams to stay on top of their work and deliver results on time and within budget.
In summary, Wrike is the most comprehensive and effective work management platform on the market, offering unmatched power, versatility and intuitiveness to empower businesses to thrive in a competitive world.
Pricing
9 – Smartsheet
Smartsheet is a leading platform for modern work management that revolutionises how people, processes and technology interact to drive change and innovation. Smartsheet provides an intuitive and dynamic workspace that enables everyone from small businesses to large corporations to manage projects, automate processes and gain insight into their programmes and portfolios.
With Smartsheet's centralised, real-time platform, accessible from any location and device, teams can collaborate effectively, increase productivity and reduce the complexity of managing multiple tools and systems. Smartsheet enables organisations to optimise their workflows and resources, make data-driven decisions and stay ahead of the competition in today's fast-paced world.
Smartsheet is trusted by over 90% of Fortune 100 companies who rely on its robust and flexible platform to improve efficiency, agility and collaboration. Smartsheet's proven track record and ability to adapt to different industries and use cases make it the solution for businesses looking to streamline operations and achieve their goals.
Smartsheet's features are designed to make work easier and more efficient, allowing teams to collaborate seamlessly and make progress with minimal effort. The flexible, customisable templates, automated workflows and real-time updates give teams the tools they need to stay organised, on schedule and budget.
In summary, Smartsheet is a powerful all-in-one work management platform that enables organisations of all sizes to manage their projects, automate their processes and gain insight into their programmes and portfolios at scale. With its user-friendly interface, customisable features and unparalleled accessibility, Smartsheet is the perfect solution for any organisation looking to improve efficiency, drive meaningful change and stay competitive in the modern world of work.
Pricing
10 – Scoro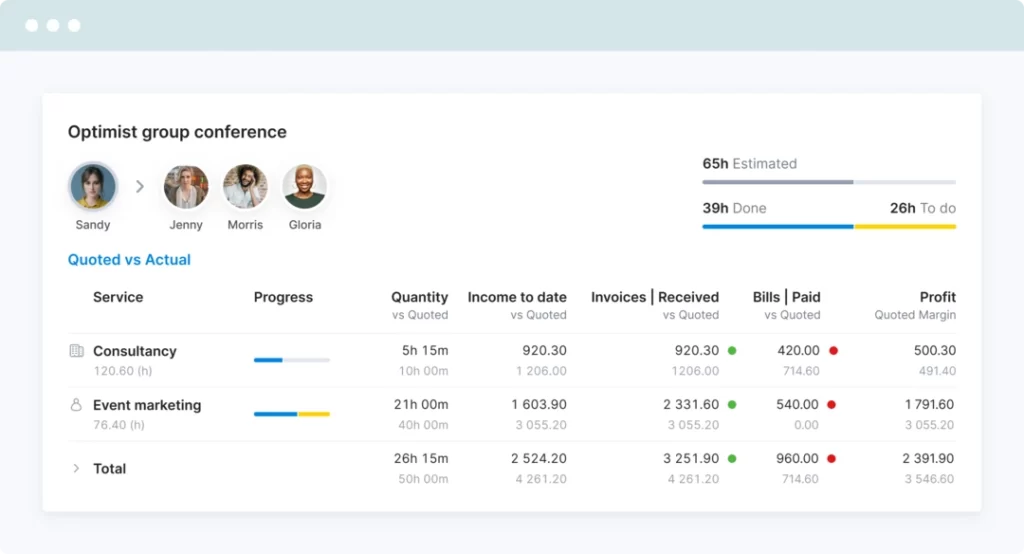 Scoro is a comprehensive and award-winning work management software valued by agencies and consultancies worldwide. It is an end-to-end solution that seamlessly integrates project management, customer relationship management (CRM), invoicing and reporting tools all in one place. With Scoro, you can manage your workflow in one convenient and easy-to-use platform, from initial client interaction to final invoice.
The beauty of Scoro is that it allows businesses to streamline their work, automate routine tasks and ensure everything runs smoothly and efficiently. This is achieved through the intuitive and easy-to-use interface where businesses can access all the tools and resources they need to manage projects, track time and collaborate with their team members. Scoro eliminates the need for multiple software solutions by bringing everything together in one central location.
Scoro's powerful API integrations allow businesses to connect with dozens of third-party applications, including Zapier, Google Calendar and Xero. This gives companies greater flexibility, efficiency and control over their work processes and ensures that all relevant information is seamlessly integrated into one platform, eliminating the need for manual data entry and reducing the likelihood of errors.
Scoro's suite of features is designed to help businesses work smarter and achieve more. From project planning and management time tracking, invoicing and financial reporting, Scoro has everything a business needs to succeed. It is a scalable and flexible solution that can be adapted to the specific needs of any business, regardless of size or industry.
In summary, Scoro is an award-winning, end-to-end work management software that provides businesses with all the tools they need to manage their workflows in one place. With its suite of project management, CRM, billing and reporting tools, and robust API integrations, Scoro makes it easy for businesses to streamline their work, automate tasks and succeed.
Pricing
Conclusion
In summary, as the world of project management has evolved, so requires sophisticated tools to manage complex workflows. With so many project management tools available on the market, choosing the right one for your organisation can be difficult. However, our top 10 list provides a starting point for companies looking for a solution that can grow with them, improve efficiency and deliver successful results.
These tools bring people, processes and technology together in a way that allows teams to manage projects, collaborate effectively and gain valuable insights into their operations. Whether a small business owner or a large enterprise, choosing the right project management tool can make all the difference in achieving your goals.
So take the time to review your options and determine the best one that suits your needs. With the right project management tool, your team can maximise productivity, streamline workflows and achieve success.