Benefits of Using Contact Management Software for Business
As the business grows, the number of stakeholders keeps growing, making it challenging for managers to record their details effectively. Managers continuously try to reach their concerned stakeholders, such as suppliers, customers, employees, vendors, distributors, etc., to complete their activities. That is why they maintain the contact list of all the collaborators. 
Creating and maintaining a manual contact list using spreadsheets is a complex and challenging task. It takes much time to include every single detail of the contact. Usually, the contact details may include information like name, office number, mobile phone number, email address, postal address, and others.
Managers must create a separate file for each stakeholder's category and further classify them based on their requirements and needs. Then they must scroll through a list to find the desired contact details. Also, they spend time updating their lists.
Various cloud-based contact management software enables businesses to automate contact management processes. You can easily incorporate this software with your processes, which immediately helps you contact desirable stakeholders. With the help of this software, you can easily retarget your customer and audience, which ultimately guides you to launch whole marketing campaigns.
This contact management software enables you to remain connected with your suppliers and helps you to take an updated status quickly. You can easily send the purchase orders and float the request for quotations. With the help of such software, you can even maintain confidential record of your employees, such as emergency contact details, home addresses, etc. 
Contact management software can easily create categories and classify contacts based on your business needs and requirements. This article covers the best contact management software that benefits the business of any scale in multiple ways:
Hubspot CRM
Leadsquared
Pobuca Connect
Pipedrive
Bitrix24
Livevox
Salesflare
Bigin by Zoho CRM
Jobin.cloud
NetHunt
GuestCentric
EngageBay
Hubspot CRM
It is a comprehensive contact management software that covers all the aspects of contact management. You can effortlessly include the contact details using its manual option or fetching the data from the submission form. It allows you to create a record of up to one million contacts and automatically display other information like company revenue, industry type, and sector.
Hubspot enables you to conduct all the activities related to business without missing any single contact. You can send emails, make calls, assign tasks, schedule activities, arrange meetings, and helps in taking follow-ups. It lets you integrate with other platforms to enhance productivity, like Gmail, Outlook, etc. You can directly send emails to the right person. Moreover, you can also integrate your Google Drive and Dropbox files which helps you access the information while connecting to a person.
The other best feature of this software is that you can create a personalised dashboard for every project that improves your reporting process. You can easily include detailed information about every single person or business. It permits you to access the historical data and automatically create the sales log. Its other unique features are email testing, sales notifications, lead scoring, an email optimiser, branching, social media tracking, and blog analysis.
Leadsquared
Leadsquared is an all-in-one contact management software that effectively captures contact details from various sources such as websites, Google, and social media platforms. The best feature of this software is that it enables you to allocate the contacts among all your teams based on category, project requirements, performances, etc. It allows you to prioritise your contact lists. You can even filter the whole list based on score, performance, and other criteria. 
Your team can access this software from their mobile devices and efficiently track sales activities. Its DIY dashboard permits you to generate reports within a few seconds, which you can use to track the performance from starting the campaigns to the sales. 
You can easily track and monitor the leads in all sales pipeline stages. It helps you contact your leads through emails, messages, and Whatsapp, so you efficiently engage them.
Leadsquared maintains the contact record and helps you build a strong relationship with your potential customers. In this way, you can earn better revenue. You can create the segments and groups of your contacts that give you an advantage in targeting activities.
The other remarkable feature of this software is built-in calling, activity management, workflow automation, timeline management, integration with other apps, call management, client portal, templates, and lead capture.
Pobuca Connect
Pobuca Connect is a cloud-based software that helps you improve your business communication by allowing your team to manage the contacts effectively. It is a cloud-based solution so that you can access contact information from any remote location. You can even decide the roles for your teams.
Also, they require your permission to access the new contacts. In this way, you can enhance the security of your contact management.
It allows you to save contact details based on names, job titles, locations, and organisations. The best feature of this software is that it automatically updates the contact information just by scanning the business cards, websites, or email signatures. You can scan the data from cards and other devices such as desktops, emails, mobile phones, etc. 
It comes with its built-in bot that becomes your assistant and takes care of all the updating. Pobuca bot even makes a call to your contacts and deals with multiple contacts simultaneously. You can integrate this software into a large-scale organisation and seamlessly customise its features. All your data remains protected and secure as it comes with proper security and protection features.
Its other remarkable features are a user admin portal, standard fields, import from mobile or Gmail, internal notes, invitations, reminders, activity log, offline access, export contacts, tags, custom caller ID, backups, and others.
Pipedrive
If your business is suffering due to a lack of communication channels, then Pipedrive would be the best option. It covers all the aspects of communication and sales that provide you with the best solution. You can access its personalised chatbot and forms, which helps you get more potential leads. It enables you to track all the calls, emails, and conversations to improve these aspects.
It is available in multiple languages, making it a great application to be used worldwide. You can even access the contact history. All its features are fully customisable and supported by API. Its reports permit you to analyse to measure the performance and improve the bottleneck situations. You can effortlessly assimilate this software with various Google apps, and it updates all your records automatically.
This contact management software allows you to manage your contact history and create a proper schedule. You can seamlessly remove the repetitive tasks as artificial intelligence completely supports them. The best thing about this app is that you can access the information from your mobile devices and properly integrate it with your other sales-related apps.
Bitrix24
Bitrix24 is an advanced-level software solution that enables you to manage leads, contact your clients and generate sales. It comes with various tools that cover all the aspects of a business. Its contact centre tools allow you to communicate with your customers quickly. You can manage all the communications through a single dashboard, and it is integrated with CRM, which helps you collect marketing data. 
The fantastic feature of this tool is that you can manage all the social media through this single tool. You can easily give replies to your customers. It provides various social media integrations like Facebook, Whatsapp, Instagram, Viber, etc. You can easily set up the customised call centre with the help of routing that aids you in tracking the whole conversation.
Bitrix24 goes beyond just the essential contact management. You can even set a live chat option on your website for your customers. Its live chat option covers the features like rules, routing, canned replies, customer rating, conversation transfer, wait and display rules, greetings, etc.
It allows an unlimited number of people to use a single account and helps you to streamline the communication process. You can flawlessly integrate other productivity apps to improve your experiences, such as skype, office365, Zapier, Quickbooks, and Google Drive.
Livevox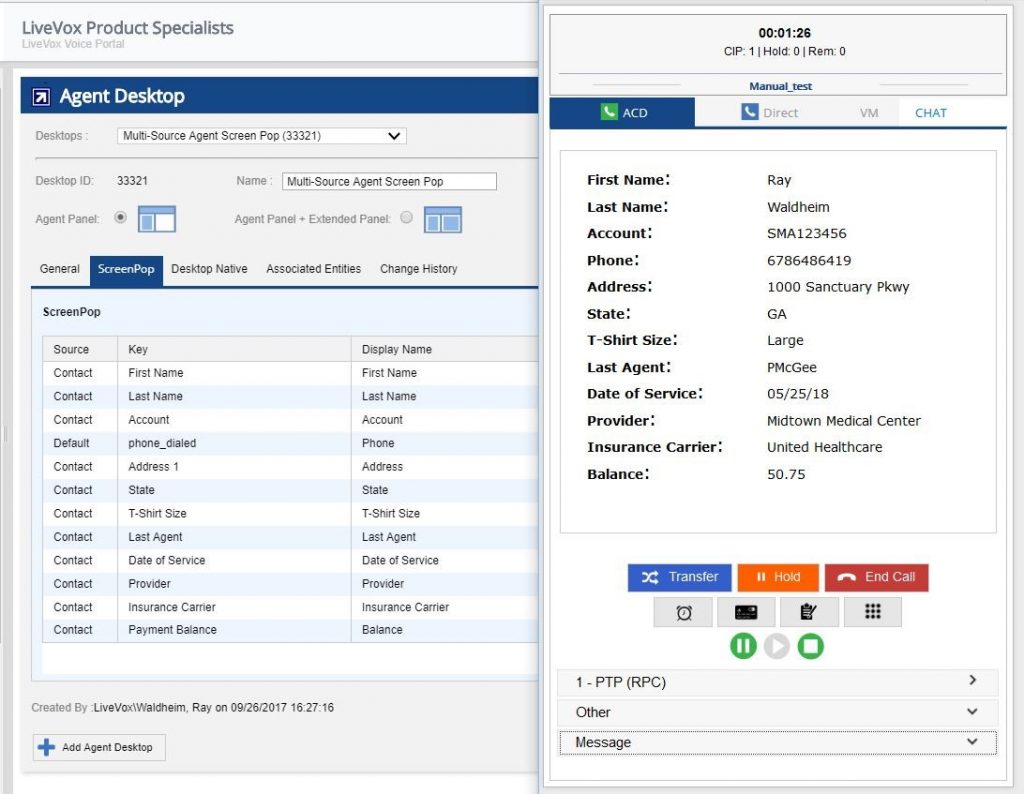 Livevox provides you with a feature that helps you to manage the contact details of your business and enables you to improve the CRM of your business. It automatically updates a contact centre every quarter and helps you to remain ahead of your customer's experiences. You can streamline all your communication processes, which you can handle through a single dashboard.
It comes with an agent scripting tool that gives you complete information about contacts. This software automatically presents scripts to customers based on their activities. The other remarkable tools of this software are ticketing, consent management, secure payment capture, segmentation, targeting, knowledge centre, etc.
Salesflare
If you are looking for a contact management software solution that grows along with your business, then Salesflare would be the best option. It comes with a comprehensive dashboard allowing you to view the sales pipeline and complete control over all the activities. You can get a quick notification if you miss any message or email. It even provides you with comprehensive follow-up suggestions.
This software lets you understand how customers interact with your emails or websites. It further allows you to monitor and track calls, meetings, and emails. Your address book is continuously updated based on public social data and email signatures. It effectively integrates with Gmail and Office 365 and appropriately manages your documents.
The best feature of this software is that it helps you manage all the customers and leads in a single place. You can quickly corporate this software with other tools and sales apps to enhance your experience. Its other remarkable features are leaderboard, team insight, funnel analysis, revenue insight, automated reminders, and many others.
Bigin by Zoho CRM
Bigin by Zoho CRM is an easy-to-use contact management software that allows you to start in a minimum time frame. It is the perfect software for managing the contacts of small businesses. You can access its built-in telephony feature, which allows you to track all the calls' records. Its email option gives you complete details of a contact person, such as basic info, cell phone number, address, tags, additional description, timeline, notes, activities, etc.
The best feature of this software is that it helps you manage multiple pipelines simultaneously. You can apply various filters to find the desired contact immediately. It allows you to customise the workflow activities based on your requirements and needs.
Its activity feature enables you to monitor tasks, events, and calls. You can easily view the tasks based on name, due date, status, priority, related to, and owner. In this way, you can directly make a call to a concerned owner immediately.
The dashboard is quite comprehensive, and you can view detailed analytics like deal owners, revenue by month, and top deals. You can download its mobile phone apps and access the information from there. It is an integrated software, and you can seamlessly integrate with external apps like Google Workspace, Microsoft Office 365, Zapier, Books, CRM, Flow, Desk, Meeting, Forms, Zoom, Sites, and others.
Jobin.cloud
If you are looking for a software solution that helps you to bring new contacts, leads, and clients to your business, then Jobin.cloud would be an excellent choice for your business. It automatically imports the contact details from various social media platforms, posts, events, groups, and searches.
This contact management software can import complete profiles and place them in a designated segment. It comes with an option of extensive filters. You can even update various profiles easily.
The best feature of this software is that it segregates the profile throughout your sales funnel based on profile scoring. It comes with solid x-ray searches that can search multiple websites. You can access its templates and personalise them based on your needs.
It encourages you to take a proper follow-up. You can schedule the whole campaign through this software.
You can use its features to initiate outreach on LinkedIn on a large scale and schedule direct messages. It allows you to run a whole email campaign with personalised templates and proper attachments.
You can design a proper pipeline of your workflow, which helps you map all activities. The other remarkable features of this software are bulk import, email finder, profile enrichment, outreach, interaction timeline, activity control, messaging history, aggregate data, and candidate console. 
ClickUp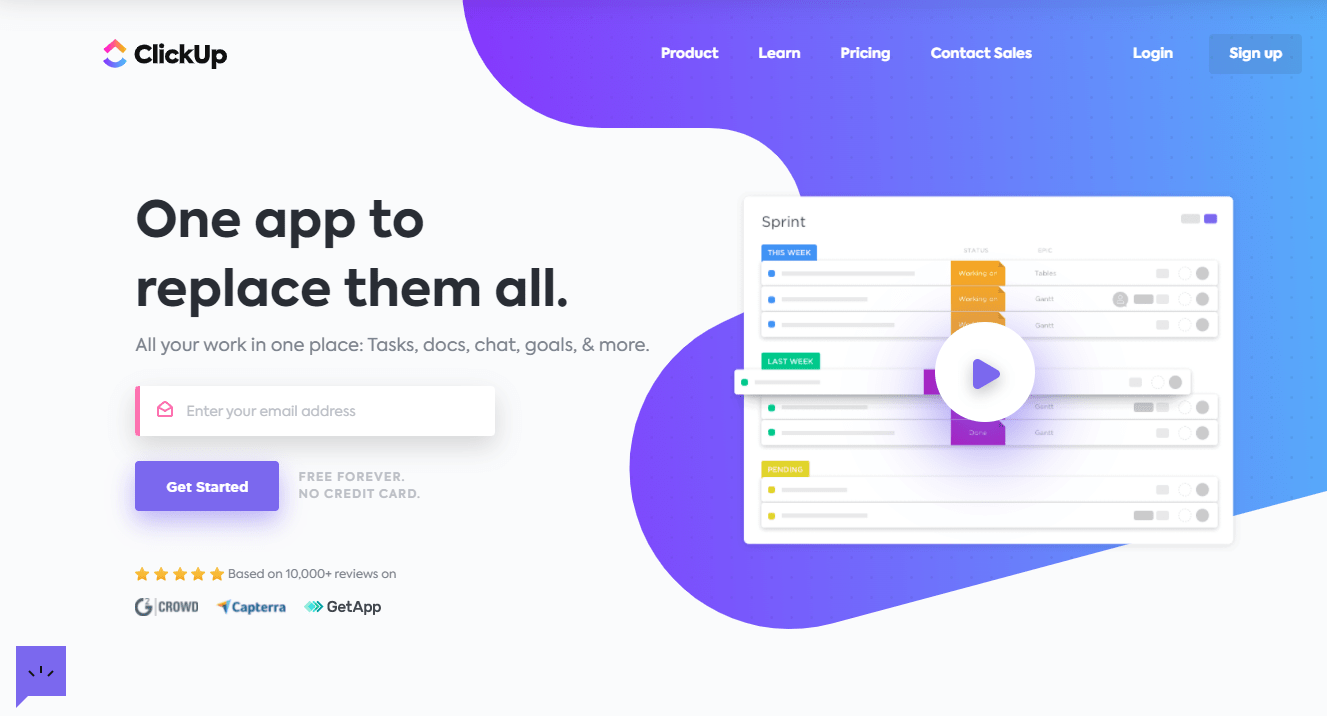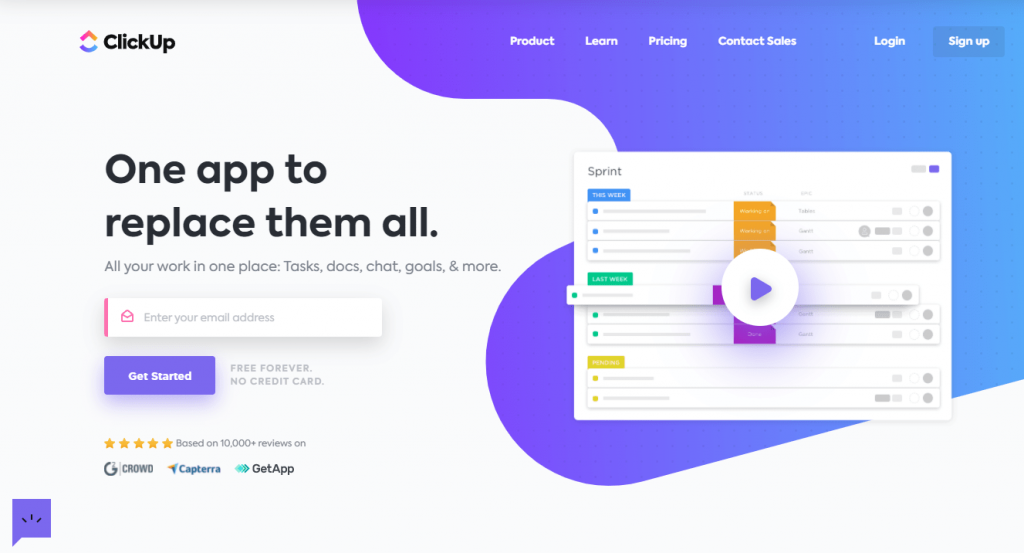 ClickUp covers all the aspects of contact management and ultimately enables you to improve the CRM of your business. It permits you to track the activities, visualise the data, and schedule the emails in a single place. You can easily integrate your software with business emails. It effectively removes the silos and hurdles from your processes.
It allows you to create a customer database to store every detail of your customers. You can effectively include links, tasks, supporting documents, and other media files. It permits you to create segments that help you run a market campaign.
You can easily organise your accounts in lists and folders, which helps you assign tasks to each category. It has many templates to personalise and timely contact your leads.
ClickUp is an all-in-one software solution that goes beyond just contact management. Its other remarkable features include tracking orders, working with clients, discussing initiatives, tags and filters, drafting Docs, setting processes, calculating deal size, adding geographic data, etc.
NetHunt
NetHunt is an advanced-level contact management software that you can incorporate with your Gmail and LinkedIn accounts. You can use this software solution to automate your sales operations. It allows you to manage all your potential leads effectively. It allows you to monitor and track all the activities. You can even keep a record properly.
Furthermore, it helps your sales team manage the sales pipeline of various projects, enabling them to contact the right customer at the right time using the best VOIP software of your choice.
It has a remarkable ability to maintain the call logs. This software enables you to schedule meetings appropriately. You can easily send invitations to concerned persons, also scheduled to take their feedback. It allows you to send many emails and messages simultaneously, saving time. 
You can even integrate this software with this Google calendar, which aids you in planning your work activities.
It automates your processes and effortlessly synchronises your Google contacts with your CRM dashboard. The contact keeps updating after a regular interval. You can easily fetch contacts from emails and websites.
It has many integration options to enhance your experiences, such as Gmail, Calendar, Google Drive, Messenger, LinkedIn, and others. The other unique features of this software are call logging, deal management, data import and export, meeting, file management, etc.
GuestCentric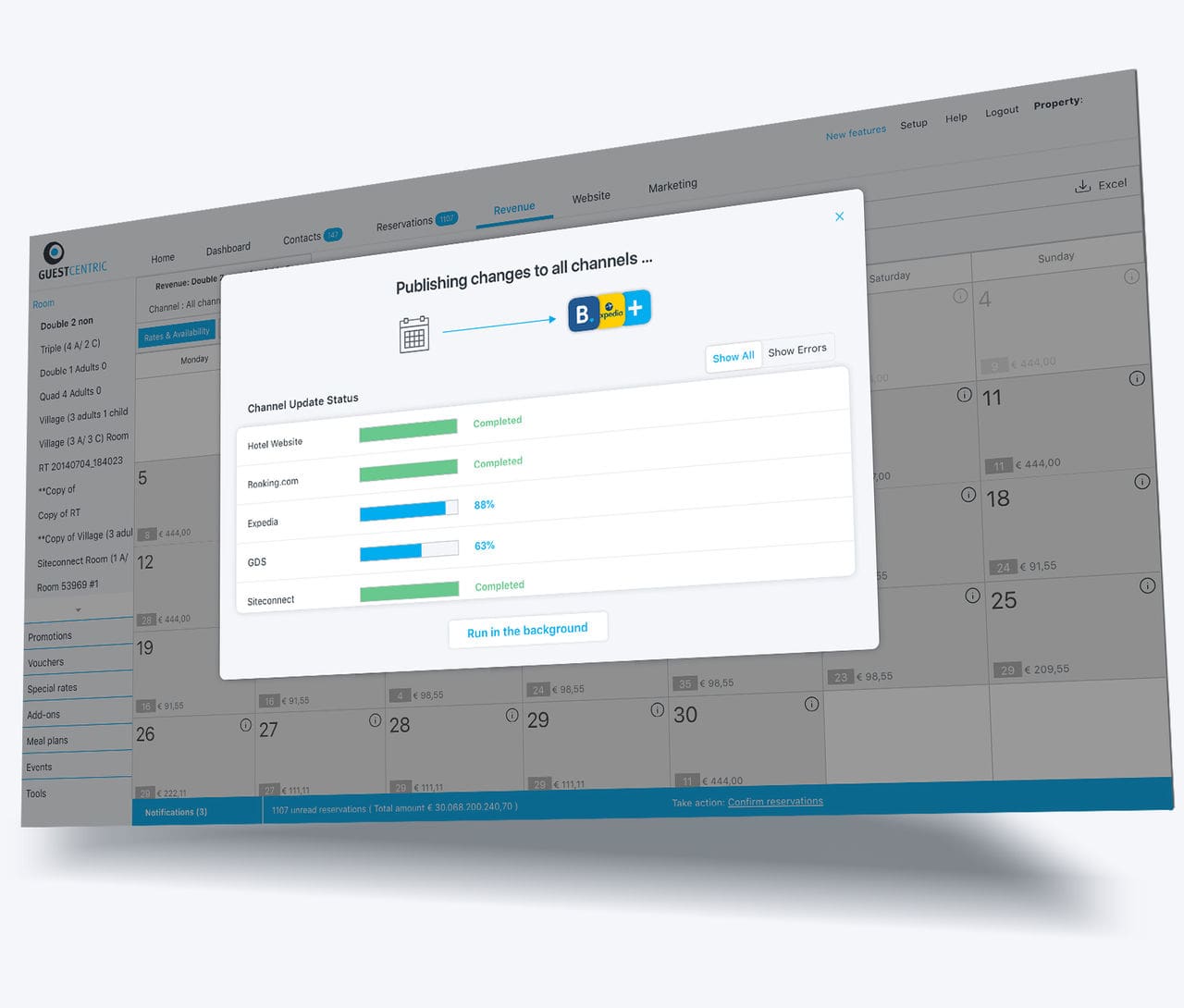 If you are running a hotel business that is customer intensive, then GuestCentric would be a perfect choice for your business. It effectively automates your customer management process. You can plan the campaigns and send promotional emails to customers at the right time. 
As it is a cloud-based solution, you can access the information from any location. You can even create a dedicated account. It further helps you to improve customer support. This software displays the business reports regularly.
It is easy-to-use contact management software with flexible features that easily restructure your business activities. The best feature of this software is that you can manage multiple branches. It even automates your booking process. You can approve the appointment through your mobile phone. Its other remarkable features are hotel marketing, multiple channel management, monitoring, tracking, and others.
EngageBay
As we know, the contact management requirements of small-scale businesses differ from large-scale businesses, so it is essential to take help from software designed for small businesses.
EngageBay covers all the aspects of CRM. It offers you advanced-level sales and CRM integration. It enables you to manage your contacts, related tasks, and deals.
You can easily communicate with your customers through a single centralised platform. It can manage multiple social platforms at once. It updates the contact information of all the leads in real time, which helps you to track the activities. 
Your team gets complete guidance about the right time to connect with your leads. This helps you to boost your sales and generate revenue.
It enables you to create a detailed profile of each contact and gives you updated details related to current or previous activities. You can get complete historical data that gives you a 360-degree view of your contacts. With the help of this software, you can avoid the hustle of managing multiple mailboxes as it integrates all the email accounts such as Gmail, Office 365, etc.
Conclusion
Contact management software helps your businesses grow further and improve your CRM activities. This software comes with a wide range of features that maintain your contact books and handle and enhance your customer relationship.
As we know, customer relationship management increases the revenue of any business; that is why it is crucial to build a solid relationship with potential leads and customers. 
This software also helps you run the campaigns and contact potential leads when the time is right. You can see the right person at every stage of the sales funnel. So you can contact them and effectively convey your messages. 
With the help of contact management software, you can find new leads for your businesses and increase revenue. You can create proper segments based on your needs which helps you target. Moreover, you are always one step ahead of your customers and competitors, as you never miss any query or complaint.