How Small Businesses Can Work With Designers To Boost Growth
As a small business, you're aware of the importance of building a strong online presence and digital marketing.
You likely already have a business website and social media profiles.
To make the most of your online marketing assets (or even offline ones, for that matter), you need to leverage graphics and produce powerful visual content.
But unless you have the budget for an in-house designer or possess the design chops yourself, how can you do this? By working with designers, of course.
In this post, you'll learn some actionable tips on how to collaborate with designers for small businesses. But first, let's see exactly.
Why do Small Businesses need Graphic Designers?
More specifically, one that fully understands your business strategy and branding goals.
Let's put it this way — if a picture is worth a thousand words, then the great graphic design can be worth thousands of dollars for a business.
Graphic design is more than mere aesthetics; it is a means of communication between your brand and your audience.
You use visuals to better engage prospects in every stage of the sales funnel — to inform, delight, and ultimately convince them to take the desired action.
For example, you may use a flyer or poster to announce a special sale, an infographic to drive more traffic to your website, a visual email newsletter to cross-sell to existing customers, or an attractive landing page to launch a new product.
Compelling graphics that align with your business goals are indispensable.
Here are a few more concrete reasons why small businesses need to collaborate with a graphic designer who understands your business:
To form a positive first impression
Quality visuals are crucial if you wish to form a positive and lasting first impression with your prospects.
The first time someone hears about your business, they're likely going to check out your website and social media posts with a quick Google search.
They may come across your latest Instagram posts, Google ads, or a blog post — whatever it may be, this is their first interaction with your business and sets the tone for the rest of your business relationship moving forward.
So you want to put your best foot forward during this first "awareness" stage of the buyer's journey by using relevant graphics that depict your brand's theme and story.
To create credibility with consistency
Be it text or visual, the key to effective content marketing that builds your brand's credibility is consistency.
Let's say you're taking an evening stroll in a park and see a football player score a goal from a long-range.
You likely won't assume he's a great player because of that one goal — it could've been a lucky shot.
But if you sit to watch the whole game and see him score three more fantastic goals, only then will you start believing he's a pro player.
The same applies to business.
If you consistently create visual content that appeals to your audience, educates them, and helps them solve their pain points, then they will start trusting your brand and view you as an authority in your niche.
For that, you need a graphic designer who truly gets your business objectives and style of communication.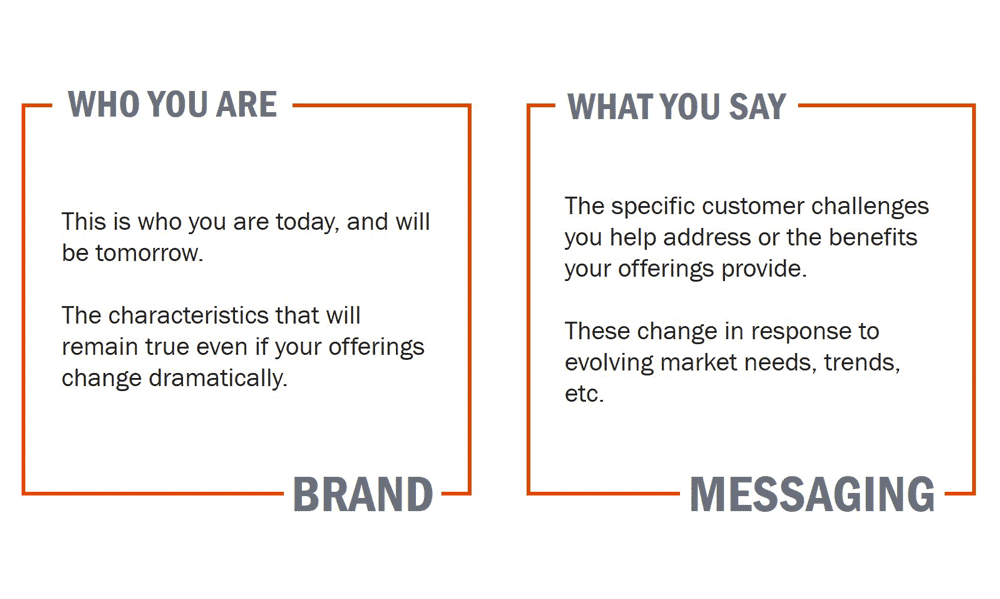 To better convey your message
Brilliant graphic design is vital for any business to convey its story. Whether you're a local café or a budding eCommerce startup, your brand has a story to tell.
Graphic design helps you go beyond words. Even simple design elements like font choice and colour scheme can ignite an emotion that reinforces your message.
Humans are visual creatures, with 90% of information transmitted to the brain being visual.
Working with a graphic designer allows you to convey your message better visually, which aids understanding and recollection of your messaging.
To stay ahead of the competition
Lastly, professional visual content helps you stand out as a brand. With all the free online design tools available today, whipping up decent looking graphics isn't that difficult.
So, the barrier to entry to visual content marketing is low, and many of your competitors will opt for that DIY route.
But if you invest in an excellent graphic designer who creates stellar graphics for all your marketing and branding collateral — from social media to landing pages — rest assured you're going to stay ahead of the game.
Tips for collaborating effectively with your designer
Compelling visual content that drives real business results can only come to life if you know how to work with your designer.
Of course, there are differences in how designers think and work.
But misunderstandings can lead to a lot of back and forth, frustration, and ultimately you may even treat mediocre or below par content as passable.
And sure, a great graphic designer will bring their perspective to the problem at hand.
But you need a straightforward process with a creative brief to properly frame your project requirements and efficiently communicate the elements that must be considered when working on the design.
With a creative brief, the idea is to convey everything a designer needs to know in your terms.
It doesn't mean there's no room for more deliberation, but share a brief, and you're halfway there.
Let's see some best practices on collaborating with designers more efficiently to create excellent content that inspires your audience to take the desired action.
Be specific about what you want
Rather than talking about how you'd like the result to look, explain your goals and specific expectations.
What should the graphic do for your customers? Are you aiming to boost a specific marketing metric (for example, backlinks or social shares using an infographic)?
List your exact goals that define a successful visual and not what you want the graphic to look like.
Also, designers play around with visuals to determine the best fit. So share live references, not just words.
These could be from other brands or even from a different industry. Visual references aid their understanding of what's going on in your mind.
Tell your story
The modern customer wants more than being sold to; they want experiences. And behind every great experience is a story.
Every story has a flow, and your designer can pour life into your story, using visual characters, colours, and shapes to convey it coherently.
For that to happen, you need to first tell your brand's story to your designer — not the entire history, but the core elements like your culture and values that make your brand unique.
You can then work with your designer to leverage your brand's story in each piece of visual content you plan, thus conveying your brand's uniqueness and improving brand recall.
Sketch your ideal customer
You likely have more than one ideal customer or client — multiple buyer personas for individual products or services that you offer — but when working with a designer on a specific project, it's a good idea to chalk out an ideal customer as a single person, complete with actual pictures if possible.
For instance, instead of saying, "our audience is aged between 25 and 30 and is either a working professional or an entrepreneur," define an individual ideal customer (not a range of people) like "he's a 25-year-old working professional aiming to become a full-time freelancer".
The idea behind defining your ideal customer for each piece of content is that it gives your designer a clear focus about whom they're targeting with their work.
This helps them come up with more powerful visuals and thus, improves your ROI with each piece.
Define your brand's core message
What is that one thing that should tie together every piece of content you publish? Your brand's core message.
This does not mean every piece of content you put out needs to have the same message on the surface.
Instead, your brand's core message refers to the underlying value proposition and mission that you convey with each piece.
It's what makes your audience relate to your brand — motivating and subtly persuading them to convert into customers.
For example, Nike's "Just Do It" makes you associate the sports brand with grit. Or, Coca-Cola is associated with celebrations and good experiences. And so, 'Open Happiness'.
But it would help if you went beyond taglines.
Your customers' exact words to describe your brand or its products/services can help big time for individual content projects.
So, survey your customers — using email, phone, social media, etc. — and capture the common theme that comes up in their answers.
Please share this with your designer and see how their creativity flourishes in the right direction.
Make it clear what you don't want
While you'll communicate what you want — with the exact specifications and reference material — it is equally important to convey what you don't want.
Not many businesses address this point, but it can go a long way in avoiding major rework or blunders.
If you're sure that specific potentially creative ways to portray your business are entirely off the table — due to cultural reasons, for instance — make it crystal clear right from the off.
Your designer may want to have a healthy debate and talk alternatives, but when you have strong reasons for why some ideas are off-limits, don't forget or hesitate to set restrictions before they start working on the project.
Encourage regular communication
Continuous, free-flowing communication is vital in every project that involves team collaboration, especially when working with a designer.
A designer's job is to listen, lend their visual expertise, and transform your ideas into a tangible result that accomplishes your business goals and makes them feel proud of their work.
Without regular communication, they may end up creating something that's leagues far from what you had in mind, leading to frustration, rework, and waste of time and effort.
And so, encourage open and frequent communication using the channel your designer prefers, be it email, messenger, phone, or video.
Have a clear process
As small businesses, it's understandable that, for the most part, you care only about the output and the business results it brings in.
However, a design solution isn't the same as a vending machine where you insert a coin, and your choice of beverage instantly falls into your hands.
Design is a step-by-step process that requires time and input from everyone involved. You have control over this process, so lay it out as clearly as you can.
For example, we touched upon creative briefs earlier and how they help to communicate your requirements and expectations.
So, put together a comprehensive and unambiguous creative brief for your designer.
The creative brief should include all the essential details, such as the project due date, design dimensions, file formats, brand voice, and useful references.
Remember that your designer will need feedback at various stages of the design. So, make sure to maintain a buffer for sharing feedback in your design process.
Start Collaborating Today
Collaborating with a graphic designer ultimately boils down to staying on the same page.
While you may inherently care about different things, keeping these tips in mind will help both parties remain in sync.
Also, no matter how long you've known your creative, encouraging a formal process will help both you and the designer work more efficiently — likely resulting in a more substantial output, lesser frustration, and lower overall time and money investment.
To conclude, define what you want (and what you don't want), have a transparent process, let them do their thing, maintain a space for feedback, and then give due credit once the project's done.
Use the below graphic as a reference point as you start working with your graphic designer.
So, do you have a defined collaboration process you swear by for small businesses and designers?
Any awful experiences or goof ups you learned from?
Make sure to drop a comment below and let us know!
Author Bio: Mark Quadros is a SaaS content marketer that helps brands create and distribute rad content. On a similar note, Mark loves content and contributes to several authoritative blogs like HubSpot, CoSchedule, Foundr, etc. Connect with him via LinkedIn or Twitter.