6 Ways to Ensure Collaboration When Your Creative Team Is Remote
In recent years, the way we work has changed significantly. More people work remotely than ever before, and many businesses have adjusted their working methods to suit work-from-home and hybrid working structures.
However, remote working does have its challenges. There is much to balance, from in-home distractions to differing time zones. And for creative teams, in particular, a collaboration between remote teams has been complicated.
This article is for you if you are part of a creative team and most work from home. We will be sharing tips to ensure effective creative communication is maintained and efficient, despite the various challenges you may face.
1 – Equip Creative Teams with the Tools They Need
If you want your creative teams to work together effectively, you must provide access to the tools they need. According to Counterpoint, "Ensuring your creative teams have access to the latest software and hardware is difficult for any business owner or IT manager. If teams can't effectively access software, shared files or are using slow hardware, productivity drops, and you can be left with unhappy teams who can't effectively do their jobs."
It is your responsibility to equip your creative teams with the tools they need to do their jobs and do them well. The fewer barriers your workers have to overcome and the easier collaboration is, the more efficient creative output will become.
There's no question that creativity is essential to business success. Amazing things happen when you combine the most talented and creative people with the tools they need.
A recent McKinsey & Company survey found that more than two-thirds of companies report that their innovation efforts are successful or unsuccessful, based on a combination of factors. Among the factors that drive success are "the right environment" and "a clear definition of success." If teams are going to be successful, they must be given the right environment and tools.
How do you create a culture of creativity?
First, you must give your team the right tools. When teams lack the necessary tools, they become frustrated. Their frustration leads to low morale, poor quality, and lower performance. Without the right tools, teams focus on efficiency rather than innovation. This leads to missed opportunities and a loss of passion.
Second, you must provide a clear definition of success. If teams do not understand why they are working on a project, they will waste time and money on projects that have no chance of success. This means they'll miss opportunities and spend resources without seeing a return on their investment.
What tools should you provide your teams to support their creative efforts?
The five essential tools that you must provide include:
Knowledge
Data
Tools for ideation
Tools for execution
Leadership
You must also define your team's expectations while providing these tools. Your team members need to know what is expected of them. In addition, you must clearly define what is not expected of your team members. This is important because when you have unclear expectations, the team member may believe that they are doing the team's job when the team's job is to do it.
You must also be aware that if you don't provide your team members with the tools they need to succeed, they will look for others who do. This means that your team members will go outside of the organisation to get the necessary tools. This is a critical mistake because when your team members leave your organisation, they are no longer under your umbrella.
2 – Encourage Online Communication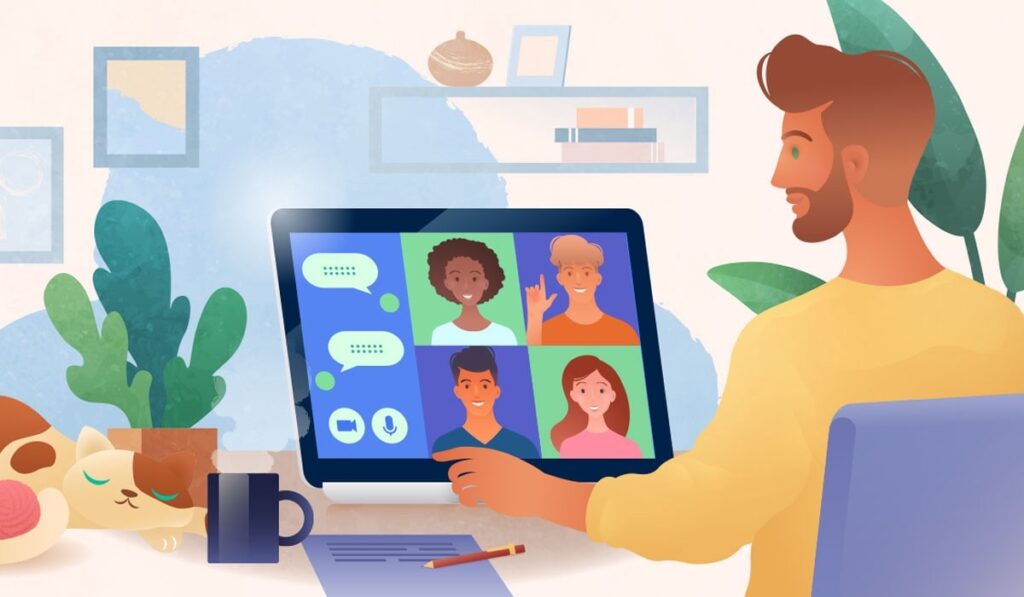 One of the most common downfalls of remote working is how quickly communication can take a downturn. Unlike working from the office, where catch-ups over coffee or in-person meetings are common, remote workers can often become so busy with work that they forget to check in with their colleagues.
Lack of communication between colleagues can cause feelings of isolation, which reduces creative output and productivity. Thankfully, numerous tools available to remote workers help encourage online communication between individual colleagues, teams, and clients. Some of the best tools we recommend to encourage regular online communication include:
Zoom – the video conferencing app everyone knows and loves
Slack – the online messaging app
Trello – the online organisation dashboard that boosts collaboration and connections
Online communication is a powerful way to foster collaboration. While it is possible to use the same old methods to communicate, finding ways to improve communication is essential. This includes using the right tools and adopting new ways of communicating.
Asking questions and seeking feedback is a great way to encourage communication. Ask others if you are unsure of a response or how to react.
The easiest way to learn is to practice. If you are unsure of what is best, go ahead and ask. Asking is a great way to learn; the more people involved in the process, the more successful the team will be.
3 – Clearly Outline Team Schedules
One of the remote workers' most significant challenges is the uncertainty surrounding their colleague's work and when they don't. As such, it cannot be easy to schedule meetings, set project deadlines, and know who is available and when.
While flexibility is one of the most attractive parts of remote working, it can make things more difficult without defining precise schedules. We recommend clearly outlining your teams' schedules in an online calendar.
Creating clearly defined schedules will ensure team efficiency and more effective collaboration. You can work with your team on the best work times that suit them. It would help if you considered different time zones, reasonable response times, and flexible working arrangements. Once you find a schedule that works for everyone, productivity and cross-team collaboration become much more efficient.
It's not only about time management, but it's also essential to know precisely where everyone else is and when to communicate with them. If your teammates are scattered across the world, your job is more straightforward; however, if they're nearby, it's easier for them to come together in a meeting or conference call. If you share a schedule, you'll always be in touch with each other and can plan, coordinate, and even make decisions together.
Create a Team Schedule that Fits Your Needs
You can make communicating easier by creating a schedule that works for you. This means you should choose a format that's flexible and easy to follow. You can use:
Calendar apps such as Google Calendar, Outlook, or Trello
A simple document such as Microsoft Word, Google Docs, or Google Sheets
An Excel spreadsheet
Your scheduling software
You should choose one simple and convenient option for you and your team. For example, if you're working with Outlook, create a calendar invite allowing people to join meetings at any time and location.
Make Sure Everyone Knows the Rules
Once your schedule is set, you must let your team know you're using it. Include a section in the invitation explaining the schedule, how it's used, and how meetings work. You can also include instructions on contacting you during business hours and explain what happens if a team member forgets to update the schedule.
If you're working with an external or remote team, you'll need to let them know how they're expected to communicate.
Communicate With a Clear Purpose
It's also important to be clear about the purpose of your team's schedule. When you create a team calendar, consider the following:
When do your team members want to meet?
Will your team need to share information or collaborate on projects?
How will your team's schedules affect the efficiency of your team's communications?
Consider the Time Zones of Your Teams
If you're working with teams located in multiple time zones, it's helpful to create separate schedules for each time zone. You can then use a single calendar for all of your teams.
However, if you're working with a single team, and that team is based in one time zone, you should still consider the time zones of the other teams you're working with. You may find that some meetings occur on a different day or at a different time than usual.
4 – Prioritise Spending Time as a Team
Despite the many benefits of remote working, it can be an isolating experience for some. There will be some people you work with who find they leave the house far less than they used to, and their social life is dwindling as a result. This can significantly impact mental health and well-being, so it's essential to address this as soon as possible.
We recommend prioritising time spent together as a team. If possible, you should carry out team building days in person. However, if this isn't possible for your team, you can always enjoy team days virtually.
Taking time out of your regular work schedule to participate in team-building exercises is a great way to help your team reconnect and develop camaraderie. When your creative teams feel connected, productivity is significantly improved.
5 – Communicate Clearly
Despite your efforts to improve communication across your creative team, you might find that your downfall isn't the techniques you're employing but instead your chosen method of communication.
Everyone responds differently to different methods of communication, and learning how to communicate effectively with your team can be challenging. Sometimes, messages can get lost in translation, the tone doesn't come across via email, or a colleague doesn't take in everything you've said over the phone.
To communicate effectively, you should prioritise clear communication. We recommend formalising a communication process within your team. For example, you could start with a virtual team meeting to discuss a project, send a follow-up email summarising what was spoken about, and then use your collaboration tools to divvy the individual tasks across your team.
Having a set process like this helps employees know what to expect and is a great way to communicate effectively across your team.
6 – Make Time for One-to-One Check-Ins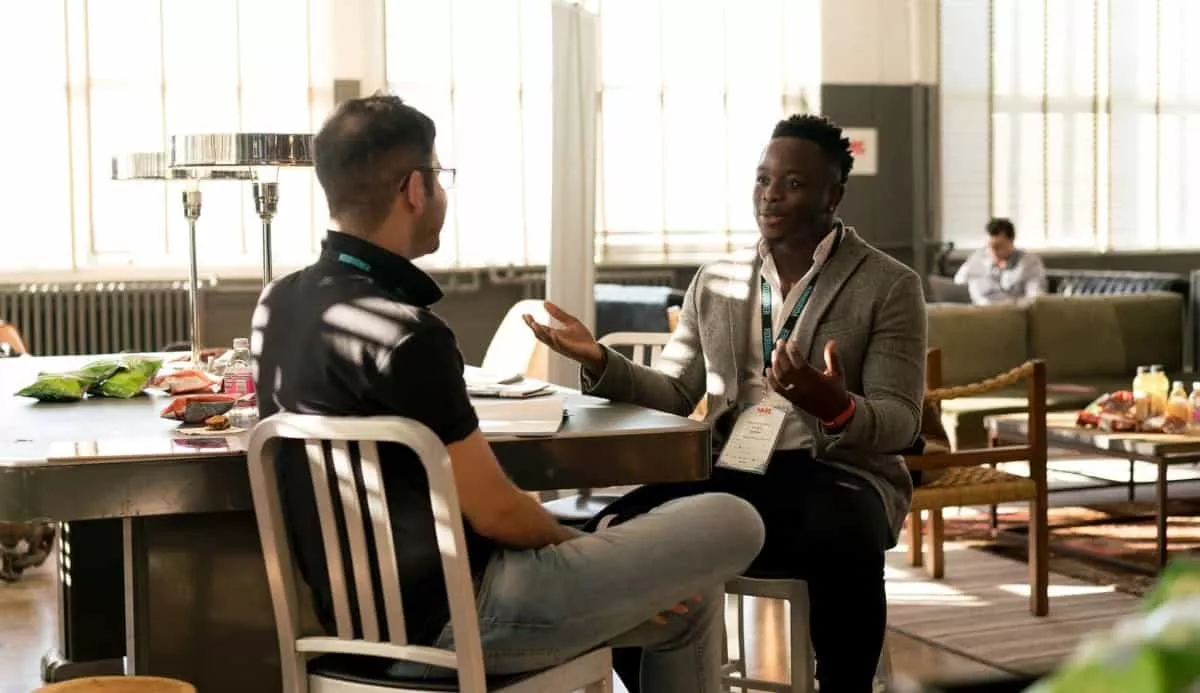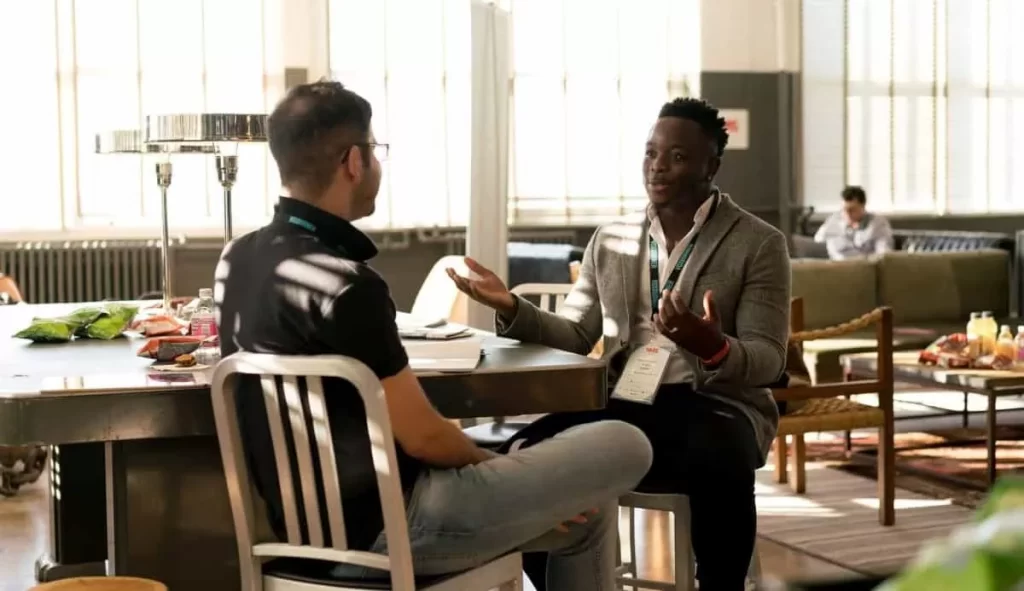 If you want to boost collaboration within your creative team, one of the best ways to do this is by making time for one-to-one check-ins. Checking in with the individual members of your team is a great way to stay connected, track progress, and discuss any challenges they may be facing.
According to Wavelength, "A 1-1 is a dedicated space on the calendar and in your mental map for open-ended and anticipated conversation between a manager and an employee. Unlike status reports or tactical meetings, the 1-1 meeting is a place for coaching, mentorship, giving context, or even venting. The 1-1 goes beyond an open door policy and dedicates time on a regular cadence for teammates and leaders to connect and communicate."
If you want your creative team to collaborate effectively and love what they do, you must take the time to develop individual relationships with your teammates. Connections go a long way towards creating a positive and lasting company culture.
Final Words
When you're working in a remote office, you're going to need to be able to collaborate well with your team. Whether in the same physical space or in different locations, you will have to figure out how to ensure your team is productive and effective.
I'm glad you asked! I shared six tips for ensuring collaboration when your creative team is remote in this post.
To start, you'll need to establish a communication structure between your remote team members. This way, you can communicate clearly with them and ensure everyone is on the same page.
Secondly, you'll want to develop and implement processes that allow your team to keep things organised.
Next, you'll need to set expectations around how much time you want to spend working together.
Lastly, you'll need to ensure your team has the proper tools to succeed. You can do this by providing them with a work environment that fosters collaboration.
Want to learn more about the importance of collaboration? Check out this article on how to manage remote teams!