Top 20+ Graphic Design Assets and When to Use Them
You do not have to pay for the best graphic design assets. This list gathers the most popular free web resources for graphic designers and visual content creators.
Visual content is an essential attribute of the company's image on the web. 
Be it social media or a personal website, users pay attention to what you share and post. 
The need for beautiful visuals is a must. 
If you do not specialise in web and graphic design, it is not a problem. 
There are plenty of graphic design assets and tools that allow you to create good-looking content without complications.
Here is a small library of graphic assets that give you access to mockups, fonts, videos, icons, illustrations, stock images, and other visuals.
Free stock images
1 – Nappy
Nappy studio stores a wide array of free high-resolution images of different categories. 
It can be viewed as a versatile stock photo platform where both beginner and mature photographers can find relevant imagery. 
Nappy's distinctive feature is that its catalogue includes photos of brown and black people solely.
2 – Landing Stock
Unlike Nappy, Landing Stock targets graphic designers and offers many high-quality pics to use for commercial and personal purposes. 
You will not see any photos but only images that can also be part of the landing page design.
3 – Stocksnap.io
This website is an excellent repository of high-resolution images for every taste. 
They are fit for social media usage as well as website design. 
You can access dozens of images in every category, from business to wild animals. 
Stocksnap.io has a user-friendly interface and simple navigation, which allows you to find the exact image you are looking for within a few clicks. 
Free illustrations
4 – Humaaans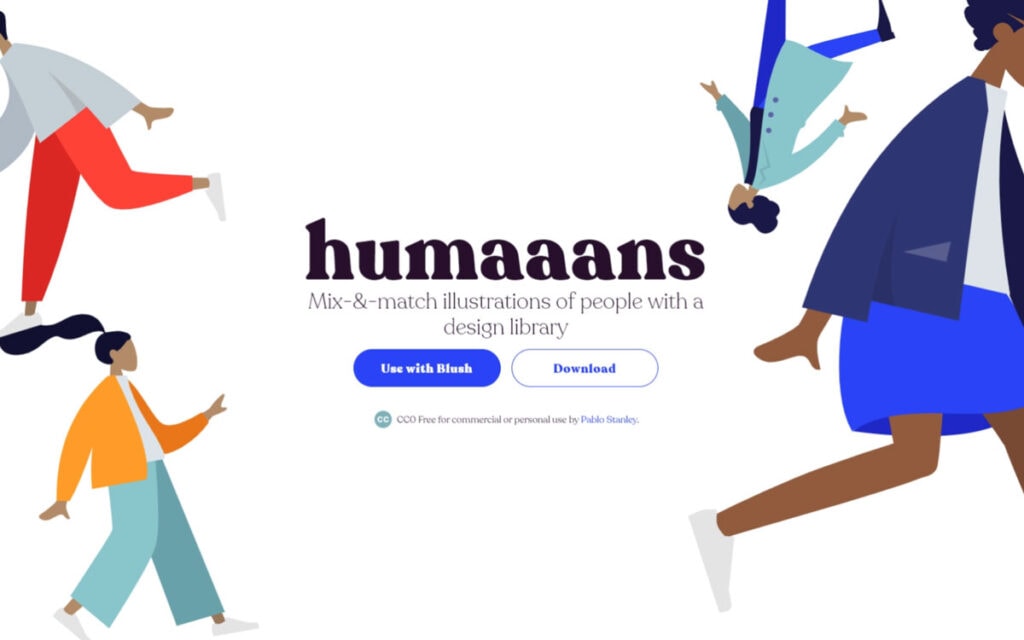 This graphic asset is one of a kind on this list. 
It allows users to customise graphic patterns and create a perfect image that fits with their creative ideas. 
The appeal of Humaaans lies in an infinite number of images that you can build by altering specific parts of the pattern and colours, and background. 
The graphic website has various content-oriented sets that contain illustration templates that you can tailor to any design.
5 – Open Peeps
This hand-drawn illustration library can be a valuable discovery for any content creator. 
Open Peeps offers amazing monochrome images that you can adjust to your needs. 
Like Humaaans, it lets you change some character components, such as body, face, hair, and colours. 
All the characters are drawn in three positions: busts, standing and sitting and come in PNG and SVG formats. 
For example, if you are involved with social media marketing, Open Peeps' images can become a conspicuous feature of your profile. 
6 – Freepick
Freepick is remarkable for over 800,000 free illustrations. 
This web source is a marvel for every designer trying to create a unique and splendid UI design. 
It contains different types of illustrations: vector images to use in UI design and photos that can be the basis of collages or social media ads. 
Freepick supports three formats: AI, SVG or EPS. 
Free Icons
7 – Noun Project
The rise of web development has given icons a special meaning. 
Now, an icon is a small symbol and an essential part of a brand's identity. 
For this reason, choosing the right icon is a strong starting point for any new business. 
This graphic asset can be of great value for any designer that looks for unique and exclusive icons. 
Noun Project stores over 2 million icons that can be customised and inserted in any document and format. 
Noun Project is a global community that provides the most diverse icons and welcomes any creators to contribute to their library.
8 – Animaticons
This web resource is even more fantastic and incredible as it provides a vast range of animated icons on a transparent background. 
It is possible to change its size and colour. 
Animaticons can be an excellent way to improve UX design substantially, be it a mobile app or a web page. 
This graphic resource's appeal is that animated GIFs are compatible with any browser, email, and mobile device.
You do not need to code to make them play automatically, and thus, adding animaticons is extremely simple and quick.
9 – Pngtree
Pngtree is another marvellous free icon source that accumulates millions of graphic elements, including vectors, illustrations, backgrounds, and many more. 
Here, you have a rich choice and can find an icon for any purpose. 
Moreover, Pngtree has convenient filtering options that let you set up the requirements for the kind of icon you need. 
You can sort them by format, category, and popularity. 
If you need diverse and high-quality icons, Pngtree is a wise choice. 
Notable – Iconscout Color Editor
Iconscout Color Editor is a free online tool that allows you to upload any icon or illustration to change its colour, outline and add backgrounds.
You can upload your own icons and illustrations in SVG format. Customise them according to your needs in the Icon Editor. There are thousands of colour palettes available to choose from.
Free fonts
10 – Google Fonts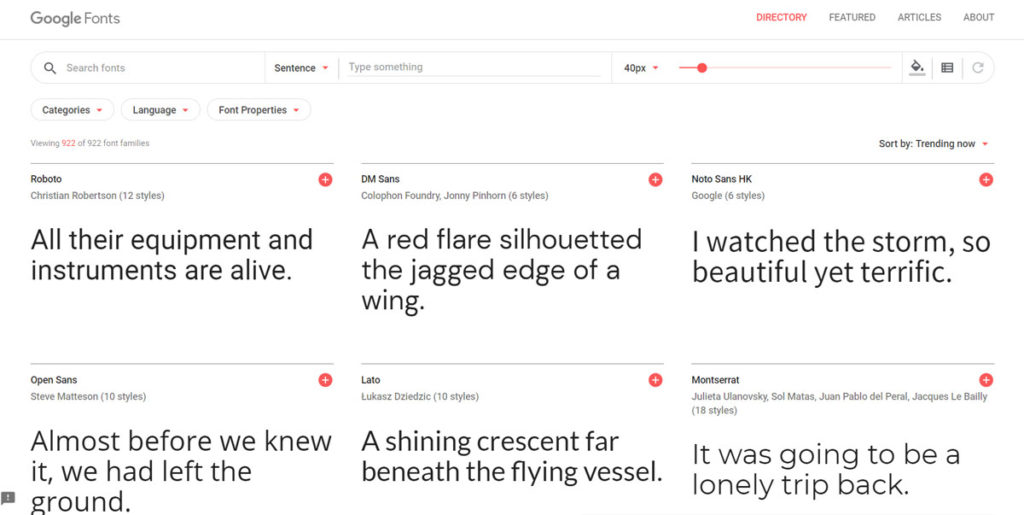 A font's choice to be used in the content for your web page or a mobile app plays a more significant role than it looks. 
A good font makes information easy to read and perceive, whereas messy fonts depersonalise content and make your brand's image faceless and no different from the rest. 
It is desirable to stick to simple and minimalist font variants, but you most likely strive to be unique. 
Google Fonts offers an extensive collection of free designer fonts. 
The web source is user-friendly and lets you quickly find the font matching your expectations with extended search filters.  
11 – DaFont
DaFont is another extensive catalogue of various free-to-download fonts that you can integrate with any design of yours. 
Themes group all fonts so you can get to what you need faster. 
Alongside conventional fonts, there are many unusual fonts made of extraordinary pictures and symbols related to a specific topic, such as horror, games, fantasy, etc. 
You can browse the catalogue by alphabetical listing, author, and trends and uncover the best fit for your design.  
12 – FFonts
This web source is an unusual place with over 100,000 free fonts. 
FFonts offers you standard, popular font types as well as one-of-a-kind ones that you might have never seen before. 
The best news is that FFonts gives you 50 free downloads per day. 
The variety of fonts allows you to find a font for any occasion: 3D, futuristic, military, movie, industrial, horror, hi-tech, gothic, and many more. 
Free stock videos
13 – Coverr
Coverr is aimed at helping filmmakers, and video creators share their expertise and support each other. 
This marketplace encourages entrepreneurs and art makers to exchange their videos on Coverr so that more people could promote the art of filmmaking and video editing globally. 
You can become a Coverr member and contributor too. 
The platform is open and allows anyone to download and use beautiful videos for their purposes. 
Besides stock videos, you can find free virtual backgrounds to integrate into your Zoom room.
14 – Mixkit
This stock video asset gathers free stock videos, stock music, and video templates that content creators can download for commercial and non-commercial use. 
Here, you can find marvellous video footage on various themes, from urban style clips to monochrome video portraits. 
Mixkit can be a useful source for all video creators who look for high-quality videos to use in their design projects.
Free graphic design tools
16 – Blender 
Blender is a multifunctional 3D modelling tool designed to create videos, animations and visual effects. 
The open-source platform provides a full suite of tools that include sculpting, object motion tracking, animation and rigging, video editing, scripting, and many more. 
The user has the full 3D creation pipeline that enables them to do anything with video production. 
Moreover, Blender integrates with libraries such as Bullet and MantaFlow that help you create realistic nature simulations. 
Despite its complexity, Blender has a simple interface and basic customisation options. 
The software is best suited for 3D artists, motion designers, and animators. 
17 – Crello
Crello is a design tool that lets you create graphics from scratch as well as based on templates. 
Crello's library consists of 140 million high-resolution photos and videos, all of which are fit for presentations, ads, and social media posts. 
The design platform provides a great diversity of pre-made materials to employ in blogging, covers, marketing, etc. 
Similarly, the graphic tool can teach you how to create beautiful, unique designs with video tutorials.
18 – Inkscape
This open-source vector graphics software is beneficial to illustrators, web designers, and anyone involved with vector imagery. 
Inkscape provides a range of tools that allow you to work with text and images. 
It supports object transformations, node editing, rendering, and multiple file formats. 
Inkscape is a sophisticated design tool that is fit for professional use. 
It is compatible with both macOS and Windows. 
There are many extensions for those content creators who like using animations or working with web browsers. 
The Inkscape website offers tutorials for all users who need support and face difficulties in using this software.
Free mockup tools
19 – Shotsnapp
This free mockup tool is a valuable asset for everyone who deals with visual content daily but lacks the time and photography skills to create magnificent pictures. 
The advantage of Shotsnapp is that it allows anyone to get fantastic imagery in a few seconds. 
The graphic web source offers plenty of pre-designed templates to customise and tailor to your design concept. You can change fonts and export images in PNG or JPEG.
20 – Screely
Unlike Shotsnapp, the purpose of Screely is to give you a simple way of creating amazing visuals from screenshots. 
The asset stores no templates but lets you upload a screenshot and personalise it to fit your needs. You can change the colours, background, add text elements, and rotate and flip an image. 
Screely is an ideal service to turn screenshots into perfect mockups that brighten your personality.
21 – Figma
Figma is a popular wireframe tool for UI/UX design that enables you to create layout and design. 
The software is cloud-based and resembles Adobe Photoshop in its functionality. 
Figma offers you a set of wireframing tools that lets you create mockups without difficulty. 
Moreover, you are not limited in space so that you can keep all of your pages on one sheet. 
Figma is among the most popular wireframing tools in UI/UX, and it is beneficial and easy to use. 
Free image editing tools
22 – Canva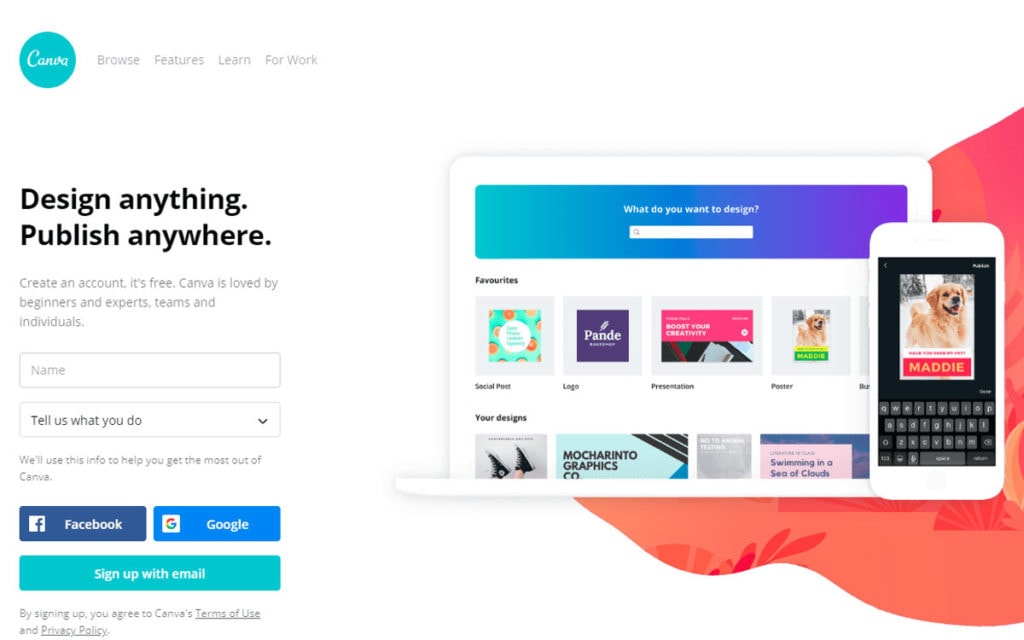 This free photo editing tool is fit for both amateur and professional photographers that want to improve their picture quality and make them look brighter. 
Canva gives you 1Gb free cloud storage and necessary editing tools to adjust brightness and contrast, opacity, and saturation, change colours and size, and add textual elements. 
Canva is accessible and does not make you sign up if you plan to use it one time. 
23 – Fotor
This photo editor is intended for users who want to make artistic collages and edit photos. 
Fotor supports all the essential Photoshop functions online. 
You can adjust lights, colours, change an image shape and transparency, and apply different effects. 
Many preset templates are the best fit for visuals to be published on social media and ads. 
The web service also provides tutorials and guides for beginners in photo editing.
24 – Pixel Editor X
It is another online photo editor that boasts an intuitive interface and saves your time by providing an opportunity to edit images online. 
You can make a perfect picture with a few clicks. 
The editor supports multiple formats and works on different devices. 
Pixel is also the best option for quick on-the-go edits. 
However, it is suited for detailed and advanced editing as well. 
Its library includes over 10 million pieces of stock content using which you can create unique collages and pictures.
These popular graphic design assets are not only meant to educate but also to inspire. 
By searching through these web sources, you will get much inspiration. 
Watching other people create is the best way to learn and develop.
Author Bio: Kyle McDermott is a web developer, blogger, blockchain enthusiast, and business analyst. He loves to write about new technologies, business news, and sports events. Kyle is also a proofreader at Computools. Follow him on Twitter.