30+ Best Apps for Designers: Enhance Your Creativity and Productivity
Are you a designer looking to stay productive while unleashing your creativity? The right apps can make all the difference. Knowing which apps to choose for your specific design needs can take time and effort with many options. That's why we've created a comprehensive list of the 30+ best apps for designers. 
Whether you're a graphic designer, photographer, or typographer or need project management tools, our list covers you. With these apps, you can enhance your creativity, improve your productivity, and take your designs to the next level. So without further ado, let's dive into our top picks for the best apps for designers.
Graphic Design and Illustration Apps:
1 – Adobe Photoshop
Ladies and gentlemen, digital design enthusiasts and creative artists worldwide behold the mammoth of raster graphics editors – Adobe Photoshop! This powerful software, developed and published by Adobe Inc., has taken the digital design industry by storm, earning a designation as the cornerstone of the industry since its inception in 1987. Its prodigious power and awe-inspiring capabilities are a testament to the imaginative genius of its creators – Thomas and John Knoll.
Photoshop has become the ultimate tool for professional digital art, especially in raster graphics editing, and its influence on the industry is immeasurable. The name 'Photoshop' is now ubiquitous in the digital creative community and has even entered the vernacular, often used as a verb (e.g., "to photoshop an image" or "photoshopping"). However, Adobe Inc. politely discourages such use.
Through its intuitive software interface, Photoshop lets you edit and compose raster images in multiple layers and supports masks, alpha compositing, and numerous colour models. It uses its own PSD and PSB file formats to support these capabilities, compatible with many image editing features. If that wasn't enough, the software boasts limited abilities to edit or render text and vector graphics (primarily through clipping path for the latter), as well as 3D graphics and video. In short, Adobe Photoshop is the go-to software for all digital design aspirations.
To further enhance Photoshop's already impressive capabilities, its feature set can be expanded by plugins – programs developed and distributed independently of Photoshop that run inside and offers new or enhanced features. Photoshop's versatility is boundless, making it the perfect software solution for all your digital design needs.
Get ready to immerse yourself in the world of digital nirvana, where imagination knows your wildest dreams only limit no bounds and creativity. Discover the power of Adobe Photoshop and unleash your true potential as a digital artist!
2 – Adobe Illustrator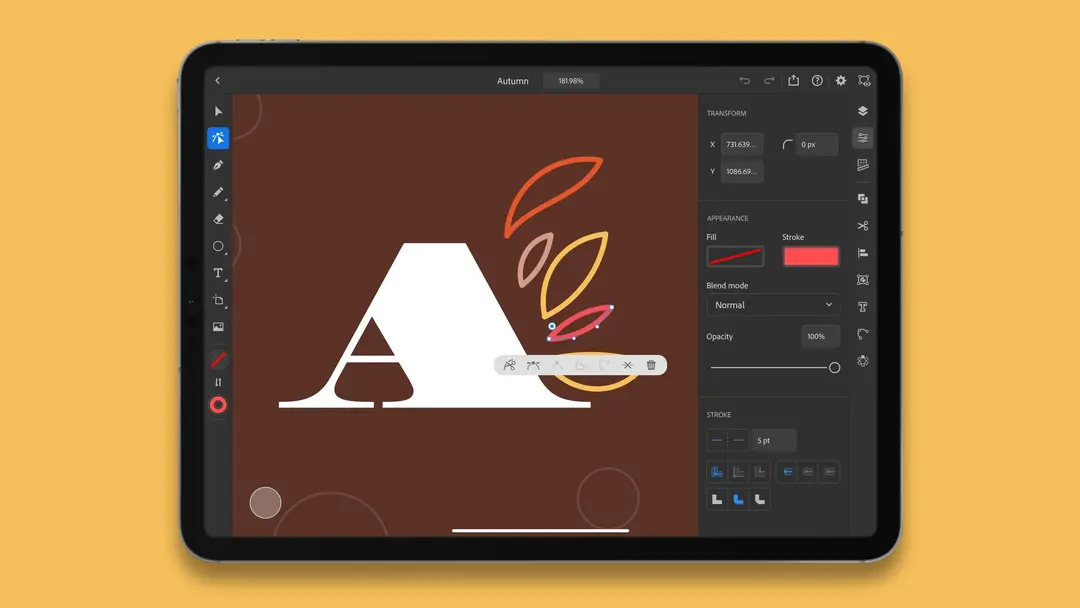 This vector graphics editor and design program, crafted and marketed by Adobe Inc., has a storied history with a legacy of innovation and evolution over the decades. Originally designed exclusively for the Apple Macintosh (oh, how times have changed!), the initial development of Adobe Illustrator commenced way back in 1985. To comprehend the monumental significance of Adobe Illustrator, one must grasp the revolutionary influence it has had on the digital design industry.
Fast forward to today, and Adobe Illustrator is a cornerstone of the Creative Cloud; Adobe's shift to a monthly or annual subscription service available over the Internet has revolutionised the digital design industry. Alongside the Creative Cloud came the release of Illustrator CC. This true masterpiece took the design world by storm with its cutting-edge features, mind-blowing capabilities, and seamlessly intermingled tools, empowering digital design enthusiasts and professionals alike.
The most recent version of Adobe Illustrator, Illustrator 2023, was released on October 18, 2022, and is the 27th mouth-watering generation in the product line. This latest iteration represents the culmination of years of dedication, refinement and evolution, promising an exhilarating and unforgettable digital design experience every step of the way!
Unsurprisingly, PC Magazine reviewed Adobe Illustrator as the best vector graphics editing program in 2021 – a testament to its trailblazing advancements, successful evolutionary processes, and the continued excellence cultivated by Adobe Inc. over the years. Illustrate your inspirations, let your imagination soar, and be prepared to redefine the limits of digital design with Adobe Illustrator – the paragon of vector graphics editors and design programs!
3 – Procreate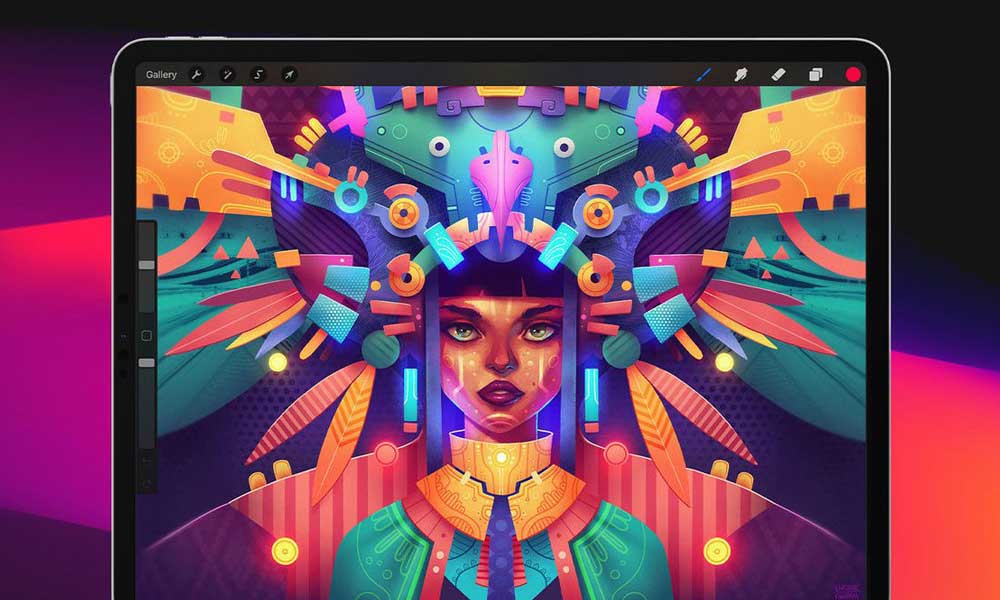 Procreate is the most remarkable creative application made exclusively for iPad. This digital masterpiece has captured the hearts and imagination of scores of artists all around the world, empowering them to create visually stunning works of art like never before.
The sheer variety and versatility of Procreate are breathtaking. With over 100 handmade brushes and brush sets at your disposal, a cutting-edge suite of innovative artistic tools, an advanced layer system, and the lightning-fast Valkyrie graphics engine, there's practically nothing that you can't create with this powerful software. Whether you're looking to express your artistic talents via sketches, rich paintings or gorgeous illustrations, Procreate has everything you need to quickly bring your creative vision to life.
And let's remember Procreate's flexibility – Work on the couch, on the train, at the beach, or even while waiting in line for that morning cup of coffee. Thanks to the portability of the iPad and the convenience of Procreate, you can access all of the creative tools you need wherever you are in the world.
Procreate's dynamic user interface has been designed with artistic expression in mind. Its sleek and intuitive interface makes mastering the digital painting process achievable for artists of all skill levels. You'll be able to easily find your favourite tools and tinker with modifier settings, allowing you to immerse yourself in the creative process fully.
Whether you're a professional artist looking to take your digital artwork to the next level or an aspiring artist passionate about sketching and painting, Procreate is the perfect software solution to bring your creative dreams to life. So why wait? Get your hands on Procreate today and start creating stunning works of art that will leave your audience gasping for breath!
4 – Sketch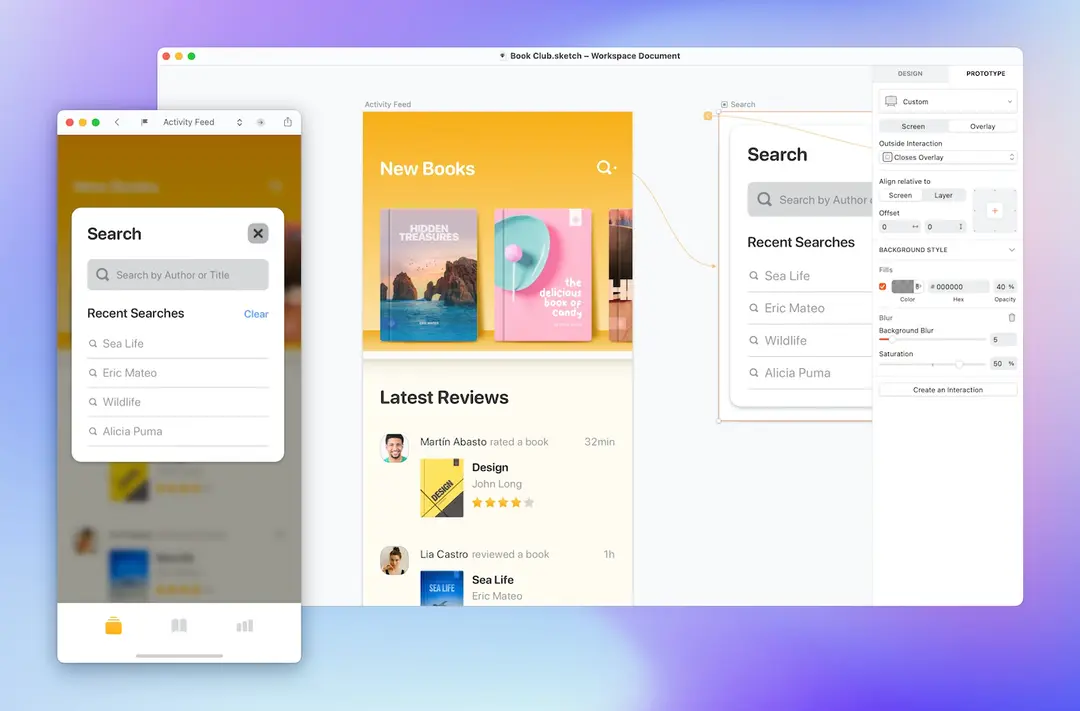 As Sketch appears in the digital design landscape, you are in for a treat. Design software like no other, Sketch, has taken the community by storm with its innovative and fresh take on vector drawing. Known for its intentionally minimalist design, it offers an entirely new perspective attracting the interest of design professionals, students, and hobbyists alike.
At the heart of Sketch is its unlimited drawing space and layers, allowing for an endless canvas on which to create your next masterpiece. Free of clutter and distractions, Sketch's intuitive interface focuses on the artistry of vector drawing. With no palettes, panels, menus, windows, or controls to distract you, you can unleash your creativity without interruptions or limitations.
And don't let its simplicity fool you – Sketch packs a powerful punch with its vector drawing and text tools, including perfect Boolean operations, symbols, robust rulers, guides, and grids. The software has been specifically designed to cater to the needs of designers looking for a simplified but powerful vector drawing experience.
The intuitive interface allows for an effortless creation process, making Sketch appealing to designers of all skill levels. Its user-friendly features and tools are easy to navigate, offering an experience that fosters productivity and creativity in equal measure. You won't have to waste valuable time figuring out complicated control systems or navigation menus, allowing you to focus more effectively on your art.
Sketch has truly made a name for itself in the digital design world. It's an essential tool for anyone seeking to create and design with precision, style, and ease. So, whether you're a professional graphic designer or a student looking to explore the creative potential of vector drawing, Sketch is a must-have software that promises to take you on an exciting journey of digital artistry.
5 – Affinity Designer
A cutting-edge graphic designing and UX solution, Affinity Designer has taken the design world by storm with its powerful toolbox, enabling businesses to create breathtaking designs such as concept art, logos, icons, UI designs, print projects, and mock-ups that leave lasting impressions on onlookers.
With Affinity Designer, web designers and graphic artists alike can rejoice as it allows for the creation and preview of gradients, adjustments, effects, transformations, and curve edits, all in real-time. This powerful software has features and tools that help employees save time while churning out functional and aesthetically pleasing designs. Keyboard shortcuts make it easy to manoeuvre, track version history, and save designs in multiple file formats, including PSD, PDF, SVG, and JPG.
The built-in vector tools offer employees new creative freedom, allowing them to use custom pens, nodes, brushes, and pencils to add contours, create abstract shapes, and design offset paths. Affinity Designer is a one-stop shop for design solutions that enable staff members to build grid patterns, create isometric planes, manage pixel snapping, and easily handle alignments.
Additionally, users can handle multiple objects, further enhancing the efficiency and productivity of the design process. With its intuitive live outline view, Affinity Designer lets users organise layer groups, tag colours, and finely tune their creative output in every way imaginable.
In conclusion, Affinity Designer is a world-class design solution for businesses of all sizes, allowing for the creation of stunning graphic designs that are both visually appealing and functional. Whether you're a seasoned professional or an aspiring artist, Affinity Designer offers something to those looking for well-rounded design software to express their creativity. So, what are you waiting for? Get your hands on Affinity Designer and let your creativity take flight!
6 – CorelDRAW Graphics Suite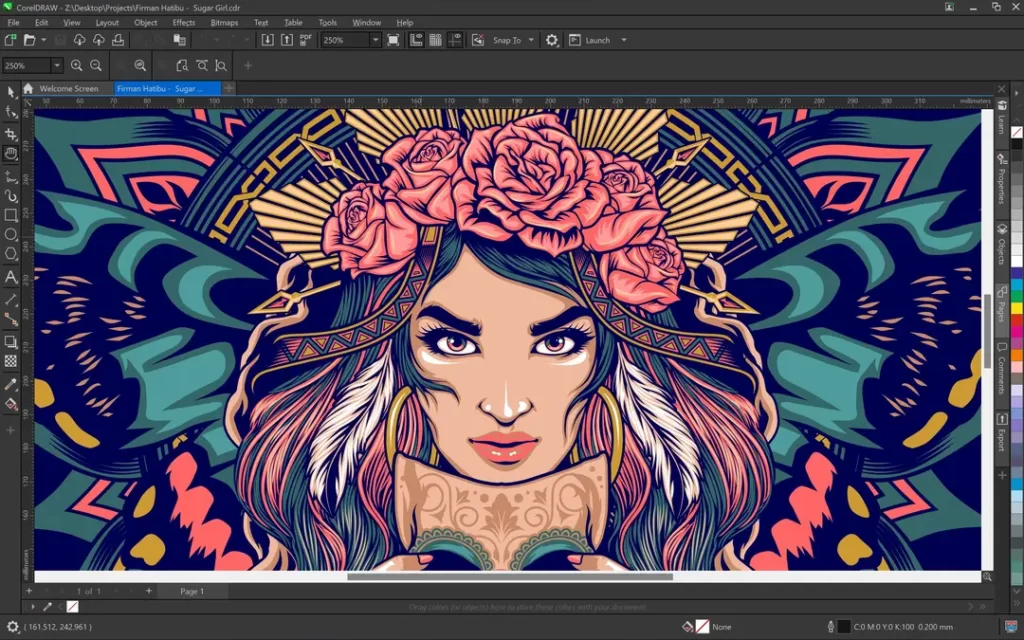 CorelDRAW is more than just a graphics editor – it represents an entire graphics suite, including the powerful bitmap-image editor, Corel Photo-Paint, and other graphics-related programs. It boasts an extensive toolset that appeals to digital artists, graphic designers, desktop publishing professionals, and production artists specialising in sign-making, vinyl and laser cutting, engraving, print-on-demand, and many more.
Graphical content creation enthusiasts can now immerse themselves in CorelDRAW's plethora of powerful features, design tools and functions to create intricate designs that bring visual content to life. Moreover, CorelDRAW even serves as an excellent digital painting platform, providing a range of brushes, pens, and other drawing tools to create stunning digital art pieces.
In desktop publishing, CorelDRAW stands as a robust suite that enables users to create materials for marketing campaigns, brochures, magazines, and other publications. Design professionals can also produce high-quality computer-generated images that add visual appeal to their work.
The software provides immense value as it is a one-stop-shop for production art in sign-making, vinyl and laser cutting and engraving, print-on-demand, and various other industrial processes. It's no wonder that CorelDRAW is revered in the graphic design community for its extensive functionality.
To cater to the varying needs of design enthusiasts, CorelDRAW offers several reduced-feature versions, such as Standard and Essentials, each with its unique price point and feature set.
In conclusion, CorelDRAW is at the forefront of the digital design industry, providing a comprehensive graphics suite perfect for desktop publishing, digital painting, production art, and so much more. Its powerful tools, intuitive interface, and professional-grade outputs make it an indispensable design tool for artists, graphic designers and businesses of all sizes. So take the plunge and experience CorelDRAW's endless creative possibilities for yourself today!
7 – Gravit Designer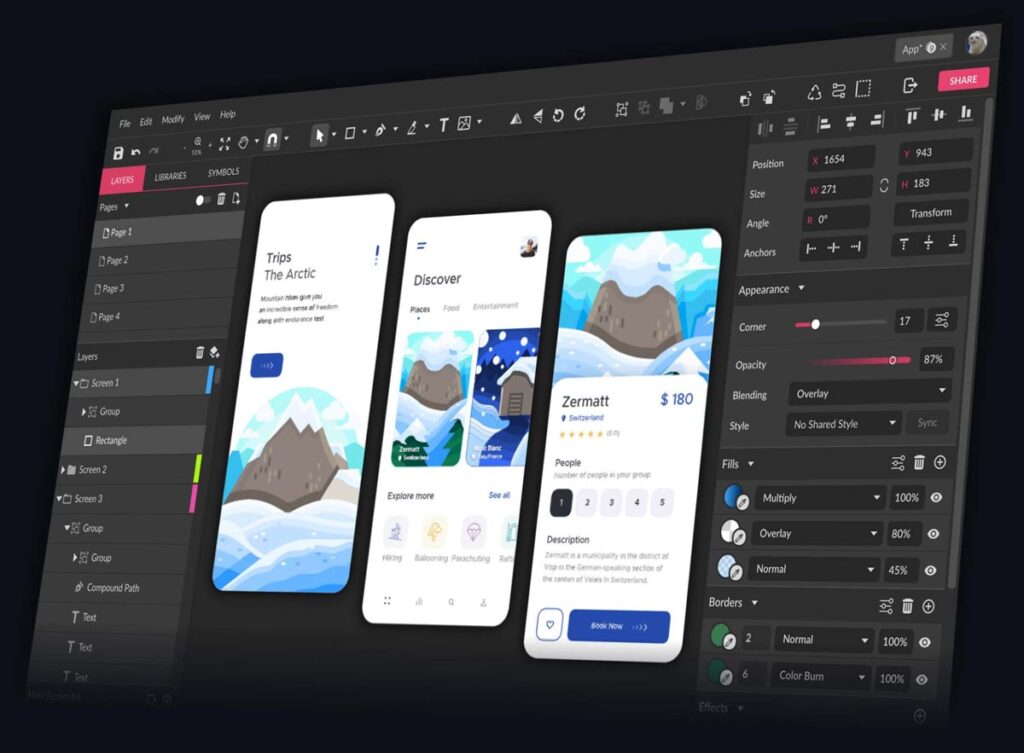 Gravit Designer is the ultimate cross-platform design tool for the 21st century! With its full-featured, free vector design app, Gravit Designer is a game-changer at your fingertips, leading the revolution in graphic design.
Whether you're a graphic designer working on marketing materials, websites or icons, a UI designer grappling with complex user interfaces, or just an artist who loves to create cool concept art, Gravit Designer's immense functionality will revolutionise how you work.
With Gravit Designer, users can create intricate vector designs that are both visually appealing and functional. Its intuitive interface makes it easy to use, with robust tools and functions that can handle even the most challenging design tasks. The software's advanced features allow users to quickly transform and manipulate images, vectorise bitmaps, and use various fills and gradients.
Marketing professionals can also harness the power of Gravit Designer to create visually stunning graphics and multimedia content across different platforms. Whether crafting materials for social media, ads or presentations, Gravit Designer offers the versatility to create and edit content on the fly, anywhere and at any time.
Gravit Designer is also an excellent resource for web designers, allowing them to create rich web designs with an intuitive user interface. The software provides templates, grids, web design guides, and SVG and CSS export options.
In conclusion, Gravit Designer is the ultimate vector design tool for professionals, hobbyists, artists and marketing pros. Boasting unmatched versatility, functionality, and ease of use, it offers endless creative possibilities to produce high-quality design content. So, what are you waiting for? Download Gravit Designer today and take the first step towards revolutionising the way you work!
8 – Canva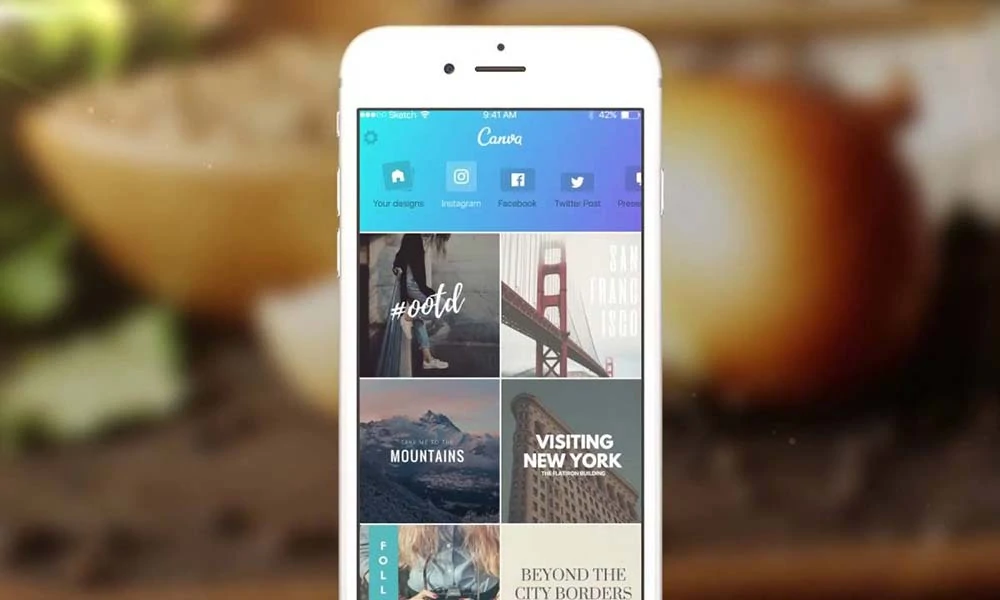 Designed to appeal to seasoned graphic designers, hobbyists and marketers alike, Canva is a comprehensive design tool that offers a wide range of user-friendly features and functions.
With Canva, users can access free readymade templates, fonts and graphics that can be customised to suit their unique requirements. Whether social media posts, flyers or presentations, Canva has you covered with professional-quality templates that make creating top-tier graphics a breeze.
Besides its free features, Canva offers paid subscriptions such as Canva Pro and Canva for Enterprise that provide additional functionality. This includes different templates, custom fonts, background remover and access to other tools and features. Canva Pro allows users to create designs with custom dimensions and premium fonts and access over 60 million premium stock photos and graphics, providing additional creativity. It also allows teams to collaborate on designs and share folders to ensure design consistency.
2021 saw Canva up the ante even further by introducing its innovative video editing tool. Whether for social media platforms or video presentations, Canva provides users with the tools and templates to create visually stunning and engaging video content that captures the audience's attention.
But Canva continues beyond digital designs. With Canva's Print and Ship service, users can pay to have their designs printed onto physical products and shipped to them. This seamless process ensures users have a hassle-free experience that provides customer satisfaction.
And that's not all – Canva is set on competing with Google and Microsoft in the office software category with its latest offerings, Canva Websites and Canva Whiteboard. These platforms are designed to be user-friendly and intuitive, providing users with a streamlined experience across the design process. These exciting developments will position Canva as a leading player in the office software category and disrupt the market altogether.
Photography and Image Editing Apps:
9 – Adobe Lightroom
Adobe Lightroom – the ultimate image editing and management tool developed by Adobe Inc. and part of the Creative Cloud subscription family. Supporting a variety of platforms like Windows, macOS, iOS, Android, and tvOS (Apple TV), Adobe Lightroom provides a comprehensive suite of features designed to cover every aspect of digital image management, editing, and sharing.
From importing and saving images to viewing, organising, tagging, editing, and sharing large numbers of digital photos – Adobe Lightroom does it all. The software's editing functions are unparalleled, with many features. These include white balance, presence, tone, tone curve, HSL, colour grading, detail, lens corrections, calibration manipulation, transformation, spot removal, red-eye removal, graduated filters, radial filters, and adjustment brushing. With these functions, users can manipulate images to obtain the required output with relative ease and precision.
The software's intuitive interface makes it easy for users to manage their digital libraries or work with existing image catalogues. One significant advantage of using Lightroom over other photo editors is the depth and breadth of its features. With a range of import options from cameras and local file structures, it offers maximum flexibility for organising and tagging pictures.
Adobe Lightroom also offers a wide range of presets for users to apply to their images. These presets reduce editing time and allow users to create a consistent look and feel for their pictures. The software offers creative cloud integration, enabling users to easily share their edited images or galleries with others, making collaboration a breeze.
Lightroom owes its name to darkrooms used to process light-sensitive photographic materials. And just like the traditional darkroom, Lightroom allows you to create magic by manipulating images in various ways. When you use Lightroom, you can access essential tools to manage and edit photos to achieve the best possible output.
10 – Adobe Photoshop Express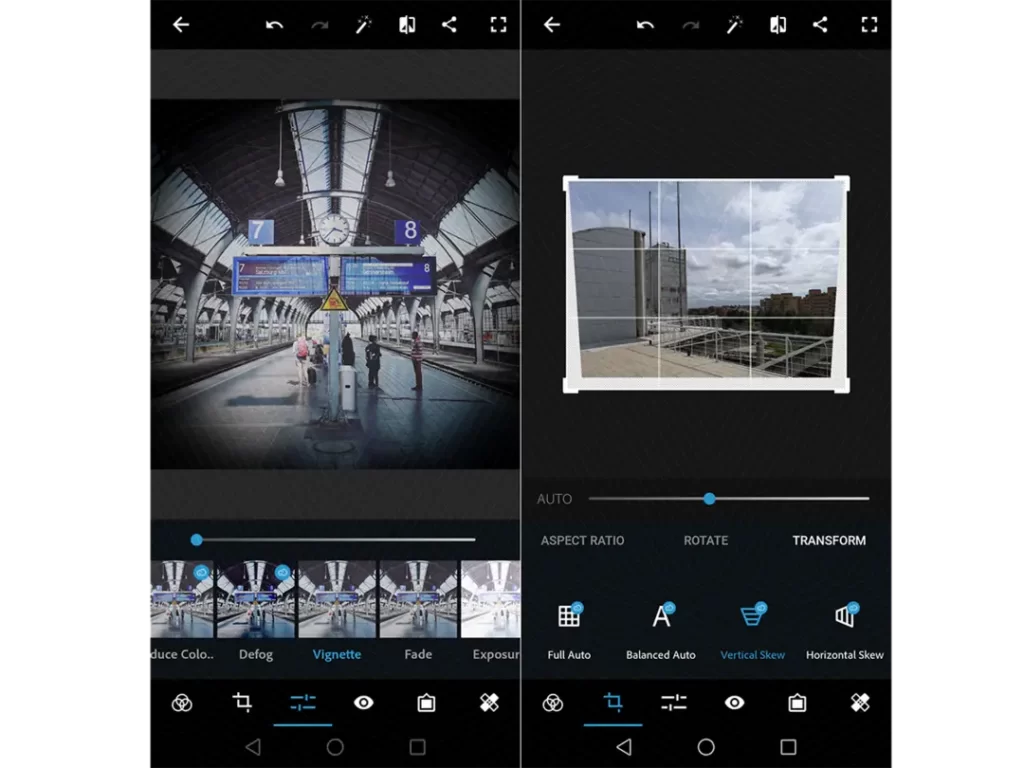 Unleash your inner artist and transform your photos into stunning works of art with Photoshop Express – the ultimate picture editor for one-touch transformations and photo edits. Loved by millions of creative individuals, Photoshop Express is a fast, fun, and easy way to create high-quality images on the go with your mobile device. With a wide range of easy-to-use photo design tools, you can touch up your favourite moments, create unique compositions, and apply mind-boggling effects in a snap!
The software's powerful one-touch transformations make editing your photos a breeze. Whether you want to remove unsightly blemishes or brighten up your shots, our expert tools can help you achieve your desired result in seconds. With many stunning filters, you can add an artistic touch to your photos with glide and ease, creating a vibe and mood that sticks with your audience. With tons of stickers and overlays, creative fonts and customisable text, you can let your imagination run wild and create something unique.
Photoshop Express is perfect for those who love editing photos but only need some of the complex features of professional image editing software. Its interface is user-friendly and intuitive, and its simple design makes it easy to navigate. You don't need any previous knowledge of image editing to use Photoshop Express; whether you're a professional photographer or want to enhance your favourite photos, this fantastic tool is perfect for everyone.
The beauty of Photoshop Express's versatility is that it allows users to share their projects with their communities, social media, or loved ones in just a few clicks. You can save your images to the cloud or quickly post them on your favourite social media platforms, including Instagram, Twitter, and Facebook. The possibilities are endless, and the fun is just beginning.
11 – VSCO
Unleash your creativity and enhance your photos with VSCO – an innovative mobile app for iOS and Android devices. Developed by Joel Flory and Greg Lutze, VSCO (formerly VSCO Cam) is an exceptional photography app designed to help users capture stunning images and edit them using imaginative, professional-grade filters and editing tools.
With VSCO, users can take advantage of an extensive collection of dynamic filters and editing tools that make it possible to create visually stunning images with remarkable ease. With presets, tools, and professional-grade features, VSCO enables users to transform their pictures from ordinary to extraordinary in no time.
One of the standout features of VSCO is its vast selection of presets. Whether you're looking for high-contrast black and white or vibrant colour tones, the app's filter library has many options. Furthermore, one of the most exciting aspects of using VSCO is allowing users to create and share their filters with others. This incredible feature allows you to experiment with and develop your unique style.
The app also features a straightforward and user-friendly interface, making it easy for users to explore and utilise various features and settings. With VSCO's intuitive controls, users can adjust exposure, sharpness, and other essential settings to perfect their images.
Moreover, VSCO often releases new filter collections and tool updates, making it a continuously evolving app. Users can stay ahead of the game, experiment with new filters, and create stunning images that will turn heads.
12 – Snapseed
Are you looking to take your photography skills to the next level? Look no further than Snapseed, the premier photo-editing application that enables users to enhance their photos quickly. Developed by Nik Software and now owned by Google, Snapseed is a user-friendly app that lets users optimise their pictures and apply a wealth of digital filters to create stunning images.
The app features a user-friendly interface that enables users to easily navigate its vast collection of editing tools and filters, perfect for photographers of all skill levels. From basic settings like brightness and contrast to advanced features like perspective correction, Snapseed's range of tools allows users to customise their pictures to get the most stunning results possible.
One thing that makes Snapseed stand out from the crowd is the app's 'selective adjustment' feature. This powerful tool allows users to make precise edits to specific areas of an image, helping them improve details, highlight particular elements, and make their compositions stand out.
Snapseed is also home to various digital filters, including mixed black-and-white presets, vintage effects, and a powerful lomo-style filter. And, using Snapseed's unique lens blur feature, users can create a realistic depth-of-field effect, transforming their images into eye-catching, professional-looking photos.
Moreover, Snapseed gives its users vast control over the images they edit. With the ability to adjust everything from hue and saturation to contrast and sharpness, Snapseed offers the flexibility, and freedom photographers crave when working in a digital environment.
Snapseed doesn't stop there, in any case. The app was designed to allow its users to share their creations with friends and family quickly. Snapseed users can post their optimised and detailed works to social media platforms like Instagram, TikTok, Facebook, Twitter, and more with a single click.
13 – Pixlr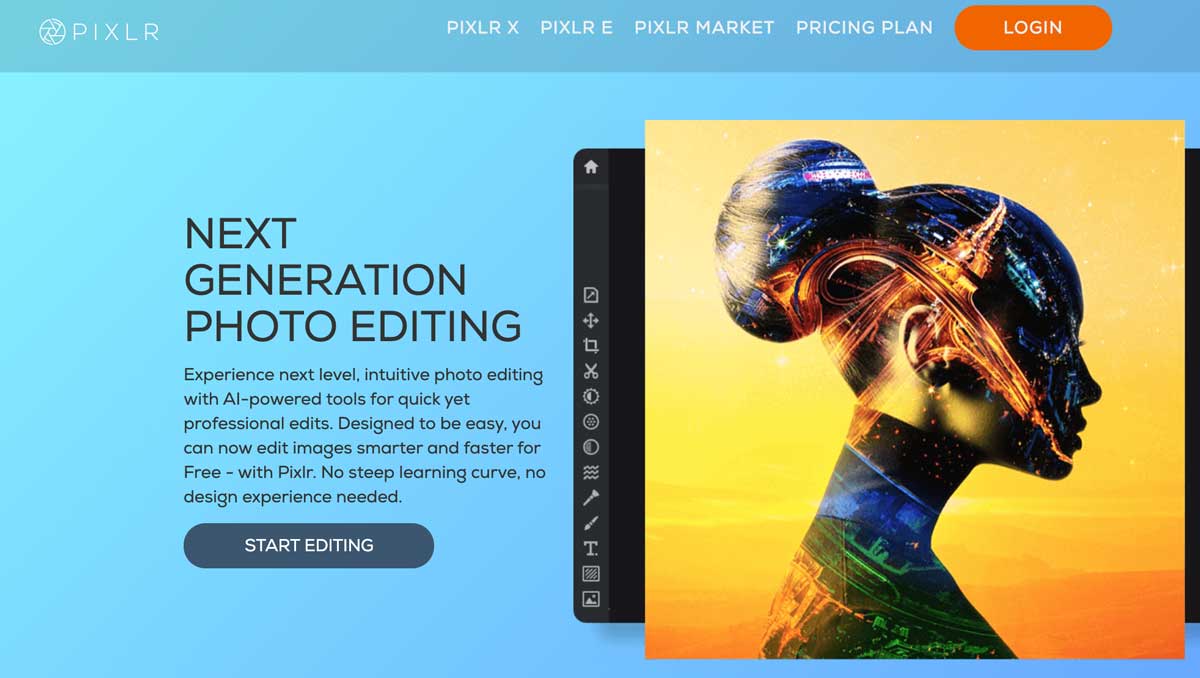 Pixlr is a cloud-based collection of image-editing tools and utilities that offer a broad range of photo editors and sharing services. Acquired by Autodesk in 2011, Pixlr has since become a leading platform for editing photos from anywhere in the world. The suite is designed to cater to users with varying levels of photography experience, offering both simple and advanced editing options.
Pixlr has three subscription plans: Free, Premium, and Creative Pack. The free version provides users with comprehensive editing tools and utilities. At the same time, the Premium and Creative Pack subscription tiers offer even more advanced features for those looking to take their editing game to the next level.
One of the standout features of Pixlr is its excellent compatibility with various image formats, including JPEG, PNG, WEBP, GIF, PSD, and PXZ. Pixlr users can work with multiple file formats without worrying about compatibility or file conversion issues.
Pixlr is designed to be cross-platform and can be used on desktops and most smartphones and tablets. This multi-platform functionality ensures that Pixlr's vast features are readily available to every user, regardless of their device.
In December 2021, Pixlr introduced a range of new features to its already impressive arsenal, including a new logo and exciting new tools. These tools include Brushes, Heal, Animation, and Batch upload. The Brush tool feature allows users to create hand-drawn effects in their photos, while the Heal tool easily removes unwanted objects from images. The Animation feature incorporates elegant movements into edits, adding an extra layer of sophistication to the final product. And the Batch upload tool is a time-saver, allowing users to work on 50 images simultaneously.
Typography and Font Management Apps:
14 – Adobe Fonts
Adobe Fonts, formerly known as Typekit, is an online service offering users access to an extensive library of fonts with just one licensing agreement. Fonts can be used directly on websites or easily synced to applications on a user's computer via Adobe Creative Cloud.
Typeface selection is a crucial aspect of any design project, and with Adobe's vast collection of fonts, users can take their creative efforts to the next level. The expansive library boasts a plethora of fonts that span a wide range of styles, including serif, sans-serif, script, and display fonts.
Adobe Fonts was first launched as Typekit in November 2009 by Small Batch, Inc., a company led by the creators of Google Analytics. In October 2011, Adobe acquired the service, cementing its status as a leading digital design and typography tool provider. Since then, the service has grown exponentially and is now an essential resource for designers worldwide, offering extensive font-pairing and customisation capabilities.
One of the most exciting features of Adobe Fonts is its integration with Adobe Creative Cloud. Users can easily access their preferred fonts and manage them efficiently via the cloud. This integration makes the management of typography across multiple projects more straightforward than ever before, saving designers time and enhancing their overall productivity.
In October 2018, Typekit changed its name to Adobe Fonts, solidifying its place as a vital creative tool within the Adobe family. The rebranding was part of Adobe's ongoing efforts to bring all its innovative products and services under one cohesive umbrella, making it easier for users to stay up-to-date on new features and developments.
15 – Google Fonts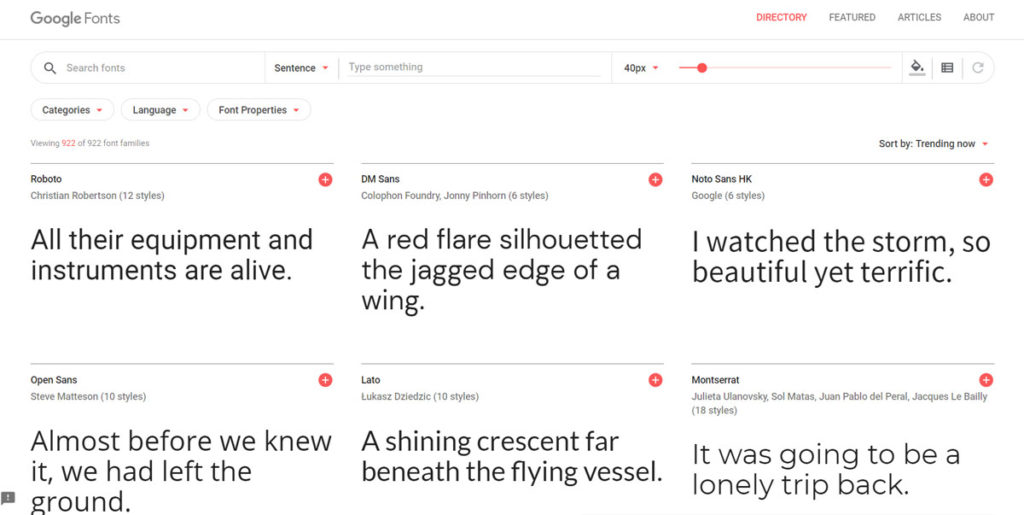 Google Fonts makes it incredibly easy for designers to access and download high-quality fonts at no cost. This service provides users with a limitless resource for exploring various font families that reflect different styles, eras, and trends. From sans-serif fonts like Open Sans, Roboto, and Montserrat, to decorative variations such as Lato or Raleway, there is something for everyone in the Google Fonts library.
Google Fonts is not just any ordinary font service. The platform's intuitive, user-friendly interface and fully customisable options ensure that even designers with limited experience can easily create professional-looking typography. The platform's robust APIs for using the fonts enable developers and designers to customise typography for almost any web-based or Android application, ensuring consistency and brand recognition, no matter what platform the font is displayed on.
One reason Google Fonts has become so popular among web developers and designers is its lightweight nature. With Google's fast and reliable servers, it ensures an optimal website-loading experience, having the power to improve page speed and decrease bounce rates.
16 – WhatTheFont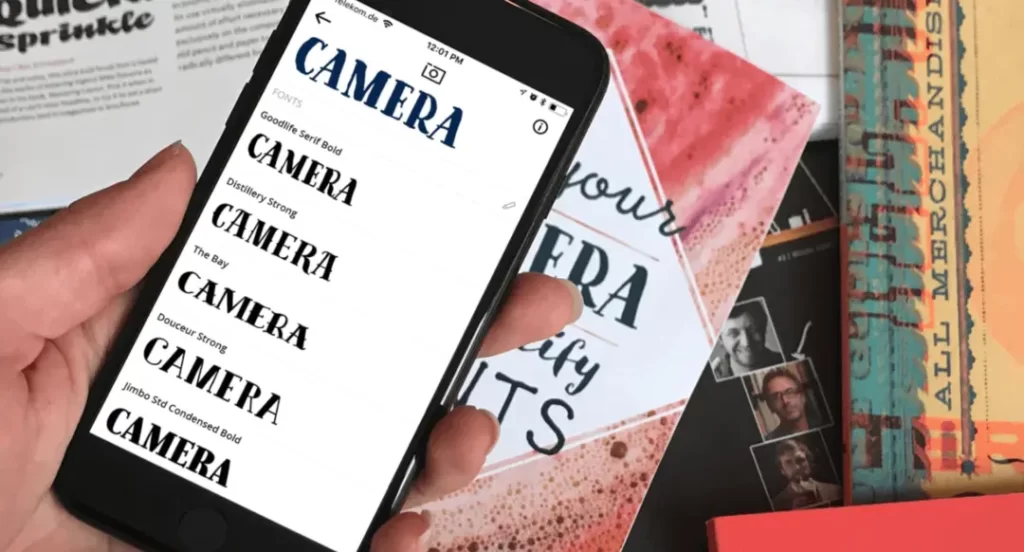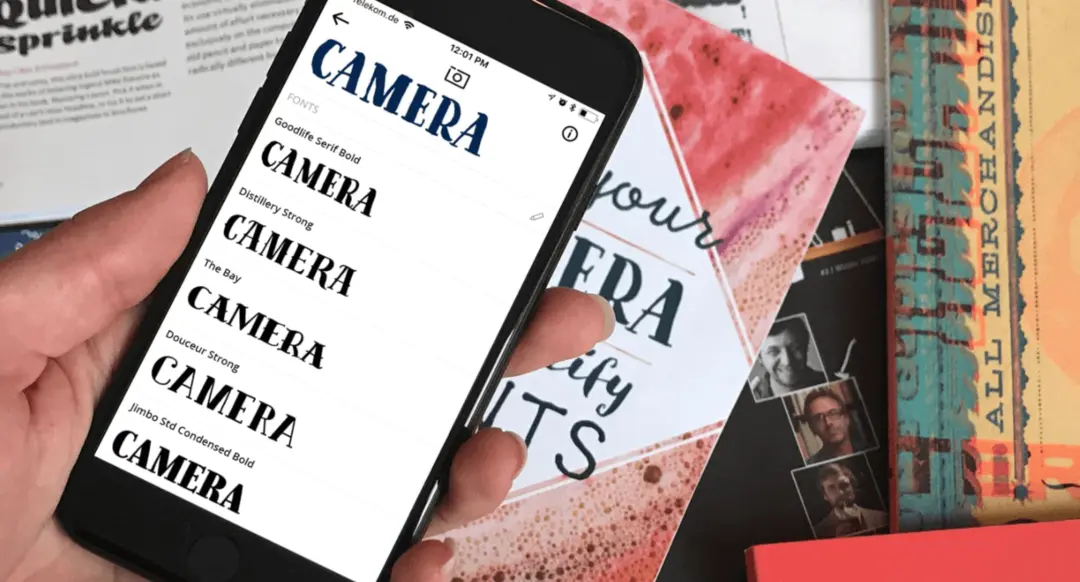 WhatTheFont is an advanced website that uses deep learning to search through its extensive library of over 133,000 font styles to pinpoint the best match to the fonts in a user's photo.
WhatTheFont stands out as a unique and revolutionary platform is how it works. Deep learning technology allows WhatTheFont to advance beyond traditional searches and recognition software to analyse photos and identify the exact font styles used accurately. The software will then provide users with a comprehensive list of suitable matches to satisfy their font needs.
With the ability to identify and match font styles with high accuracy, WhatTheFont has established itself as the go-to platform for designers and typographers seeking inspiration and solutions for their projects. The powerful search engine can recognise fonts in images or photos, allowing designers to extract the fonts they need, saving precious time and effort.
WhatTheFont's extensive font library will impress even the most discerning of users. The colossal collection comprises various fonts from across the spectrum, including traditional serif and sans-serif typefaces and more experimental, expressive typography options. With such a wide range of fonts available, users can be sure to find the perfect match for their project's requirements.
17 – RightFont
Good news for all you iOS users out there! You can now get your hands on the flexible and powerful RightFont app free of charge. This revolutionary app allows users to install, preview, and manage fonts on both iPhones and iPads, providing a world of typography possibilities on the go.
The RightFont app's flexibility sets it apart from the rest. It supports popular font formats such as OTF, TTF, and TTC, ensuring seamless integration with various applications, including Word, Excel, PowerPoint, Pages, Keynote, Numbers, and countless others.
Downloading fonts through the RightFont app is a breeze. You can store these fonts easily on your device, iCloud Drive, or Google Drive. Impressive, right? But it doesn't stop there. The app also allows you to share your favourite fonts with friends and coworkers via AirDrop or email, so you can spread typography love far and wide.
In addition to its versatility and convenience, RightFont is incredibly intuitive and user-friendly. With the app's easy-to-navigate interface and customisable content, users can preview all the font families quickly and accurately before making their selections.
So, what are you waiting for? Join the typography revolution and download RightFont today. Compatible with iOS 13 and later, RightFont is your go-to tool for all your dynamic and professional font needs on the go. Start exploring the endless possibilities and unleash your full design potential with this excellent app.
3D Modelling and Rendering Apps:
18 – Autodesk 3DS Max
Autodesk 3ds Max, a powerful and innovative 3D computer graphics program, is here to revolutionise how you create 3D animations, models, games, and images. Developed and produced by Autodesk Media and Entertainment, 3ds Max has modelling capabilities and a flexible plugin architecture. But you need to run it on the Microsoft Windows platform to get your hands on this magnificent piece of software.
This fantastic tool is no stranger to animation, and video game developers, TV commercial studios, and architectural visualisation studios frequently use it. It's even used for movie effects and pre-visualisation, which makes it a top choice for professionals in the industry.
What sets 3ds Max apart from other software are its remarkable features. With its unbelievable shaders, you can use complex lighting techniques such as ambient occlusion and subsurface scattering to make your 3D models look more realistic. Dynamic simulation, particle systems, radiosity, standard map creation and rendering, global illumination, a customisable user interface, and its scripting language are just the tip of the iceberg for all the advanced tools at your disposal.
3ds Max is designed to support your creativity and experimentation by offering an incredible range of functions that you can tailor to your needs. The software's customisable UI allows you to work seamlessly and efficiently while focusing on your artistic vision. It also has its scripting language to make customising the software to your needs a breeze. What else could you ask for?
19 – Blender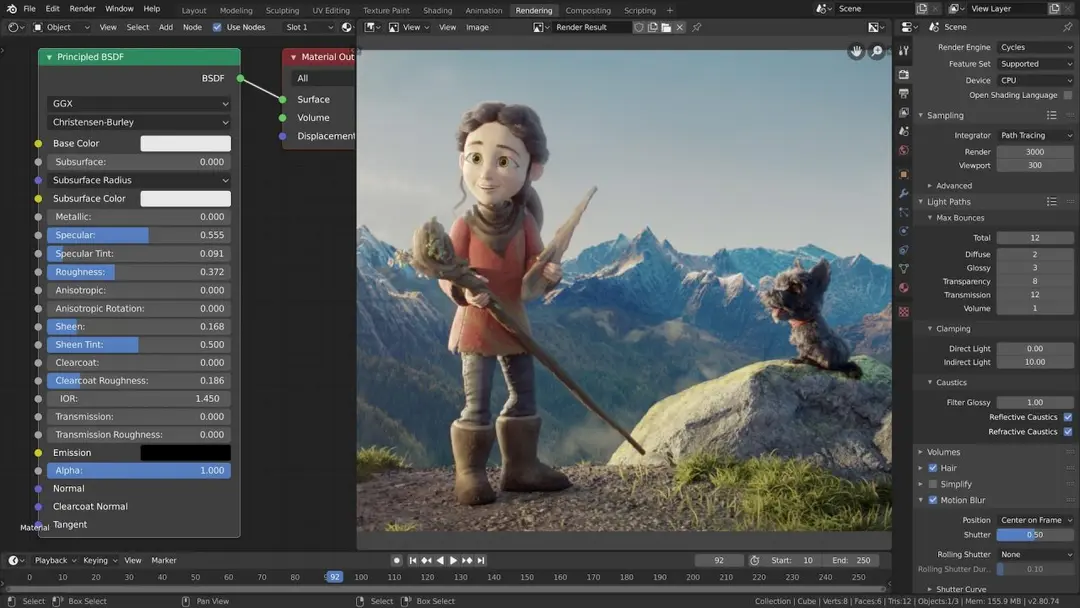 Brace yourselves for Blender – the ultimate free and open-source 3D creation suite. The Blender experience is beyond your wildest imagination! This powerful program supports the entirety of the 3D pipeline, granting you the creative freedom to model, sculpt, rig, animate in both 2D and 3D, simulate, and edit videos with ease.
Blender isn't just a run-of-the-mill software program – it's a full-fledged suite of creative tools designed to help you quickly realise your creative vision. With Blender's modelling and sculpting capabilities, you can create any 3D model, from the simplest cuboid to the most intricate shapes you can imagine.
Rigging and animation have never been easier with Blender; you can create both 2D and 3D animations, all while enforcing layers of realism and depth in your art. The software also has simulation and rendering functions that breathe life into your work and enhance your user's experience, allowing your creations to stand out.
Do you still need convincing? Blender also offers motion tracking and video editing tools, enabling you to turn raw video footage into polished products. Use compositing tools to perfect the lighting and shading in your scenes and seamlessly blend visual effects into your footage.
As an open-source platform, Blender offers you the opportunity to tap into a massive community of creators that share similar goals and interests, in which an entire network of resources can be accessed for tips and new techniques and boost your skills to the next level.
20 – Autodesk Maya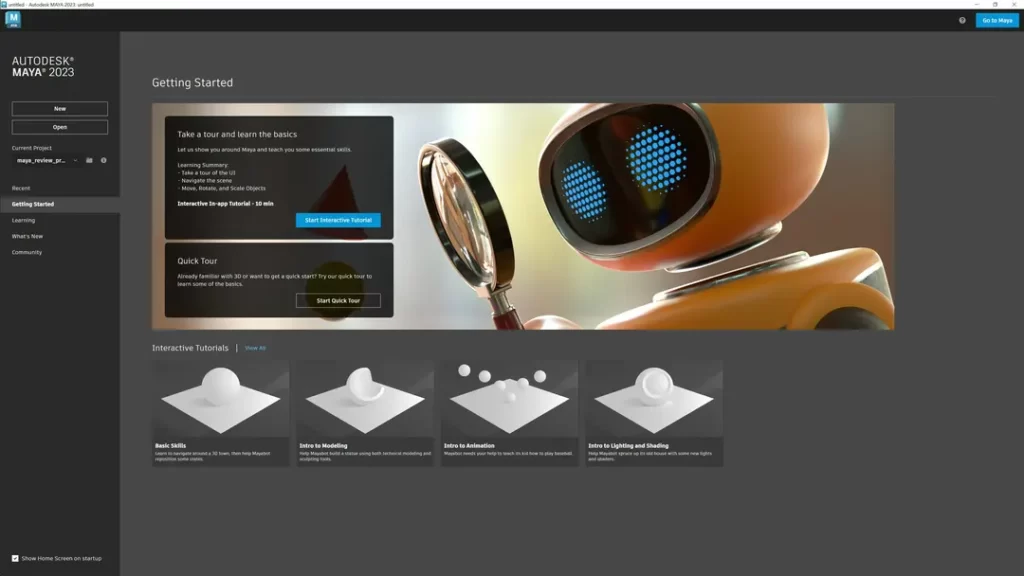 Maya, which originated as Alias Wavefront, is a powerful tool that works on Windows, macOS, and Linux and is currently developed by Autodesk.
Maya has an impressive range of applications beyond that of many competing products. It is widely used to create assets for interactive 3D applications, including video games, animated films, TV series, and visual effects. The software has features that allow you to create mind-blowing animations and graphics quickly.
With Maya, you control every aspect of your 3D artwork. The software is designed to be intuitive yet powerful, with advanced modelling tools, rigging systems, and animation features that put the power of professional-grade animation and modelling within reach. Whether you're working on a video game or a blockbuster film, Maya helps you create lifelike models and animation that ensnares the audience.
Maya's compositing and rendering tools are second to none. You can easily combine multiple layers of your project into a perfect final product by using compositing tools, giving it the ideal lighting, shadows, and reflections that make it stand out. And then there's the rendering engine, one of the best in the market, delivering exceptional photorealistic 3D artwork.
Remember the vast libraries of plugins and tools available for Maya, which further extend the software's capabilities. Maya's open API is readily accessible, allowing users to create custom tools tailored to their creative needs. Additionally, partnering with third-party vendors and communities enables users to access various tools and tutorials to help them expand their skill set.
21 – Cinema 4D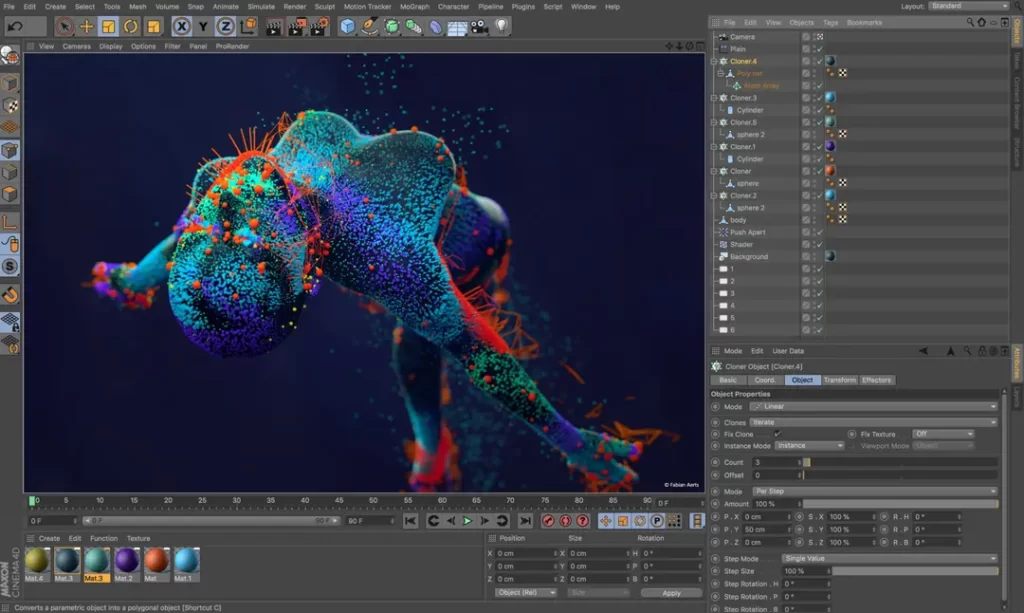 This professional software solution is hailed for its fast, powerful, flexible, and stable toolset, which makes 3D workflows more accessible and efficient for design, motion graphics, VFX, AR/MR/VR, game development, and all types of visualisation professionals.
Cinema 4D is a powerhouse, and once you get behind the wheel, you can make stunning 3D art that will capture audiences, whether you're working alone or as a team. The software gives you the power to unleash your creativity in every aspect of your project, from minor details to the most significant features.
The software's motion graphics and broadcast-quality effects greatly enhance your creative production. The application has a wide range of tools and features that make creating advanced special effects more accessible. With Cinema 4D, you can create dynamic animations that push the boundaries of what's possible.
The rendering engine, equipped with Cinema 4D, is a marvel. Whether you need to create photorealistic images or something entirely new, Cinema 4D provides all the tools to make your project stand out in today's market.
What's more impressive is that Cinema 4D seamlessly integrates with other software applications, creating an even more streamlined creative process. It is perfect for creating 3D models or environments for video games or virtual reality.
Cinema 4D also boasts a library of plugins and an open API that enables users to access various tools, third-party vendors, and communities, expanding its capabilities further. It's the perfect application to utilise with all types of 3D modelling, and its users can choose from basic to more advanced workflows, depending on skill level.
No software is perfect, but Cinema 4D is close to it. Its toolset emulates the needs of modern artists and variations of designers that are invigorating and engaging, solidifying its place at the top of the pack.
Prototyping and Wireframing Apps:
22 – Adobe XD
Adobe XD, previously known as Adobe Experience Design, is the ultimate tool for creating vector designs for web and mobile applications. Developed and published by the tech giant Adobe Inc., the software is available for macOS and Windows operating systems, with versions available for iOS and Android devices to help users preview their work in real-time.
Designers and developers revel in Adobe XD's feature-packed interface, enabling them to create stunning wireframes and click-through prototypes easily. The tools provided by Adobe XD make it possible to create unique designs that are both visually appealing and user-friendly. From creating the perfect layout the first time to designing unique experiences, Adobe XD has everything a designer needs to create remarkable designs.
One of the standout features of Adobe XD is its ability to help designers and developers preview their designs in the most appropriate and applicable environment – on their potential users' mobile devices. This feature alone enhances the software's practicality and saves time.
For mobile or web-based applications, Adobe XD has all the bells and whistles necessary to make the design process more efficient and effective. Adobe XD is developed with an intuitive interface tailored to create prototypes using vector graphics. No wonder designers prefer it over other options, as they have been able to create intricate and engaging designs in a fraction of the time it takes using other outdated tools.
Furthermore, Adobe XD integrates with other Adobe products, such as Photoshop, Illustrator, and Creative Cloud, enabling creators to design everything from branded graphics to user workflows seamlessly. This connectivity strengthens the effectiveness of Adobe XD and makes the design process more intuitive and streamlined.
Additionally, Adobe XD has one of the most comprehensive plugin libraries among creating software, enabling users to extend the application's capabilities even further. It's incredible how working alongside third-party developers and dedicated communities allows users to tap into a vast array of customisation tools, making it exceptionally easy to tailor the software to their specific professional needs.
23 – InVision Studio
InVision Studio is a high-octane prototyping and animation tool which has set the design industry alight. Boasting flexible layers coupled with an infinite canvas enables users to create uniquely advanced, vector-based screen designs rapidly! This application easily holds the title of one of the top high-fidelity prototyping tools!
With InVision Studio, design professionals can take their craft to the next level by speeding up their workflow, creating captivating and interactive prototypes, and communicating these designs to colleagues and clients alike. The software's comprehensive toolset allows for testing and altering design iterations, saving time and money while ensuring the final product meets everyone's high standards.
Designers are sure to enjoy the creative freedom that InVision Studio affords them. The software eliminates design obstacles, allowing users to see their ideas through and create innovative designs that impress everyone. The software's intuitive interface is perfect for creating vector-based designs, and its infinite canvas means that the creative possibilities are endless.
But that's not all! InVision Studio also enables users to test their designs on different devices and platforms, ensuring they work everywhere and at every time. This feature guarantees the user that the prototype is up to par; it instils confidence in the design and minimises setbacks in the creation process.
With InVision Studio, communication is also a breeze! Sharing your designs with clients and teamwork can be achieved with ease. Furthermore, the feedback received from clients and colleagues can be directly incorporated into the design, ensuring a seamless transition into development.
24 – Axure RP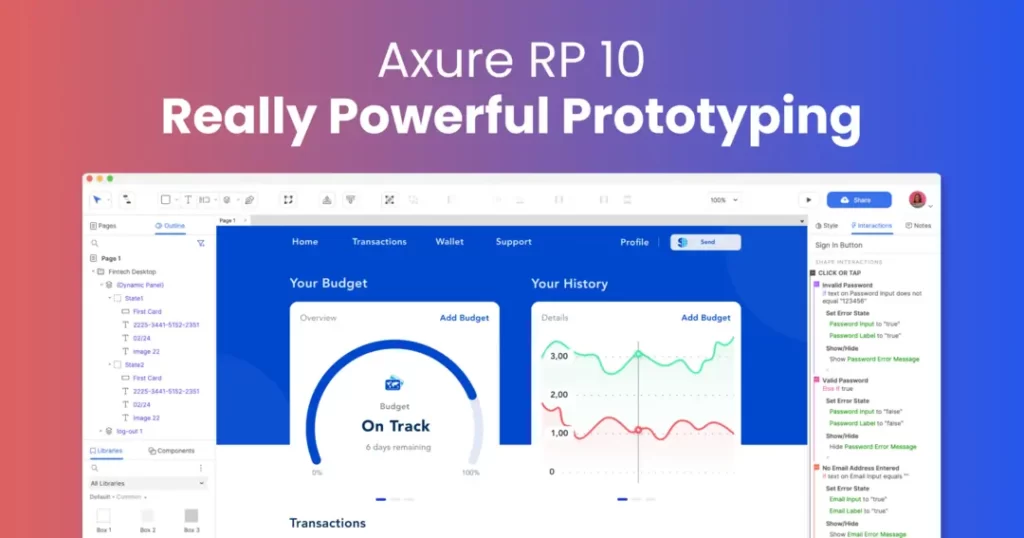 Axure RP provides a cloud-based and on-premise solution designed to assist organisations in creating functional software prototypes and wireframes without coding. Axure RP is a powerhouse tool for design professionals who take their creative integrity seriously. Boasting a vast range of features, it is a tool that lets the designer's imagination run wild.
This application offers numerous benefits for design professionals looking to bring their creativity to life. It is a highly intuitive software that allows users to develop intricate designs without complex code. With the ability to bring all stakeholders on board, designers and developers can work together seamlessly to achieve their ultimate design ambitions.
Axure RP comes loaded with a comprehensive library of customisable widgets, so users can tailor their designs to their specific project needs, thus increasing the software's adaptability. An infinite canvas provides ample support for designers, and the software's robustness ensures that it is rarely subject to crashing or unexpected errors.
Axure RP is the perfect tool to streamline the design process, with all the necessary features for collaboration, note creation, revision history tracking, analysis, animations, and data import. The tool's vast array of features ensures that the designer controls the design process, producing impressive and engaging designs that exceed clients' and team collaboration's expectations.
Axure RP's animation feature is a show-stopper. The software can handle everything from simple designs to the most intricate animations, allowing designers to create innovative and compelling designs easily. Furthermore, the tool's analysis capabilities let designers test their designs and prototypes for performance and functionality, ensuring it works as planned.
25 – Balsamiq
Balsamiq Wireframes is the industry's leading rapid wireframing software that combines the comfort and simplicity of paper sketching with the power of a digital tool!
This powerful tool offers the perfect balance of comfort and ease with power and capability, making your creative workflow more accessible and efficient. Balsamiq Wireframes is designed to help you create beautiful and functional wireframes with intuitive ease, unheard of before now. The software offers a wide range of features, making your creative process seamless from start to finish.
One of the critical benefits of Balsamiq Wireframes is its ability to allow multiple stakeholders to collaborate on the same project, providing a streamlined creative process. Additionally, the wireframes look like sketches, making it easy for all stakeholders to weigh in on the creative vision without being bogged down by minor details.
Balsamiq Wireframes is the perfect tool for design professionals looking to bring their designs to life effortlessly. The software's intuitive interface and vast features allow users to create intricate and interactive designs quickly and efficiently.
Balsamiq Wireframes supports cloud-based and on-premise deployment, making it a versatile tool for design professionals across various industries. The software supports an extensive library of customisable widgets, allowing designers to create unique designs tailored to their requirements. This will enable designers to achieve maximum creativity and flexibility with their projects.
Project Management and Collaboration Apps:
26 – Trello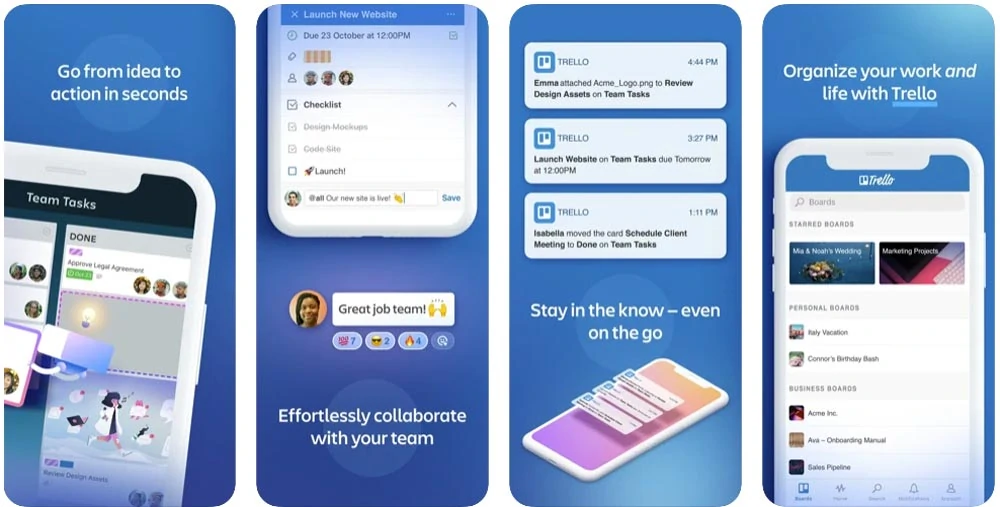 Revolutionise how you complete projects and manage tasks with Trello, the all-encompassing platform that merges organisation, task management, and team collaboration into a single hub. With Trello, join an elite group of over 1,000,000 teams worldwide experiencing peak efficiency, productivity, and growth.
Trello transforms work management and organisation into an enjoyable and stress-free experience. Whether it's task management, note-taking or project organisation, Trello provides the tools to hone your skills and achieve your goals faster.
With features like "boards", "lists", and "cards", Trello keeps your tasks and projects organised, enabling you to track the entire workflow better, identify bottlenecks, and address them quickly. The software's simple, intuitive interface allows you to create to-do lists quickly, and its dynamic features will enable you to track each task from start to finish.
One of Trello's best features is its collaboration system. With its sharing capabilities, team members can efficiently work towards a common goal with clear objectives, timelines, and progress updates. Trello's ability to break down responsibilities into granular tasks fosters a positive, seamless and productive work atmosphere, allowing teams to communicate and collaborate effortlessly.
Teamwork is at the heart of success with Trello. The ability to share progress updates in real-time, collaborate on projects simultaneously, and assign tasks to specific team members helps ensure everyone is on the same page. This level of collaboration eliminates confusion, promotes better communication, and ensures that your project stays on track, delivering the best results possible.
27 – Asana
Have you been struggling to stay on top of your workload? Are you seeking a seamless solution to keep your team on track amidst the chaos? Look no further than Asana!
Asana simplifies project and personal task management, providing teams a comprehensive platform to stay organised, focused, and productive. From the tiniest details to the most significant scale projects, Asana offers an all-in-one solution to efficiently plan, execute, and achieve your goals.
Asana eliminates the complexities of project management, offering an intuitive and user-friendly interface that streamlines even the most intricate and time-consuming tasks. Track progress, set priorities, assign tasks and schedule timelines effortlessly.
Asana's user interface is practical and straightforward, enabling you to organise your work easily. The platform is contained in lists, making adding and moving tasks as simple as can be. The platform's flexibility also puts you in control, as it easily adjusts and moulds around your project requirements.
The most appealing feature of Asana is its ability to promote collaboration, communication, and cohesiveness among team members. The platform's live-action capabilities make it easy to track task updates in real-time, set deadlines, and assign tasks to each team member. The result is unparalleled teamwork and collaboration that helps your team members remain motivated, focused, and engaged.
Another fascinating aspect of Asana is its reporting capabilities. With Asana, track the progress of your team's individual and collective work, monitor project expenses, and review team members' involvement for more efficient decision-making. From productivity tracking to time management, every data point counts, and Asana helps you keep tabs on everyone.
28 – Slack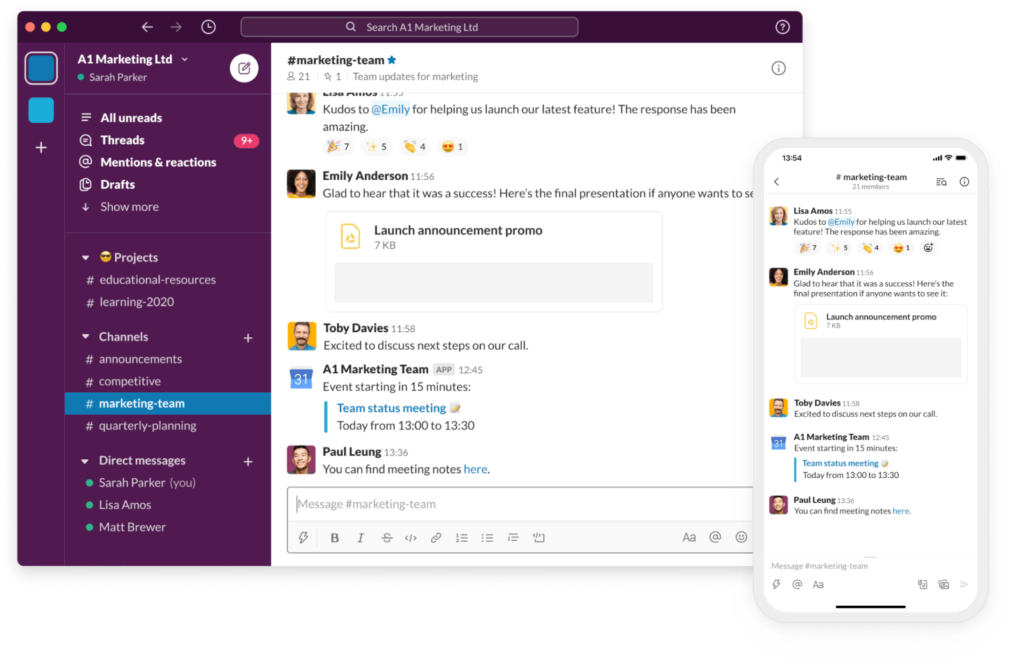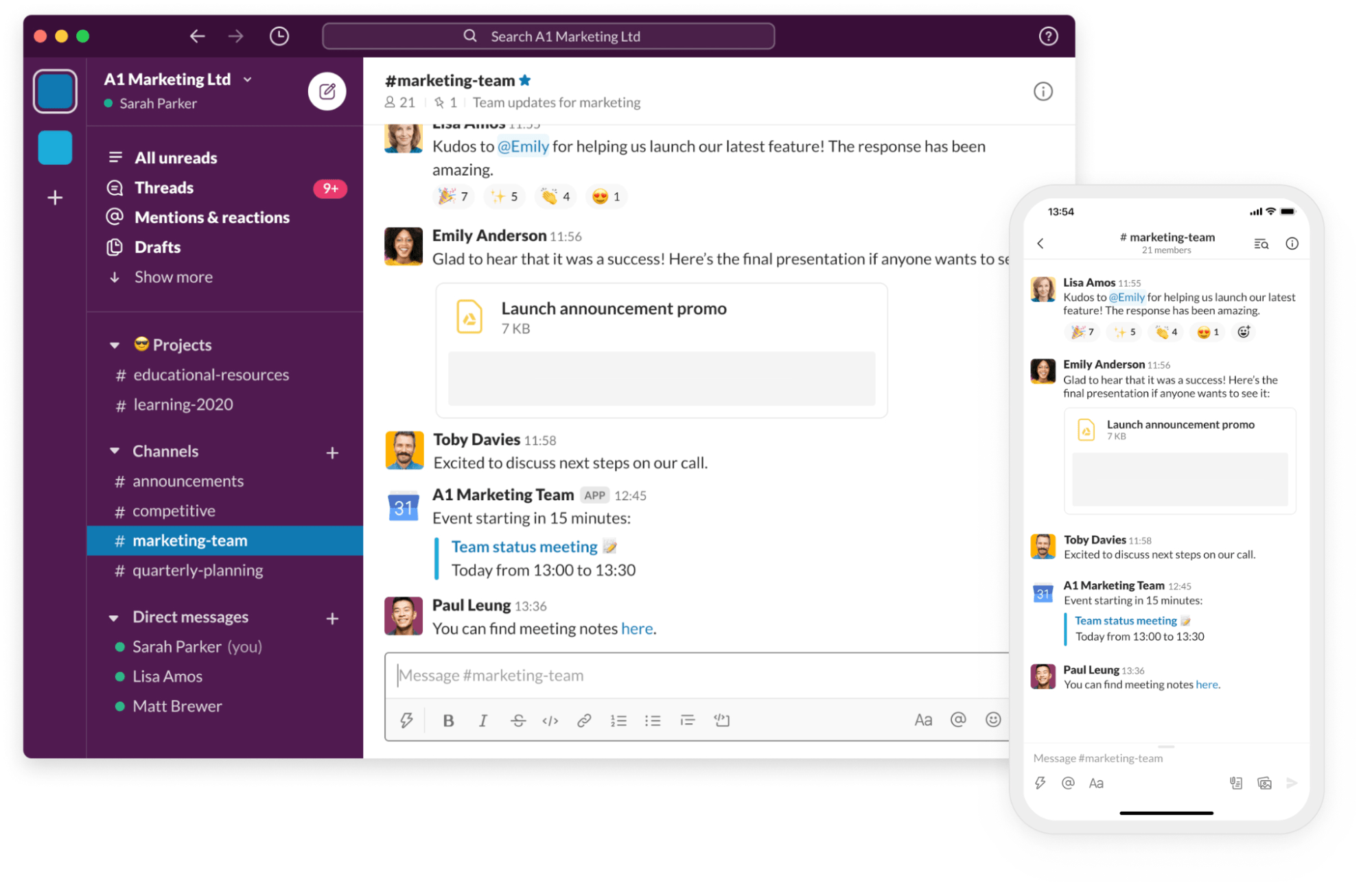 Are you tired of trolling through endless email threads to find your notification for a meeting? Are you tired of digging through your email archives only to find that one necessary attachment? If the answer is yes, Slack is here to save the day.
Slack is a multi-faceted communication platform uniquely designed to streamline professional and organisational communication, efficiency, and productivity. The platform offers a range of communication options, from voice and video calls to text messaging, media sharing, and file management, all in one place. The platform also boasts of communities – called "workspaces" – that help users communicate with their colleagues more organised and effective.
At its core, Slack offers IRC-style features to enhance communication, particularly in team environments. The platform offers persistent chat rooms, called channels, to streamline communication across different topics or themes. Users can also communicate privately through direct messaging or share files within the platform, eliminating the need for external communication tools.
Slack's versatility, efficiency, and simplicity are why it's widely adopted in professional, community, and academic circles. It integrates seamlessly with other software, which increases functionality and makes it easier to use. For example, Slack can integrate with project and task management tools like Trello and Asana to significantly boost workflow efficiency.
Slack's user interface is also an essential factor in its popularity, boasting its cross-platform compatibility, including Windows, Linux, MacOS, Android, Windows Phone, and iOS. The platform offers a diverse range of customisation options and embedded shortcuts that help to streamline workflow and make it more efficient.
29 – Dropbox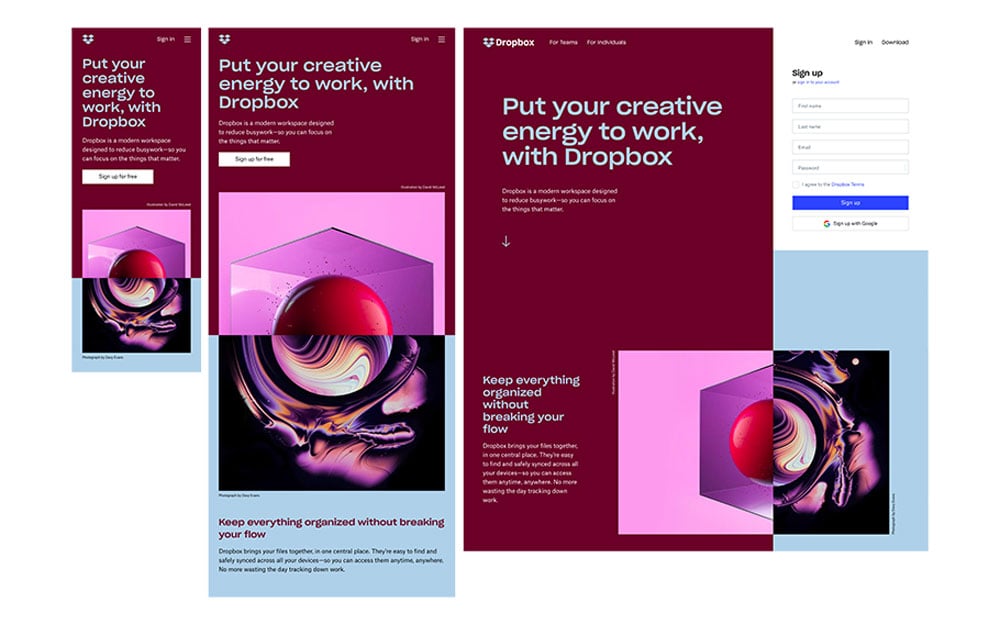 Oh, the joys of remote work – the convenience of working from anywhere, anytime! But let's face it; staying productive on the go and keeping tabs on projects is challenging. That's where the free Dropbox mobile app comes in, enabling you to stay connected and on top of your work from anywhere, anytime.
The Dropbox mobile app is a lifeline for professionals who work on the go. With this app, you can access all your project files and stay connected with coworkers and clients, all with the tap of a finger. The app ensures that you never miss an email, task, or project deadline, keeping you up-to-date with your work obligations and enabling you to stay focused on what matters.
Collaboration is made easier with the Dropbox mobile app. You can communicate seamlessly with team members, share files, assign and manage project tasks, and receive real-time feedback. You no longer have to log into heavy-duty project management systems or send long, confusing email chains. With Dropbox, communication and collaboration are streamlined, ensuring you are always on the same page as your team members, no matter where you are.
The app is designed to save you time and reduce stress with various tools that make it easy to take care of tasks on the go. Need to sign a contract or approve a document? The app offers tools to sign and approve documents, upload files, and add comments without logging into your desktop computer. All these tasks are done on your phone or tablet in seconds, empowering you to make decisions, move tasks forward and stay productive no matter where you are.
30 – Google Drive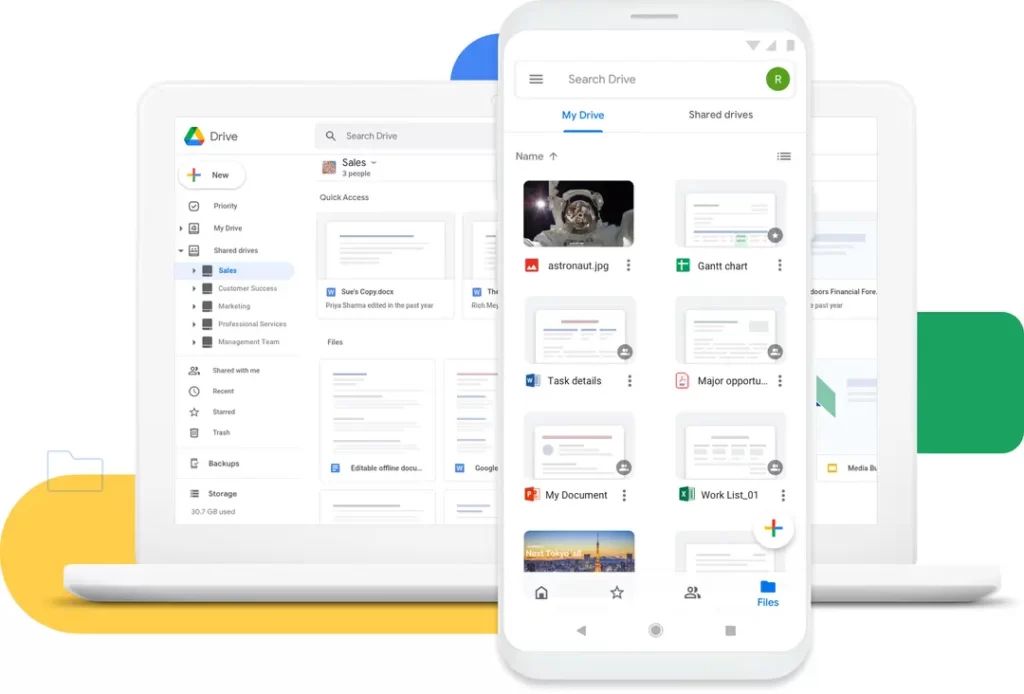 Say goodbye to the confusion of managing files on multiple devices and platforms, thanks to Google Drive. Google Drive, a core component of Google Workspace, offers a reliable and secure place to keep all your files while giving you easy access to them from any device.
With Google Drive, backing up and accessing your files is a breeze. You can get your files on your phone, tablet, or computer with a few clicks. You no longer have to worry about transferring files between devices or remembering where you saved them. Instead, you can store all your files in one place and access them from anywhere.
Sharing files with others has always been challenging. With Google Drive, you can invite others to view, edit, or leave comments on your files or folders. No more sending email attachments or worrying about versions, feedback, or updates. You can collaborate with others concurrently, and the changes you make are saved in real-time, ensuring that everyone is always on the same page.
The security of your files is of utmost importance, and Google Drive provides a safe and secure place to store your data. All your files are encrypted in transit and at rest, making sure that your files are protected from unauthorised access. Furthermore, Google's data centre provides state-of-the-art security, compliance, and information governance, ensuring your data is always safe.
Wrapping Up the Best Apps for Designers
In conclusion, technology has drastically changed how designers approach their work. With the right apps, you can enhance your creativity, streamline your workflow, and achieve greater productivity. From drawing and sketching to photo editing and project management, countless apps are available to help designers make their ideas a reality.
The tools mentioned in this article represent some of the best apps for designers to push their work to new heights. These apps offer various features that help save time, stay organised, collaborate with others, and streamline workflow processes. With the right tools, you can bring your creative vision to life quickly and efficiently.
So whether you're working on a logo design, a website, or a mobile app, the apps listed in this article can help you be more efficient, productive, and creative than ever before. Explore and download the best apps for designers today and see how they can take your design work to new heights!